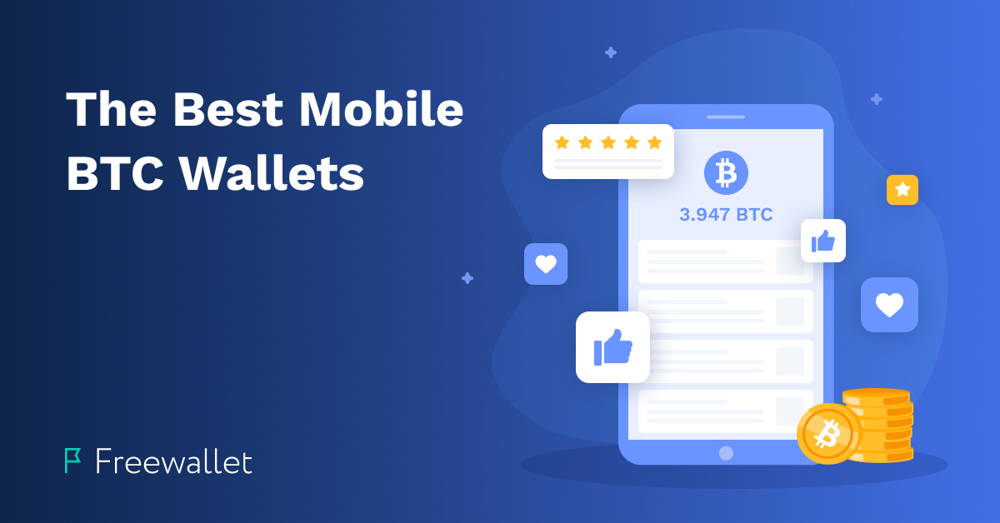 When it comes to Bitcoin, choosing the right wallet to store BTC is nearly as important as buying it in the first place. Your iPhone Bitcoin wallet should be both secure and convenient to use on a daily basis.
The most secure are hardware wallets – physical devices storing Bitcoins offline. But this option lacks the convenience of mobile wallets. In this article we will discuss the most secure and comfortable Bitcoin Wallets for iPhone in 2020.
How to choose a Bitcoin wallet for iPhone
A mobile Bitcoin wallet that runs as an app on your iPhone or Android will suit you if:
You are looking to store a moderate amount of Bitcoin
You need a good and convenient user experience 
You don't want to pay for a wallet
You want to manage your cryptocurrency on the go — any time, anywhere
There're important nuances you should consider when choosing a mobile Bitcoin wallet:
Updates. Check how often the developers update their application. Regular updates is a clear sign of an active development process. It means that the wallet is constantly improved with new features and options.
Security features is an important part of any financial app. Your money should be safe with this application. Review the company's safety features. Look for two-factor authentication, encryption, transaction limits, etc. to keep your Bitcoin as secure as possible.
Analyze your needs. Decide what you are looking for from the wallet and choose the BTC app according to your needs.
Ratings by app users. Pay attention to the wallet's rating. Every app is reviewed by users; the most detailed reviews will provide you a better picture of the wallet.
Jaxx Liberty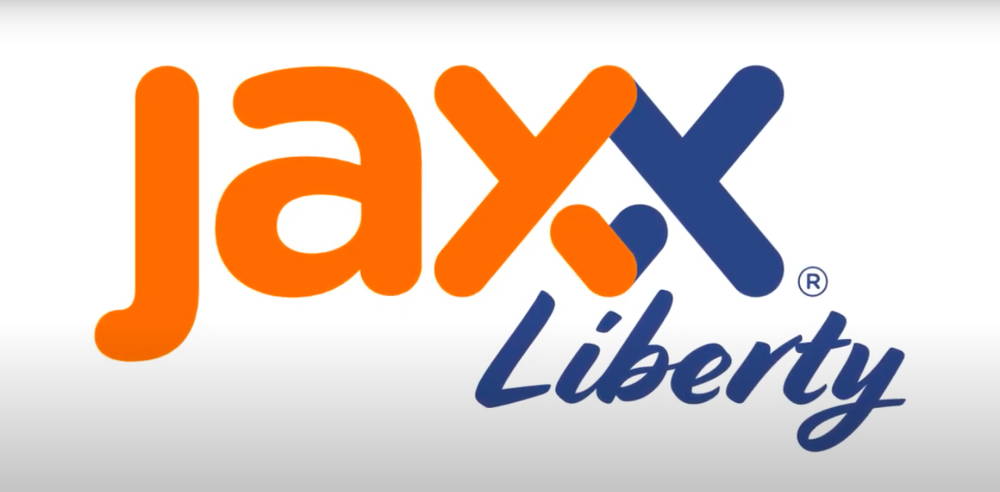 Jaxx is a blockchain multi asset wallet founded in Canada in 2014. It was created by Ethereum co-founder Anthony Di lorio. The wallet became popular among the crypto community thanks to its convenience, functionality and safety. The wallet is available for iOS and Android as well as desktop systems.
Main features:
Jaxx supports 80+ cryptocurrencies including Bitcoin
Wide range of security features
Has 24/7 customer support
Jaxx Liberty has built-in ShapeShift technology allowing users to convert their coins right in the application
Integrated newsfeed: follow the latest news without leaving the app
Hierarchical deterministic features – the wallet generates a random address for every transaction. This feature increases your security concealing real public keys from hackers.
BRD Wallet
BRD wallet is a good option for enthusiasts seeking an easy to use Bitcoin wallet for iOS. The user interface is simple and designed for beginners as well as advanced users. A nice wallet to store, send and receive Bitcoins easily. The application connects directly to the BTC blockchain, so if you want to recover your funds you have to use a special mnemonic phrase. 
Main features:
Fast Bitcoin transactions within a few seconds
Users can pay merchants and sites accepting BTC with the app
PIN code feature
You can import and sweep your private keys
BRD wallet is an open source application distributed for free. It is compatible with BTC SegWit addresses which process transactions faster and charge lower fees.
Bitcoin Wallet by Freewallet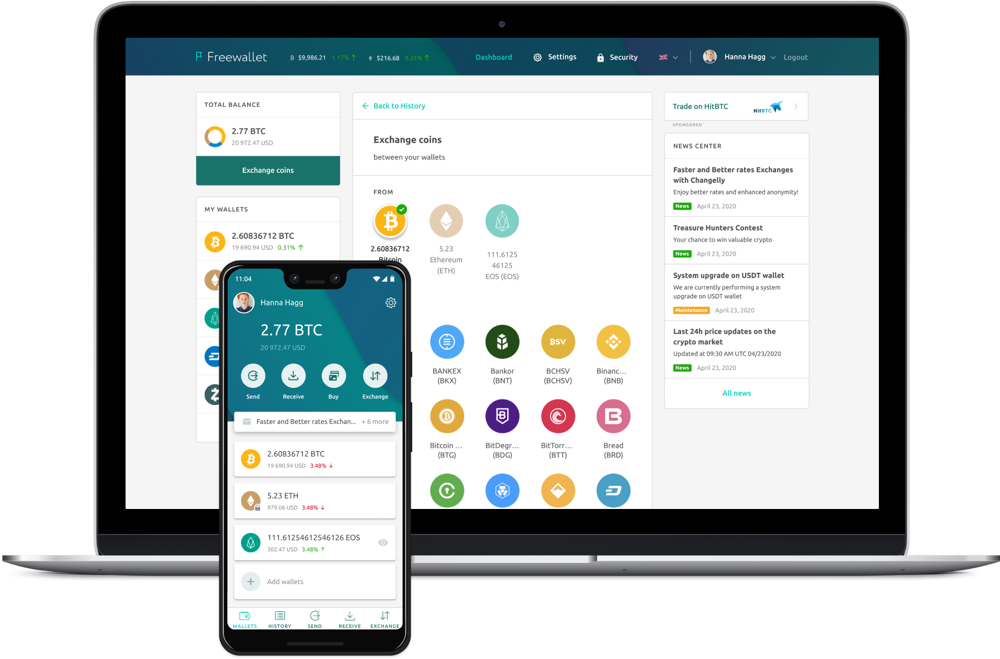 Freewallet was founded in 2016 in Tallinn, Estonia. The project's goal is to create accessible wallets for people who are not acquainted with cryptocurrencies. Back in 2018, NewsBTC recognized Freewallet as the third most popular wallet for mobile devices. 
Main features:
In-app Bitcoin purchases with fiat currencies
Off-chain, fee-free exchanges via Changelly, executed in a few minutes.
100% free transactions between Freewallet users.
Adjustable transaction fees from fast and cheap to urgent and expensive.
Top up your phone balance with BTC thanks to BitRefill integration.
Automatic back up, so no need to memorize recovery phrases.
You can try Freewallet's individual Bitcoin wallet or enjoy the multi asset application with support for 100+ cryptocurrencies.
Mycelium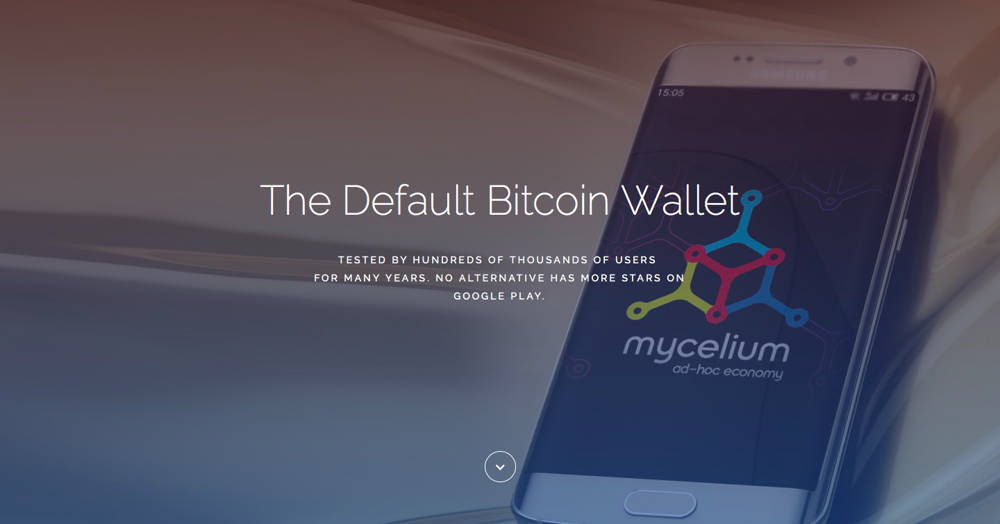 Mycelium has been with the cryptocurrency community since the inception of Bitcoin.
This highly popular Bitcoin wallet also supports Ethereum and ERC20 tokens. It won the "Best Mobile App" award from blockchain.info back in 2014.
The wallet has a number of account options: you can create an HD account, an account for hardware wallets, a single address account etc.
Main features:
Local trader – a P2P marketplace allowing you to trade Bitcoin with other Mycelium users in your area. A seller and buyer can discuss the transaction terms in an end-to-end encrypted chat available only to them. The buyer's and seller's reputation is changed automatically based on the number of successful or aborted trades.
Private keys located on your device
Support of QR codes that make transactions to stores and merchants easy
Support of BIP38 Keys
Ultra fast connection to the Bitcoin network through Mycelium super nodes
Coinomi Wallet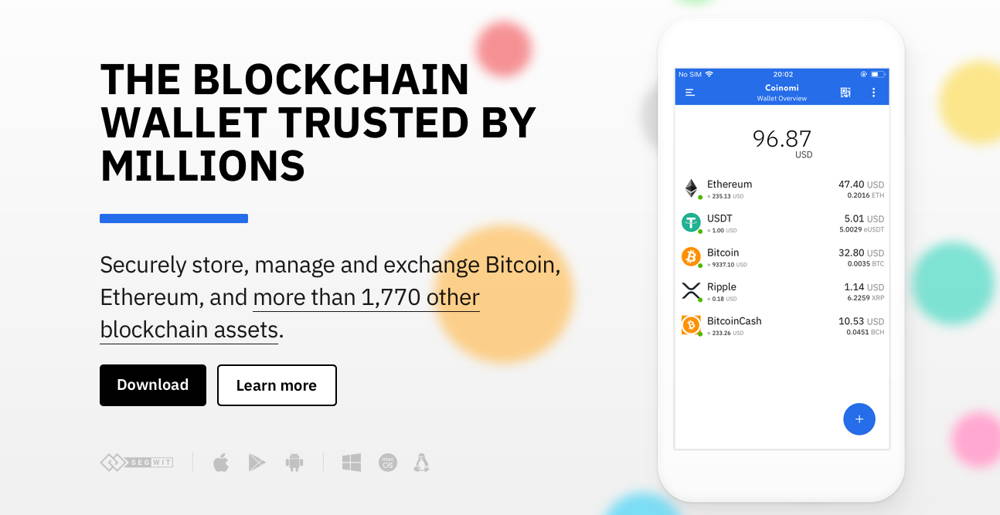 Cryptocurrency wallet for Bitcoin, Ethereum and other altcoins. Developed by top tech engineers, this wallet was optimized for low-spec devices thanks to reduced power consumption and data usage.
Main features:
High level of protection – your private keys don't leave your device. A modern encryption mechanism guarantees that your money will be completely under your control.
Exchange cryptocurrencies with ShapeShift
Backup with a seed phrase
Open source project, i.e. Coinomi's code is publicly available and can be reviewed.
Cross-chain payments – send BTC to altcoin address and vice versa.
Edge Wallet
Edge wallet was founded in 2014 and was initially called AirBitz. Later the company was rebranded as Edge. It is a simple and multifunctional Bitcoin wallet which could be easily handled by your grandmother. The app has an intuitive UI and wide range of options, from purchasing cryptocurrency to converting it.
Main features:
Purchase crypto straight in the application
Exchange cryptocurrencies via ShapeShift, Changelly and ChangeNow
Buy gift cards for popular online stores like Amazon, eBay, Steam etc.
Instant registration – you only need a login and password
Hierarchical Deterministic wallet with changing addresses per transaction
Set spending limits
Exodus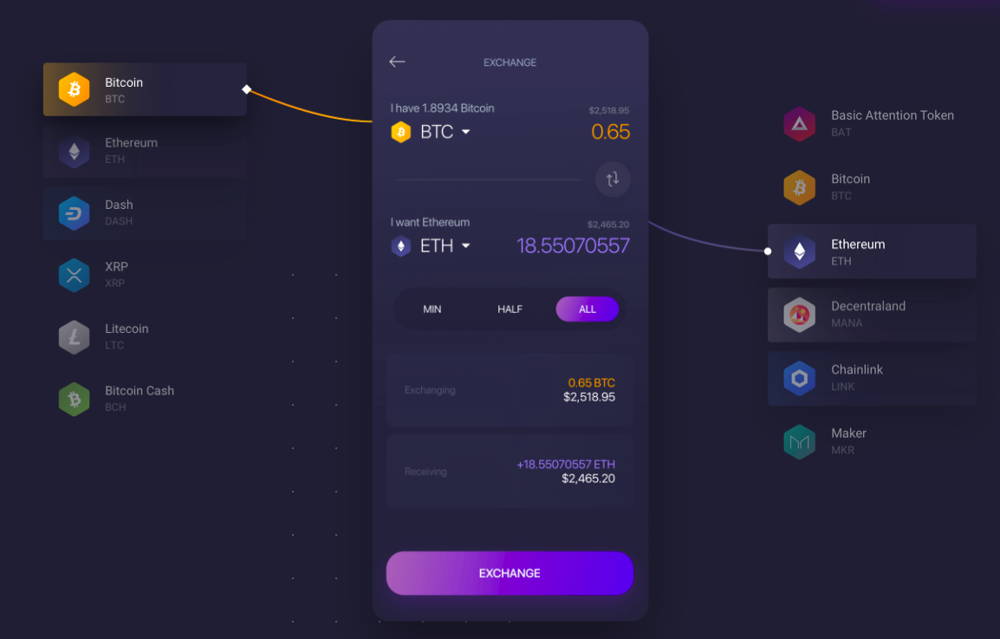 Exodus was founded by JP Richardson and Daniel Castagnoli in Nebraska in 2015. Exodus is a full-fledged cryptocurrency platform where you can manage and trade your coins. The application has an intuitive design with graphics and charts.

Main features:

Portfolio monitoring – an overview of all cryptocurrencies stored in your wallet
Built-in exchange allowing you to trade different cryptocurrencies in the application
Automatic wallet lock after a selected period of time
Integration with Trezor Hardware Wallet 
Cryptocurrency wallet supports 103+ digital coins including Bitcoin
Robinhood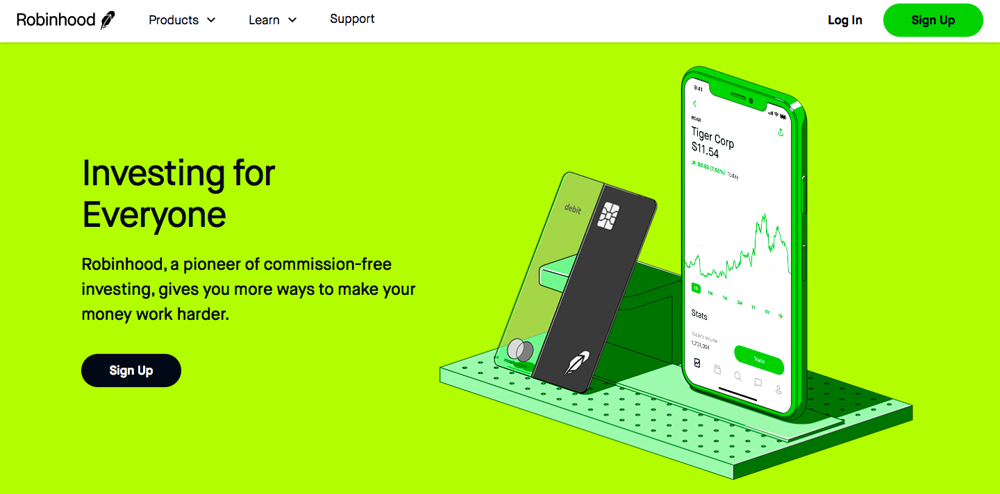 Robinhood is a trading mobile application for stocks, gold, options and Bitcoin. It is designed more as an exchange platform where you can store and trade cryptocurrency on the market without sending it to other wallets and users.
Main features:
No commissions for buying and selling BTC
Wallet and exchange in one application
You can trade shares of gold and options
It is worth pointing out that Robinhood has experienced some interruptions of their service in the past, so it may not be quite as reliable as some other wallets.
CoPay
CoPay was developed by the BitPay payment processing company. It is a Hierarchical Deterministic wallet with open source code which people can review on GitHub. It is a decent wallet to store and manage your crypto funds securely.
The main features:
Application supports Bitcoin, Bitcoin Cash, Ethereum, and ERC-20 stablecoins
Multi-sig feature for personal or shared wallets
Support of BIP70-BIP73 payment protocol for secure transactions
Email and push notifications for payments and transactions
Support for several languages including German, French and Chinese.
BitPie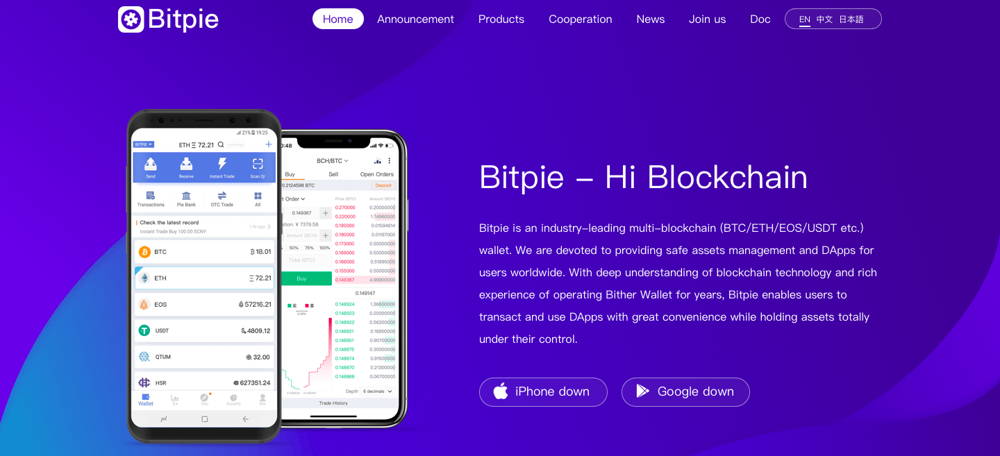 Bitpie is a simple Bitcoin wallet popular in Asia. The wallet has a few features that no other application can match.
The main features:
You can connect your wallet with Dapps directly in the application
BitPie offers a wearable hardware wallet "BITHD" which connects to the app via bluetooth
Built-in OTC market where you can trade your Bitcoin and other cryptocurrency assets
Supports 40+ cryptocurrencies and tokens including Bitcoin
FAQ about Bitcon wallets for iOS and Android
How to create a Bitcoin wallet
You can easily create a Bitcoin wallet with the Freewallet platform just in a few clicks:
Download BTC Wallet for iPhone or Ipad from the Appstore
Sign up with your mobile phone, email, Facebook or Google account
Set up a strong password and PIN code
Your Bitcoin wallet is ready to use
Buy some Bitcoin or deposit it into your cryptocurrency wallet and start managing your digital gold.
How to recover a Bitcoin wallet
Usually, customers have to use a special 12-24 word recovery phrase to restore their wallet. Freewallet backs up your wallet automatically, so you can restore your account without a mnemonic phrase. In case of a lost or broken phone you can log into your account from any other device. Additionally, you can ask our support team to transfer all your Bitcoins to another wallet.
How to send Bitcoin from a paper wallet
To send BTC from a paper wallet you need to import coins to your mobile wallet using a private key.
Press "Settings" and choose the "Import Wallet" section
Choose the "Private Key" option and enter your key from paper wallet
Coins will be deposited to your Freewallet account.
Once the import is completed, you will see the imported coins minus the network fee reflected on your Freewallet balance.
How to find a Bitcoin wallet address
A Bitcoin address begins with 1, 3 or bc1 and consists of 25-36 random characters and numbers. It can be defined as a bank account number or destination on the BTC network. To find your BTC wallet address click on the "Receive" button.
Final words
Mobile Bitcoin Wallets provide a convenient way to store and manage your Bitcoins in any place of the world. However, they are less secure than hardware wallets. When keeping your Bitcoins on a mobile app always follow these simple rules to increase your safety:
Set a strong PIN code and password
Enable two factor authentication
Update your software regularly
Configure transaction limits if possible
Only download applications from the AppStore and Google Play or official websites
Choose a wallet which suits you best and enjoy the offerings of the crypto world