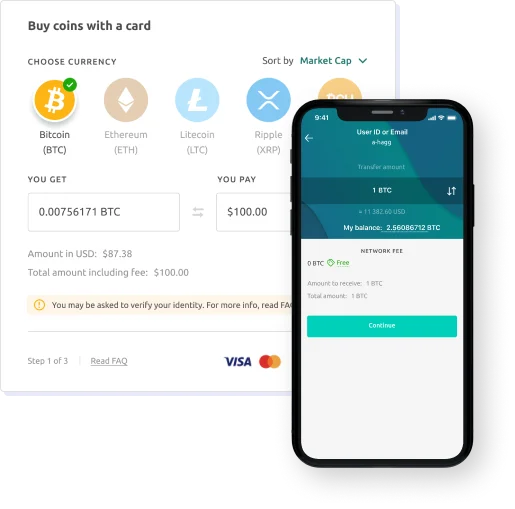 Buy cryptocurrency with a credit card
Buy BTC, ETH, LTC, XRP, XLM, BNB, BCH, TRX for USD, EUR, GBP and other fiat currencies right in your mobile and web crypto wallet. We accept credit, debit, virtual and prepaid cards from Visa and MasterCard.
Buy with a card
Exchange without blockchain fees
Exchange 50+ coins and ERC20 tokens, including BTC, ETH, LTC, etc. without network fees. Enjoy better exchange rates, faster transactions and enhanced anonymity in online crypto wallet.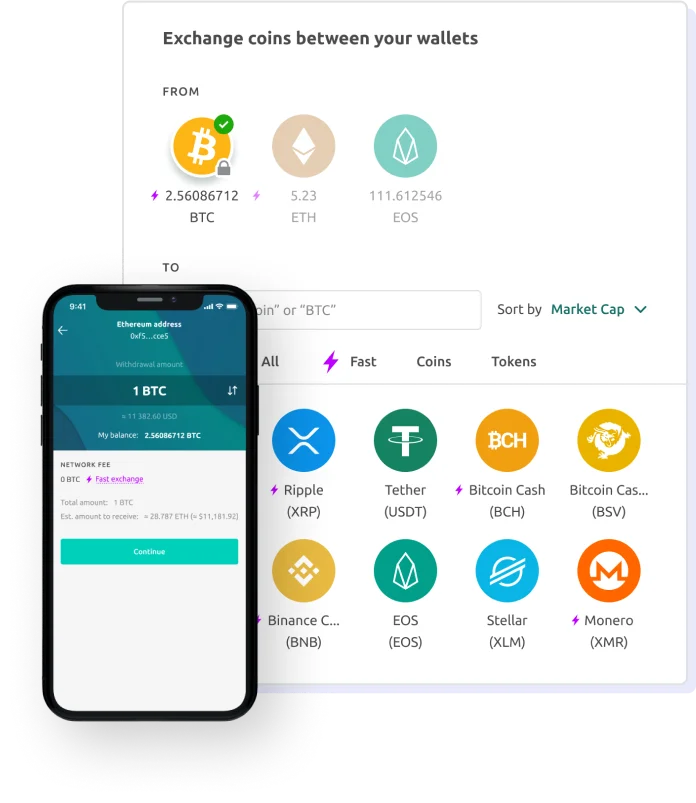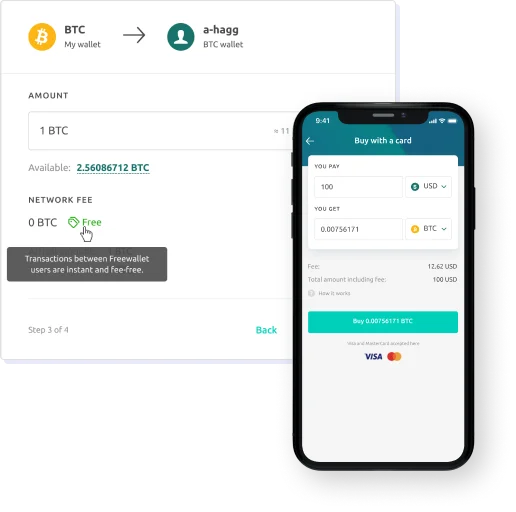 Send cryptocurrency instantly for free
Make transactions to other Freewallet users without network fees. Send your coins using side-chain technology to other multi currency wallets instantly and free of charge.
Send
More benefits of online crypto wallet
Store 150+ cryptocurrencies
Our multi currency wallet app supports all major coins including Bitcoin, Ethereum and other altcoins, ERC20 tokens and some EOS tokens.
Follow coin prices right in the multi wallet
Check exchange rates without switching to another screen right in the multi cryptocurrency wallet app.
Exchange your crypto in two clicks
100+ currencies to exchange. Download the cryptocurrency wallet app and exchange one blockchain asset for another in a few clicks!
Login with email & social media
You can create a crypto wallet account with your email, Facebook, Apple, Google account or mobile phone number. It's easy and secure!
Top-up your phone with Bitcoin
You can top up your mobile phone with Bitcoin (BTC). We support over 400 operators in 100 countries.
Enjoy Multi Crypto Wallet on any platform
Crypto Wallet is a cross-platform app available for iPhone, Android mobile phones and desktop devices on Mac, Windows and Linux. Manage your coins on iOS, Android and the web or use our multi wallet application on all platforms simultaneously.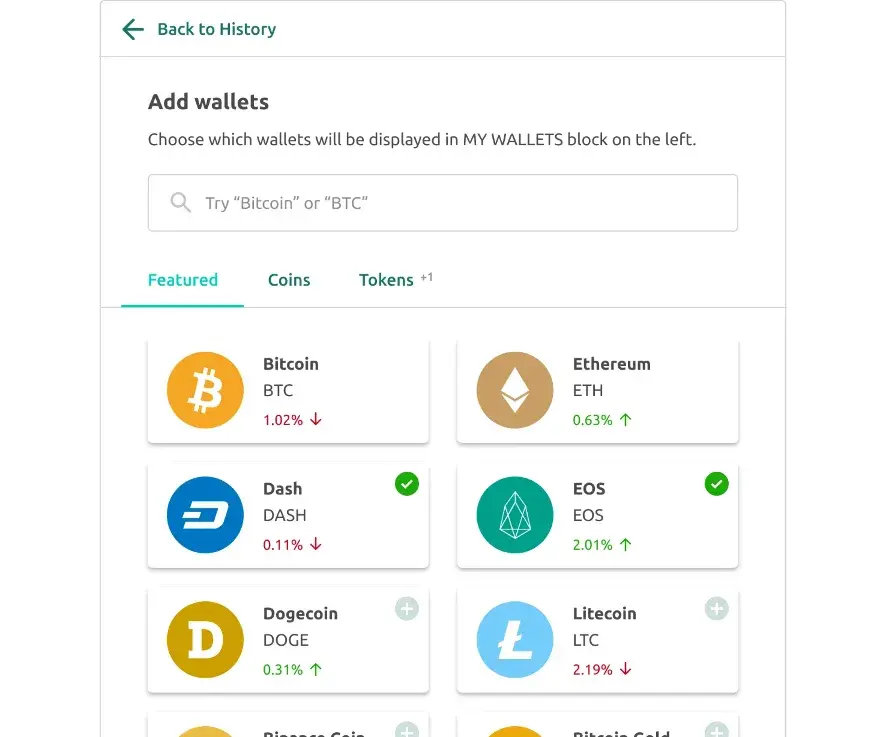 Create wallet
One secure wallet for all your cryptocurrencies
Our desktop and mobile crypto wallet provides users with a wide range of security options from 2FA to email confirmation of transactions.

Most of the coins are held offline in a cold storage to be safe from hackers and avoid any unauthorized access to your account. Make the most of all security features to enjoy the safest crypto wallet.
Multi signature confirmation for each transaction
Limits per day/week to help minimize the risk of theft
Coins are held in a cold storage
2FA, pin-code and Fingerprint support
Multicurrency Wallet FAQ
Is Freewallet ERC20 compatible?

Yes, Freewallet is compatible with ERC20 tokens added on our multi currency wallet. We don't support all of the existing ERC20 tokens but only listed on the Freewallet application. Transactions with tokens not available on Freewallet can appear on the blockchain, but they won't appear on your balance.

We recommend you to make sure that the token is available on Freewallet cryptocurrency app before sending it. Check the list of supported ERC20 tokens and ask our support team whether Freewallet supports the token.

Is Freewallet safe?

Security has always been our priority #1. We combine high-grade security features with modern encryption methods to deliver reliable protection for our customers. Freewallet has a wide range of security features to maximize the safety of your crypto wallet. Set up a secure PIN code, 2FA, daily and weekly withdrawal limits, and configure transaction confirmation via email. Our team keeps adding more security features to strengthen safety and guarantee that no funds can be lost or stolen.

How to recover a multi crypto wallet?

If your phone is lost or broken, you don't need to recover your cryptocurrency wallet. Just log into the same account using another device. You can also contact our support team to supend your account and send all your coins to another wallet.

In case of a forgotten password, change it by clicking the form on the authorization page. You'll get an email with a link to reset an old password and create a new one. Once you choose a new password, you can log in using the correct credentials.
Multicurrency Crypto Wallet for iOS, Android and Desktop/Web
See 100+ coins and tokens value/Exchange 100+ coins and tokens
Buy gift card
1000+ gift cards online from Amazon, eBay, Apple with card and crypto
Purchase
Bitcoin, Ethereum, Dogecoin and 50+ crypto with a card
Multiple payment providers
Choose Simplex or Moonpay
Top up phone
online with Bitcoin
Still have questions?
If you have any questions please feel free to ask. The cryptocurrency wallet team 
is ready to help you 24/7 with your cryptocurrency wallet app.

You can contact us using all your favorite ways of communication: