Volatility shows the variation of an asset's price within a certain time frame. Volatility is one of the top advantages of cryptocurrency speculations, allowing one to make a fortune out of a sudden drop or surge in the exchange rate. It explains why digital coins are never coming out of investors' fashion. Freewallet is dedicating its review to the 15 most volatile cryptocurrencies in 2021. *
1. ETHEREUM (ETH)
This currency is without a doubt on the top of our list. Ethereum has definitely outperformed its major rival Bitcoin in the 2021 rally. Its High was reached in May and had almost hit the mark of $4000. According to estimates, its volatility within 2021 is 4859%, which makes 42742600 points! Having started from just over $730 per currency unit in early January, it rushed and anticipated subsequent growth of other coins, including Bitcoin. The growth of Ethereum in early 2021 was a harbinger of the whole crypto rally.

Trade Ethereum with Freewallet!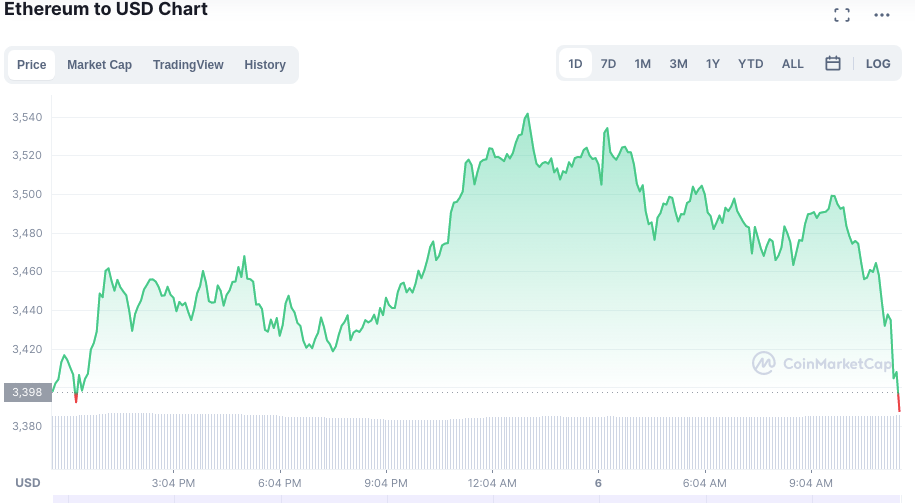 2. STELLAR (XLM)

The approximate volatility of Stellar in 2021 makes 14000%, or 36820. It puts this currency among the most volatile crypto projects of the recent past. Stellar's swings have been abrupt with pikes followed by slides. As for most digital coins, the middle of the year set a downward trend for this currency.
Pick up your Stellar application!

3. BITCOIN (BTC)

Of course, we have no way to skip the major player of all cryptocurrency "charts" in the first place. Contrary to the expectations of many, Bitcoin was not the most volatile coin with its 1558% of change per year. There are a few months till the year's end and everything can change.
An extremely volatile time for Bitcoin was the first half of the year. After having soared above $40 000 in January 2021, the Bitcoin price hit an all-time High when approaching $65 000 on April 14, 2021. But it would not be Bitcoin without rapid changes in price. Summer 2021 saw a more than 50% slump and touched a new Low $32 000. Another rally took Bitcoin close to $50 000 in Autumn which was followed by another decline to $42500.

Exchange Bitcoin here!

4. LITECOIN (LTC)

The price volatility of this Bitcoin's companion is not without resemblance to the coin discussed above. By now, it has hit 1525%. Although the LTC price has significantly pulled back from the record-making mark $412 reached in May, Litecoin has managed to grow after the summer's slump. Remaining one of the top cryptos in many categories, the coin represents a valid choice of a diverse cryptocurrency portfolio based on its volatility potential.*

Your trading applications for Litecoin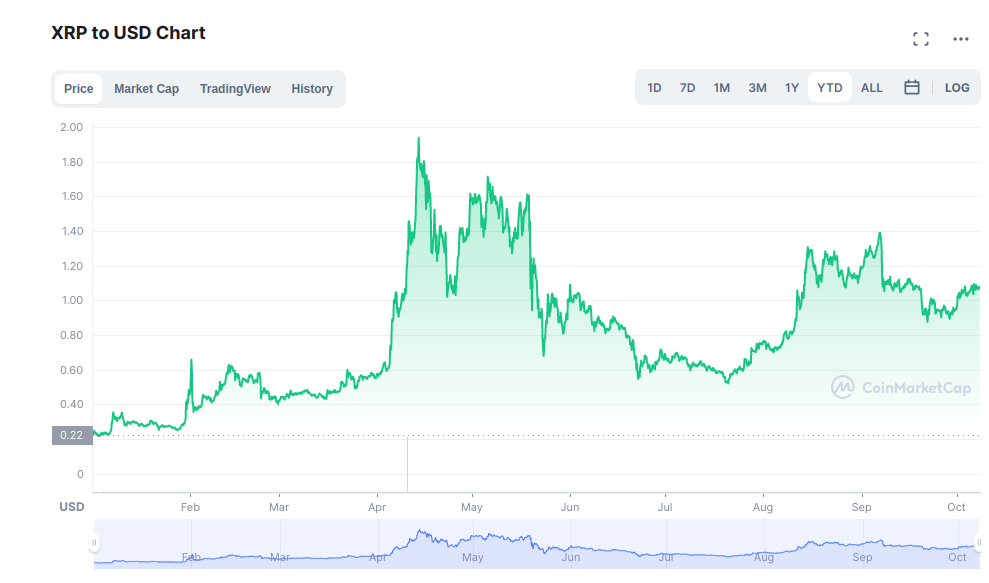 5. RIPPLE (XRP)

The volatility of Ripple has been notable throughout 2021 (7158%). Its April and June peaks ($1.79 and 1.38, respectively) were reached against a rapidly changing background. The litigation process with regulatory authorities might have prevented Ripple from reaching more impressive peaks this year. Meanwhile, the price is in a slight downtrend. We should not rule out positive changes inspired by the successful handling of ongoing issues faced by XRP and the general market dynamics.

Download XRP app


6. BITCOIN GOLD (BTG)

With the volatility as of 3041%, Bitcoin Gold is one of the most volatile cryptocurrencies in 2021. Bitcoin Gold has declined by more than half since having reached its 2021-High at $140. Although these records are pretty far from the all-time High reached by BTG in 2017 ($509), it has been demonstrating signs of a very gradual recovery since September.

Trade BTG with the first Bitcoin Gold wallet
7. DASH

The volatility index of Dash for 2021 is 1251%, which is no surprise given a dash upsurge of the coin from the level of about $66 in January to the High of $440 in May 2021. This rally was followed by a drop to the level of about $120 – 160 when the price had been till early August. Next to this, Dash started its careful recovery to almost $220 and experienced another round of decline. For the time being, the price of the asset is stuttering at around $170. Most likely, another rally of the coin can be expected within the general market rally.  

Download Dash app

8. BITCOIN CASH (BCH)
One of the oldest cryptocurrencies had forked from Bitcoin in 2017. In 2021, the volatility figure for this cryptocurrency is 1030%. By major market parameters, Bitcoin Cash has always been regarded in the top 20 cryptocurrencies. Naturally, it makes BCH one of the most volatile cryptocurrencies in 2021 as well.
The value of the currency started to increase its growth pace following Bitcoin in late 2020. By January 2021, it had reached $340 and took a few months to peak to $1635 in May. Like major cryptocurrencies, it then retreated to more than half of this peak value. News about the expansion of BCH service in PayPal along with the foundation of the Grayscale Bitcoin Cash Trust positively impacted the price reaching the level above $800 in September, 2021. However, BCH has started to pull back since that rise.

Buy BCH
9. Shiba Inu (SHIB)

Shiba Inu, a famous example of meme coins, can boast of the aggregate volatility reaching 30230007%. SHIB is a coin of the Shiba Inu ecosystem launched in the mid 2020 and originally has an extremely low price value. Thus, it has enormous potential to grow and impress with its volatility. The listing of SHIB on big exchanges in 2021 boosted its market capitalization and helped the coin to reach its first records. The next wave of its growth is taking place these days, in early October 2021, oddly after a tweet of Elon Musk about his new Shiba Inu puppy. The coin added 300% within the first day of the month.

Trade SHIB with Freewallet
10. Dogecoin (DOGE)

No conversation about volatility is possible without Dogecoin. The price volatility made a twist of 9530% within a year. Its popularity in 2021 brought DOGE to the 6 place among cryptocurrencies by market capitalization. The coin owes its giddy success to endorsements made by Elon Musk and subreddit SatoshiStreetBets, as well as its listing on Coinbase. During a short time frame, the coin's price grew by more than 6000% only to be followed by a sharp decline in the following spring and summer months. This currency is no stranger to great surprises that should not be ruled out in the future.

Buy and exchange DOGE here.

11. Polygon (MATIC)
A native token of the Polygon network, MATIC, has gained 7462% volatility in 2021. In the beginning of 2021, the token cost was $0.0018. In just less than a month, it had already hit $0.043. After a change of ups and downs, the price rose to $0.77 in May and broke a record ($1.70) in June. Its further path matches the dynamics of most cryptocurrencies with an abrupt collapse in value and a steady fluctuating recovery in fall, 2021.
12. Solana (SOL)
7183% is the volatility figure for this coin in 2021. Its journey in 2021 started just above $1.50 to bring it to $56 in May, in accord with a general crypto rally. Unlike most cryptos,  late spring was not the time when Solana reached its highest price. The record was set in September at the mark of $189. A truly stunning space was crossed by the price! Following this peak, SOL set itself for a careful slide. The market saw the volatility potential here and is watching for the next moves.

13. ShapeShift FOX Token (FOX)

FOX, an ERC-20 token of the ShapeShift crypto trading platform, managed to generate volatility of 34945%  within 2021. The decision of the company to switch to the decentralized model announced in mid-2021 boosted the token's price tremendously. The value grew by more than 300% in just a few hours. Although the price set itself for decline after this move, we can expect the development of its volatility trend.

14.  Telcoin (TEL)

The volatility of another ERC-20 token, Telcoin, shows an impressive figure of 9795% this year. The coin started the year with a modest $0.00017 and made a breakthrough to $0.06 in May. Following this surge, the price found itself within the channel $0.015 – $0.03. The Telcoin provider renders remittance service to mobile operators and, therefore, competes against the cryptocurrencies featuring financial services, for example, eCash and Ripple.

15.  XYO Network (XYO)

Our volatility review is closed by XYO, an Ethereum token of the decentralized XYO network, allowing device owners to generate crypto rewards. In its turn, a business owner would benefit from measuring the traffic count of their competitors. Some experts believe that the underlying crypto coin of the project will be slowly appreciating as the user base is growing. So far, XYO's volatility performance for 2021 made 7440%. Its price received a major boost due to the listing on popular exchanges and reached its High at $0.04 in September.

*Our opinion does not construe investment or financial advice. 
---
---
Related
Stay tuned
By signing up for this email, you agree to our Terms of use and Privacy policy. We will send you promotional emails occasionally, but not often. We hate that, too.
Subscribe for weekly updates from our blog. Promise you will not get emails any more often.
Most Popular
Feb 17, 2021
---
Jan 13, 2021
---
Dec 9, 2020
---
Nov 18, 2020
---
Feb 4, 2020
---
New Posts
Jul 29, 2022
---
Jul 25, 2022
---
Jul 21, 2022
---
Jul 19, 2022
---
Jul 14, 2022
---
Stay tuned
By signing up for this email, you agree to our Terms of use and Privacy policy. We will send you promotional emails occasionally, but not often. We hate that, too.
Subscribe for weekly updates from our blog. Promise you will not get emails any more often.
Most Popular
Feb 17, 2021
---
Jan 13, 2021
---
Dec 9, 2020
---
Nov 18, 2020
---
Feb 4, 2020
---
New Posts
Jul 29, 2022
---
Jul 25, 2022
---
Jul 21, 2022
---
Jul 19, 2022
---
Jul 14, 2022
---