Over the two years of existence, Bitcoin Cash has survived several hard forks, broke into the TOP 5 biggest crypto coins by market capitalization, and demonstrated periods of explosive growth. In better times, it cost more than USD 4000, but today it barely holds the price of USD 226. Read the Bitcoin Cash price prediction to know the future price of BCH and what to expect in 2020 – 2025 period.
What is Bitcoin Cash
During the development of classic Bitcoin, very few people thought that the cryptocurrency would become so in demand. Programmers decided that 1MB per block would be enough. However, popularity grew rapidly and with it the load on the system also grew. Space in the blocks was sorely lacking and transaction speed was falling. The transfer could be expected after half a week.
Back in 2017, the developers of Bitcoin decided to upgrade their protocol with SegWit2x technology, which had to improve the performance of the mainnet. In order to embody such a global change, all members of the network had to agree to move to the new standards. However, some miners didn't like this idea and decided to increase the blocksize from 1 MB to 8 MB. As a result, Bitcoin Cash hard forked from Bitcoin in August 2017.
On November 15, 2018, the Bitcoin Cash blockchain was split into two branches again – BCHABC and BCHSV. Now both networks are developed by competing teams. BSV wanted to restore Staoshi's protocol while BCH (ABC) decided to stick to the original Bitcoin Cash roadmap.
Bitcoin Cash blockchain value
Bitcoin Cash repeats the original code of BTC in many aspects: the supply limited to 21 mln. coins, PoW protocol, and SHA256 algorithm. However it has brought various improvements. The main features of the BCH blockchain are:
The maximum block-size increased from 1MB to 8MB and later to 32 MB.
They implemented a mechanism of parallel functioning of two chains, thanks to which you can not erase, duplicate information, as well as transmit a message two times.
The team increased the security thanks to the change of transaction type and elimination of quadratic hashing and signature of inputs.
Difficulty Algorithm is adjusted every 6 blocks, not every 2016 like on the original Bitcoin blockchain
Bitcoin Cash price analysis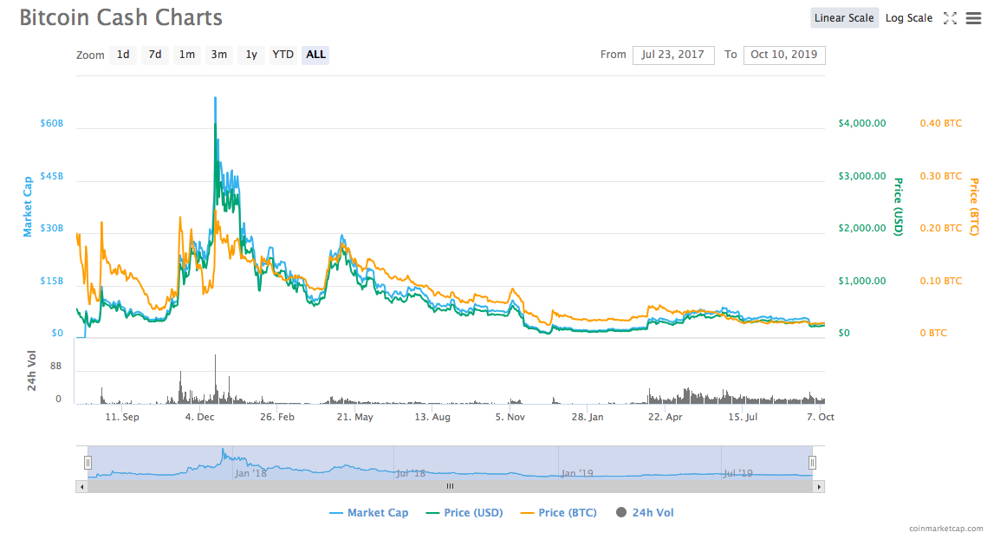 BCH entered the market in August 2017 and cost $200. Within a month it reached the $550 price point and attracted a lot of interest from crypto enthusiasts. The community liked the coin for its mining convenience and traders were seeking to make money on the new altcoin.
The market correction cut the price by 30% but in November, the next phase of growth began. Thanks to being listed on the top crypto exchanges and the release of official software, BCH jumped to $1000. Soon, the coin achieved its all-time high of $4355.
However, it wasn't long and the price decreased to $2600. Later, Bitcoin Cash moved downwards and reached $700. In May, BCH made a short term jump to $1500 and then continued to go down.
In November 2018, a new hard fork occurred which led to the hashrate war with Bitcoin SV. It only worsened the downtrend and the coin fell to its lowest price – $75. Until the spring of 2019, Bitcoin Cash was trading between $130 and $170.
In March, the market finally started going up, but it wasn't so long for BCH. When developers introduced new protocols to increase block size, one unknown hacker took advantage of the vulnerability of the system and launched an alternative chain. It resulted in double spending and users losing about $1.5M. Miners tried to operate on the new chain and began to open empty blocks. It caused a network crash and the system didn't work at all.
To fix the situation, two mining pools – BTC.com and BTC.top combined their hashrates and performed a 51% attack to restore the system. It only raised more questions in the community about security and the decentralisation of Bitcoin Cash. It led to a price drop by 25%.
Today, Bitcoin Cash is trading at $234 and takes the 4th place in the rating by Coinmarketap. However, the coin has had a clear downtrend and here comes the question – what can drive the price in the future?
What is driving Bitcoin Cash's price
Today, Bitcoin Cash has a range of factors which are dragging the price down. First of all, its poor security, which led to an accidental fork and the loss of user's money. Also, the reputation and trust were spoiled by the possibility of the 51% attack.
Despite a problematic background, Bitcoin Cash remains the most successful fork of Bitcoin. Today, it has a big community of miners and traders. The coin has a limited supply which will eliminate inflation in the network and can positively affect its price.
The development team seeks to find a way to improve the whole situation. Bitcoin Cash is preparing a big update that should fix all the problems:
Improve security and protection from attacks (including 51% attack)
Increase bandwidth of the mainnet to thousands of tps
Reduce transaction confirmation time to 2-3 seconds
Introduce smart contracts
Cut commissions with fractional satoshi technology
Introduce the CashShuffle protocol to make operations untraceable
Reduce the weight of transfers to accelerate the blockchain with Schnorr signatures and formatting UTXO.
The dev team plans to release Avalanche in November. Some experts believe that it will boost up the price to $500-600. Let's check what other experts say.
Bitcoin Cash technical analysis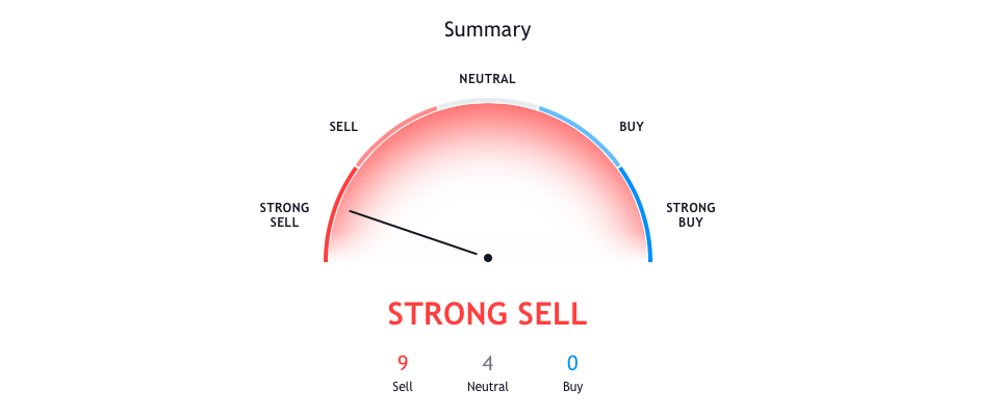 First of all, we've addressed the technical analysis tool on the TradingView. It gives a strong sell monthly prediction.
Bitcoin Cash price predictions
Bitcoin Cash price prediction by TradingBeasts for 2020, 2021, 2022, 2023
For the next three years, TradingBeasts has a quite moderate BCH price prediction. According to the forecast, Bitcoin Cash will reach $181 at the end of 2020. At the beginning of 2021, BCH will be about $200 and by the end of the year, the price will be about $306. In January 2022, Bitcoin Cash is expected to cost about $318 and by the end of 2021, it will be $405. The cryptocurrency will be gradually growing and at the end of 2023 Bitcoin Cash will cost about $481.
Bitcoin Cash price prediction by WalletInvestor for 2020 – 2025
The WalletInvestor gives an interesting BCH price prediction. Despite the current downtrend, they expect a big price pump to $400 by the end of 2020. In January 2021, BCH price will remain on the same level for several days and then will gradually fall. In February 2020 it will decrease up to $80 and then go up again to $300 in December. The price of Bitcoin Cash will repeat the same behaviour in 2022, 2023, 2024, 2025. BCH will be traded between $50 and $500 throughout the years and will reach $350 at the end of 2025.
Bitcoin Cash price prediction by DigitalCoinPrice for 2020 – 2025
DigitalCoinPrice has a positive forecast for the future price of Bitcoin Cash. In 2020, the maximum price during the year will be $550 USD. In 2021, the coin will fluctuate between $500 and $60 and reach its highest price of $680 in September 2021. In 2022, BCH will be trading between $600-$700 with the highest price – $803 in July. Over time the price of the coin will grow. In 2025, Bitcoin Cash will reach $1100 and during that year, BCH will be traded for $900 and $1000 per coin.
Bitcoin Cash price prediction by LongForecast for 2020, 2021, 2022, 2023
LongForecast follows a negative prediction for BCH. In 2020 Bitcoin Cash will experience a downtrend and will be trading between $250-211. In 2021, the currency will continue falling and by the end of the year it will cost only $130. Basically, Bitcoin Cash will decrease until 2022 and only then the situation will begin to improve. By the end of 2022, the price of the coin will be about $61. In May 2023, BCH will begin to grow and will reach $150 in December. Currently, Bitcoin Cash has one of the lowest prices throughout its history. In general, BCH is expected to grow in the long run. The maximum growth could be after the launch of the Avalanche update.
Bitcoin Cash App
You can store Bitcoin Cash on Freewallet: a Crypto Wallet on your iPhone or Android device as well as on your computer via the web app.
Store BCH and 150+ other cryptocurrencies in one place.
Buy Bitcoin Cash and other cryptocurrencies with your credit card.
Seamlessly exchange BCH with other cryptocurrencies right in the wallet.
Make free transactions with other Freewallet users.
Monitor the price of a coin in the wallet to not miss the best exchange rate of BCH.
Protect your money with advanced security protection including 2FA, multisig, and transaction limits. The majority of assets are kept in cold storage. It guarantees that your coins won't be lost or stolen.
Feel free to sign-up with your Facebook, Gmail, email, or mobile number and try Freewallet.
Disclaimer: This article should not be considered financial advice and serves only as informative material. The cryptocurrency market is subject to high volatility and regulatory uncertainty. You should do a substantial amount of research before engaging in financial activities with cryptocurrencies.
---
---
Related
Stay tuned
By signing up for this email, you agree to our Terms of use and Privacy policy. We will send you promotional emails occasionally, but not often. We hate that, too.
Subscribe for weekly updates from our blog. Promise you will not get emails any more often.
Most Popular
Feb 17, 2021
---
Jan 13, 2021
---
Dec 9, 2020
---
Nov 18, 2020
---
Feb 4, 2020
---
New Posts
Sep 22, 2023
---
Aug 14, 2023
---
Aug 10, 2023
---
Jul 17, 2023
---
Jul 17, 2023
---
Stay tuned
By signing up for this email, you agree to our Terms of use and Privacy policy. We will send you promotional emails occasionally, but not often. We hate that, too.
Subscribe for weekly updates from our blog. Promise you will not get emails any more often.
Most Popular
Feb 17, 2021
---
Jan 13, 2021
---
Dec 9, 2020
---
Nov 18, 2020
---
Feb 4, 2020
---
New Posts
Sep 22, 2023
---
Aug 14, 2023
---
Aug 10, 2023
---
Jul 17, 2023
---
Jul 17, 2023
---