During the World Cup, even the biggest sceptics get caught up in the football frenzy and consider making a bet! With bitcoin and other crypto, it has never been easier. If you too want to test the odds before the next game, here's a list of the online BTC betting sites that accept bets on the FIFA World Cup in Bitcoin and other cryptocurrencies.
OneHash.com
Cryptocompare rating: 3.6
Accepted crypto: BTC
URL: www.onehash.com/category/sport/football/world_cup_2018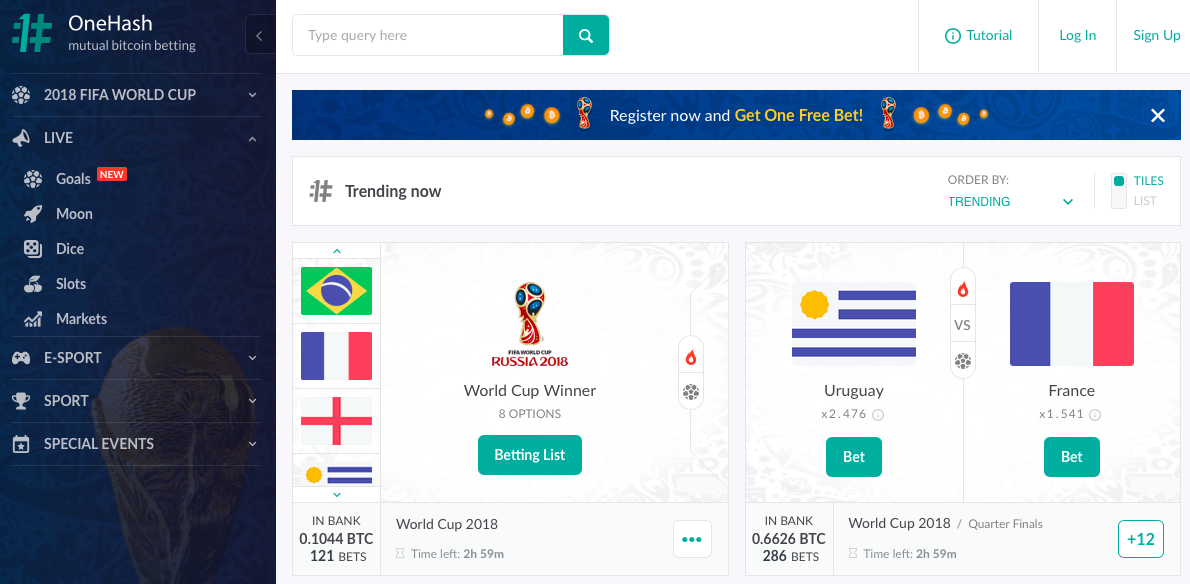 OneHash is a Bitcoin gambling platform providing mutual betting in sports betting, casino and dice games, financial events and more. Users can either bet with BTC that they have deposited to their OneHash wallet or by transferring BTC directly for any given event. OneHash is 100% provably fair and charges an average fee of 1%.
Mutual betting is very simple:
A bettor chooses a side to place their bet…and others place theirs.
Every bet made influences the winning multiplier until the pool closes.
When the match result is confirmed, winners split the pot proportionally to their contribution.
OneHash does not require an account, but every registered user gets a complimentary first bet of 0,0002 BTC.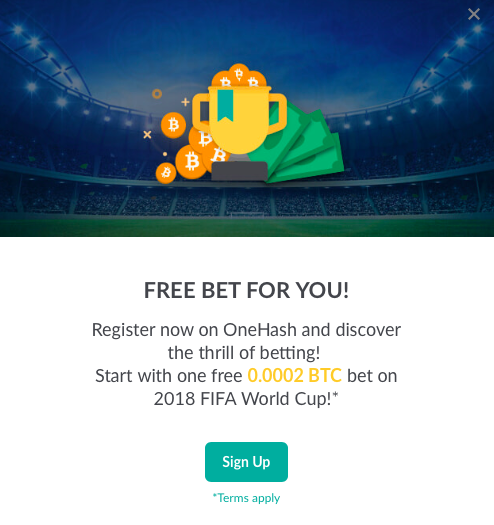 1xbit.com
Cryptocompare rating: 3.2
Accepted crypto: BTC, LTC, ETH, DOGE, DASH, XMR, ZEC, XEM, FUNC, GAME, DGB, NEM, BCN, SIB, BTG, BCH, ETC, BTS, XGOX
URL: 1xbit.com/en/line/Football/1536237-FIFA-World-Cup-2018/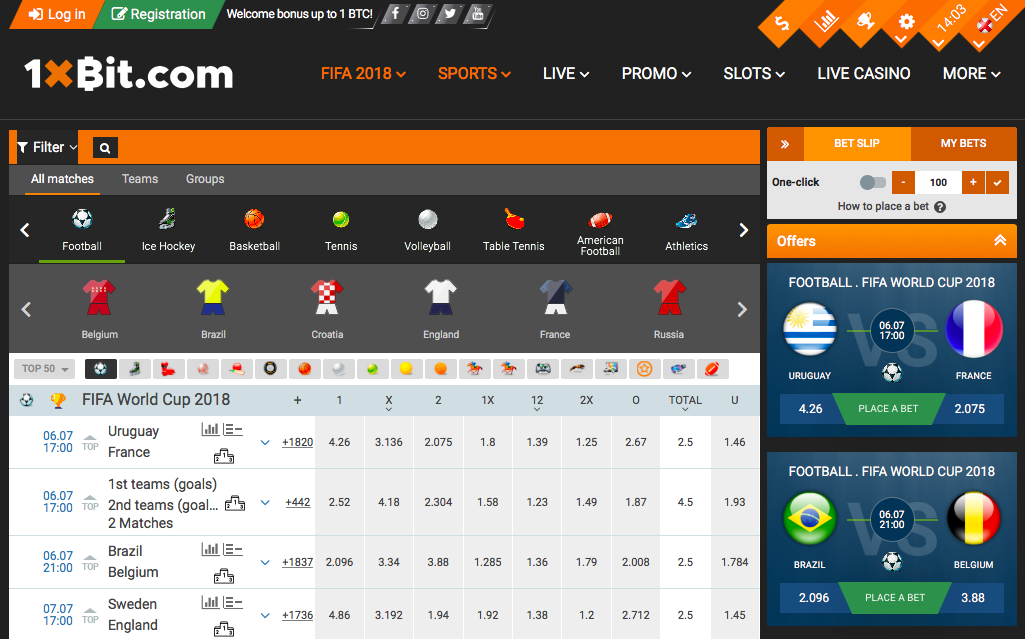 1xBit is a cryptocurrency gambling platform founded in 2016. It offers daily bets on over 1000 sporting events, live casino games, and more than 3000 slots. It also features its own games, which are provably fair. All customer accounts support multiple currencies, so players can use the same account to bet with over 10 cryptocurrencies.
1xBit has a variety of bonuses, one of which is the 100% first deposit bonus. With the promocode 1x_12313, the First Deposit Bonus is increased to 125%.
SportsBet.io
Cryptocompare rating: 3.6
Accepted crypto: BTC, BNT, BCH, CLAM, DASH, DGB, DNT, DOGE, EDG, ETH, ETC, FCT, GNO, GAME, LTC, NEO, NEM, NMR, NXT, OMG, POT, AUG, RCN, RLC, SNT, STORJ, SWARM, TRST, WINGS, XMR, XRP, ZEC, VRC, VTC
URL: sportsbet.io/world-cup-2018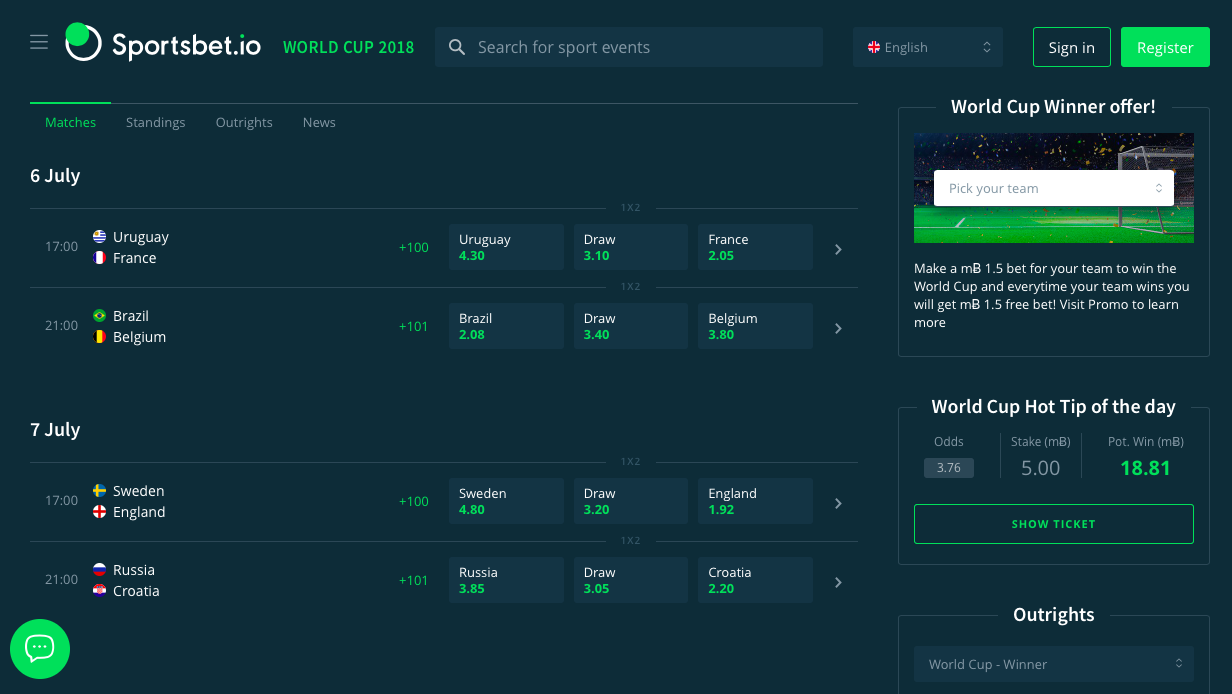 Sportsbet.io is an online bitcoin sportsbook website. Users can bet on sports, e-sports and casino games. Sportsbet.io offers an intuitive platform and an easy-to-create account system. Users can bet on Soccer, Basketball, Ice Hockey, NFL, NBA, MLB, Boxing and more. Sportsbet.io now supports over 33 altcoins and also provides live streaming.
Sportsbet.io offers a competitive affiliate program and deposit bonuses.
Coinbet24.com
Cryptocompare rating: –
Accepted crypto: BTС, other (ShapeShift enabled)
URL: coinbet24.com/en/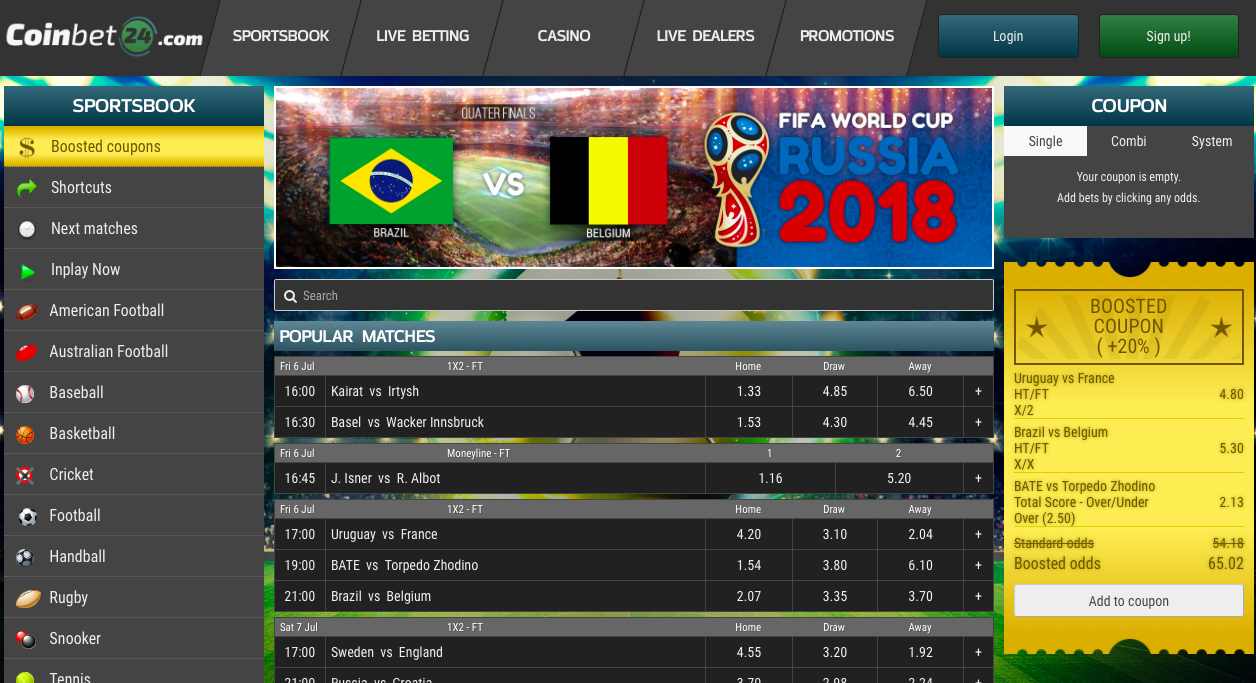 Coinbet24 is a Bitcoin gambling website that allows users to bet on sports and casino games.You need an account to gamble and it offers deposit bonuses and an affiliate program (although a written application must be submitted). Users can place a deposit in various ways:
Bitcoins.
Other cryptocurrencies (ShapeShift).
Credit card.
Bank transfer.
Perfect Money.
EcoPayz.
Bodog.eu
Cryptocompare rating: –
Accepted crypto: BTC
URL: www.bodog.eu/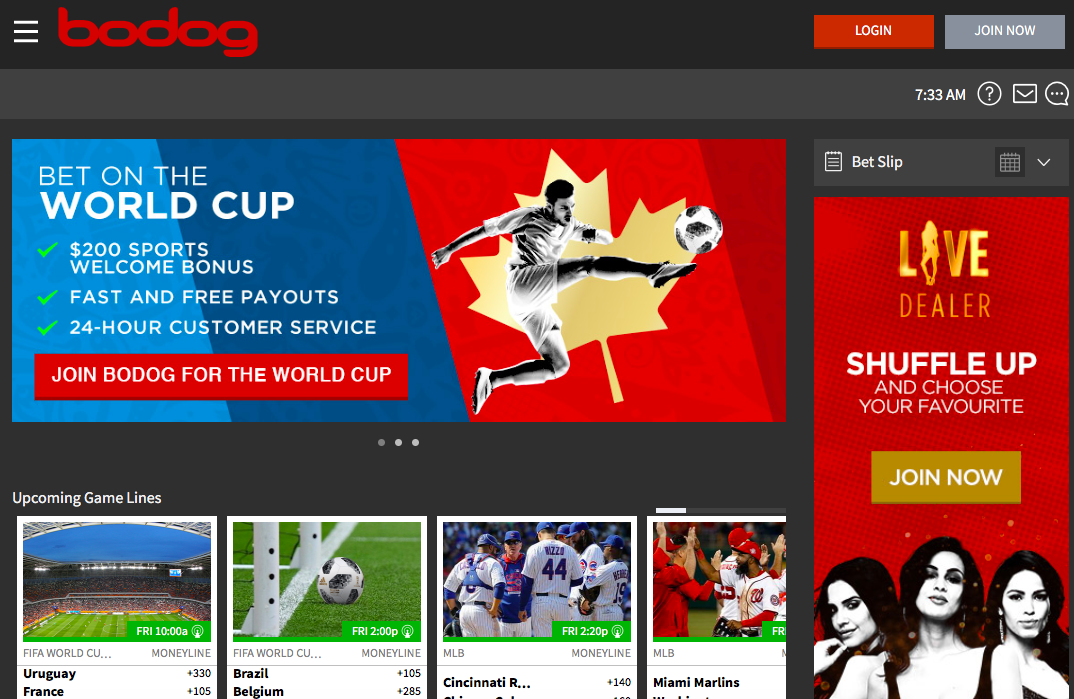 Bodog has an interesting history. The company was founded as a software design firm in 1994 in Canada. After opening as an online sportsbook and betting site in 2000, Bodog.com soon became one of the biggest names in the industry. By 2005, Bodog was reporting hundreds of millions of dollars in revenue. In 2006, they were forced out of US market by the Unlawful Internet Gambling Enforcement Act. Bodog lost a good chunk of its revenue, no longer able to work with American customers, and sold its American holdings to the Morris Mohawk group under the name Bovada.
These days, Bodog offers a number of gambling options "under one roof" – sports betting, live betting, race betting, casino games, and head-to-head and casino-style poker. Its deposit bonuses are among the biggest in the industry.
---
---
Related
Stay tuned
By signing up for this email, you agree to our Terms of use and Privacy policy. We will send you promotional emails occasionally, but not often. We hate that, too.
Subscribe for weekly updates from our blog. Promise you will not get emails any more often.
Most Popular
Feb 17, 2021
---
Jan 13, 2021
---
Dec 9, 2020
---
Nov 18, 2020
---
Feb 4, 2020
---
New Posts
Dec 6, 2023
---
Nov 30, 2023
---
Nov 29, 2023
---
Nov 13, 2023
---
Nov 9, 2023
---
Stay tuned
By signing up for this email, you agree to our Terms of use and Privacy policy. We will send you promotional emails occasionally, but not often. We hate that, too.
Subscribe for weekly updates from our blog. Promise you will not get emails any more often.
Most Popular
Feb 17, 2021
---
Jan 13, 2021
---
Dec 9, 2020
---
Nov 18, 2020
---
Feb 4, 2020
---
New Posts
Dec 6, 2023
---
Nov 30, 2023
---
Nov 29, 2023
---
Nov 13, 2023
---
Nov 9, 2023
---