Bitcoin has become one of the most valuable assets today. In almost 10 years it has gone from nothing to being crowned the new digital gold, worth thousands of dollars. Bitcoin's extreme price rise has come as a big surprise for many people but not for BTC enthusiasts. They believe that it will eventually overcome fiat and become the primary currency in the world. At the very least, Bitcoin has slightly made good on their projections by managing to become what many consider to be a digital equivalent of gold. What will be the future of BTC read in our Bitcoin price prediction.
Bitcoin price history – the rule of cyclical market
Back on December 17, 2017, BTC achieved its all-time-high of $19,767 and then started a long price fall. The downtrend ended up lasting for more than 500 days, but today Bitcoin seems to be recovering after the long bearish period. As you see, BTC price history is very rich on events with its pit falls and good moments.
Since the end of 2017, the BTC price has dropped by more than 50% and today it is settled around $9000. What a nightmare! But this was not the first time BTC experienced such pronounced falls.
Financial markets are cyclical and the cryptocurrency market is not an exception. We've decided to do a retrospective of the major Bitcoin price cycles that have punctuated its short history.
The first cycle: Bitcoin price autumn 2010 – summer 2011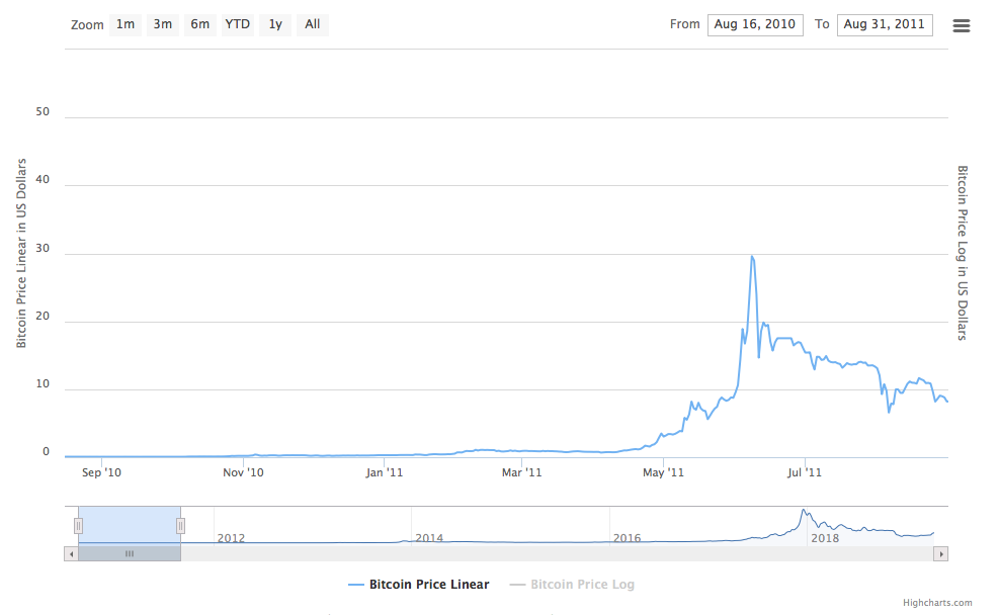 BitcoinMarket.com (no longer in operation) was the very first BTC exchange, opening trades on March 17, 2010. For a long time, the price of BTC was no more than a few cents. In this period the BTC price started at $0.06 and only achieved $0.8 in April of the next year.
The first enthusiasts who learned and understood the technology entered the market and provoked a non-parabolic but significant rise in price. Exponential growth in such a short period of time drew more traders into the BTC market. As a result, the price jumped to $36 in July.
After that, Bitcoin got into a price adjustment phase and dropped by 94% to $2. This resulted in many people calling BTC a Ponzi scheme and a bubble.
The second cycle: Bitcoin price autumn 2011 – spring 2013
The second cycle repeated the market behaviour of the previous period. BTC started growing from $2, achieved $10 and then suddenly jumped to $200 in April 2013. It was an enormous increase of 2500% which was followed by a price crash within a few weeks. As a result, BTC finished at $50 and gained over 90% during the cycle.
This time market trades were accompanied by the emergence of new digital currencies including Litecoin and the creation of the Bitcoin Foundation. The organisation is focused on spreading the word about BTC and giving it positive media coverage, leading to the mass adoption of the coin. These events also affected the Bitcoin price.
The third cycle: Bitcoin price spring 2013 – winter 2013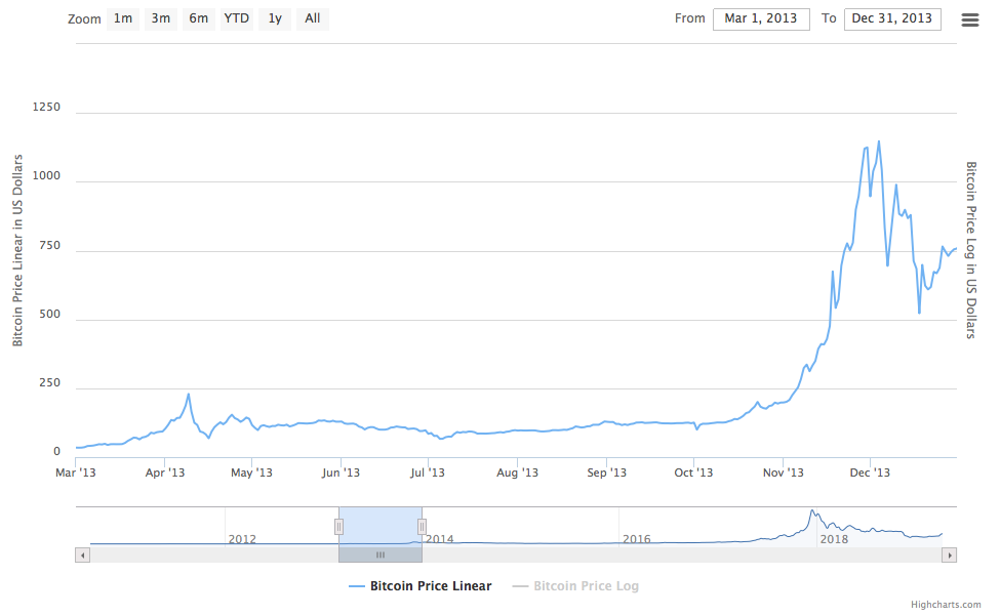 The third bullish cycle developed gradually and Bitcoin was able to reach a new price point of $100 by just September. Then the coin skyrocketed again to $1160, resulting in a 1060% increase in December of 2013. This price boom drew great attention from the media. But when the price dropped to $150 in 2015, most of the noise quickly faded away.
The downtrend was much longer than previous ones and it made many crypto enthusiasts doubt that BTC could set new price records and enjoy sustained success. However, the minimum price of the third cycle was three times higher than in the previous period.
The fourth cycle: Bitcoin winter 2015 – winter 2017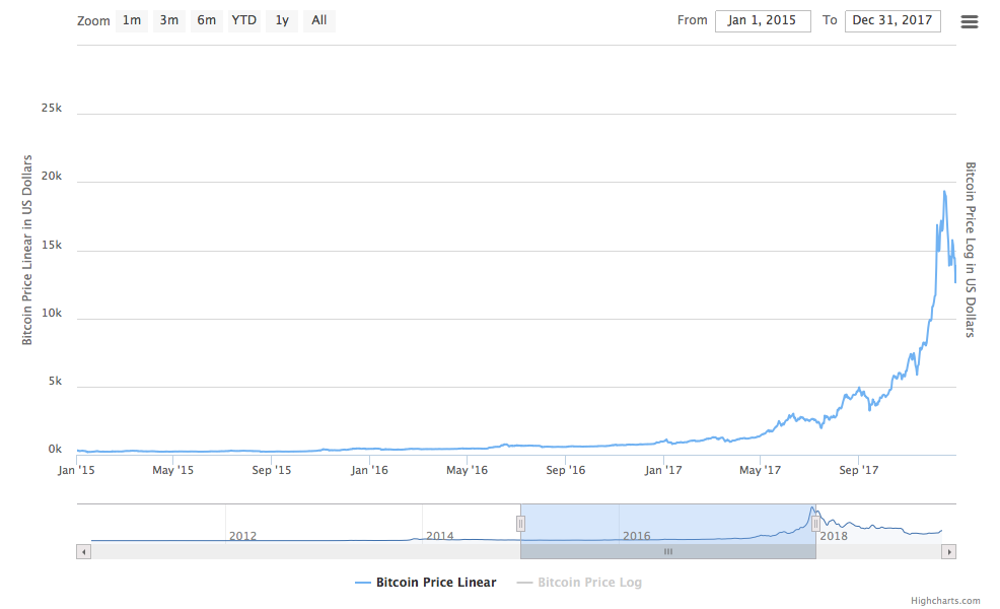 During the fourth cycle, Bitcoin was taking giant leaps from one price point to another. The rate started at $1000 and then increased 5 times to $5000. But as we all remember, the finest hour for BTC was December 2017. That month the digital currency surprised everyone and set a new price record, growing over $19000.
After such a tremendous price growth, the crash of the cryosphere was severe and cut the value of BTC by almost five times. It was the longest bearish period in the whole 10 years of Bitcoin history. Today, many analysts claim that Bitcoin has achieved its bottom line and are preparing for another bull run.
All four price cycles have the same pattern. It starts with a gradual price growth which can last for months and proceeds with a booming but short uptrend. Then comes a market crash with price correction which wipes out 50% of the coin's value. In the end, the bottom price is always higher than the price of the previous period.
BTC price today: 2018-2019
You all know that story, after reaching its historic all-time-high Bitcoin started rapidly falling and dragged all the market with it. The bear market lasted for more than 1.5 years. It gave people a new reasons to doubt cryptocurrencies and call them a bubble.
However in the beginning of April Bitcoin grew by $1000 within just a few hours and overcame the $5000 price point. What was behind the recovery? There were several reasons for this.
$100000 Bitcoin order – there was one huge order worth $100000 in total, spread among three exchanges: Coinbase, Kraken and Bitstamp. Each platform received an order of about 7000 BTC almost at the same time, which caused the market to turn bullish.
Technical indicators – Various long term price indicators, including the money flow index (MFI) and the moving average convergence divergence (MACD), showed the possibility of a bearish trend developing.
February and March green market – February was the first month in the green after six months of BTC negative returns. The upward tendency continued through into March. This could have been a trigger for traders when they saw that the market had been trending upward. It is likely that purchasing increased when traders saw that the market was starting to consistently close in the green.
Since April, BTC is gradually growing and today it is fluctuating between $7000-$10000 dropping and pumping from time to time.
News and political situation
To explain what impact the news can make let's take a look at the recent trade war between the US and China. The price of the cryptocurrency rose by 25% when Donald Trump announced that he would raise tariffs on Chinese imports. At the same time, the Yuan has subsequently fallen to a six month low.
Also, there have been signs that Chinese investors are moving their funds to Bitcoin. This has been backed up by exchange data. According to Dr. Garrick Hileman, BTC prices are trading at a premium on popular Chinese exchanges like Huobi.
The correlation between Yuan and BTC can be seen in the diagram below. It has become more evident in April and May and as the tensions ratcheted up with the weakening of U.S.-China trade relations.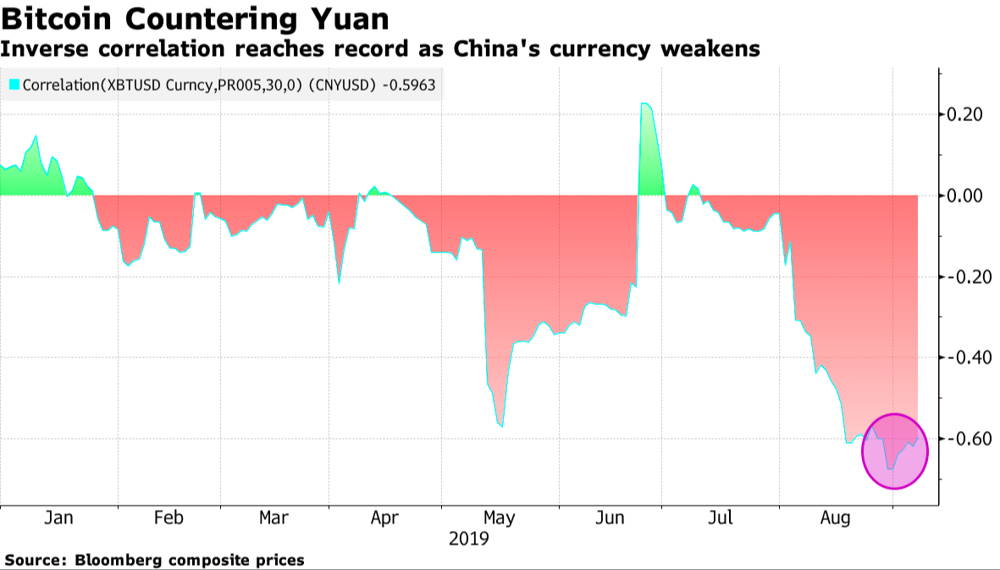 The Bitcoin price rise has coincided with major events and announcements of the trade war:
May 13 – China announced a tariff increase on $60 bln. worth of American goods. Bitcoin surged 139%.
June 25 – the US planned to delay extra tariffs on Chinese goods. Bitcoin rose by 40%.
August 13 – the US delayed setting extra tariffs on Chinese goods because of health, safety, national security and other reasons. BTC rose 123%.
Infrastructure development
The cryptocurrency industry is constantly building up with new adoption cases, payment processors, etc. which creates a solid infrastructure. The launch of Bakkt, and Fidelity OTC crypto platform, acceptance of BTC as a payment by Wholefoods are such examples of development on this front.
The number of Bitcoin users grows exponentially, just in the last three years the number of wallets has increased from 8.9 mln. to 42 mln. Also, the global number of BTC ATMs increased from 954 in January 2016 to 2053 by 2018. The major amount of ATMs located in the United States and Canada while Europe covers only 20% of the global share.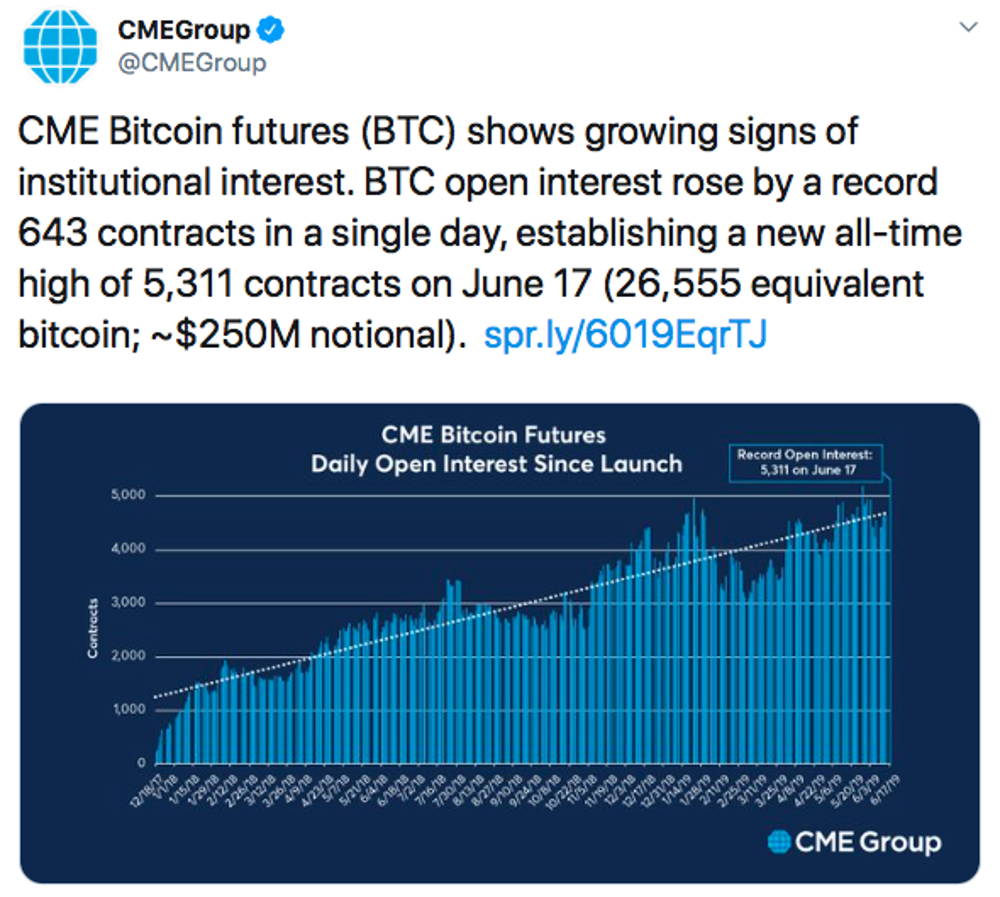 Today it is believed that institutions are behind the wheel of mass adoption and will be the main driver of Bitcoin's rise in the future. CME notes that the demand for Bitcoin futures among financial institutions is only increasing. Companies which previously were bearish towards cryptocurrencies have been showing much more interest in these assets as a new, legitimate financial tool.
Bitcoin Dominance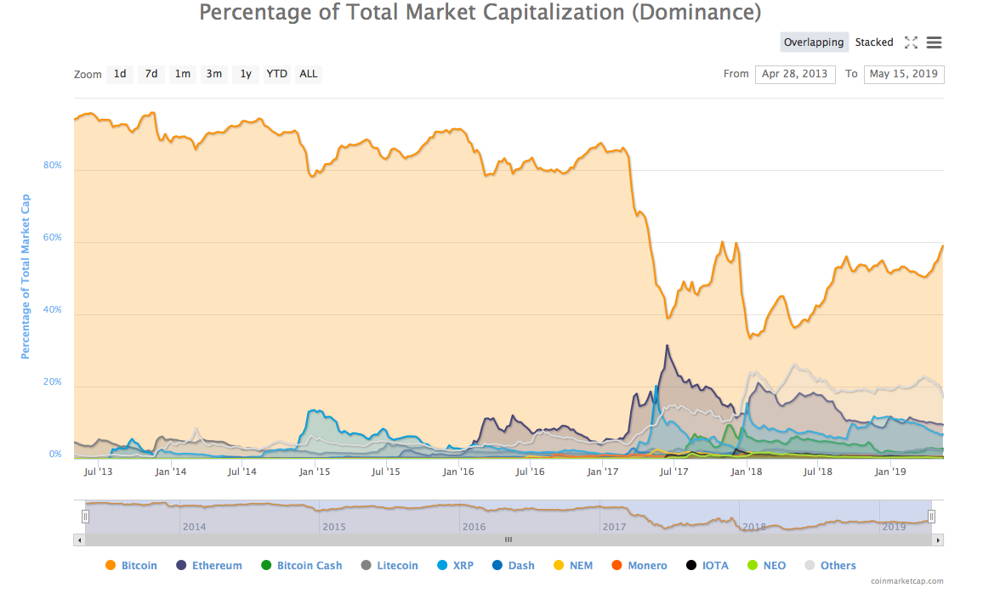 BTC price growth was accompanied by its growth in terms of dominance rate. The rate corresponds to the percentage of the crypto market that is held in BTC. Usually, the increase of this index means that people are moving their funds from altcoins to Bitcoin. The higher the rate – the more people now holding Bitcoin. For example, on May 12, Bitcoin dominance ratcheted up to 59.4%, its highest figure since December 2017. And the climb was very sharp.
This doesn't mean that ETH, LTC and other alts are getting kicked to the curb. BTC growth positively affects the whole cryptocurrency market.
Bitcoin halving is on its way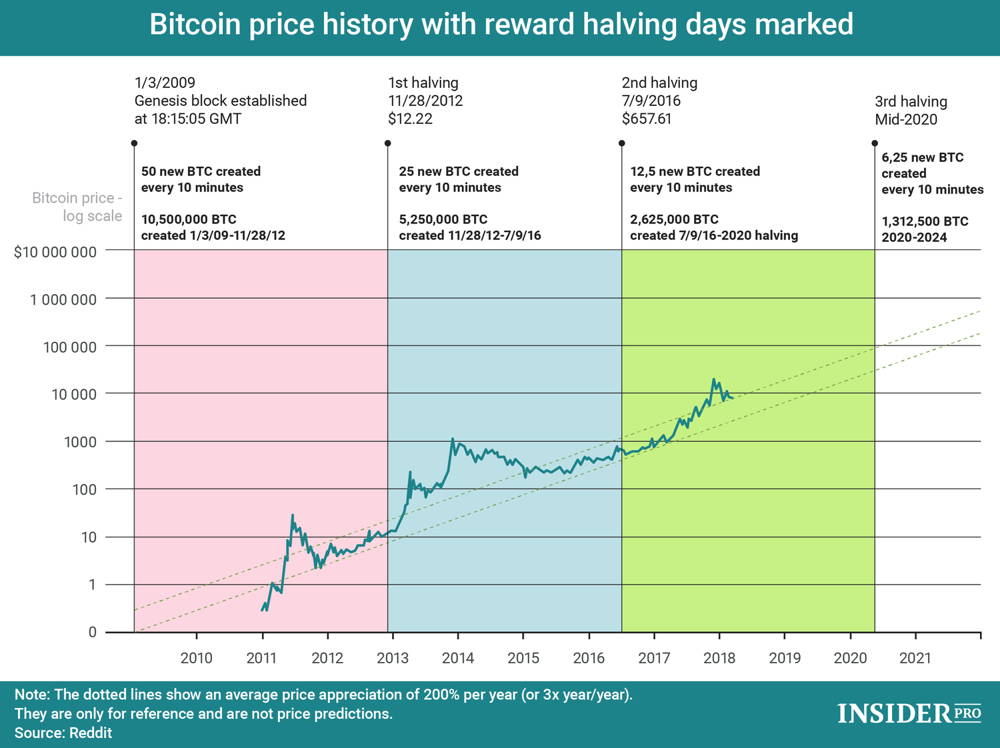 In May 2020 the BTC halving event will occur which will halve the currency's mining reward. In the past the price of the currency has trended upwards in the run-up to halving events. Facing the prospect of an increased mining difficulty with the same profitability, trading interest in the currency tends to rise. Analysts for Bitmain — the leading producer of mining equipment — believe that the halving is the main trigger for the BTC price growth and will be releasing new equipment before it happens.
Bitcoin price predictions
Bitcoin price prediction for 2019, 2020, 2024 by WalletInvestor
According to this resource, the price of Bitcoin by the end of 2019 will reach $11000. In a nutshell, they believe that the price of the coin will only rise over time. Let's take a look at how the coin will fluctuate each year:
In 2020: $9,200-$12,500
In 2021: $10,100-$13,700
In 2022: $11,700-$14,900
In 2023: $12,900-$16,300
In 2024: $14,100-$15,800
BTC price prediction for 2019, 2020, 2021, 2022 by TradingBeasts
TradingBeasts give a really moderate price prediction for these years. They don't expect a booming growth up and expect the Bitcoin future price to remain mostly on the same level for these 4 years.
In 2019: $8,000
In 2020: $8,000-$8,900
In 2021: $90,00-$10,559
In 2022: $10,700-$12,400
Bitcoin price forecast for 2020-2023 by LongForecast
LongForecast give a really positive forecast for the future price of BTC. The believe that Bitcoin will grow by 444% by the end of 2023. The major jumps will be in the last two years:
In 2020: $8,800-$13,640
In 2021: $5,700-$9,190
In 2022: $8,300-$23,000
In 2023: $22,000-$42,000
BTC price forecast for 2020-2025 by CoinDigitalPrice
In December the BTC price will go up to $16000. That sounds impossible knowing the today's value of the coin. The other forecasts are very optimistic too:
In 2020: $20,615
In 2021: $23,331
In 2022: $28,356
In 2023: $30,321
In 2024: $20,943
In 2025: $20,733
Bitcoin price forecasts by influencers
Jeremy Liew – The very first investor in a popular social media Snapchat, Jeremy Liew claimed in 2017 that BTC price can realistically achieve $500000 by 2030.

Winklevoss Twins – the owners of Gemini cryptocurrency exchange said that BTC market cap should achieve $5 trillion by 2028-2038.

Roger Ver – Roger Ver doesn't believe that one day Bitcoin can achieve 250000. He didn't give any exact date.
Where to buy Bitcoin
You can buy Bitcoin on Freewallet with just a few clicks:
Login to your wallet
Go to "Buy with a card"
Choose USD or EUR
Choose the amount to send or receive
Fill all necessary fields
You are awesome Bitcoin are on your balance
If you don't have a wallet – try Freewallet: Crypto Wallet. Sign-up with your email, mobile number, Google or Facebook account instantly and start managing 100+ cryptocurrencies in one app.
Disclaimer: This article should not be considered financial advice and serves only as informative material. The cryptocurrency market is subject to high volatility and regulatory uncertainty. You should do a substantial amount of research before engaging in financial activities with cryptocurrencies.
---
---
Related
Stay tuned
By signing up for this email, you agree to our Terms of use and Privacy policy. We will send you promotional emails occasionally, but not often. We hate that, too.
Subscribe for weekly updates from our blog. Promise you will not get emails any more often.
Most Popular
Feb 17, 2021
---
Jan 13, 2021
---
Dec 9, 2020
---
Nov 18, 2020
---
Feb 4, 2020
---
New Posts
Sep 29, 2022
---
Sep 27, 2022
---
Sep 23, 2022
---
Sep 22, 2022
---
Sep 15, 2022
---
Stay tuned
By signing up for this email, you agree to our Terms of use and Privacy policy. We will send you promotional emails occasionally, but not often. We hate that, too.
Subscribe for weekly updates from our blog. Promise you will not get emails any more often.
Most Popular
Feb 17, 2021
---
Jan 13, 2021
---
Dec 9, 2020
---
Nov 18, 2020
---
Feb 4, 2020
---
New Posts
Sep 29, 2022
---
Sep 27, 2022
---
Sep 23, 2022
---
Sep 22, 2022
---
Sep 15, 2022
---