Cardano vs. Ripple: what are the main differences between these two popular cryptocurrencies?
These two crypto projects have become extremely popular since their launch, and this is mainly because of their goals: as we will see, while Cardano was mainly born to create a more scalable alternative to Ethereum, Ripple wants to improve people's access to financial services.
It's not something new in the crypto space: the majority of cryptocurrencies want to improve the traditional financial system, so why are these crypto projects so popular? What are their distinctive features?
We will answer these questions by comparing not only Cardano and Ripple but also their cryptocurrencies with an ADA vs. XRP comparison that will clarify even more the functioning of the two projects behind them.
Comparing The Main Parameters That Will Help Users to Identify the Differences Between Cardano (ADA) and Ripple (XRP)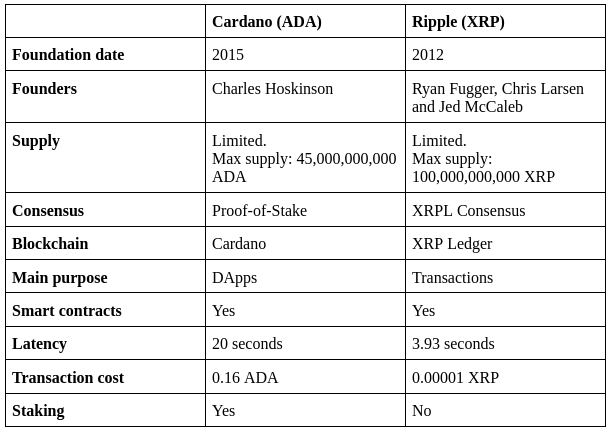 What is Cardano (ADA)?
Cardano was born with the idea to create a more scalable, sustainable, and low-cost Defi ecosystem.
Actually, the idea is to improve the system made popular by Ethereum, and even if we can affirm that Cardano is still working to reach its goal, it is supporting it also with its native crypto — ADA.
Thanks to the governance system created by the project, the limited supply and the several use cases of the blockchain, the price of the crypto managed to surge considerably since its launch, without unnatural peaks, as you can see in the image below:
ADA allows its holders to participate in the governance system of the project, respecting the desire of Cardano to make the world and the economy more transparent, fair, and inclusive.
What is Ripple (XRP)
As we mentioned in this article, comparing ADA vs. XRP, the main purpose of Ripple is to allow cost-effective transactions around the world.
The project is able to do that thanks to its crypto, XRP.
As we can read on Ripple's official website, XRP allows users and companies to source liquidity and make low-cost transactions, and this is the main reason for its popularity. But XRP has not always been in the headlines for positive reasons.
The lawsuit between the SEC and Ripple — started in 2020 — caused several peaks in price charts — both positive and negative.
It was not the first time that XRP experienced such price changes, and this is maybe due to the fact that the company behind the project — Ripple Labs — is very active in the crypto market and made the crypto more subject to the influence of news than other crypto projects.
Cardano Vs. Ripple: The Main Differences Between the Two Projects
To proceed with our ADA vs. XRP comparison, let's analyze the parameters we mentioned to spot the main differences between these two crypto projects.
Foundation Date
Cardano and Ripple are not so young if we consider the speed of the crypto environment.
While Cardano was founded in 2015 and ADA launched in 2017, Ripple was founded in 2012, but the idea behind it is extremely older — even older than Bitcoin.
In fact, the payment system used and improved by Ripple Labs was conceived by Ryan Fugger in 2004.
Founders
Even though the founders of OpenCoin — then re-named Ripple Labs — are Chris Larsen and Jed McCaleb, we also listed Ryan Fugger because of the key role he had in the development of the project.
The founder of Cardano, Charles Hoskinson, is also known for being a co-founder of Ethereum.
Limited supply
Cardano (ADA) and Ripple (XRP) share this characteristic: both projects opted for a limited supply, and this is not a common attribute for a crypto-focused on payments like XRP.
Consensus Mechanism
While Cardano uses Proof-of-Stake (PoS) as a consensus mechanism, Ripple created its consensus mechanism with the help of the whole Ripple community: the XRPL Consensus Protocol has the particular attribute to be able to track validators momentarily offline, so to adjust quorums taking into account also these users.
Blockchain
Both projects have their own blockchain – so, we can define both ADA and XRP as coins and not tokens.
Main Purposes of these two crypto projects
While Cardano is focusing on creating a system that can make decentralized finance (DeFi) more efficient, allowing developers and business owners to create their applications at lower costs, Ripple focuses on allowing fast transactions at a global level.
Smart Contracts — are they supported?
Smart contracts are maybe the main reason why developers want to use Cardano (ADA). Decentralised finance and applications at lower costs — if compared to Ether — and higher scalability is conceived to be the strengths of the project.
For what concerns Ripple (XRP), developers can still benefit from the use of smart contracts in a few ways — being a project focused on transactions, its smart contracts use cases are mainly related to escrows and payment channels.
Latency
This parameter has to be considered taking into account the goals of the two projects — as we are highlighting in this Cardano vs. Ripple comparison.
Ripple is centered on payments, it needs to allow fast transaction settlements if it wants to improve traditional systems and stay competitive, and its blockchain was created to permit a really low latency, which is significantly lower than Cardano's latency.
ADA Vs. XRP — Transaction Costs
ADA and XRP transaction costs are extremely different. The costs of ADA are higher, but if we consider the purposes of the two projects it makes sense.
In fact, XRP is used to facilitate transactions around the world, so it is extremely important to keep low transaction costs for the project to be successful.
Also, costs related to ADA are low — if compared, for instance, with the costs you can face when using Bitcoin or Ether – and this helps developers to create new applications and business models, but they can't be as low as the costs related to cryptos used (almost) exclusively to move money.
Staking — is it allowed?
Staking represents one of the main differences between the two cryptocurrencies.
As we mentioned while covering the different consensus mechanisms of Ripple and Cardano, while Cardano uses a Proof-of-Stake blockchain — so the cryptocurrency can be staked — Ripple works with a totally different blockchain.
XRP doesn't have the characteristics of PoS and PoW cryptocurrencies, but you can still hold XRPs to earn interest. All you need to do is use lending platforms, where you can lend your XRPs as you would do with cash in a peer-to-peer agreement.
Cardano (ADA) Vs. Ripple (XRP): Pros and Cons

How to buy and store Ripple on Freewallet
While Cardano is not available on the Freewallet list, Ripple (XRP) can be easily purchased, exchanged, or stored with Freewallet.
All you need to do is choose the amount you want to invest in and the crypto, add your wallet address and even add a tag to easily identify the transaction.
You can manage all your crypto assets from your Freewallet dashboard, and you can do it also with your mobile phone thanks to the Freewallet app.
Freewallet allows you to download a multicurrency wallet or a single-currency XRP wallet: feel free to download the XRP wallet and use it to store your XRP safely and to exchange it for the other cryptos supported by Freewallet. Freewallet functionality is not limited to the buy and exchange option as applied to your Ripple coins. Also, you can use Ripple to buy gift cards from 800+ brands.
Final Thoughts on Cardano (ADA) Vs. Ripple (XRP)
Cardano and Ripple are two crypto projects with several differences: while Cardano is focused on improving the Defi ecosystem, Ripple is centred on fast and low-cost transactions and its blockchain features — from latency to the consensus mechanism — were ideated to respect these goals.
---
---
Related
Stay tuned
By signing up for this email, you agree to our Terms of use and Privacy policy. We will send you promotional emails occasionally, but not often. We hate that, too.
Subscribe for weekly updates from our blog. Promise you will not get emails any more often.
Most Popular
Feb 17, 2021
---
Jan 13, 2021
---
Dec 9, 2020
---
Nov 18, 2020
---
Feb 4, 2020
---
New Posts
Sep 22, 2023
---
Aug 14, 2023
---
Aug 10, 2023
---
Jul 17, 2023
---
Jul 17, 2023
---
Stay tuned
By signing up for this email, you agree to our Terms of use and Privacy policy. We will send you promotional emails occasionally, but not often. We hate that, too.
Subscribe for weekly updates from our blog. Promise you will not get emails any more often.
Most Popular
Feb 17, 2021
---
Jan 13, 2021
---
Dec 9, 2020
---
Nov 18, 2020
---
Feb 4, 2020
---
New Posts
Sep 22, 2023
---
Aug 14, 2023
---
Aug 10, 2023
---
Jul 17, 2023
---
Jul 17, 2023
---