Chainlink has been the standout cryptocurrency of the year. The coin has grown by over 600% in a few months and taken its place among the top 15 digital currencies. Today Chainlink costs about $8 and is ranked number 12 in terms of market capitalization. In this article we will take a look at the price history of the coin, the specifics behind it and some price projections for the next five years.
What is Chainlink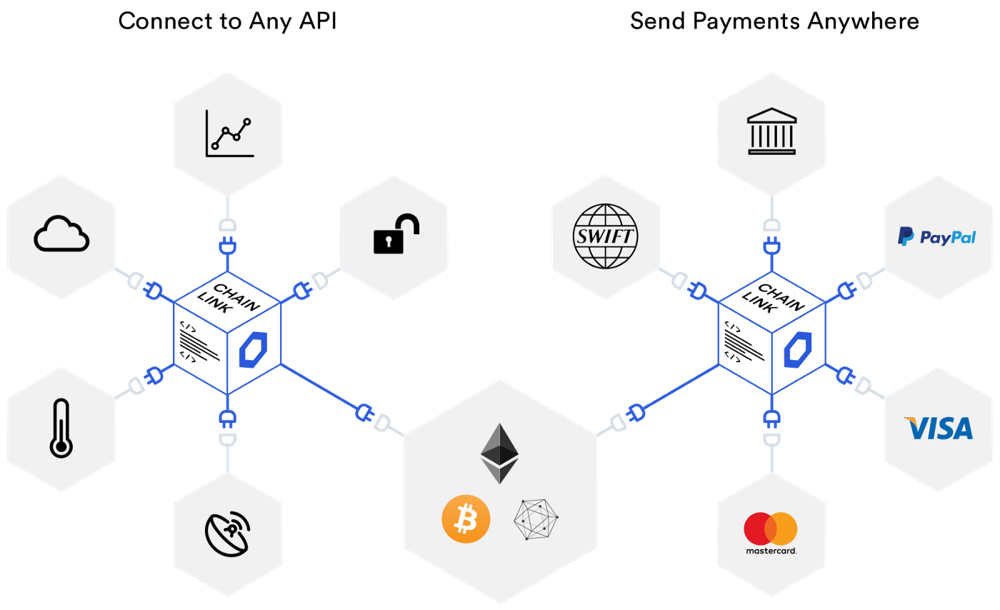 Chainlink is a company that works as a middleman between blockchain resources and non-blockchain traditional solutions like website APIs, databases and payment processing systems like SWIFT thanks to smart contracts.
Traditionally, Ethereum smart contracts can process data only within their own blockchain, and connection with off-chain resources is impossible. But, the developers have managed to make it possible thanks to so-called "Oracles." Oracles allow smart contracts to use any data source, regardless of its origin.
The Chainlink system has a decentralized network of such Oracles, so smart contracts can safely interact with off-chain platforms. Any data, API, or other provider can send information to the Chainlink network. The architecture consists of:
off-chain infrastructure
the blockchain
Both parts interact with each other, and blockchain infrastructure filters the oracles according to the specific metrics requested by a smart contract.
Each oracle has a number of nodes connected to the Ethereum network and constituting the off-chain network. The nodes collect data from external resources independently. A node can be run by any entity, for example, by a cryptocurrency exchange that provides data about market situations in real-time.
Chainlink node operators extract data from off-chain systems and convert it into blockchain compatible formats. They are awarded with LINK cryptocurrency – an ERC-20 token based on Ethereum. According to the developers, the price of LINK is closely correlated to the number of node operators.
Chainlink Team
The Chainlink team consists of specialists with both blockchain and non-blockchain backgrounds. CEO and co-founder of Chainlink Sergey Nazrov is one of the smart contract pioneers. Back in the day, he worked on a project involving NXT cryptocurrency and smart contract technology.
Steve Ellis, who previously worked as a team lead at Pivotal Labs, is CTO of the project. At Pivotal he was responsible for securing sensitive HIPAA compliant data and building scalable payments automation software. As a fan of Ethereum, BTC, and the idea of decentralization in general, Steve is a perfect fit for the Chainlink team.
Adelyn Zhou is the team's Marketing Director, and she has vast experience as a marketer. Her work helped her previous companies to be acquired by key industry players like Amazon. Additionally, she is engaged in Applied Artificial Intelligence and believes that smart contracts can significantly contribute to this sphere.
Advisor Ari Juels is a computer science professor at Cornell University and co-director of IC3 (Initiative for Cryptocurrencies and Contracts – partners include IBM, Intel, JP Morgan, Microsoft, and Tezos).
LINK Price History Analysis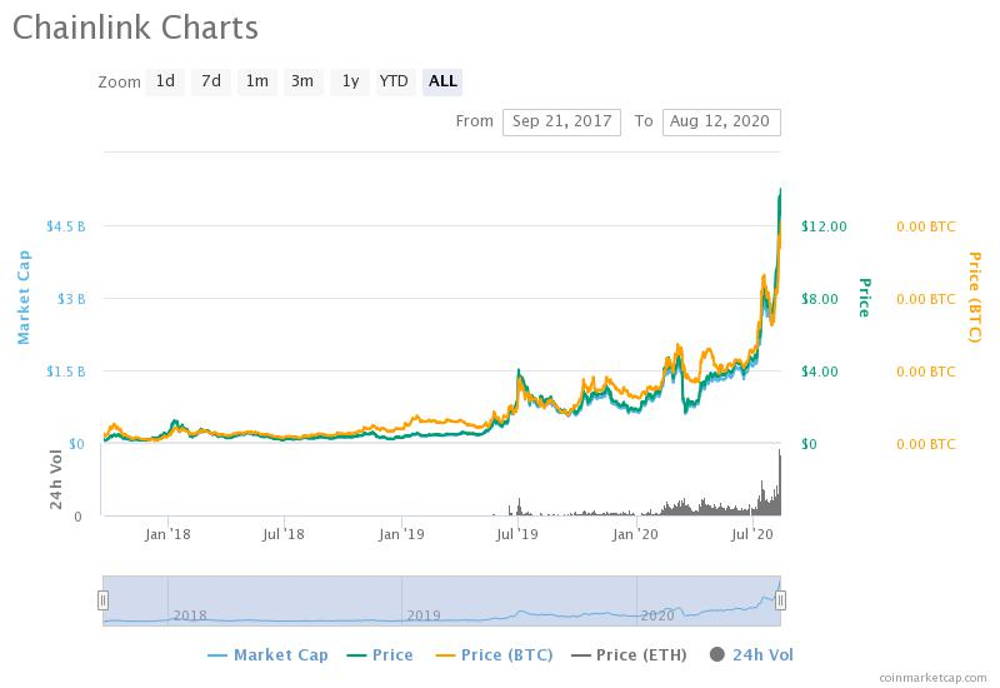 LINK was funded with an ICO and managed to raise USD 32 million in September 2017. During its private token sale campaign LINK cost USD 0.09 per token, and USD 0.11 during its public sale.
As you can see on the price chart, the coin had a nice start, doubling from $0.15 to $0.43 per coin. It had several price hikes, which increased the price of the currency to $1. But these were short term gains, and the coin ended up hovering between $0.2 and $0.45.
In June 2019, news broke on Twitter about a potential cooperation with Chainlink and Google Cloud. As a result, the price of LINK jumped from $1.19 to $1.93. Later, the coin grew further to $2.24 when Chainlink reported that it had secured a Coinbase listing. By the time LINK appeared on the exchange, it had reached $4.45. Chainlink proved to be another example of the "Coinbase effect" wherein each time a new coin is added on the platform, that coin jumps in price.
By the end of August, the price of ChainLink had returned to where it was in July – $1.61. The crypto community grew suspicious that the developers had sold their tokens — worth approximately $30 million — and that had led to the last pump price.
According to Etherscan data, there were 14 transactions at the time of 700,000 LINK tokens each. After passing through a small number of addresses, these tokens were sold on Binance.
Another significant price movement started in January 2020 and ended in February. During this period, the coin managed to grow from $1.74 to $4.60 in a few months. In March, it crucially fell back to its previous price point of $1.74. In April, it managed to recover, climbing back to $3.
July 2020 will go down in history for the coin. Chainlink has achieved a new all-time high and reached $8.50. According to CoinmarketCap, the cryptocurrency has now broken into the top 10. The market capitalization of ChainLink has increased to $2.75 bln., right behind that of BNB. Its transaction volume was its highest in 4 months registering at $6,594,309.77.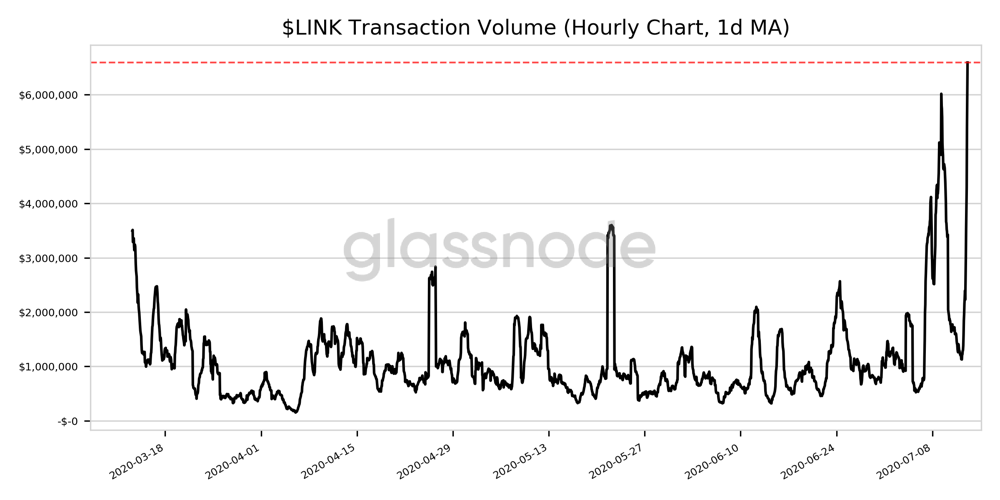 The increase in consumer interest towards the coin can be explained by partnership announcements with Hedera Hashgraph, Matic Network, and China's national Blockchain Network.
Chainlink partnerships and use-cases
In theory, Chainlink can be implemented in any sphere to connect the real world with smart-contract technology. It can be implemented in the monitoring of:
sports games results
the price of bonds
weather data
cloud services
During development, the team collaborated with SWIFT. It's important to note that both companies didn't sign any business agreements or partnerships. It is one of the biggest misconceptions about the project. In fact, SWIFT tested Chainlink v1.0 for their blockchain proof of concept projects, but a full-fledged partnership with LINK was never on the table.
Another misconception is that Chainlink managed to land a partnership with Google. In June 2019, Google published a blog post detailing how Chainlink could be used to connect Google's enterprise cloud data warehouse (BigQuery) with Ethereum. In this article Google was only highlighting a potential use-case of Chainlink's technology. But the effect that the "partnership" news had on LINK's price was significant.
Recently, Chailnik announced that China's national Blockchain Services Network has chosen Chainlink as the preferred oracle network to provide their systems access to off-chain data. Additionally, Chainlink has become a member of the InterWork Alliance – a non-profit organization that will develop the standards for cryptocurrency frameworks. The Alliance members also include Accenture, Hedera Hashgraph, IBM, Microsoft, and others. Learn more about the initiative here.
Chainlink has teamed up with other blockchain projects and helped them integrate their technology into smart contracts. These projects include Web3/Polkadot, Hedera, MarketProtocol, and others.
In 2019 everybody was waiting for an official announcement to come out confirming the ChainLink and Microsoft partnership. ChainLink's CEO Sergey Nazarov said that they are working with Microsoft on their Bletchley offering. The partnership has never materialized in a major way, but the community is still discussing its possibility.
LINK price predictions
It seems that a huge wave of FOMO has triggered Chainlink's price growth. Firstly, the LINK ICO contributors were selling the coin to cash out, then the rumors about partnerships with Google and SWIFT attracted more enthusiasts, who drove the price up. There are several interesting scenarios for future possible LINK price development.
Chainlink price prediction by TradingBeasts
The first is a quite moderate prediction by Tradingbeasts. They expect LINK to fall to $6.64 by August and stay at the same price level till May 2021. Later, they predict that then it will continue its growth. By the end of 2023, the coin may reach about $8.
Chainlink has drawn a lot of attention and attracted new fans to their project. Their activities and appreciation among other industry players have increased trust in the company.
LINK price prediction by DigitalCoin
Digitalcoin expects the price to grow up to $13 in 2020 and $19 in 2021. Here are their price expectations for the next five years:
2020 – $13
2021 – $19
2022 – $24
2023 – $28
2024 – $32
2025 – $24
LINK future price by WalletInvestor
WalltetInvestor is highly bullish about the future price of Chainlink. They think the LINK price can go up to $11 in one year. Based on the current market situation, they project the rate jumping to $24 in the next five years.
Chainlink price prediction by Cryptorating
Cryptorating predicts a seemingly impossible rise in price for Chainlink. It expects the price to grow by 340% to $35 in two years and by 3400% to $279 in five years.
Disclaimer: This article should not be considered as a financial recommendation and serves as a suggestion of possible price development. No one can predict the price of cryptocurrencies with total certainty. The cryptocurrency market suffers from high volatility and regulatory uncertainty.
LINK on Freewallet
Store LINK on Freewallet, where you can:
Manage LINK coin alongside with other hundreds of cryptocurrencies in one app.
Make instant and 100% free LINK transactions within the Freewallet eco-system.
Track the price of LINK in USD, EUR, GBP, JPY and other fiat currencies.
Protect your cryptocurrency with multilayer security features including 2FA, multisig transaction verification, cold storage, etc.
Feel free to sign-up with your Facebook, Gmail, email or mobile number and try our service.
---
---
Related
Stay tuned
By signing up for this email, you agree to our Terms of use and Privacy policy. We will send you promotional emails occasionally, but not often. We hate that, too.
Subscribe for weekly updates from our blog. Promise you will not get emails any more often.
Most Popular
Feb 17, 2021
---
Jan 13, 2021
---
Dec 9, 2020
---
Nov 18, 2020
---
Feb 4, 2020
---
New Posts
Sep 22, 2023
---
Aug 14, 2023
---
Aug 10, 2023
---
Jul 17, 2023
---
Jul 17, 2023
---
Stay tuned
By signing up for this email, you agree to our Terms of use and Privacy policy. We will send you promotional emails occasionally, but not often. We hate that, too.
Subscribe for weekly updates from our blog. Promise you will not get emails any more often.
Most Popular
Feb 17, 2021
---
Jan 13, 2021
---
Dec 9, 2020
---
Nov 18, 2020
---
Feb 4, 2020
---
New Posts
Sep 22, 2023
---
Aug 14, 2023
---
Aug 10, 2023
---
Jul 17, 2023
---
Jul 17, 2023
---