Imagine how you would feel if the product you've been working on suddenly appeared on your favourite TV show. Surprise and a sense of honor at the same time. These were our feelings when we found out that the Freewallet application was featured in the new season of the OA on Netflix. Some people on our team are real fans of the OA and all of us at Freewallet are very surprised and want to share our joy with you.
Wait, the OA show, are you kidding me?
We are not joking. Some sharp Reddit and Twitter users have pointed out that in the first episode of Netflix's The OA there was an Ethereum Wallet. We are more than happy to clarify that the featured wallet was actually Freewallet's Ethereum Wallet.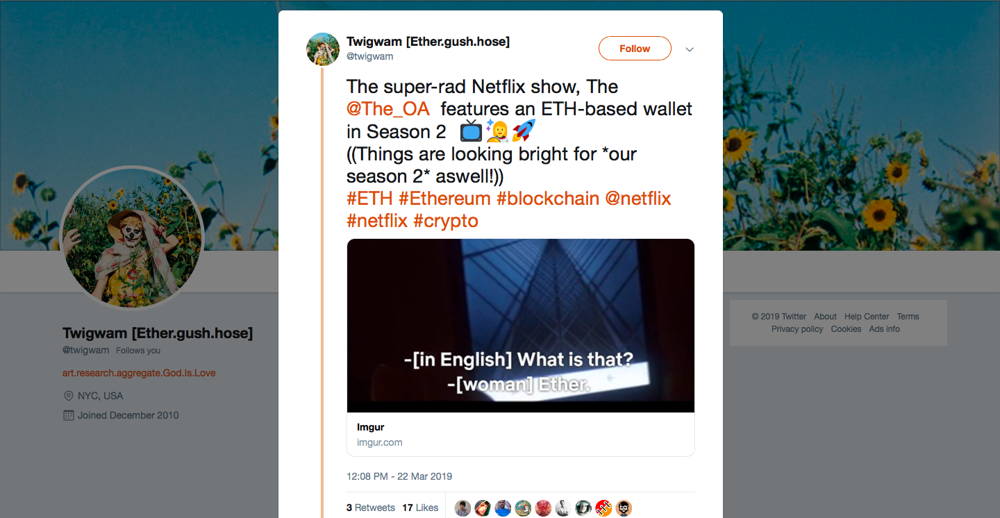 The OA is a mystical TV show with sci-fi and fantasy elements. The story focuses on Prairie Johnson who mysteriously returns seven years after her disappearance. Now she calls herself "OA" and can see, though she was blind before her disappearance.
In the first episode, an elderly woman visits a detective and asks for help finding her missing granddaughter. She is willing to pay him in Ethereum and shows her phone with Freewallet's Ethereum Wallet displaying her ETH balance.
It's not surprising that she has chosen the Ethereum Wallet by Freewallet, because it can satisfy any crypto enthusiast from pros to beginners with its personalized approach. With Freewallet's Ethereum Wallet users can:
Store and manage ETH on free iOS and Android app.
Seamlessly buy ETH with the credit card and exchange it to any other cryptocurrency not leaving the wallet.
Top up Ethereum wallet with any cryptocurrency.
Make fee-free and instant transactions within the Freewallet ecosystem.
Protect their Ethereum assets with multi-level security features including 2FA, multi-sig and cold storage.
4 reasons why you should watch The OA
There are two types of people who have watched The OA. People who haven't understood anything and people who became true fans of Brittany Marling. Here are 4 reasons explaining why you should watch The OA now:
This is a multi-genre TV show. Each episode is unique but the show has a single storyline.
Britt Marling, who is both the author and the main character, is a master of weaving complex metaphysical stories.
The second season is closely connected to the digital world. It features topics reminiscent of Black Mirror, such as a game for Ethereum, but presented in a more simple manner.
It is simply beautiful. The aesthetics of different types of art including modern choreography are worked into the show. It makes the series stand out more in relief against other mainstream projects.
Don't hesitate to try our service and download Ethereum Wallet for your iPhone or Android device.
---
---
Related
Stay tuned
By signing up for this email, you agree to our Terms of use and Privacy policy. We will send you promotional emails occasionally, but not often. We hate that, too.
Subscribe for weekly updates from our blog. Promise you will not get emails any more often.
Most Popular
Feb 17, 2021
---
Jan 13, 2021
---
Dec 9, 2020
---
Nov 18, 2020
---
Feb 4, 2020
---
New Posts
Sep 22, 2023
---
Aug 14, 2023
---
Aug 10, 2023
---
Jul 17, 2023
---
Jul 17, 2023
---
Stay tuned
By signing up for this email, you agree to our Terms of use and Privacy policy. We will send you promotional emails occasionally, but not often. We hate that, too.
Subscribe for weekly updates from our blog. Promise you will not get emails any more often.
Most Popular
Feb 17, 2021
---
Jan 13, 2021
---
Dec 9, 2020
---
Nov 18, 2020
---
Feb 4, 2020
---
New Posts
Sep 22, 2023
---
Aug 14, 2023
---
Aug 10, 2023
---
Jul 17, 2023
---
Jul 17, 2023
---