Today, Litecoin is among the top 10 cryptocurrencies based on market capitalization. The digital coin is derived from Bitcoin and one of the first cryptocurrencies to pop up in its wake. Despite its origin, Litecoin is entirely different from the "virtual gold" and was designed to solve a number of its problems. LTC is among the major coins that miners are drawn to. In this article, we will cover how to mine Litecoin, what equipment is required, and the profitability of Litecoin mining.
Litecoin features
Litecoin appeared on the market in 2011 and was developed by Charlie Lee, an ex-Google employee. The cryptocurrency is built on the BTC protocol but uses a different hashing algorithm. At its core, Litecoin is based on the Proof-of-Work consensus algorithm and the Scrypt mining algorithm, while BTC uses SHA-256.
The maximum supply of Litecoin is 84 million. That figure marks another of the coin's differences from Bitcoin, which can issue a maximum of 21 million coins. The Litecoin reward halves every 840,000 blocks (four times more often than Bitcoin), and the transaction fee is 0.02 LTC.
In a nutshell Bitcoin and Litecoin differ on the following points:
The speed of block generation – 10 minutes vs. 2.5 minutes
Maximum supply – 21 mln. vs. 84 mln.
Mining algorithm – SCH256 vs. Scrypt
Mining reward – 6.25 BTC vs. 12.5 LTC
The frequency of reward payout – 4 times more often than Bitcoin.
Transaction speed – 7 tps vs. 56 tps
Litecoin was the very first cryptocurrency that integrated the SegWit software algorithm. Thus, they solved the issue of network scaling relevant for Bitcoin. Bitcoin has a block size of 1 megabyte which significantly limits its transaction speed. So, the Litecoin network has a much higher capacity than its predecessor, Bitcoin.
How to mine Litecoin
Currently, Litecoin mining is rewarded with 12.5 LTC, and the reward decreases approximately every four years. Here are a few important nuances to know about Litecoin mining:
You can mine LTC even on CPU and GPU though it is no more profitable
The most relevant hardware for LTC mining is ASIC miners
The difficulty adjustment is carried out every 84 hours
The reward halves after every 840,000 blocks.
There are several methods to mine Litecoin today:
Solo using your hardware: CPU, GPU, or ASIC – mining alone comes with high competition with mining pools and mining farms. To mine LTC by yourself successfully, you need to invest a lot in your equipment. In other words, you have to essentially create your own farm with ASICs. Otherwise, it is unlikely that mining will be profitable.
Join a mining pool with your hardware – a more realistic approach where you combine your hashrate with other miners and take part in a group reward. In this case, the chances to obtain the block are much higher than doing that solo, but the tradeoff is that you will only receive a small cut of each block that the pool finds.
Engage in cloud mining and rent mining powers from a service – this is the perfect solution for those who want to access the latest mining hardware but don't want to buy and maintain it. It definitely won't come cheap, so you need to consider the renting fee in your expenditures to understand your possible profit. Additionally, there's also the risk of falling victim to a scam cloud mining service, so it's essential to research any company before signing up.
Starting to mine LTC
Mining solo is an attractive option because you earn more by not sharing your reward with others. But don't be fooled by this appeal, especially if you're new to mining. Mining in pools is more practical for beginners, as you combine your power with others and discover blocks more frequently. If you are working alone, you may find a block only once a year, but mining in groups increases your chances.
Hardware
When it comes to Litecoin hardware, there are two undisputable leaders:
Antminer L3++ by Bitamain – an ASIC miner from Bitmain designed to mine the Scrypt algorithm. The maximum hashrate is 596 Mh/s, and power consumption is 1050W.
Innosilicon A6+ LTC Master – improved version of A6 miner for LTC. It has enhanced performance up to 2.2 GH/s and 2100 W power consumption. It will provide you with the best mining competitive advantage, higher income, and longevity.
You can also assemble a GPU mining rig, but don't expect to make much profit. The times when people could earn with GPU mining are gone. But it is a great way to familiarize yourself with the process, and avoid spending thousands of dollars on an occupation that doesn't interest you.
Nvidia GeForce GTX 1060 – GPU which won't bust your budget, but still delivers decent results on some coins. You can use it for various cryptocurrencies, including Litecoin.
AMD Radeon RX580 – an alternative to GTX 1060 loved by cryptocurrency miners. The chip provides 20 MH/s and has a low power consumption. Compared to Nvidia, it is much cheaper, and its performance is noteworthy.
Wallet
With fiat currencies, you have to have a real place to store money. It can be a bank or just a physical wallet. Cryptocurrencies are similar in that you need a wallet to store the altcoins. If you don't have one, here are our recommendations:
Litecoin Core – This is the official desktop wallet for LTC.
Litecoin Wallet – Single currency LTC wallet for iOS and Android
Crypto Wallet – Multi-currency application including Litecoin and +150 other cryptocurrencies. Available for mobile phones and desktop devices via a web browser.
Ledger Nano S – The most popular hardware wallet to store a large number of coins.
Mining software
Easy Miner – popular open-source software for Litecoin. Easy Miner has a friendly control panel, real-time statistics of hashrate, reward share, etc. What is more important, is that it is completely free — a trustworthy miner software, perfect to start with.
GUIMiner Scrypt – a version of GUIMiner designed for the Scrypt algorithm i.e., Litecoin, Dogecoin, and more. The simple interface will help beginners to start cryptocurrency mining faster.
CG Miner – cross-platform mining software for Windows, Linux, and Mac OS. It looks like a command line with remote interface capabilities, full monitoring, and fan speed control.
Awesome Miner – less known LTC mining software but still worth noting. You can manage different types of mining rigs, including ASICs and FGPA. Its dashboard lets you monitor the status and temperature of all hardware devices and check whether your mining is profitable using an integrated mining calculator.
Multi Miner – miner for desktop with several intriguing features: automatic detection of network devices and remote monitoring system of other Muti Miner rigs. The software is compatible with Mac, Linux, and Windows.
Selecting Litecoin mining pool
Looking for the right mining pool, you should find a good service you can trust. Total hashrate, number of workers, distribution and other factors can significantly affect your overall earnings:
What hardware is supported? Some pools don't support GPU based mining.
How are the resources allocated? Pools have several distribution methods: PPS, PPLnS, FPPS, etc.
How is the fee calculated? Commissions may vary from 0% to 5%. They can be for the mining itself and/or the withdrawal of funds to your wallet. Beware of hidden fees.
What is the total hashrate of a pool? High hashrate means that the pool accumulates a lot of power, which provides more chances to mine a block and lower shares for every member and vice versa.
How secure is the Pool? Safety is the number one issue of cryptocurrencies. Make sure that the service has a secure connection and several protection features.
Now that we've covered the main points to consider and got an idea what to look for, here's a list of mining pools providing LTC mining:
Create an account and configure your mining equipment and software according to the setup of the pool. All the configurations are available on the pool's official website. Don't forget to fill in your Litecoin address to receive payouts.
Is Litecoin mining profitable
Most beginners wonder whether they can earn with Litecoin mining. Let's get to calculations to understand what it takes to mine Litecoin today. We will choose the most powerful ASIC Innosilicon A6+ LTC Master with 2.2 GH/s and 2100 W power consumption.
Let's imagine you have really cheap electricity that costs $0.03 per kWh. According to these estimations, you'll get the following: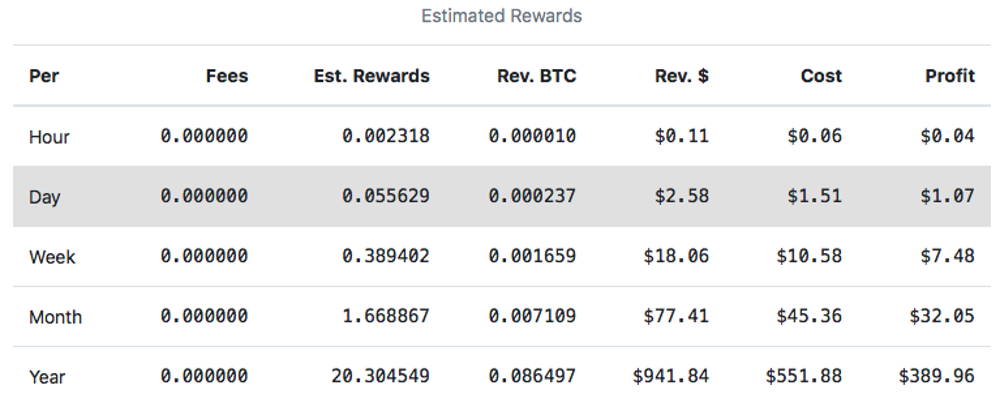 As you can see, theoretically, you can earn more than $300 in one year. However, we didn't include pool fees, and the cost of the ASIC miner itself in the calculations.
You are free to draw your conclusions because there's no answer to this question. The price of Litecoin could go up astronomically and the coin become the next big thing, but at the same time, it could end up being a total waste of money if the price drops.
How long does it take to mine a Litecoin
Litecoin boasts a faster block generation than Bitcoin. It requires only 2.5 minutes to mine a block. But with today's difficulty rate of 9308759, the average miner will mine 1 Litecoin in 2.5 weeks approximately, using Innosilicon A6+ LTC Master.
How hard is it to mine Litecoin
The mining difficulty of Litecoin adjusts every 84 hours. You can check the up-to-date information on coinwarz: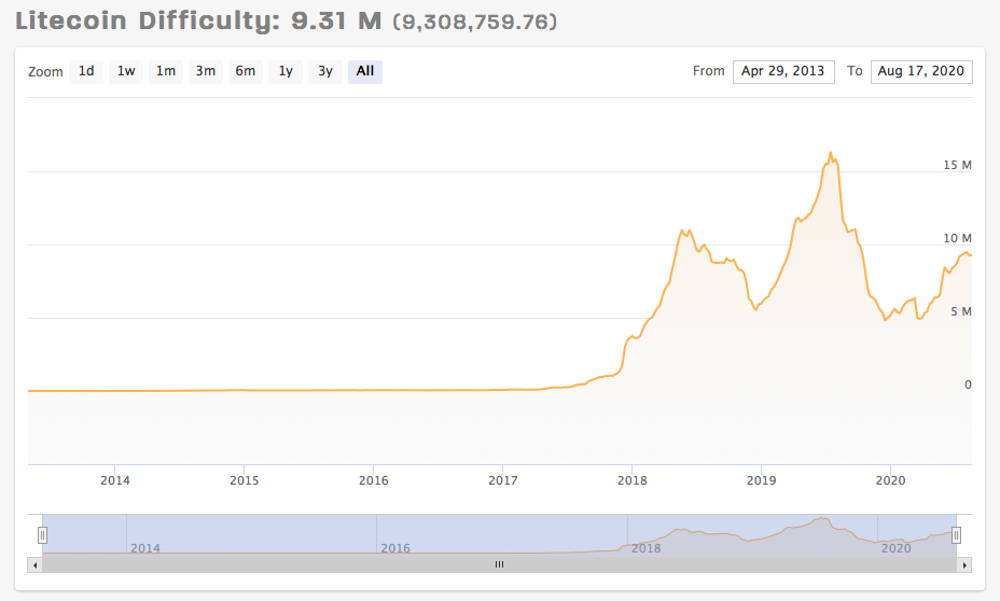 Conclusion
Litecoin mining has some advantages over BTC mining, but it is mostly unprofitable today. Cryptocurrencies are volatile by their nature and involve significant risk. Their market performance can hardly be predicted, and there's no guarantee that mining Litecoin will bring you any profit.
Additionally, you should verify the legal status of cryptocurrency and crypto-related services in your country before making any decisions.
---
---
Related
Stay tuned
By signing up for this email, you agree to our Terms of use and Privacy policy. We will send you promotional emails occasionally, but not often. We hate that, too.
Subscribe for weekly updates from our blog. Promise you will not get emails any more often.
Most Popular
Feb 17, 2021
---
Jan 13, 2021
---
Dec 9, 2020
---
Nov 18, 2020
---
Feb 4, 2020
---
New Posts
Nov 30, 2023
---
Nov 29, 2023
---
Nov 13, 2023
---
Nov 9, 2023
---
Oct 26, 2023
---
Stay tuned
By signing up for this email, you agree to our Terms of use and Privacy policy. We will send you promotional emails occasionally, but not often. We hate that, too.
Subscribe for weekly updates from our blog. Promise you will not get emails any more often.
Most Popular
Feb 17, 2021
---
Jan 13, 2021
---
Dec 9, 2020
---
Nov 18, 2020
---
Feb 4, 2020
---
New Posts
Nov 30, 2023
---
Nov 29, 2023
---
Nov 13, 2023
---
Nov 9, 2023
---
Oct 26, 2023
---