The article is for educational purposes and doesn't contain investment advice.
Recently IOTA increased in price by 20%, a jump that was caused by the latest news regarding their partnership with Jaguar Land Rover. So, it is time for IOTA price analysis. It is one of the leading crypto projects in the IoT sphere, which is developing alongside of blockchain technology. Why should you perhaps take a look at the project and what should you consider before adding MIOTA to your portfolio? We've gathered all the relevant information about the project here for your perusal.
What is IOTA cryptocurrency and what's its technology
IOTA is a crypto venture set on merging the technology underlying blockchain with that of the internet of things. The Iota team provides a distributed ledger to IoT spaces where the equipment constantly shares data with each other. The project's internal currency is MIOTA.
IOTA differs from Bitcoin or Ether, as it does not actually use a blockchain. This platform uses a special system called Tangle, which works on the basis of DAG – directed acyclic graph. The Bitcoin and Ethereum blockchains keep everything on blocks where transaction information is recorded. IOTA's Tangle doesn't have blocks, and the transactions are connected according to their own particular patterns. Each new transaction that is performed (let's call a theoretical transaction A) confirms two old ones (B and C). Verification can also occur indirectly – a transaction D, confirming A, can indirectly confirm B and C at the same time.
IOTA price history analysis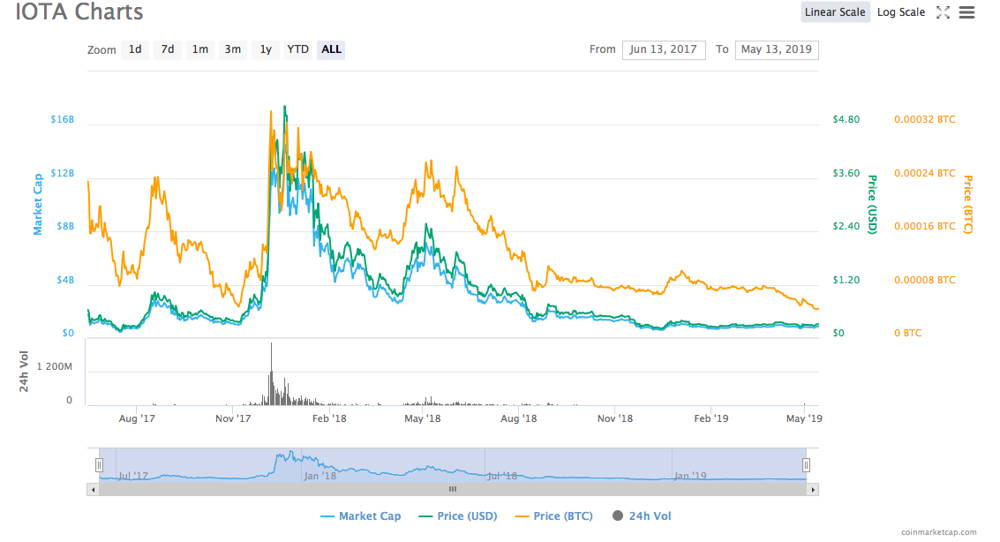 The launch of MIOTA hasn't been all smooth. MIOTA started at the price of $0.638 in June 2017 and dropped in July to all-time low $0.147, but then increased in August and showed a rapid growth till December 2017 towing the line set by the BTC price growth. In December it achieved its all-time high of $5.69. Later, it was affected by the bearish market and the price fell to $0.25.
This year IOTA has fluctuated in price between $ 0.25 and $ 0.35 per coin. Recently, the price was reinvigorated by news of their cooperation with Jaguar Land Rover. The coin jumped from $0.27 to $0.31 but the gains were not lasting and it dropped again back to $0.28 within a week. With the growth of BTC, MIOTA is growing too. At the time of writing it has achieved $0.313.
Strengths and weaknesses of IOTA
Pros:
Free transactions: all transactions in the IOTA blockchain are completely fee-free
Scalability: it is remarkably scalable thanks to the Tangle system, which can process a great deal of traffic.
No inflation: a fixed amount of coins means that there will be no inflation. That means that the price won't decrease due to an increase of coins (however it could decrease for other reasons)
Quantum proof: quantum computing is a new sphere of computing with an exponentially greater amount of processing power and the potential to compromise regular cryptography systems. IOTA claims to be immune to this threat.
Cons:
Security uncertainty: there is skepticism about the stability and security of the IOTA platform. Critics point to hash and address scheme weaknesses which could potentially lead to asset theft.
IOTA cooperation with Jaguar Land Rover
Currently Jaguar Land Rover Limited is testing IOTA technology as a means of sending data such as traffic congestion and road conditions to authorities and navigation providers in exchange for IOTA tokens.
The tokens will be stored in a smart wallet preinstalled on the cars. Drivers will be able to pay for coffee at a gas station or pay tolls and parking fees. The aim of the initiative is to decrease the number of traffic jams and accidents on the road.
Jaguar will be using sensors on their cars to collect data and transfer it via the IOTA Tangle distributed ledger. According to Jaguar, cars will be able to provide accurate information about the weather, warn drivers of car accidents and even determine where trees have fallen on the road.
Initially, IOTA's technology will be implemented in the Jaguar F-Pace and Range Rover Velar. In the long-term, the automotive company might integrate it into other cars.
Why you should possibly consider IOTA for your portfolio
IOTA is the biggest crypto-blockchain project working with the Internet of Things. Their technology has attracted big names from different industries. The recent Jaguar Land Rover project is just one example.
For instance, back in 2017, the venture division of the Bosch Group. bought a significant amount of IOTA cryptocurrency.
The United Nations Office for Project Service – an operational arm of the United Nations has been using IOTA technology in document turnover and supply chain management since 2018.
IOTA is participating in a pilot project to develop the so-called smart city Horizon 2020 with the support of the European Commission. IOTA is joining forces with the +CityxChange start-up in order to use the IOTA blockchain to facilitate communication between various devices in order to ensure a sustainable urban environment. The global aim of the smart city concept is to improve energy-saving solutions with the use of digital technologies.
IOTA is deeply involved with IoT – one of the most promising industries which has been developing alongside of blockchain and crypto.
Currently, there are about 7 bln. devices connected via IoT and there is expected to be 10 bln. by 2020 and 22 bln. by 2025.
Most analysts are positive about the IoT industry and agree that it will grow. However there are various estimations of the future market value ranging from $310 bln. in 2023 to $1567 bln. by 2025.
IOTA is currently the most successful blockchain solution for the IoT industry. Despite poor results in pricing, its partnerships with Jaguar and other companies show positive growth in terms of adoption.
Criticism around the project
Despite its popularity in the industry, IOTA has received a lot of criticism from blockchain and cryptocurrency scientists and developers.
A lot of computer experts have raised concerns regarding the security of the platform, particularly when it comes to the cryptographic hash function Curl. In 2017, MIT performed IOTA vulnerability research, where they ended up breaking the security of IOTA's signature scheme and successfully forging a signature for IOTA payment. They claim that a hacker could potentially do the same and use it to steal funds from another IOTA user. Luckily, IOTA removed the Curl function that year to avoid possible asset theft.
IOTA's unique addressing scheme has drawn a lot of criticism too. It was created to safeguard against quantum computers which can compromise the cryptography defenses of cryptocurrency projects. People have pointed out that the scheme demands that addresses be single-use, otherwise they might be stolen too.
IOTA price prediction for 2019 and price potential
Price predictions regarding IOTA cryptocurrency are all over the place. CoinPredictor's technical analysis shows that IOTA's price in 7 days will increase by 3.3% to $0.312, in one month gain another 2.1% moving to $0.308, and then in 3 months drop by 14.3% ending up at $0.260.
Digitalcoin predicts that in 2019 IOTA will be $0.197 USD, however they expect it to be worth $0.651 in 2020.
Bravenewcoin expects a bullish trend and possible retest of the price ceiling of December 2017. "Near-term, momentum indicators suggest price is slightly overbought in this zone without any threat to the trend. In a vacuum, targets of US$8.13 and 448,000 satoshis are likely."
All in all, IOTA is a bit of a controversial currency. On the one hand, there is a lot of industry interest from the likes of Jaguar, The United Nations Office for Project Services, etc. giving IOTA high price potential, making it an interesting project to watch. On the other, sharp critiques from the blockchain community regarding the security and vulnerability of IOTA can be sobering for potential investors.
---
---
Related
Stay tuned
By signing up for this email, you agree to our Terms of use and Privacy policy. We will send you promotional emails occasionally, but not often. We hate that, too.
Subscribe for weekly updates from our blog. Promise you will not get emails any more often.
Most Popular
Feb 17, 2021
---
Jan 13, 2021
---
Dec 9, 2020
---
Nov 18, 2020
---
Feb 4, 2020
---
New Posts
Dec 6, 2023
---
Nov 30, 2023
---
Nov 29, 2023
---
Nov 13, 2023
---
Nov 9, 2023
---
Stay tuned
By signing up for this email, you agree to our Terms of use and Privacy policy. We will send you promotional emails occasionally, but not often. We hate that, too.
Subscribe for weekly updates from our blog. Promise you will not get emails any more often.
Most Popular
Feb 17, 2021
---
Jan 13, 2021
---
Dec 9, 2020
---
Nov 18, 2020
---
Feb 4, 2020
---
New Posts
Dec 6, 2023
---
Nov 30, 2023
---
Nov 29, 2023
---
Nov 13, 2023
---
Nov 9, 2023
---