A meme-based currency SHIB is beating records! Within the first day of October, its price grew by more than 300%. After another tweet by Elon Musk about his new Shiba puppy, the coin's popularity has got viral. The #SHIB hashtag could be found in the top trends of Twitter. The official Twitter account of the Shiba Inu project has crossed the milestone of 1 mln followers.
Our overview discovers the facts behind the phenomenon of the Shiba Inu coin.
According to statistics, the coin's market value is rising above $10 billion. It took Shiba Inu token 14 months to approach a market capitalization of $12 billion, and Dogecoin walked the same path in 2 years. That's another reason why SHIB was called a Dogecoin-killer. The crazy dynamic of October brought SHIB to 20th place by the market value parameter, by which the coin has outperformed such vibrant crypto projects as BUSD, Litecoin, Uniswap. It has also left the growth pace of Bitcoin and Ethereum behind!
What do we know about a "Dogecoin killer" Shiba Inu coin (SHIB) joke coin?
Sharing a familiar mascot icon with Dogecoin, Shiba Inu coin has a more significant market supply setting a very low price of the token per unit. At the same time, as an Ethereum-based asset, SHIB enjoys a wider range of use cases. The rally has also engaged SHIB-related cryptocurrencies such as Baby Shiba Inu, Flokinomics, and SafeMoon Inu.
What can you do with SHIB in Freewallet?
– You can receive, store and send SHIB in Freewallet
– Exchange SHIB for BTC or altcoins and vice-versa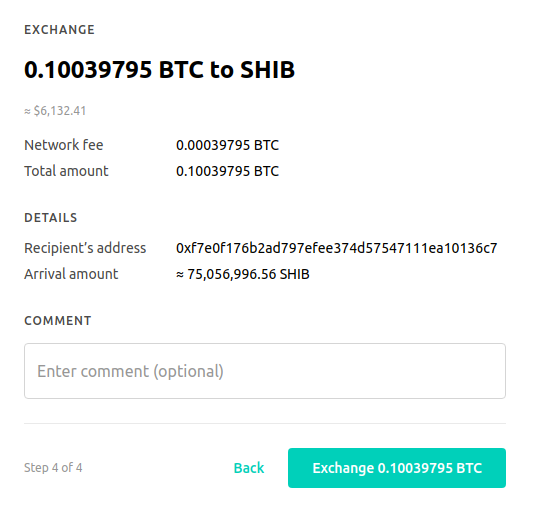 – Buy SHIB with MasterCard/Visa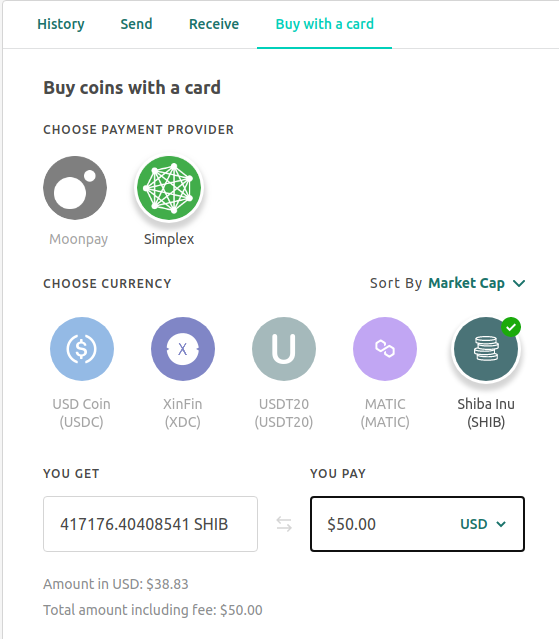 Download and install the Freewallet app on iOS or Android
What set SHIB among the market leaders these days and made it the 12th biggest cryptocurrency in the world?
The coin's rise was much endorsed by social media, mostly by Elon Musk tweeting about his new Shiba Inu puppy and thus putting the "#SHIB" hashtag among top Twitter trends. It should be mentioned, however, that the tweet was made after Coinbase had listed SHIB.
Also, according to Yahoo Finance, a whale account exists that made a massive purchase and pumped scarcity of the asset. The ownership of this account remains unknown.
Don't forget about a border rally of major cryptocurrencies fueled by lack of interference by the Fed Reserve and positive technical charts. In addition, U.S Treasury Secretary Janet Yellen has confirmed that regulators don't have plans to impose restrictions on cryptocurrency trading.
About SHIB
The SHIB coin was released in August 2020 as a token of the decentralized SHIBA INU ecosystem. At present, SHIB is used as a payment method by some merchants, including sports teams. SHIB is trading on many crypto exchange platforms, including the top ones. SHIB functions as an ERC-20 token.
Within the first weeks of its market presence, SHIB rose by 27.000. The current worth of the coin is less than a penny, although it managed to remove another "zero" in its value and approach $0.000038 as its ATH in May 2021. The token's listing on Binance boosted this record. The SHIB's market capitalization soared above $13.5 bln on the same day. Of course, over time, this position slid and hit $2.72 billion.
The project was created by an anonymous crypto enthusiast Ryoshi. The project's website portrays the currency as a "decentralized meme token" that was able to develop into a "vibrant ecosystem". Apparently, this step was inspired by the success of another meme-based coin, Dogecoin. The Shiba Inu project gives its community 100% rights to operate the underlying protocol. Explaining the coin's title "Dogecoin killer", the project parodies Dogecoin to some extent while having a viable roadmap. The Shiba Inu ecosystem is currently developing, focusing on the plans related to an NFT marketplace and a decentralized exchange ShibaSwap.ShibaSwap represents a decentralized application with liquidity pool staking as its primary focus. It allows users to stake their tokens with the platform and earn interest when other people use it to swap tokens.
Phenomenal supply of SHIB
In the beginning, one quadrillion of SHIB tokens was launched. Half of this amount was sent to the Uniswap Decentralized Exchange, with the keys being destroyed. At the same time, the Chief of the Ethereum Foundation, Vitalik Buterin, received the second half of the amount. It has also contributed to the coin's popularity and hype created around the project. Some experts argue that the vast amount of SHIBA coins in circulation depreciates their value and creates a speculative bubble. On the other hand, the same factor always gives the coin room to grow. Next to it, Buterin burnt 90% of the SHIB tokens by sending them to an invalid Ethereum address. The number of destroyed tokens was equal to 410 trillion tokens, and their market was worth was $6.5 billion. It's known that Vitalik Buterin contributed $1 billion to fight Indian COVID. In particular, his donation included 500 ETH and over 50 trillion SHIB tokens worth approximately $1.14 billion to the Indian fund working to prevent the spread of the new disease.
Right now
Shiba Inu has announced its latest partnership with the crypto platform that will allow burning SHIB tokens upon each transaction. The community does not welcome the burn by fractions because the process will take a long time. As a more efficient step, the manual burn will cut the vast supply of SHIB at a faster pace. New records did not follow a notable rise of the coin observed within the previous week. Although the token has not approached its all-time high of $0.000038, its relatively small market cap requires a lower volume of purchases to generate a higher market impact. A notable inflow of capital would boost its price faster than those of Bitcoin and Ethereum. Its current dynamic is steady, around the mark of $0.00002757.
Trade Shiba Inu with Freewallet!
---
---
Related
Stay tuned
By signing up for this email, you agree to our Terms of use and Privacy policy. We will send you promotional emails occasionally, but not often. We hate that, too.
Subscribe for weekly updates from our blog. Promise you will not get emails any more often.
Most Popular
Feb 17, 2021
---
Jan 13, 2021
---
Dec 9, 2020
---
Nov 18, 2020
---
Feb 4, 2020
---
New Posts
Jul 29, 2022
---
Jul 25, 2022
---
Jul 21, 2022
---
Jul 19, 2022
---
Jul 14, 2022
---
Stay tuned
By signing up for this email, you agree to our Terms of use and Privacy policy. We will send you promotional emails occasionally, but not often. We hate that, too.
Subscribe for weekly updates from our blog. Promise you will not get emails any more often.
Most Popular
Feb 17, 2021
---
Jan 13, 2021
---
Dec 9, 2020
---
Nov 18, 2020
---
Feb 4, 2020
---
New Posts
Jul 29, 2022
---
Jul 25, 2022
---
Jul 21, 2022
---
Jul 19, 2022
---
Jul 14, 2022
---