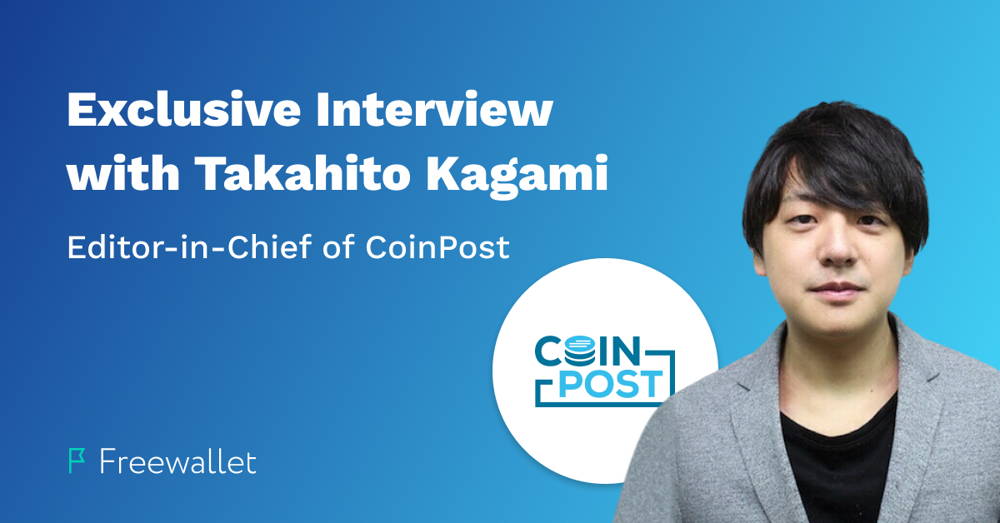 We are continuing to learn about the Asian crypto market, and, as part of that process, we were able to interview Mr. Takahito KAGAMI, the chief editor of CoinPost. Coinpost is the leading crypto media outlet in Japan with 1.40 million monthly visits and more than 74 thousand subscribers on Twitter.
Japan was one of the first countries to legalize crypto and to draw up a regulatory framework around it. But to get a picture of how it looks from inside, whether crypto and blockchain are already commonly-used in Japan and where the Japanese market is headed we had the pleasure of talking to a representative of one of the most influential Japanese crypto media outlets.
Hello, Mr. Kagami, nice to have you on board. So, let's start this interview for the Freewallet community.
You launched your service in the summer of 2017 and in a short time it became the leading crypto media outlet in Japan. How did you manage to do this? What's the secret?
In 2017, there were many people involved in the Japanese cryptocurrency industry, lots of people were aware of crypto, but many of them struggled to keep up with information transmitted from around the world. Also, the problem was that we live in the Japanese-speaking language zone.
At CoinPost, we were concerned about the gap between foreign and Japanese-speaking investors and, in order to eliminate the information asymmetry, we aimed to create a media management policy that would pursue accuracy and speed.
We do not believe that all of our investors have yet reached a satisfactory level of information delivery, and we have been working on a new information delivery model since 2020.
Are you planning to become a multi-language platform or will you continue to deliver crypto news to a primarily Japanese audience?
Yes, we plan to become a multi-language media platform. Yet we think that there is no demand overseas in our current media format (the information model for the Japanese-speaking world). However, cryptocurrency regulation has been developing on one side, on the other side there is getting around the fact that due to the rapidly changing industry situation, media platforms tend to develop into real-time information delivery ecosystems.
I am convinced that while more challengers are coming to crypto from traditional financial markets, it is necessary to preserve information accuracy, and I believe that it is possible to do it in Japan, whose crypto regulation is among the best in the world.
We are thinking about scheduling full-scale multilingual support on our platform when such a media model is completed. The development of cryptocurrency and blockchain in Japan also must be interesting.
What do you think about the crypto industry in Japan now? Do you think the current regulation in Japan is appropriate or should it be tightened or weakened?
My answer is that I can't call the current regulation either appropriate or not.
It's a fact that there have been some significant incidents in the crypto industry in Japan involving large sums of money. Some aspects have made it difficult to arrange positive regulatory maintenance. On the other side, Japan is the world leader in terms of AML/CFT efforts, and entrepreneurs have also been active in the financial sector and have come to the front line, and now we are moving towards creating a sustainable market. Starting with creating The Certified Self-regulated Group In 2018 and the adoption of the New Cryptocurrency regulation which is about to come into operation in 2020, a more diversified legal system will be established soon.
However, the problem is that there will be limited opportunities to yield profit for companies that operate in free competition. For example, in the worldwide cryptocurrency market, there are plenty of options for investors, and, apart from national companies, users have a big choice of what services to use. We are concerned that leverage regulation (at the moment the highest possible leverage on Japanese exchanges is 4x, and The Financial Services Agency aims to reduce it to 2x - FW) for example results in the outflow of the Japanese investors to foreign exchanges.
In the cryptocurrency market, which is still much smaller compared to traditional financial markets, it is not much to say that for businesses that are forced to operate their services under the regulation of a single country, it becomes hard to earn money in such conditions.
While regulation has made progress, in order to continue their businesses entrepreneurs have to unwillingly come up with other ways to make money. And, as it contains the possibility of forming such a vicious circle, I can hardly call this situation positive.
Getting back to your question, from the viewpoint of a sustainable market, I believe that Japan is moving to the top of the world. Isn't it a chance to form a new market that would stand out from the rest of the world? And as media, we could help it from the aspect of information support. Besides, I hope that by increasing reliability we will be able to cooperate with more businessmen, so we could help in the business field as well.
Are foreign crypto services popular in Japan or do Japanese users prefer local services?
Japanese people don't use foreign services because they like them. It's just because we act in the financial field, and Japanese users choose what is more profitable. Financial optimization - that's what creates such a situation. For example, leverage, stable coin choice and so on - it is all often connected to hedging risks when people make investments. However, we can see improvements in national services as well, thus since 2020 new measures have been worked out and altcoins have begun to be added to the exchanges one by one.
I think that such factors as the Bitcoin price increase, television commercials and so on will create a good opportunity for getting new investors to join the market. And the development of the inner market that could satisfy intermediate and advanced investors must become the main engine for the further development of the Japanese crypto market. And I believe that there will inevitably be a return wave to the Japanese exchanges among Japanese users when the license system is adjusted.
Where can you see blockchain technology being applied most successfully in Japan outside of the cryptocurrency market? It has been widely reported that some places like bars and shops receive bitcoin as a payment method. Is it common yet in Japan? How difficult is it for a vending spot to integrate crypto to its payment system?
More than considering the volatility of cryptocurrencies and the speed of transactions, the main obstacle for penetration of crypto payments to the domestic market is the Japanese cryptocurrency tax system. Even though there have been debates that taxation should be exempted from small-amount payments, at the moment it has not been realized yet, and in the retail payment area the burden for those using this system is too high. That's a fact. Besides, another reason is that in the current situation when the price of the Japanese yen is stable, and cashless payments in fiat currencies spread out, the need for alternative means of payment is low.
In the short term, I think that the use of crypto will spread due to "the feeling of benefit" when the price goes up, but talking about to how to make Bitcoin a regular means of payment, either we need to remove many hurdles, or we need dramatic changes in the whole economic system, don't we?
On the other hand, due to the development of cross-machine transactions, virtual reality, and other technologies, we are closely following how international borders evaluate in terms of finance and payments.
Do you suppose the role of the media is important for crypto industry development?
As for cryptocurrency. When trading entrepreneurs can't interact directly with the users, for example when they need to attract people to their project or the community, certainly the role of media is high. I think that if we begin to consider cryptocurrency as financial assets, from now on the development of the information field is necessary. When entrepreneurs pursue proper industry development according to the regulations, the media also has to contribute to proper industry development.
As for blockchain. The use cases of blockchain are becoming more and more well-known, as more enterprises show proof of concept of their projects. However, I suppose that although there are many successful blockchain use cases from a technical point of view, businessmen, especially big players can hardly see the possibility to implement such technologies into their businesses. I believe that the role of the media is important in creating such an infrastructure where it will be possible to unite developers and businessmen and to help the businessman clearly understand the advantages of blockchain for their business.
What's the most important thing in running a crypto media outlet?
It is reliability, certainly. When we deal with investments, when the delivered information can affect the investment decisions of the readers, neutrality comes to the front line. For the crypto market, it is even more crucial. Moreover, in the field where information can affect investment decisions, dealing with promotion articles is extremely hard (Scams, aggressive marketing and so on).
Usually when you launch a web media outlet, for the monetization model you choose the advertising model. But for the industry in a situation when there are few profitable companies, we can expect that the dependence on scam ads will be high. Therefore, when you decide to launch a media outlet, it becomes necessary to have another source of monetizing. And allocate the funds received via that source for a proper information delivery model. If you manage to build such a circle, I'm sure you will be able to create a reliable and accurate media model, which will be needed by investors.
As we can see, even in Japan, which is in the front line of crypto regulation, there are a lot of aspects that need to be adjusted. And when adjustments are made, we at Freewallet are sure that they will contribute to the industry's development across the world. We hope Japanese regulators, entrepreneurs, startup developers, and investors will keep putting their efforts together to create a sustainable market and inspire other countries to do the same. In turn, we want to thank you, Mr. Kagami, for your time and your illuminating answers.
Thank you!