Tron is one of the most ambitious and controversial cryptocurrency projects currently active. The startup has elaborate plans of conquering the entertainment industry, a high rating among cryptocurrencies and many lovers and haters. Here's what you need to know about Tron's future in our price prediction for 2020 – 2025.
What is TRON cryptocurrency
The main idea was to create a global entertainment network based on the blockchain. TRON is a decentralized environment with an open source code where everyone can store, publish and distribute entertaining content.
The main idea of the developers is to use the capabilities of the blockchain for the free and decentralized distribution of content. According to Justin Sun, services like Google Play and the App Store are geared towards satisfying content needs for a limited number of users. TRON seeks to implement the concept of free Internet for everyone.
The main pros of the platform:
Interaction with various types of platforms from social networks to online games has been planned, which in the future can draw a huge user base.
TRON can support a large number of running applications; at the moment the network is capable of processing 2000 transactions per second.
Scalability of work. The developers have noted that the technical solutions presented by the project can significantly expand its capabilities of interaction with decentralized applications
Tron price analysis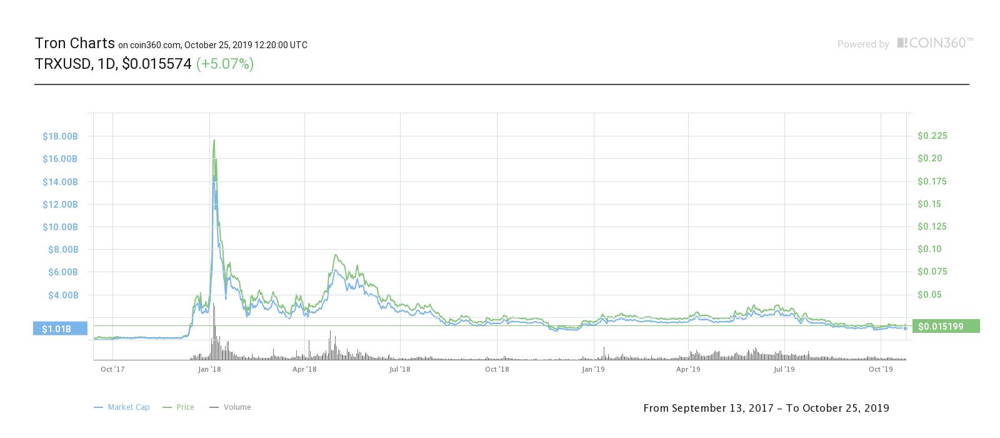 TRON debuted on exchanges in September 2017 at a price of $0.001. During the Autumn the rate of the coin stayed putl and very few people believed that TRON would make any significant moves. However, in December 2017 the coin jumped 6 times higher and reached 6 cents per coin, with a subsequent market capitalization of $160 mln.
The price rise continued as the coin's hype rose and the coin exceeded 20 cents. TRON then cracked the top 10 cryptocurrencies by market cap with a total of $2 bln.. During its peak price, somebody sold a huge amount of tokens which led to a price drop. There were rumors that Justin Sun had sold six billion tokens from his own share.
However, he denied this information and said that the project team really handed over tokens to some traders in order to support liquidity. The fact that the trader who sold such a large volume of tokens was also named Justin was just a coincidence. This controversy triggered a price drop in mid-January that plummeted down to 4 cents.
But this was eventually offset by the anticipation of Tron's maininet launch and purchase of BitTorrent. The coin surged to 9 cents and its market capitalisation surpassed $3.2 bln. It didn't last long though, and after the mainnet launch it dropped back down to 4 cents. From August to November Tron was traded for 1-2 cents.
Thanks to PR campaigns the coin spiked again. This spike was tied to the launch of the BitTorrent token, recently bought by the TRON Foundation. In January 2019 it topped out at 0.27 per coin and then started slowly decreasing. Today, TRX is traded for about 15 cents a pop.
What will determine the future price of TRX
TRON has been surrounded by controversy and scandal. The team was accused of plagiarism on both their white paper and code (allegedly from Ethereum), and recently TRON's co-founder and ex-CTO Lucien Chen castigated the project for being too centralized.
The top 27 SR nodes (block nodes) have more than 170 million TRX votes, and most of them are controlled by TRON.
Also, many users have criticized TRON developers for being too ambitious. For example, their roadmap, scheduled 10 years in advance, raises some doubts. It is not clear how the team is going to achieve all their goals.
However, the project is focused on the entertainment sector, whose market turnover is currently estimated at a trillion dollars. Experts say that now the leading players in the entertainment market are looking at distributed databases and are thinking about transferring business processes to the blockchain. But in order to carry out the transfer, they need ready-made solutions that can combine blockchain and entertainment. Tron could very well become one of those solutions.
TRON is supported by well-known Asian businessmen: Tang Binseng (creator of the popular online game "Clash of Kings"), Dai Wei (founder of the cycling company OFO), Yin Mingshan (CEO of industrial giant Lifan) and others. If such serious people invest their money in TRON, it shows that there is significant faith in the prospects of the project.
Tron price predictions
Tron price prediction for 2020, 2021, 2022, 2023 by TradingBeasts
According to a forecast by TradingBeasts, the price of TRON will reach $0.016 by the end of 2020. Over the time TRX will gradually grow: in July 2020 it will be around $0.020 and at the end of 2020, $0.022. A little further down the line, TradingBeasts forecasts that TRON may cost $0.028 by the end of 2022 and $0.031 of by the end of 2023.
Tron price prediction for 2020 – 2025 by DigitalCoinPrice
DigitalCoinPrice is bullish on the future of TRX. In 2020 they expect TRON to jump to $0.024 and then $0.029 in 2021. The predict the coin will grow rapidly and in 2025 have it at $0.055.
Tron price prediction for 2020 – 2025 by WalletInvestor
WalletInvestor does not share the enthusiasm of the two previous predictors. WalletInvestor claims that currently TRX is a high risk asset and it will drop to $0.0012 in a year. In 2025, they have the TRON exchange rate possibly reaching $0.00106.
Community outlook on Tron's future price
As with any other coin, TRX is the subject of diametrically opposite opinions. Some people like it while others hate it.

Tron is considered one of the most hated cryptocurrencies around. People criticize the project for lacking a strategy and Justin Sun's controversial PR schemes.
Justin Sun obviously follows the saying 'Any press is good press' and he likes to put TRON and himself into anything and everything
But overall, there are a lot of people that believe in the project

Store TRON on Freewallet
You can store TRX on Freewallet: Crypto Wallet on your iPhone or Android device as well as on your computer via the web app.
Store TRON and 150+ other cryptocurrencies in one place.
Buy TRON for USD and EUR right in the wallet.
Seamlessly exchange TRX with other cryptocurrencies right in the wallet.
Make free transactions with other Freewallet users.
Monitor the price of a coin in the wallet so you never miss the best exchange rate.
Protect your money with advanced security protection including 2FA, multisig, and transaction limits. The majority of assets are kept in cold storage, ensuring that your coins won't be lost or stolen.
Feel free to sign-up with your Facebook, Gmail, email, or mobile number and try Freewallet.
Disclaimer: This article should not be considered financial advice and serves only as informative material. The cryptocurrency market is subject to high volatility and regulatory uncertainty. You should do a substantial amount of research before engaging in financial activities with cryptocurrencies.
---
---
Related
Stay tuned
By signing up for this email, you agree to our Terms of use and Privacy policy. We will send you promotional emails occasionally, but not often. We hate that, too.
Subscribe for weekly updates from our blog. Promise you will not get emails any more often.
Most Popular
Feb 17, 2021
---
Jan 13, 2021
---
Dec 9, 2020
---
Nov 18, 2020
---
Feb 4, 2020
---
New Posts
Sep 22, 2023
---
Aug 14, 2023
---
Aug 10, 2023
---
Jul 17, 2023
---
Jul 17, 2023
---
Stay tuned
By signing up for this email, you agree to our Terms of use and Privacy policy. We will send you promotional emails occasionally, but not often. We hate that, too.
Subscribe for weekly updates from our blog. Promise you will not get emails any more often.
Most Popular
Feb 17, 2021
---
Jan 13, 2021
---
Dec 9, 2020
---
Nov 18, 2020
---
Feb 4, 2020
---
New Posts
Sep 22, 2023
---
Aug 14, 2023
---
Aug 10, 2023
---
Jul 17, 2023
---
Jul 17, 2023
---