Freewallet Supports Bitcoin Cash By Launching The First Mobile BCC Wallet
Jul 28, 2017
Freewallet, the developer of the number of user-friendly crypto-wallets, has announced that they will support Bitcoin Cash if the blockchain split up occurs after Bitcoin hard fork. On August 1st the team plans to release Bitcoin Cash wallet to provide Freewallet customers with full access to the new coin.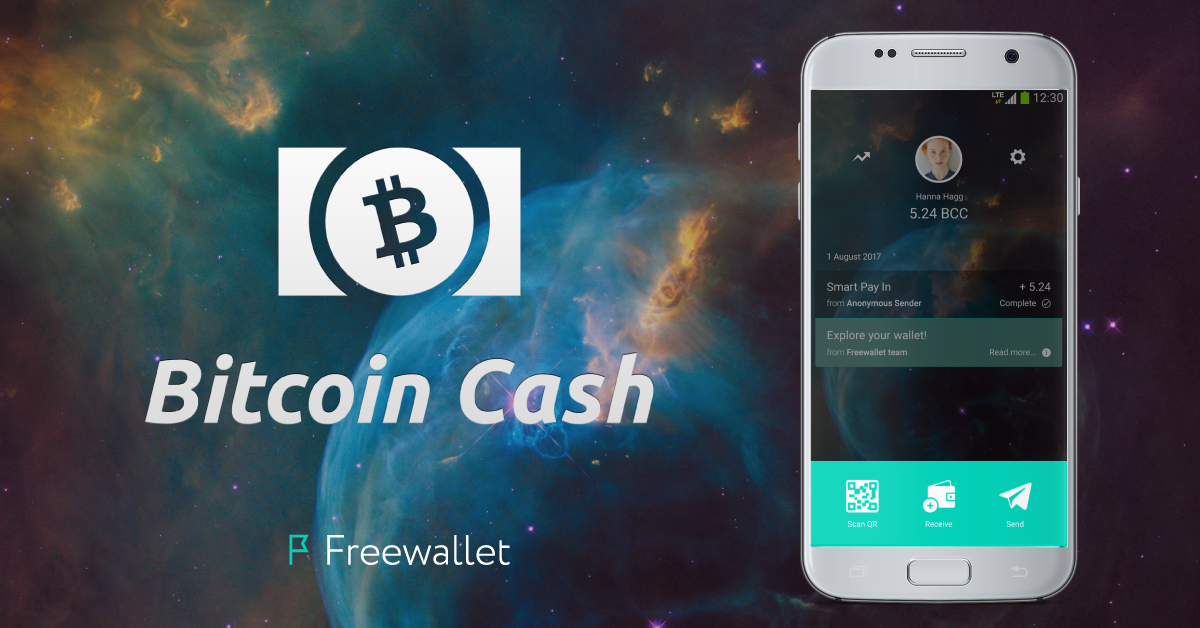 If Bitcoin network split happens, Bitcoin Cash, the new rival crypto-currency, will be born. Those who possess Bitcoins on Freewallet at the time of the fork will get equal amount of Bitcoin Cash since both cryptocurrencies will be sharing the same past.
Freewallet has started preparations beforehand and is ready to launch Bitcoin Cash wallet on August 1st to provide their customers with access to Bitcoin Cash in a timely manner.
Working in close collaboration with Bitcoin developers we deployed a solution to ensure both funds safety and Bitcoin Freewallet operating in full. The team guarantees all their customers will be able to make transactions and manage their portfolios before and after the hardfork.
After Bitcoin Cash wallet is released users who hold any number of BTC in their Freewallet will be automatically credited with corresponding number of BCC.
"We believe that freedom of choice is one of the cornerstones of cryptoworld. If there is a new technology that is widely supported by the community, we adopt it and provide a friendly service that allows efficient use of this innovation." - says Alvin Hagg, Freewallet's co-founder.
About
Freewallet is a team of developers, whose aim is to solve the "last-mile" problem for cryptocurrencies by creating mobile-first cryptocurrency wallets. Since January 2016 the team has developed and successfully released numerous wallets for different cryptocurrencies, namely FantomCoin, Ethereum, Bitcoin, Monero, Dash, Dogecoin, Lisk, DECENT, Zcash, NXT, Ardor, Steem, Bancor, DiginalNote, Bytecoin and Tether.
Freewallet apps are easy-to-use mobile wallets that allow users to familiarize themselves with popular cryptocurrencies without delving into specific technical features and complex settings.
Most of Freewallet products have reached #1 position in GooglePlay.
For additional information kindly contact Freewallet team at
pr@freewallet.org
PR department
Freewallet
Freewallet: cryptocurrency market security challenges
Jun 13, 2017
The rapidly developing technologies in the cryptocurrency industry encourage several individuals into experiments with overcoming different security levels.
Recently a discussion about the security level of different cryptocurrency wallets was raised after a vulnerability has been discovered in one of Freewallet's opponents. We come to you with a quick insight into Freewallet security level that is essential to make our users feel even more protected.
In case of a badly protected wallet, unencrypted backup phrases are stored on the user's mobile phone. From our view, this makes the wallet vulnerable and open for any violator that gains access to the phone. A person that obtains the backup phrase can restore the wallet from scratch, including the private keys, and withdraw the user's funds for its own benefit.
In response to this global challenge to the market, since the very first operating day Freewallet has been using the most progressive multisignature key storing approach, as well as multilayer security systems which are the best practice for the largest companies in the financial technology industry. This makes Freewallet the service with a bank level security grade.
Freewallet offers 14 cryptocurrency wallets; to keep them running perfectly, we have gathered a strong team of quality-driven professionals that has developed a unified technology to ensure the assets are stored securely and reliably. During more than 1 year of successful operating on the market, we've kept the users' funds safe and none of Freewallet users lost a single coin.
Alvin Hagg, Freewallet co-founder, states:
"I am very sad to hear fake news about Freewallet that aroused concerns in the community. We are proud to be #1 altcoin wallet in app stores and consider it to be a great responsibility. The whole Freewallet team is working around the clock to deliver fantastic experience to our customers."
Although Freewallet team understands the users concerns about the security level of the service they use, we kindly draw your attention to the fact that often the frustration is caused by technical issues of the blockchain itself. Thus, recent concerns were raised by a delay in Ethereum transaction processing, caused by the Ethereum blockchain being overloaded with Bancor ICO transactions on June, 12th. All the transactions have been processed successfully while Freewallet Support team has kept the finger on the pulse and made sure all queries are properly handled.
For any inquiries regarding this issue, please contact us at
pr@freewallet.org
PR department
Freewallet