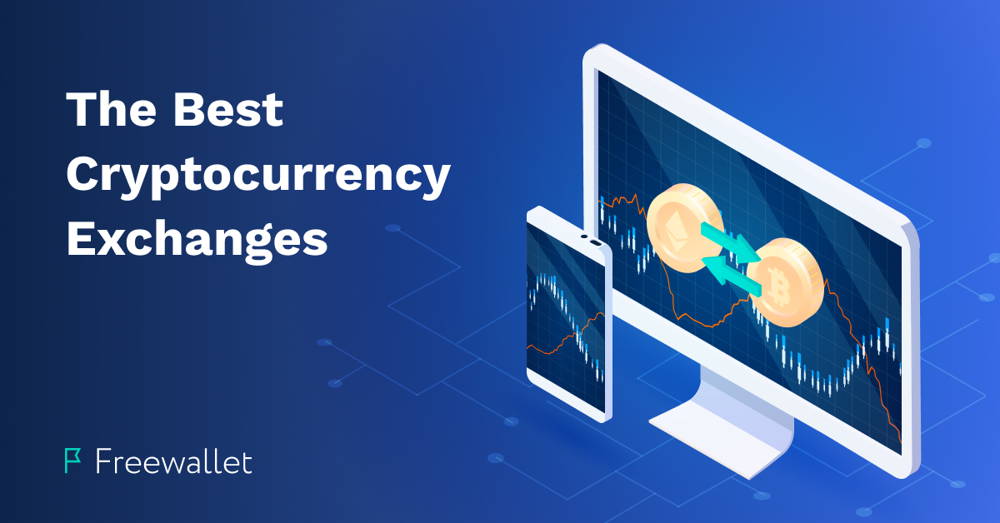 The cryptocurrency exchange is an online platform through which users can exchange cryptocurrencies with each other for another cryptocurrency or for fiat money. Also, almost all crypto exchanges offer additional functions that allow you to increase profit from trading or invest money to obtain passive income. This article takes a look at the features of some of these services and highlights several popular today.
How to choose a cryptocurrency exchange
In order for you to identify the best cryptocurrency exchange, you should pay attention to the following important points: 
Reliability, rating and reputation. The idea is simple, the better reviews about this platform on Bitcointalk, Reddit and other platforms – the better the platform is. Exchanging funds on a platform with an ambiguous reputation is not worth it. We advise you to listen to the advice and experience of other users and choose proven sites. 
Size of the commission. All cryptocurrency exchanges charge a fee for their services. It varies depending on the exchange. Recently, exchanges have not been establishing a constant value of fees but rather making it dynamic. So the percent of commission decreases with increased trading volume.
Number of trading pairs. The larger the choice of currency pairs offered on the exchange the more tools for trading you have. However, remember that quantity is not always the key to success. It is much more important to have an optimal set of trading pairs that can ensure an efficient trading process. 
Daily trading volume. The high daily turnover of an exchange indicates its success, popularity and influence on the entire cryptocurrency market. 
Payment options. A wide range of payment methods gives you more options for operations with digital assets. Some exchanges work only with cryptocurrencies and do not support fiat money, while others allow the use of any monetary assets. 
User Verification Requirements. These requirements differ from one exchange to another: some set a tight framework and severely limit trading opportunities, others are more loyal to unverified users, but set a limit for daily trading volumes. There are also exchanges on which there is no mandatory verification of identity, which allows users to remain completely anonymous.
Convenient user interface. The more tools for analysis and statistics an exchange provides the more quickly and efficiently the bidding process will be. It is also important to have statistics on operations and tools for technical analysis, allowing you to correctly assess the market situation.
Support service. The faster and more productive it works, the more operations with cryptocurrencies you can carry out, as well as get professional help in case of a problem.
The best cryptocurrency exchanges
Binance
The number 1 exchange in the world in terms of trading volume; 
Supports fiat money: USD, EUR, GBP, JPY, RUB and others; 
Has margin trading: trading with a leverage of x2; 
The fastest growing Chinese exchange with its own cryptocurrency BNB, which was created with the aim of attracting initial financing through an IEO; 
Traders are attracted by low commissions - 0.1%;
It is important to note high productivity: the exchange processes up to 1.4 million orders per second; 
The platform supports the most popular cryptocurrencies and makes it possible to have a wallet for each of them; 
It also provides a wide range of professional tools for trading and analytics.
Bittrex
The Bittrex platform stores most of its digital assets in cold wallets. Clients here are provided with:
An extensive selection of cryptocurrency pairs;
High level of security;
Free deposit and withdrawal of funds from the account;
The ability to exchange virtual money for fiat at an acceptable rate.
But, you can only withdraw coins after verification of your account is completed. Residents of some American states do not have the right to register on this site due to the peculiarities of local law. The minimum trading volume on Bitrix is ​​equivalent to 0.00005 BTC.
Kucoin
Kucoin is an ambitious and very promising cryptocurrency exchange with its own cryptocurrency, which began working on September 15, 2017. The team of creators has a goal of first entering the top ten, and then making it into the top five largest cryptocurrency exchanges in the world, as well as surpassing the success and popularity of the
Binance exchange
Over 300 trading pairs
Lack of mandatory verification, you can trade anonymously; 
Low withdrawal fees;
A large number of professional technical tools for analysis;
High level of safety and security of clients' cash assets; 
Competent and responsive technical support that quickly solves user problems.
Kucoin exchange operates in ten different languages. 
LocalBitcoins
Localbitcoins is a cryptocurrency exchange operating in p2p format. Transactions here are performed directly between users, without the participation of a third party. This provides a high level of freedom, everyone can set their own price and terms of sale or purchase of digital currency.

The main advantages of the site:
The ability to buy and sell Bitcoin at a favorable rate and with a low fee;
A variety of payment methods for the transaction.
The service has a good reputation, for six years it has won the trust of users. It is used by people from all around the world and has a substantial trading volume.
OKEX
Okex cryptocurrency exchange is a multi-currency platform for trading digital tokens. Asian cryptocurrency exchanges are in great demand all over the world today, since the cryptocurrency market in this region is highly developed. 
OKEx is a Hong Kong exchange that was launched on June 15, 2015. At the moment, the exchange has 3 language interfaces, the main ones being English and Chinese. Over 500 pairs are available for trading and the total volume of transactions is about 160,000 BTC per day.
Huobi
One of the largest cryptocurrency exchanges in terms of total trading volume, which averages over $518 billion every 24 hours. Has 5 years of experience in the field of digital financial services.
The platform uses a specialized system of protection against hacker attacks, and 98% of user funds are stored offline in cold, multi-signature wallets
Margin trading with leverage of 1:5 is available for traders working with BTC and LTC, but for this you need to go through a complex identity verification procedure
Huobi has cashback privileges: you can invite your friends and get 30% of their commissions
Huobi offers multi-platform access and mobile applications for all platforms (iOS, Android, Windows and Mac).
HitBTC
HitBTC has been operating in the crypto industry for 6 years and is very highly valued by traders using trading bots. It features a well-thought-out functionality, a rich selection of trading instruments and exchange pairs. Verification of identity is required only for traders working with fiat currencies.
The main features:
Low fees (0.1%) and the industry's highest number of currency pairs (focus on major markets); 
Quick registration and easy navigation on the site; 
Advanced interface with effective tools for analytics and analysis; 
Demo mode: the exchange allows you to try to trade in real market conditions without investing money; 
High security features on user accounts.
CEX.IO
A global multifunctional cryptocurrency exchange that provides access to high liquidity and the most popular currency pairs in the world market. It works in 99% of the countries in the world, including 24 US states and has more than 2.9 million customers.
The main features:
It has official registration in the UK, MSB status in FinCEN and other licenses; 
Lack of mandatory verification;
Has margin trading: leverage x2 or x3; 
2FA, protection against DDoS attacks, data encryption, PCI DSS certificate. 
BitFinex
A popular Hong Kong crypto-exchange, translated into 9 languages. You can start trading immediately after registration without verification. 
The main features:
Spot trading with major cryptocurrencies like Bitcoin, Ethereum, EOS, Litecoin, XRP, NEO, Monero and many more – a total of 130+ liquid digital assets; 
Ability to open 3 separate accounts: credit, margin and trading; 
Margin trading: leverage up to x3.3 for a wide range of assets; 
A wide range of available products: trade in tokens, futures and other effective financial instruments; 
One of the most advanced trading terminals on the market with convenient graphical tools for data visualization;