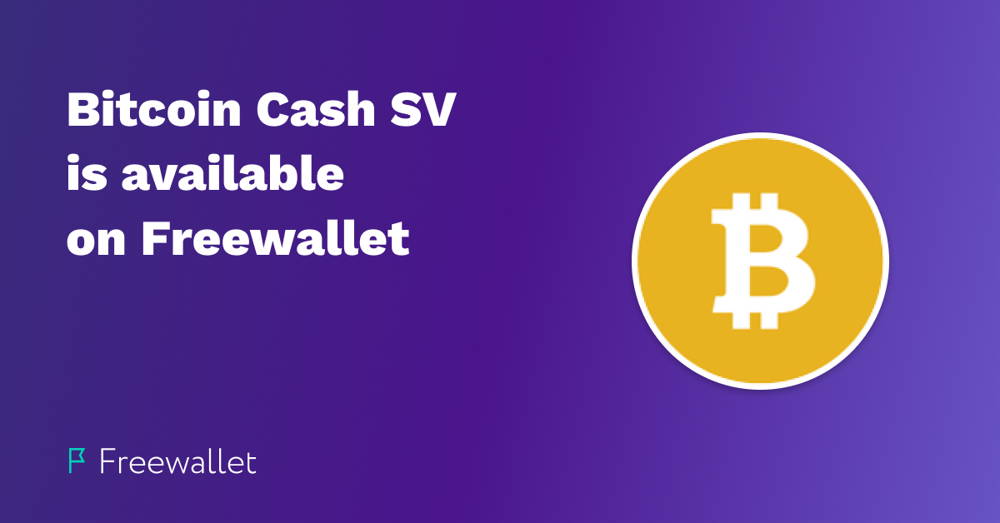 Freewallet's customers have already been enjoying Bitcoin Cash ABC after the November Bitcoin Cash hardfork. Today, we are glad to announce that we have added the second coin – Bitcoin Cash SV to the Freewallet platform. We topped-up the balances of all lucky owners of Bitcoin Cash with Bitcoin Cash SV. Now you can manage, exchange, and store your BCHSV in your secure wallet.
Why did the hard fork happen?
The milestone that split BCH into two parties was a long time coming. BCHSV (which stands for Satoshi's Vision) proponents wanted to restore Satoshi's protocol, which required significant changes, while BCHABC decided to stick to the original roadmap of Bitcoin Cash. As a result, Bitcoin Cash divided into two separate chains and coins in November 2018.
Bitcoin Cash SV vs Bitcoin Cash ABC
One of the major differences between coins is their block size. Unlike their BCHABC counterparts, the BCHSV faction wants to increase block size from 32MB to a maximum of 128MB. Also, they aim to rewrite the original scripts of Bitcoin Cash significantly. In their opinion it will improve scalability and expand network capacity.
Meanwhile, the BCH ABC side wants to keep the block size the same but also wants to allow node operators to adjust block size limits. They plan to follow the roadmap and reduce transaction costs and improve scalability.
What do I have to do to get BCHSV?
You don't have to do anything. Being a hosted wallet, we took it upon ourselves to add the coins to your wallet. All Freewallet customers who held Bitcoin Cash before the hardfork have ended up with both BCHSV and BCH ABC coins in their accounts. Go and check it out in your account.
If you have any questions regarding the Bitcoin Cash hardfork or need any assistance please contact our support team.