Binance Coin appeared in the middle of 2017 and almost immediately got the attention of the cryptocurrency community. Within two years, BNB has managed to accumulate an impressive market capitalization and climb into the top 10 cryptocurrencies measured by that metric. Will BNB manage to keep its pace and grow even higher? Read about it in our Binance Coin price prediction for 2020 – 2025.
What is Binance Coin
Binance Coin is the internal cryptocurrency of the Binance exchange. However, in essence, it is similar to most other altcoins, in that it is subject to volatility and may be exchanged for other assets.
Binance Coin was created as an ERC20 token and initially operated on the Ethereum blockchain. But in 2019, the coin moved to its own blockchain. Currently, the Binance Coin has three functions:
Acts as a trading asset.
Reduces commissions on the platform.
Is used to pay for goods on sites that accept Binance Coin.
Perhaps the second point got your attention. Yes, you can use BNB to reduce commissions on the Binance exchange until 2022. Each year the discount available is reduced by half:
1st year – 50%
2nd year – 25%
3rd year – 12.5%
4th year – 6.75%
For the fifth year, the discount will no longer be valid.
An extremely interesting and unique characteristic of BNB is the regular burn of the currency, which come in the form of irreversible decreases in the maximum number of available units, which initially amounted to 200 million BNB. On a quarterly basis, the board of directors of the BNB exchange buys BNB tokens from the digital market with 20% of the profit they've made from transaction fees, and then burns them (using the Proof of Burn protocol).
The maximum reserve of BNB coins will be systematically reduced to 50% of the initial reserve of the cryptocurrency, namely to 100 million tokens.
Binance coin price history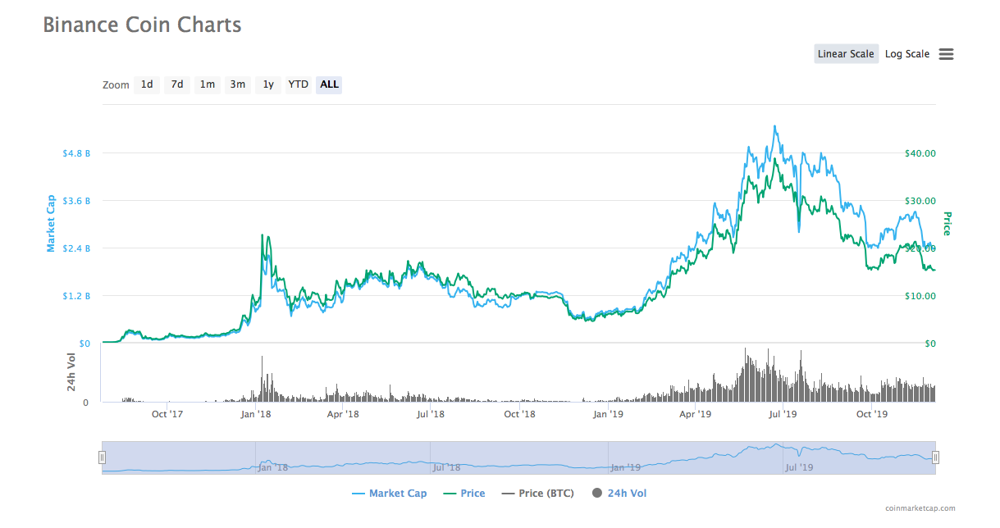 BNB started at $0.1 in the Summer of 2017 and by Autumn had increased to over $1. December 2017 was boom time for crypto which was felt by the whole cryptocurrency market and in December-January the coin jumped from $2 to $20.
However, when the market turned bearish and coins suffered huge losses, BNB managed to stay afloat and only dropped to $10. The big customer base of crypto traders who use the Binance platform on a daily basis helped the currency to survive crypto winter. Besides, many traders got interested in the platform thanks to the coin's discounts on exchange fees. In January, the platform experienced a big influx of new users, at one time even registering 240000 new accounts in just one hour.
In April 2018, Binance announced the rollout of Binance DEX on their blockchain and later in March launched its demo version which provided another boost to the BNB price. Besides, the April BNB burn also helped cryptocurrency to grow in price and achieve $14 per coin. For the next 4 months the digital currency was traded between $11-14 and then in August dropped to $9 per coin.
In November Binance Coin experienced one more price drop and went down to $4, but soon Binance released the second demo of DEX and BNB started climbing up to its ATH price. Till June the coin was gradually going up and reached $39 price and over $5 bln. market cap. In March Binance released the final version of DEX and even the hack of the exchange that happened in May didn't spoil the situation.
After June's heights the coin started going down and by October had entered familiar territory at around $15. Binance then added XRP-BF2, the XRP variant, to its decentralized exchange, pegging it one-to-one with XRP on the main exchange. This brought more attention to the platform and currency and, as a result, the coin reached $18. The listing of Dogecoin also attracted more users to the platform, boosting the currency to $20. Later in December, BNB dropped back to $15.
What will determine the future price of BNB
Just within a few years, BNB has managed to take a leading position in the crypto market. Currently, Binance Coin is paired with more than 400 other currencies, making it one of the most liquid options for trading. Here are several factors that helped BNB to get that high and that will determine its future price:
Quarterly BNB burns – every three months Binance burns a small percentage of BNB. As a result, only 100 mln. i.e. half of the originally issued amount of BNB will ultimately remain. Each time the event has occurred, the price of Binance Coin has increased. The only exception came in the bear market of January 2018. However such price pumps don't play too lasting a role on the price of BNB as the rate has always corrected itself shortly afterwards.
The launch of new products – the launch of Binance DEX and the Binance chain have played an important role in the price growth of BNB. BNB is one of the main assets for trading on DEX, so obviously, people started using it more often. More use-cases can lead to bigger adoption which will influence the price of the digital currency.
Conquering new markets – the success of the Binance Coin strongly depends on the success of its platform. The Binance exchange is actively expanding its spheres of influence and acquiring new markets. Recently, they've opened divisions in the US and South Korea and added trading pairs with the Russian ruble. Thus, they are growing their user base and loyal community around the platform and cryptocurrency.
More IEOs – the exchange has its own platform that allows start-ups to launch crowdfunding campaigns. During token sales, BNB is used to buy new tokens, so before a campaign, participants actively purchase Binance Coin increasing its trading volume and price.
Binance coin price prediction
In its short two year history, Binance Coin has shown impressive results. It is pretty much a consensus that BNB will grow in price but the question remains as to quantity Let's take a look at some long term price forecasts for the next five years.
Binance coin price prediction for 2020 – 2025 by WalletInvestor
WalletInvestor is bullish on BNB; according to them, by the end of 2020 the coin will cost about $9. The next year the coin will continue to grow and will reach $27 in June. For the next 6 months, the rate will go down to $15. Each year they expect BNB to repeat this market movement. So in 2022 they have BNB reaching $32, in 2023 – $37, in 2024 – $43 and in 2025 – $42.
Binance coin price forecast for 2020, 2021, 2022, 2023 by TradingBeasts
TradingBeasts is predicting moderate growth for Binance Coin over the next 4 years. At the end of 2020 and for all of 2021, they have the rate of BNB staying around $15 per coin. In 2022, the cryptocurrency will go up from $15 to $23. In 2023, the price will continue climbing, growing from $23 to $28 by the end of the year.
BNB price prediction for 2020 – 2025 by DigitalCoinPrice
DigitalCoinPrice predicts that BNB will fluctuate within the $30-35 price range for the next 5 years with one late price peak at $35. The BNB forecast goes as follows:
In 2020 – $34
In 2021 – $38
In 2022 – $33
In 2023 – $27
In 2024 – $46
In 2025 – $35
Binance Coin on Freewallet
Looking for a place to store your BNB safely? Try Freewallet: Crypto Wallet.
Store BNB and 150+ other cryptocurrencies in one place. Available on iOS, Android and the web.
Buy BNB, BTC, LTC, ETH, XRP, TRX and BCH with your credit card.
Seamlessly exchange Binance Coin with other cryptocurrencies right in the wallet.
Make free transactions within the Freewallet eco-system.
Monitor the exchange rate of the currency and see your balance in USD, EUR, JPY, etc.
Protect your coins with high-grade security features including 2FA, multisig and transaction limits. The majority of assets are kept in cold storage. It guarantees that your coins won't get lost or stolen.
Feel free to sign-up with your Facebook, Gmail, email, or mobile number and try Freewallet.
Disclaimer: This article should not be considered financial advice and serves only as informative material. The cryptocurrency market is subject to high volatility and regulatory uncertainty. You should do a substantial amount of research before engaging in financial activities with cryptocurrencies.
---
---
Related
Stay tuned
By signing up for this email, you agree to our Terms of use and Privacy policy. We will send you promotional emails occasionally, but not often. We hate that, too.
Subscribe for weekly updates from our blog. Promise you will not get emails any more often.
Most Popular
Feb 17, 2021
---
Jan 13, 2021
---
Dec 9, 2020
---
Nov 18, 2020
---
Feb 4, 2020
---
New Posts
Sep 22, 2023
---
Aug 14, 2023
---
Aug 10, 2023
---
Jul 17, 2023
---
Jul 17, 2023
---
Stay tuned
By signing up for this email, you agree to our Terms of use and Privacy policy. We will send you promotional emails occasionally, but not often. We hate that, too.
Subscribe for weekly updates from our blog. Promise you will not get emails any more often.
Most Popular
Feb 17, 2021
---
Jan 13, 2021
---
Dec 9, 2020
---
Nov 18, 2020
---
Feb 4, 2020
---
New Posts
Sep 22, 2023
---
Aug 14, 2023
---
Aug 10, 2023
---
Jul 17, 2023
---
Jul 17, 2023
---