The crypto industry is becoming more and more user-friendly each day, but still, one of the most common questions among crypto beginners is how to buy Bitcoin or other cryptocurrencies. The Freewallet team has released an outstanding feature, which allows you to purchase crypto as fast and easy as ABC. Now our customers can buy coins seamlessly in their wallet, without having to visit other services or exchanges.
The way you used to buy cryptocurrency
The most popular way of purchasing cryptocurrency is through trading platforms which connect buyers and sellers automatically, such as Kraken or HitBTC.
Also, you might be interested in peer-to-peer (P2P) exchanges, where you can trade your national currency for crypto by negotiating a price directly with an anonymous individual. One of them is LocalBitcoins, for instance.
You should keep in mind that some services may not be available in your country, so always make sure to take your country's regulations into consideration.
In most cases, buying cryptocurrency is as easy as pie: all you need to do is to connect your credit card and tap the 'Buy' button.
The way you can buy cryptocurrency now
At Freewallet our team keeps improving the product line in order to maintain our status as the most suitable and convenient solution for our customers on the market. Starting today, Freewallet's users can buy BTC, ETH, XRP, BNB, XLM, TRX and LTC with their bank cards directly in their wallet. This feature is available on the web, iOS and Android version of Freewallet Crypto Wallet. Also, you can buy crypto right on our website.
Press the "Buy" button on the dashboard, choose the currency and amount you want to purchase. After that you will be redirected to the page for bank card data entry.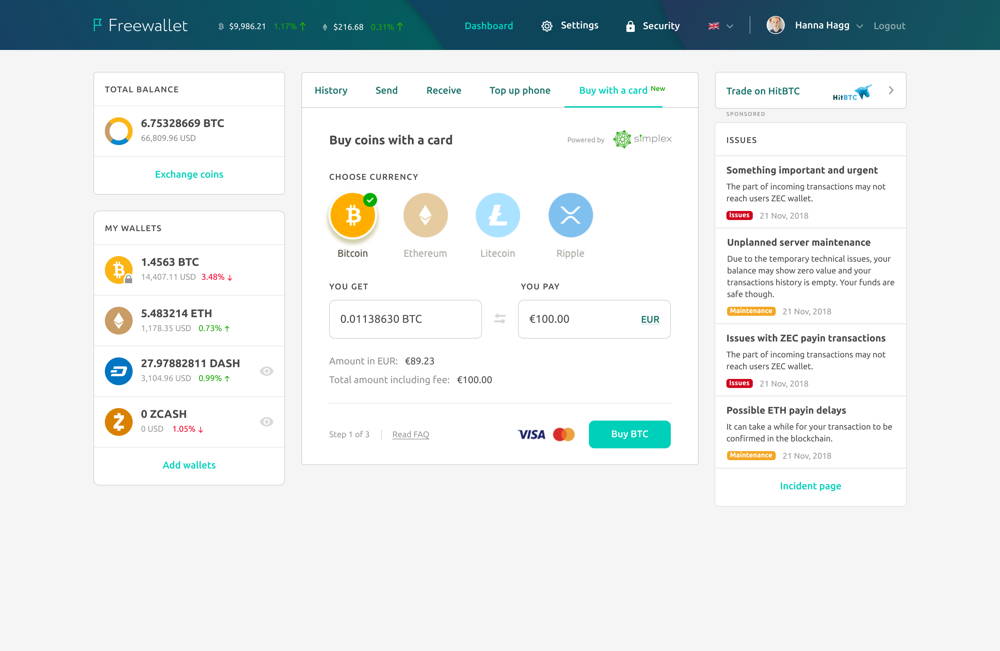 As soon as you make a transaction, it will have a "pending" status and then the payment will be completed or cancelled. The service needs up to 24 hours to process the transaction. Sometimes, it may take up to 48 hours due to delays in identity verification or high demands on cryptocurrency. All coin purchases are displayed in your history as "Pay In" transactions with the description "Via credit card", so you can easily track them.
What you should keep in mind when buying crypto
Before buying a desirable coin on Freewallet you should follow these rules:
1. Ask our support team whether this feature is available in your country. You can also check the list of supported countries here.
2. Prepare a photo (not a scans) of your passport (ID and Driver's License will work fine too), phone number and email and selfie with your identification document. It will be required for the first purchase. The documents should be valid and the photos should have clearly visible data (name, expiration date, number, etc.).
3. Please note that each transaction includes a 7% fee (minimum USD 10) and there are several limits (fees included) for purchases:
The minimal purchase is USD 50 and EUR 50

The KYC option applies only to purchases up of to $150. If you buy crypto for $150 or less you don't need to undergo verification process.

The maximum purchase for one transaction is USD 20000 and EUR 18000

The maximum amount of purchases for one account over a 30 day period from the first transaction is USD 50000 and EUR 45000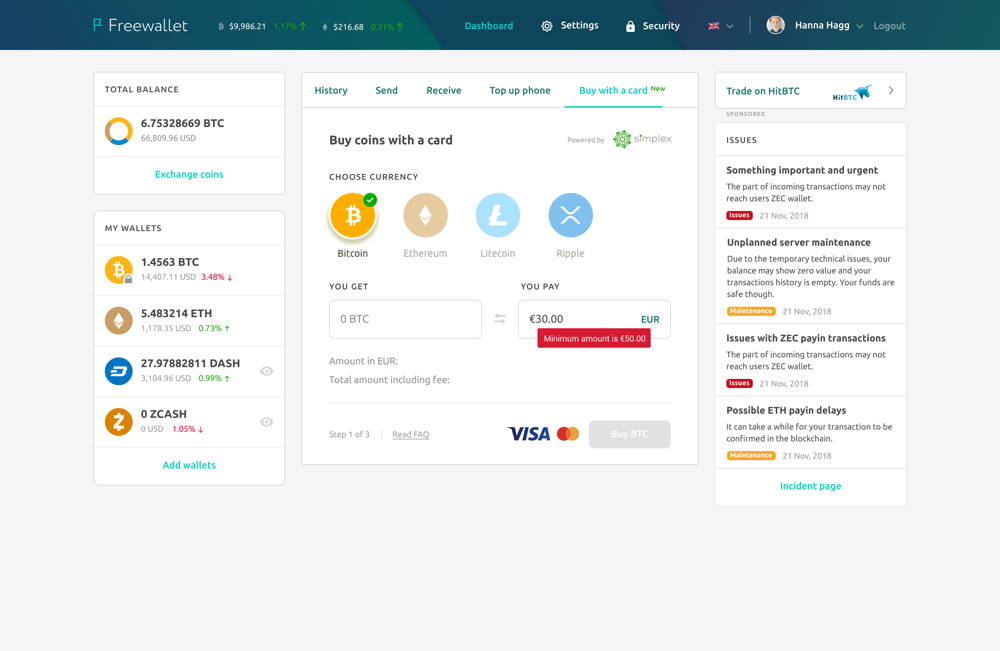 What you should expect in the future
The Freewallet team will be keeping an eye on the service and improving it. When it's ready, we will release it for mobile apps. If you have any problems with the service or need some help please contact our support team. If you have any questions about this feature, write to [email protected].
This service has come to fruition thanks to our integration with Simplex. Simplex provides a secure processing service for online crypto-payments. The company works with exchanges, brokers, wallets, merchants and marketplaces and protects them from fraud, via advanced machine-learning algorithms.
Feel free to check it out and buy some cryptocurrency with a credit card instantly right on the Freewallet website.
---
---
Related
Stay tuned
By signing up for this email, you agree to our Terms of use and Privacy policy. We will send you promotional emails occasionally, but not often. We hate that, too.
Subscribe for weekly updates from our blog. Promise you will not get emails any more often.
Most Popular
Feb 17, 2021
---
Jan 13, 2021
---
Dec 9, 2020
---
Nov 18, 2020
---
Feb 4, 2020
---
New Posts
Sep 22, 2023
---
Aug 14, 2023
---
Aug 10, 2023
---
Jul 17, 2023
---
Jul 17, 2023
---
Stay tuned
By signing up for this email, you agree to our Terms of use and Privacy policy. We will send you promotional emails occasionally, but not often. We hate that, too.
Subscribe for weekly updates from our blog. Promise you will not get emails any more often.
Most Popular
Feb 17, 2021
---
Jan 13, 2021
---
Dec 9, 2020
---
Nov 18, 2020
---
Feb 4, 2020
---
New Posts
Sep 22, 2023
---
Aug 14, 2023
---
Aug 10, 2023
---
Jul 17, 2023
---
Jul 17, 2023
---