Freewallet team is always on the lookout for ambitious projects and coins of great potential to support in our apps. Back in October 2016, we released a dedicated ARDR Wallet, a digital asset which was later included in our Crypto Wallet app. Initially a part of the NXT blockchain, ARDR switched to a standalone network on January 1st, 2018. Here's a short story of how Freewallet handled the migration process and helped Ardor holders get their assets home safely.
What's so special about ARDR?
Ardor is a blockchain platform designed as an efficient Blockchain-as-a-Service (BaaS) solution. It means that there isn't one and only blockchain, but rather a parent chain supporting multiple child chains. Every child chain has a native coin (token) used for transaction fees, and a set of features, such as creating and exchanging assets, poll voting, messaging, etc. All these child chains are coordinated by the parent chain that uses a proof-of-stake (POS) consensus mechanism providing overall network security and scalability.
Basically, any project or individual can create a dedicated child chain with the ARDR platform. They can issue a separate coin (or token) for their chain, enable and disable specific network features and get their transactions processed fast and without mixing them with information from parallel child chains.
What challenges did ARDR evolution bring?
Migration to a dedicated Ardor blockchain brought quite a number of challenges to the developers. To begin with, ARDR first appeared as an asset on the NXT blockchain. With Freewallet, for example, there used to be a special NXT address for storing ARDR along with messages (payment IDs) unique for each user. However, a new blockchain would have new addresses unrelated to NXT, and we had to make them available for all users.
There also was a question of swapping the "old" Ardor tokens for the new ones: in order to do it, we had to temporarily suspend operations on the ARDR wallet. With a fixed balance for every user, the mission was quite possible.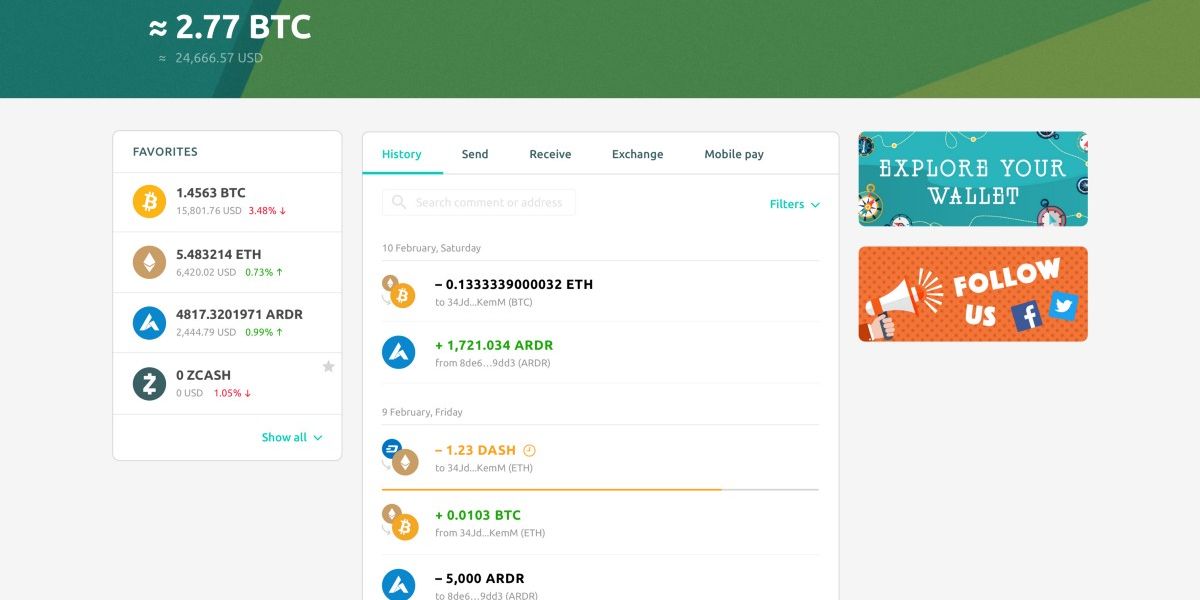 Finally, moving to a new blockchain is a procedure not much different from launching one for a new coin: extensive tests had to be performed to ensure the network stability and asset security. Freewallet team is proud to have successfully made it through all stages so that our users could resume operations with Ardor on the upgraded wallet.
What's next?
We're keeping an eye out for new opportunities that might be interesting and beneficial for our users. One of our current priorities is IGNIS, the first Ardor child chain. Freewallet team is currently working on integrating IGNIS in the list of available assets in our Crypto Wallet app. As soon as the integration is completed, all Freewallet NXT holders will receive their IGNIS tokens based on the Ardor Genesis Snapshot that took place on December 28th, 2017. Stay tuned, we'll keep you posted!
---
---
Related
Stay tuned
By signing up for this email, you agree to our Terms of use and Privacy policy. We will send you promotional emails occasionally, but not often. We hate that, too.
Subscribe for weekly updates from our blog. Promise you will not get emails any more often.
Most Popular
Feb 17, 2021
---
Jan 13, 2021
---
Dec 9, 2020
---
Nov 18, 2020
---
Feb 4, 2020
---
New Posts
Sep 22, 2023
---
Aug 14, 2023
---
Aug 10, 2023
---
Jul 17, 2023
---
Jul 17, 2023
---
Stay tuned
By signing up for this email, you agree to our Terms of use and Privacy policy. We will send you promotional emails occasionally, but not often. We hate that, too.
Subscribe for weekly updates from our blog. Promise you will not get emails any more often.
Most Popular
Feb 17, 2021
---
Jan 13, 2021
---
Dec 9, 2020
---
Nov 18, 2020
---
Feb 4, 2020
---
New Posts
Sep 22, 2023
---
Aug 14, 2023
---
Aug 10, 2023
---
Jul 17, 2023
---
Jul 17, 2023
---