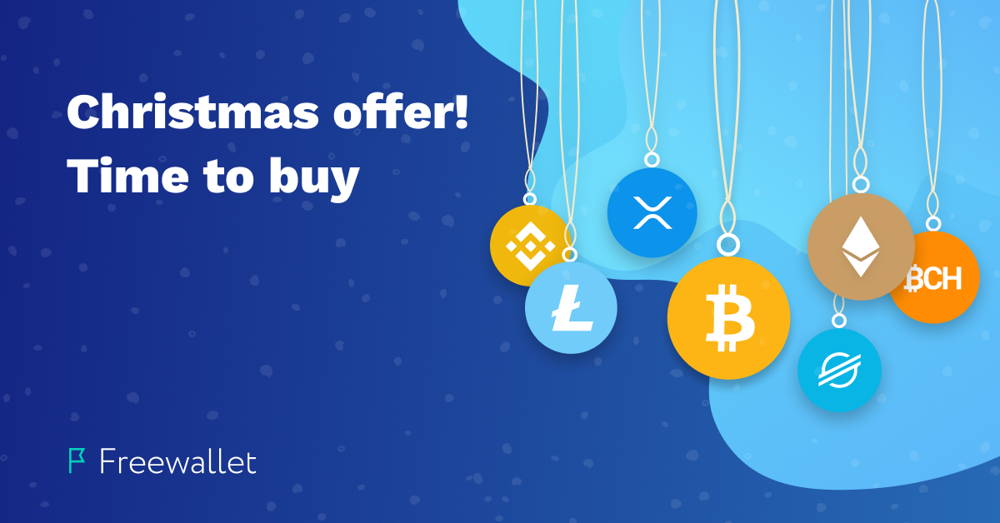 Ho-Ho-Ho, the Winter Holidays are coming and it's time for presents and gifts. Santa Claus has come over to Freewallet and prepared winter presents for all the good Freewallet boys and girls.
Freewallet together with Simplex is reducing fees on all crypto purchases. Starting from the 23rd of December until the 29th of December (inclusive), we are reducing fees to 4.5% for purchase of BTC, ETH, LTC, XRP, BCH, XLM, TRX and BNB on Freewallet through Simplex.
It is a great opportunity to get new coins and enter 2020 with an updated and relevant cryptocurrency portfolio, don't miss out on the bargain ;).
How to buy crypto at a discount?
Discounts are available on Freewallet: Crypto Wallet for iOS and Android, and the web and on our web-site. Choose what's most convenient for you and buy some crypto. Please note that there will be no discount on single currency wallets!
Just go to the "Buy" section
Fill in the amount you want to buy
Enter your address (if required)
Fill in the card information
Your crypto is on your balance
Don't forget to tell your friends about the promo and share it on your social networks.
To keep up with the latest Freewallet's news, the hottest special offers and giveaways follow us on Twitter or Facebook.