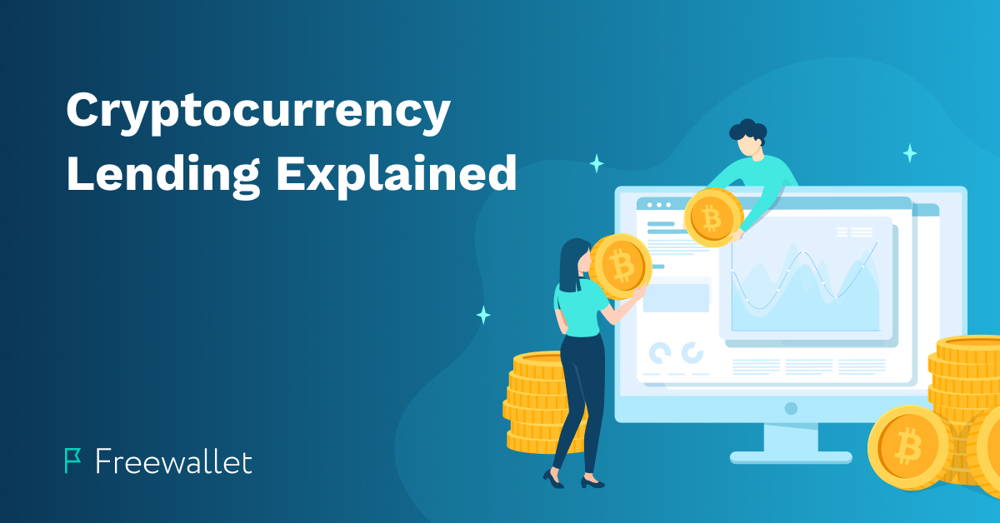 Cryptocurrency loan services are still regarded as something out of the ordinary because of the asset's high volatility and high price. However, crypto lending is becoming more popular. In this article, we will explain the basics of cryptocurrency loans, discuss the possible risks and review the best Bitcoin lending sites.
What is cryptocurrency lending
Cryptocurrency lending is similar to traditional banking loans. It usually involves three parties: a borrower, a lender, and a platform: 
A borrower takes a loan for a certain period in fiat or stablecoins
A lender provides these assets at an interest rate
A platform connects both sides of the transaction
So, the concept of cryptocurrency and Bitcoin lending is simple: borrowers can use their crypto assets as collateral to get a loan in fiat or stablecoins, and lenders provide their coins at an agreed upon interest rate.

Sometimes, a platform gives a loan itself. In this case, borrowers take money from the platform using their cryptocurrency as collateral. They can configure the interest rate, duration of the loan, and other parameters like in any traditional credit process.
Types of crypto lending platforms:
Decentralized – a user deposits collateral on a smart-contract to get a Bitcoin loan online.
P2P platform – users provide loans to other users. This kind of service acts as a middleman between borrowers and lenders. It keeps the collateral and resolves possible disputes between the customers.
Centralized – these kind of platforms grant loans via other users' deposits. Centralized lending services provide a loan instantly as soon as they get collateral.
How cryptocurrency lending works
Collateral loans are provided by special platforms and other users (in the case of P2P crypto lending). The services give out credit in fiat money, stablecoins, and cryptocurrencies. Loan granting goes as follows:
1. A user deposits collateral and requests a loan.
2. The platform pre-authorizes the collateral and gives out a loan.
3. When the borrower pays off their loan, the platform returns the money.
4. Otherwise, the platform sells a part of this collateral, and the remaining amount is returned to the lender.
Platforms don't check your credit history, so those who were not approved for a banking loan can easily get money in digital currencies. However, everybody has to undergo KYC according to Anti-Money-Laundering Policies.
Usually, platforms require the same set of documents: an ID card or driving license, income certificate and proof of residence. Sometimes to increase your chance of obtaining a credit, you can upload a video message, links to your social media pages, etc. Each platform has a section with a full list of required documents.
Pros and cons of cryptocurrency lending
Cryptocurrency lending has several advantages over the traditional credit system:
Fast loan granting
Interest rates are lower than at banks
Favorable transaction fees, especially when compared to the conventional lending system
Your credit history is not required
However, due to high market volatility and lack of regulations in the cryptocurrency sector, the inherent risks of crypto lending are high for lenders and borrowers. 
A lot of services create rating systems in order to identify reliable borrowers. But sometimes people pay off a few small debts to get a high rating, open up a new credite and disappear with all the money. 
How to choose a crypto lending platform
Interest Rate
The interest rate is probably the most important condition to consider when choosing a crypto and Bitcoin lending platform. Is it balanced well both for borrowers and lenders? The rate should be low enough for borrowers and high enough for lenders to earn money on it.
You have to be disciplined and approach everything realistically here; a 20% Annual Percentage Rate for lenders and 2% Bitcoin loan is impossible, so if you're looking at one, you're facing a scam website.
Security
One more critical aspect is platform security. It won't matter how much interest you can earn on crypto if everything is stolen by hackers. Before using a cryptocurrency lending site, check the security features of the service and whether the platform has suffered from hacker attacks.
Supported currencies
Check how many fiat and digital currencies a platform offers its users. Some services are limited in choice and may offer only a few coins while the others have dozens. The more options you have, the broader your opportunities to earn on interest.
Flexible conditions
Each platform has its limits on deposits, withdrawals and various terms for loan granting.
Flexible loan conditions allow borrowers to configure their loans in preferable ways. They can set the desired amount, interest rate, duration, repayment method, etc. 
Lenders should take into account withdrawal limits and possible fees. Each currency has different deposit and withdrawal limits. Payment frequency will show lenders how often they will receive interest on loans – it can be every day, week, month, etc. Make sure to thoroughly inspect the conditions a service is offering in order to choose the platform most suitable for you.
Geographical restrictions
Cryptocurrency lending platforms are financial services that need to comply with KYC and AML regulations. As a result, some platforms are unavailable in certain countries. When choosing a lending service, make sure that it operates in your region.
Top 5 cryptocurrency lending services
BlockFi
BlockFi is a crypto lending platform located in New York, which was founded in 2017. The company has managed to raise over $20 mln. from various industrial ventures, including Valar, Galaxy Digital, Susquehanna.
Features:
You can earn up to 6.2% interest on BTC (for deposits over 5 Bitcoins) and up to 4.2% on Ethereum loans.
Compound interest – earned interest is added to your deposit, basically, allowing you to earn interest on interest.
A loan is provided for 12 months or less.
The platform offers one fee-free withdrawal per month.
There's no minimum deposit.
Available currencies: BTC, ETH, LTC, PAX, GUSD, and USDC.
Interest is paid out every month in the asset that you've deposited.
Nexo
The first cryptocurrency service in the world that provides instant loans. The service doesn't have hidden fees and minimum repayments; loans are available instantly with no credit checks. It has over 800,000 users and is available in 200+ countries.
Features:
Earning up to 5% on crypto interest and up to 10% on stablecoins and fiat money
Daily payouts
+40 fiat currencies are accepted
Support for 16 cryptocurrencies, including BTC, EOS, BNB, ETH, XRP, etc.
Credit lines – a method when a borrower receives a loan in parts
No withdrawal limits.
CoinLoan
One of the first P2P crypto lending platforms for crypto-collateralized loans based in Estonia. A popular European service with a simple lending process and high-grade security supporting multiple cryptocurrencies.
Features:
Attractive Annual Percentage Rate: 6.6% for BTC, 5.13% for Ethereum, 5.34% for Litecoin.
Flexible conditions for loans: you can take a loan for a week or 3 years, configure amounts, repayment methods and interest rates.
No fees for deposits and withdrawals in EUR and stablecoins.
Wide range of options for lending: crypto-to-crypto or crypto-to-fiat loans, interest accounts, etc.
No fixed interest rates – both lender and borrower set their desired rates.
YouHodler
YouHodler is a new player on the market headquartered in Switzerland. In a few years, it has managed to evolve into a crypto-financial ecosystem. You can earn up to 12% interest rate or borrow digital coins with an LTV of up to 90%.
Features:
Low minimum deposit starting from $100.
Flexible payments. Instant credit card and bank withdrawals are included.
The Multi-Hodl function lets you earn interest on an automated chain of loans. The system automatically borrows money to buy more crypto and repeat the process. If the coin rate grows, the profit will go to your account.
BTC annual percentage rate is 4.8%
Lenders can test the service's lending options on a demo account without risking their own funds.
Get a payout every month.
Celsius Network
The Celsius Network, founded in 2017, is one of the most popular crypto lending options available today. It has 40,000+ active users and has processed over $4 billion in loan originations.
Features:
Currently, users can deposit their collateral in several popular cryptocurrencies, at a Loan-to-Value (LTV) rate of 25%, 33%, or 50%
No minimum deposit 
Fee-free withdrawals for any amount and at any time
Does not conduct credit checks, and loans are approved within a minute
Earn 12% yearly interest with 25 cryptocurrencies: CEL, BTC, ETH, LTC, XRP, OMG, BCH, etc.
1% cryptocurrency loan if you pay interest with CEL cryptocurrency
To wrap things up
Though Bitcoin and cryptocurrency loans are not regulated, they can serve as an excellent alternative to traditional lending schemes. Cryptocurrency loans lack credit checks and are granted almost instantly. They let you become a lender and make passive income on cryptocurrency interest every month. Additionally, cryptocurrency lending services can pay you 10% interest on your deposit in stablecoins backed by USD, while banks usually offer around 2% or less.