Cryptocurrency faucets are sites that give out coins for performing relatively simple actions, like entering captchas, writing comments and following links.
In the past, cryptocurrency faucets were very popular, but the boom has decreased because it isn't a very profitable activity. However, this is a good way for beginners to learn about cryptocurrencies, without the risk of investment losses.
What are the pros of earning on Bitcoin faucets?
Pros:
You can get crypto without buying it
There are many sites for making money
Anyone can start earning
You can earn from a mobile phone, or really wherever / whenever.
Elementary actions do not take much time. Entering a captcha takes literally 3-5 seconds.
Cons:
You won't earn much, the rewards are really small
There are a lot of scam projects
Tons of ads. It is the main way of earning for such services. However there are some faucets with no advertising.
Things you should know before using a faucet
Before you start using this or that faucet, do not forget to check their rules. Here are the main things that you should pay attention to when choosing Bitcoin and cryptocurrency faucets:
How much do you earn – how much Satoshi or other crypto do you get each time?
Time – how long does it take to wait after your first claim?
Minimum withdrawal of funds – what is the minimum amount you can withdraw?
Withdrawal method – are payments made directly to your wallet or through micropayment services (CoinPot or FaucetHub)?
The best Bitcoin faucets list
BonusBitcoin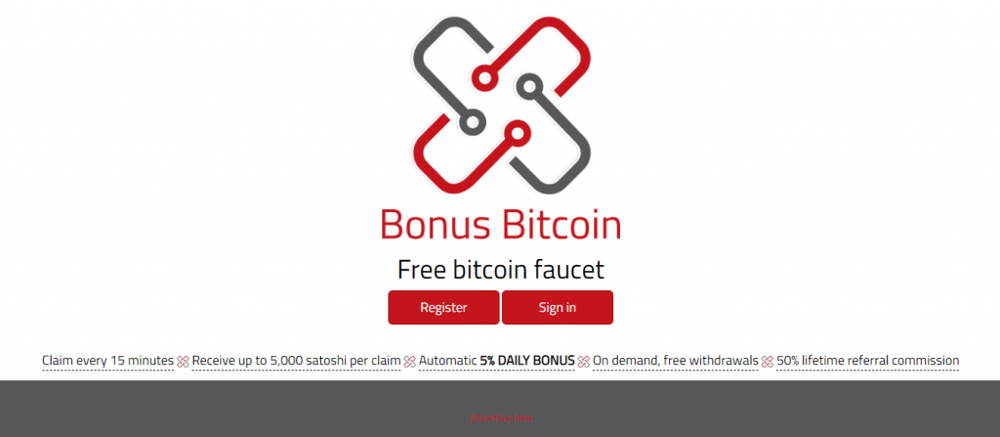 One of the best BTC faucets today. It pays out Satoshis every 15 minutes. The registration is very simple, just enter your email address and password. To earn crypto you have to enter a Captcha and press the "Claim now" button. The next portion of free Bitcoins will be available in 15 minutes.
All earned Satoshis are withdrawn to the special CoinPot service. From this service you can send your money directly to your cryptocurrency wallet.
Freebitcoin (freebitco.in)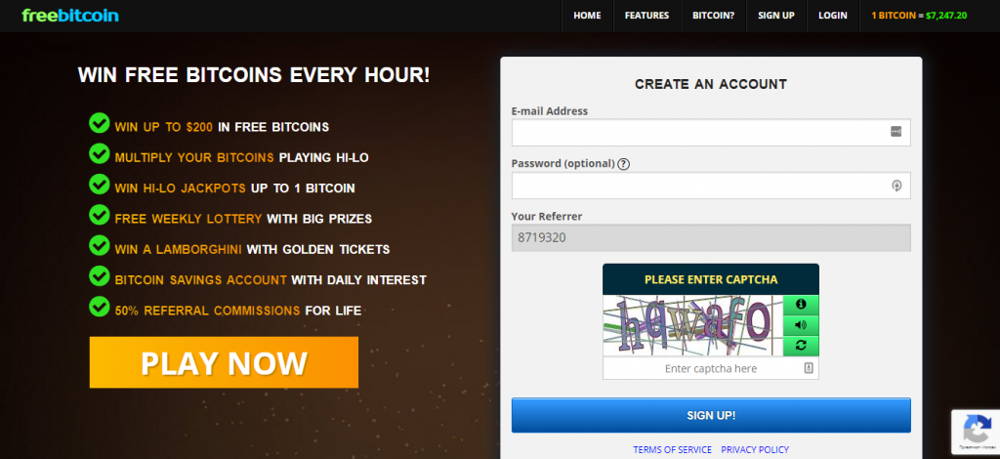 This is the most popular faucet for earning Bitcoin. Freebitcoin allows you to earn by entering captchas every hour. The payout depends on the Bitcoin exchange rate and the random number that falls out each time you press ROLL: You can earn from 31 satoshi to 0.031 BTC.
To withdraw money from the faucet you need to press the Withdraw button and choose an option suitable for you:
Auto – automatic payouts when your balance reaches 0.0003 BTC. Choose Auto Withdraw in the settings. Don't forget to add your Bitcoin wallet address in Profile settings.
Slow – Bitcoin will be sent to your wallet within a day at a lower fee. The minimum amount is 0.0003 BTC
Fast – instant withdrawals to your wallet within 15 minutes. The fee is about a few cents which is more than for the Slow option but not that high. So we recommend using this method.
One of the most pleasant advantages is that there is absolutely no advertising here. The Freebitcoin website is completely safe. It is also convenient to enter captchas via smartphones, so you can earn money everywhere.
BitFun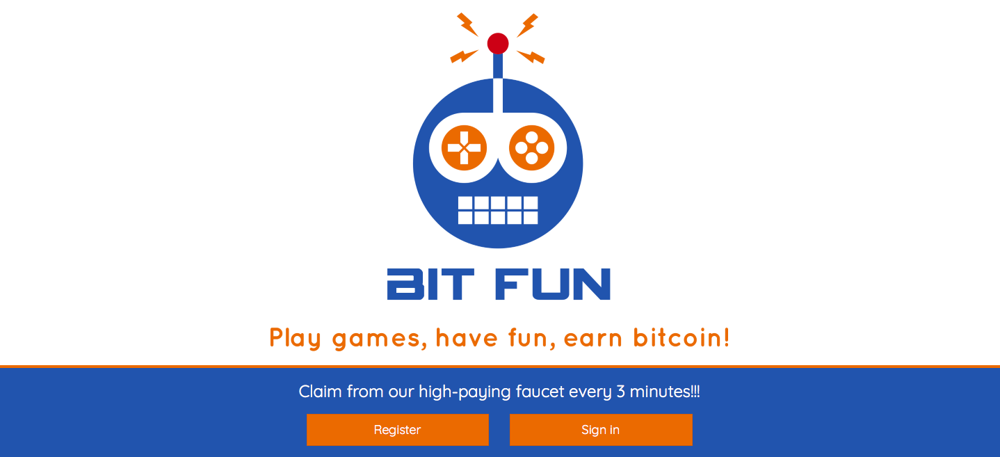 BitFun gives away free BTC every 10 minutes. Press claim now to earn Bitcoins and wait for 10 minutes. You can boost your earnings playing different games or roll dice to get additional money.
You can earn money also doing various offers:
Earn more – links to other faucets where you can get BTC too
Wannads surveys – surveys which pay you for about 2000 – 10000 satoshis
Wannads – different types of tasks, usually asking to install a game, register on a website and / or play a certain amount of time.
Offer Toro – a huge number of offers from installing an app to reaching a certain level in the game
Bitcoin Aliens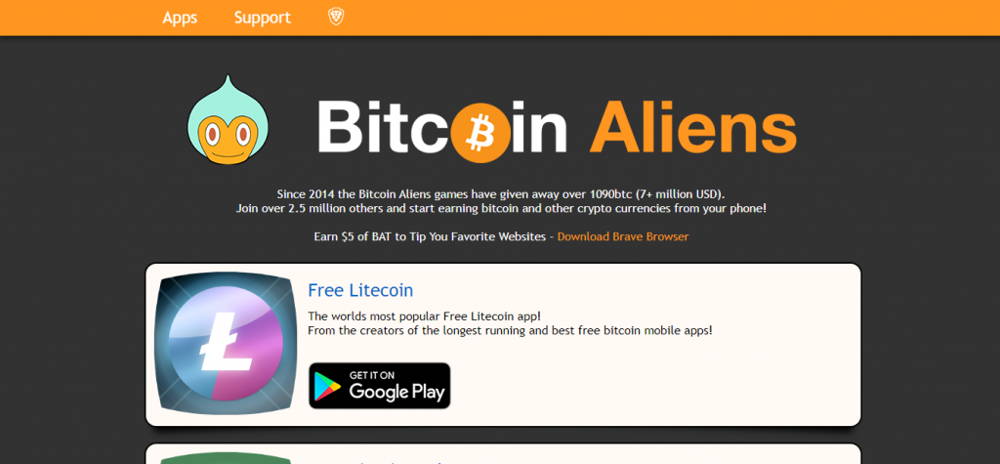 Bitcoin Aliens is a mobile application available for both iPhone and Android. It is a set of games where you can earn various cryptocurrencies.
One of the games is made in the style of Temple Run in 2D, where the main game character is an alien who must move in space and avoid certain barriers and obstacles. The longer you play, the more bitcoins, or rather satoshis, you earn.
Bitcoin Aliens is currently available in a mobile format and is still considered one of the most profitable faucets in the industry. This is one of the best bitcoin faucets for crypto enthusiasts who love to play games.
An average of 4,000 satoshis are earned in the game per hour. It is worth noting that there are no time or other restrictions in Bitcoin Aliens.
Cointiply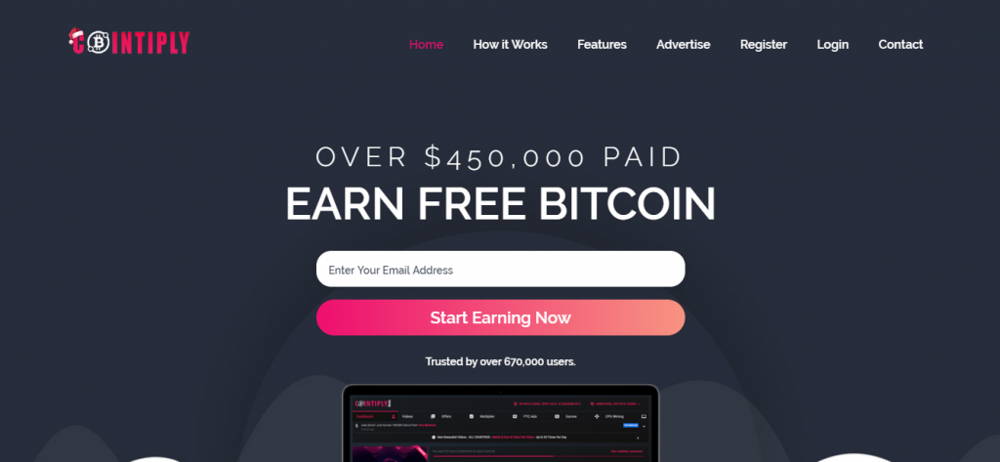 A faucet where you can earn for doing various actions and tasks, watching videos, completing surveys etc. The service is used by 670,000 enthusiasts who have cumulatively earned more than 165 Bitcoins.
The main features of Cointiply:
Loyalty bonus – you receive bonus points which increase if you visit the site on a daily basis.
Multiplier – lets you increase your balance
5% bonus if you have 35,000 satoshis
Bonus points for completing tasks which can be exchanged for prizes
25% earnings from your referrals, 10% of their earrings from offers
Community where you can share your progress with other users
Applications for iOS and Android devices
Really nice looking interface
The Best Cryptocurrency Faucets
Free Dogecoin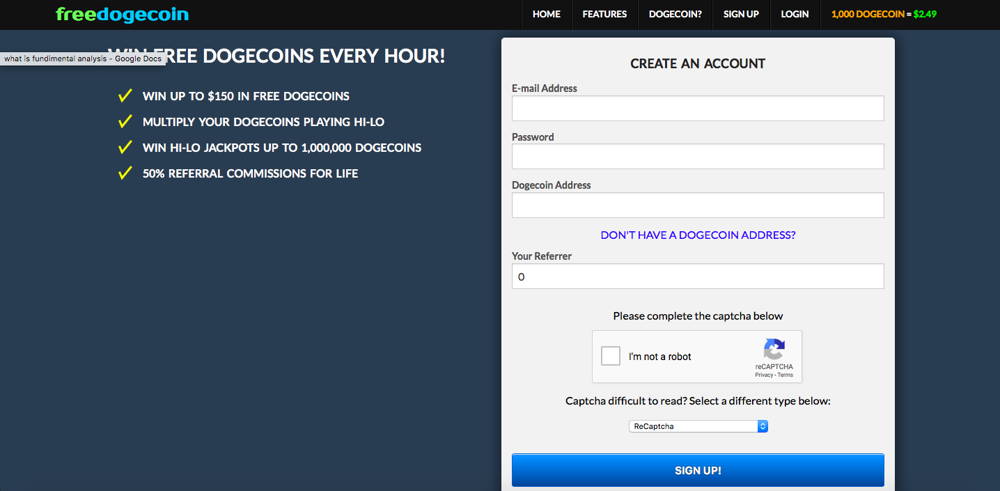 Free Dogecoin gives out coins every 60 minutes for participating in games and solving ingenious puzzles. The minimum amount needed to make a withdrawal to your wallet is 45 DOGE, and a fee of 2 DOGE is charged. Premium coins go directly to your Dogecoin wallet.
Moon Litecoin / Moon Dogecoin / Moon Dash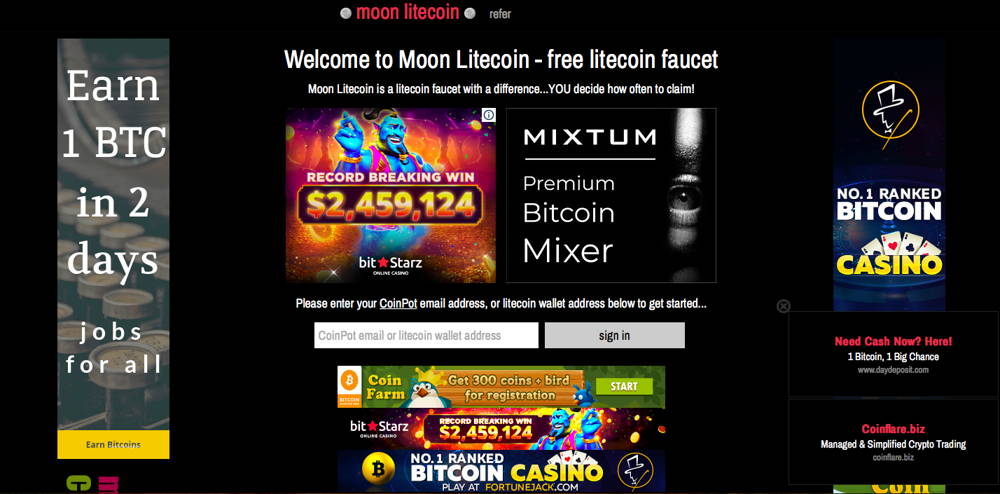 These are three cryptocurrency faucets by one developer each dedicated to a single coin; LTC, DOGE and DASH respectively. They use the same mechanics so users can claim their coins every five minutes. The services also offer a daily loyalty bonus for returning to the site and a referral bonus for inviting other members.
Allcoins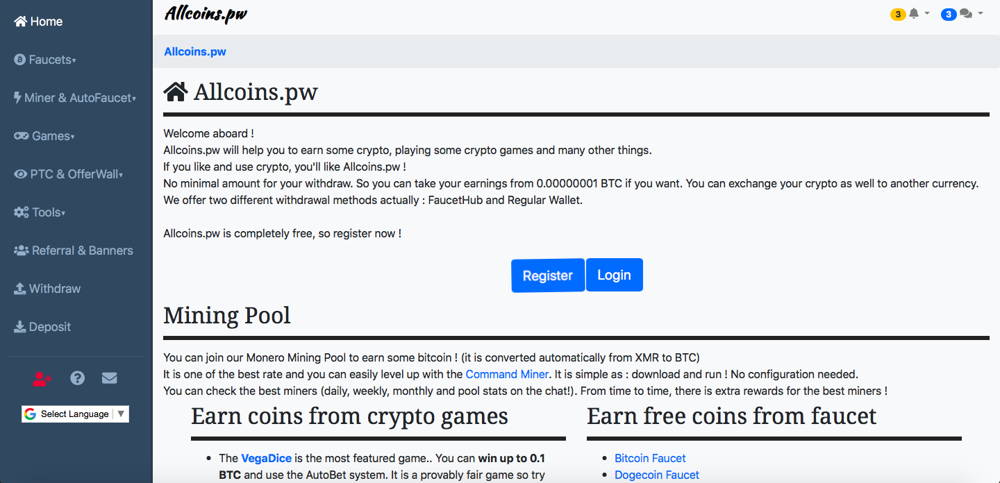 Allcoins is another cryptocurrency faucet on which you can get Ethereum, Litecoin, Dogecoin and Bitcoin. Users earn coins by solving captcha and other tasks or take part in games. The site offers rewards every 5 minutes.
Also on the page there is a multi-option for the autorun of up to three crypto networks simultaneously. In addition, here you can mine cryptocurrency using cmd miners or web miner functions. Payments are sent to your personal wallet or Faucethub wallet. There is no minimum withdrawal amount on the site. There are also built-in crypto exchange services, a live chat and a support service.
CoinFaucet.io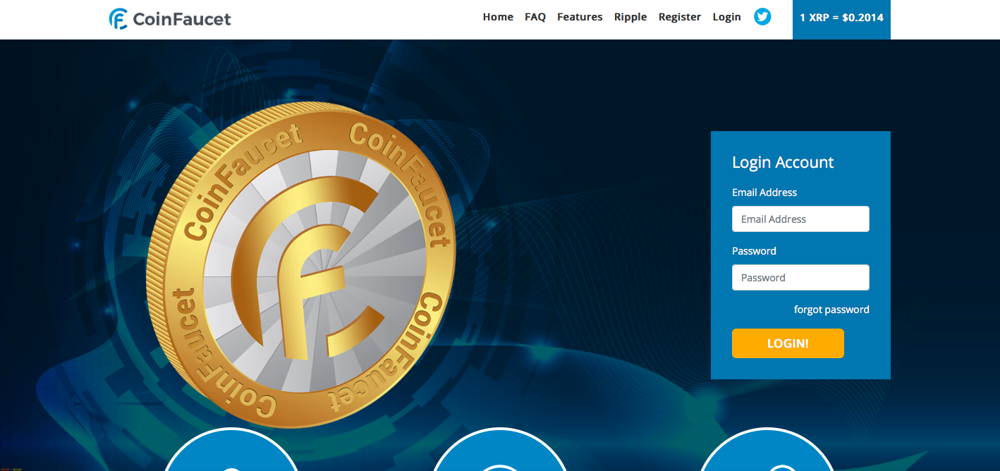 CoinFaucet.io is considered the best XRP faucet. Its convenience and simplicity has already been appreciated by more than 500 thousand users who have played the games 41 million times and have won over 8 million Ripple coins. Key CoinFaucet features are:
Distribution of coins every 60 minutes for participating in games; lucky players can win up to $300;
Instant withdrawal of XRP immediately after reaching the minimum withdrawal amount, which is 1 XRP;
A cool referral program – if you bring your friends to the site, you will get a bonus equal to 50% of everything they earn.
Other Cryptocurrency Faucets:
3btc – It is possible to earn 8 cryptocurrencies: Bitcoin Cash (BCH), Bitcoin Gold (BTG), Bitcore (BTX), Dash (DASH), Dogecoin (DOGE), Ethereum (ETH), Litecoin (LTC), Ripple (XRP). They give you the opportunity to win every hour by solving recaptchas and then getting coins.
Cryptomininggame – There are 3 types of coins available here and there are also missions for which they give coins depending on in-game choices. You can earn about 100 DOGEs per week if you play actively, or about 400,000 litoshis or 50,000 satoshis.
PentaFaucet – An old and stable working resource, where you can earn satoshis. But it has some flaws: distributions occur only once per hour, plus it has double protection: first you have to pass a Google captcha, and then you have to click on the antibot verification in the indicated order. Earnings automatically are sent to your FaucetBox account.
DailyFreeBits – One of the first English speaking Bitcoin faucets to be launched. This faucet has already paid out a whole bunch of money to visitors, comes with a decent interface and pays on demand. The withdrawal threshold is a modest 3,500 satoshis. Distribution takes place hourly.
Dutchy CORP – This faucet has a convenient navigation interface and offers many digital assets. A huge plus – the site allows you to make up to 40 daily requests for Ethereum coins. All payments go to the Faucethub micro-wallet. The service also has a weekly bonus system.
TreasureBits – The TreasureBits multi-currency faucet will reward you for doing tasks with captchas as well as for participating in games. In addition, you can mine LTC using the web miner function on the site. The service supports other digital assets, including Bitcoin (BTC), Dogecoin (DOGE).
Of course, Bitcoin and altcoin faucets are not a reliable means of making a solid income, but these sites often open up a path for beginners into the crypto world and all the life-changing opportunities therein. In that respect, these little ways of making some crypto coin on the side represent an underrated part of the cryptocurrency industry.
---
---
Related
Stay tuned
By signing up for this email, you agree to our Terms of use and Privacy policy. We will send you promotional emails occasionally, but not often. We hate that, too.
Subscribe for weekly updates from our blog. Promise you will not get emails any more often.
Most Popular
Feb 17, 2021
---
Jan 13, 2021
---
Dec 9, 2020
---
Nov 18, 2020
---
Feb 4, 2020
---
New Posts
Dec 6, 2023
---
Nov 30, 2023
---
Nov 29, 2023
---
Nov 13, 2023
---
Nov 9, 2023
---
Stay tuned
By signing up for this email, you agree to our Terms of use and Privacy policy. We will send you promotional emails occasionally, but not often. We hate that, too.
Subscribe for weekly updates from our blog. Promise you will not get emails any more often.
Most Popular
Feb 17, 2021
---
Jan 13, 2021
---
Dec 9, 2020
---
Nov 18, 2020
---
Feb 4, 2020
---
New Posts
Dec 6, 2023
---
Nov 30, 2023
---
Nov 29, 2023
---
Nov 13, 2023
---
Nov 9, 2023
---