Today merchants who run their stores offline and online on Shopify or WordPress can accept Bitcoin and other cryptocurrencies. Thanks to cryptocurrency payment gateways, they are not limited only to fiat currencies and can attract more customers.
These services let businesses accept Bitcoin and other cryptocurrencies as a means of payment for their goods and services. Payment processors include software tools that facilitate the process and transfer crypto coins to merchants' wallets. This article covers the most popular cryptocurrency and Bitcoin payment processors.
Benefits of accepting crypto
The cryptocurrency market is continually evolving, bringing forth more technologies and digital coins day by day. Countries are drafting regulatory frameworks for cryptocurrency adoption. Everything is leading to cryptocurrency becoming as common as fiat money. Here're a few points about why businesses should start accepting cryptocurrencies:
You can receive hundreds of various cryptocurrencies with one gateway
You can attract more customers who prefer using digital coins
You can carve out a share of the perspective market
They open up cheap cross-border payments which are monitored in real-time
Transaction fees for crypto are lower compared to debit and credit cards
There are no payment delays, which are common with banking cards
BitPay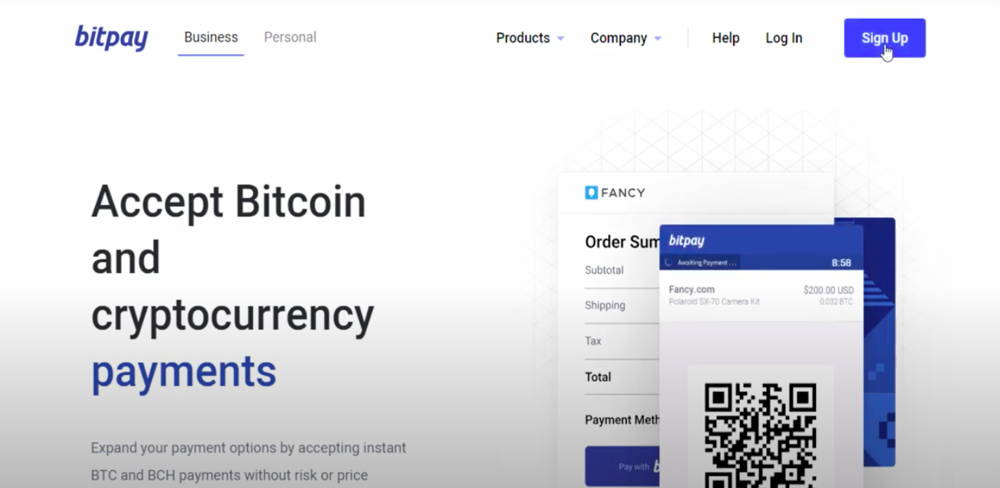 BitPay is a payment provider founded back in 2011 at a time when "digital gold" had only just started captivating the minds of tech specialists and geeks. The team saw the massive potential in digital money and launched BitPay, one of the first services to offer cryptocurrency payment gateways. Today it is the number one service of its kind and holds sway over a large slice of the market.
The main features:
Available on Android and iOS devices
1% fee and no hidden commissions
A free cap of $1000 worth of daily transactions
Available in 38 countries and translated into 40 languages
Settlements available in EUR, USD, GBP
Support of bank transfer types: FPS, SEPA, ACH, etc.
Protection from identity theft and chargeback fraud
Coinpayments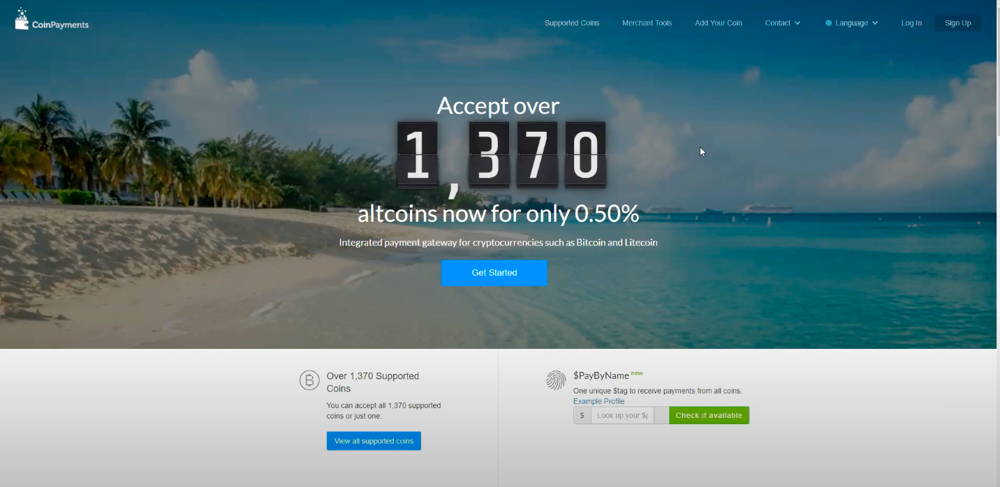 The service provides a cryptocurrency payment gateway for 1800+ altcoins. Coinpayments was launched in 2013 and has become one of the most popular services accepting BTC and digital coins. The service delivers POS interfaces, APIs, and website plug-ins for online stores.
The stores that use Coinpayments can offer their customers not only BTC payments but gift certificates. Currently, there are 2.5 million vendors across 182 countries.
It is a highly convenient platform to integrate into your online store due to the number of easy-to-use shopping cart plugins, including OpenCart, Shopify, Magneto, WordPress, WooCommerce, etc.
The main features:
Support for offline stores via PoS equipment. Simple and easy-to-use UI allows accepting in-person cryptocurrency payments.
Shopping cart plugins which can be integrated into your internet store.
Support for GAP600 instant confirmations: the payments are processed faster.
PayByName Purchases: a customer can generate his own custom name and conduct transactions using this name.
Mobile applications for Android and iOS, letting customers make transactions from their mobile phones.
Transaction fees starting from 0.5%. CoinPayments have one of the lowest commissions among payment processors.
You can store your funds in an offline cold wallet.
Coingate
Coingate is a crypto payment processor in operation since 2014, which offers BTC and 50+ other altcoins, including Ethereum, Litecoin, and more. Coingate can boast of 160,000 registered users and almost 1 million transactions processed. Additionally, the platform provides plugins, POS systems, and payment buttons to streamline payment processing.
The main features:
Automatic crypto to fiat conversion
Merchants can receive payments in Bitcoin, EUR, USD, or USDT
1% transaction fee
Plugins for Ecommerce platforms
Bitcoin Point Of Sale features
No fees on Bitcoin withdrawals, charges are done on advcash, SEPA, Skrill or International Bank withdrawals are all on the third party basis
24/7 active customer support
GoCoin
GoCoin is a crypto payment processor which has been running since 2013. It accepts Bitcoin, Bitcoin Cash, Litecoin, Dash, Ethereum, and EOS, empowering spheres of traveling, hosting, gaming, etc. The platform has plugins for all the major e-commerce platforms like WooCommerce, Shopify, Magento, and more. Website owners can integrate the gateway via HPP.
The main features:
1% commissions for most transactions
Zero chargebacks
Friendly interface with dashboards, charts for visual tracking
Support of the leading e-commerce platforms
Tools to create and customize invoices, notifications, and authorization settings
SpicePay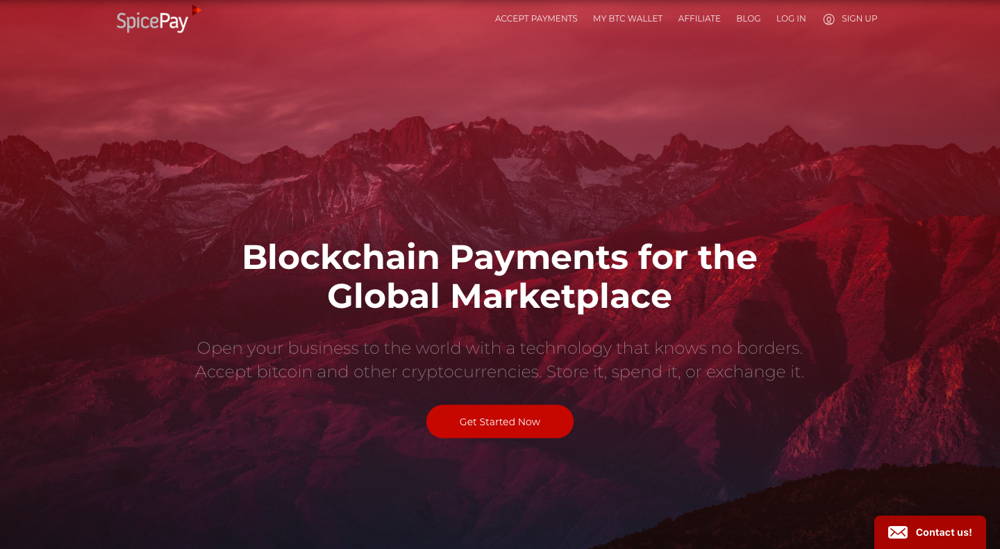 SpicePay is a global Bitcoin exchange and payment gateway that supports Bitcoin, Ethereum, Bitcoin Cash, and Litecoin. It is an easy-to-use application available for Windows, iOS, and Android. Among the services that use SpicePay are Poker Stars, Anti Ddos, and Creative Daco.
The main features:
The processing fee is 1% for transactions
Manual and automatic withdrawal of funds in BTC, USD, EUR or a combination of them
Many integrational tools for your online store, including iFrame, Button, hosted page, e-commerce plug-ins, payment API, and email invoice.
No chargebacks
The service can instantly convert BTC into USD
It supports SEPA/Wire transfers, PayPal and debit card payments in EUR and USD
Alphacoins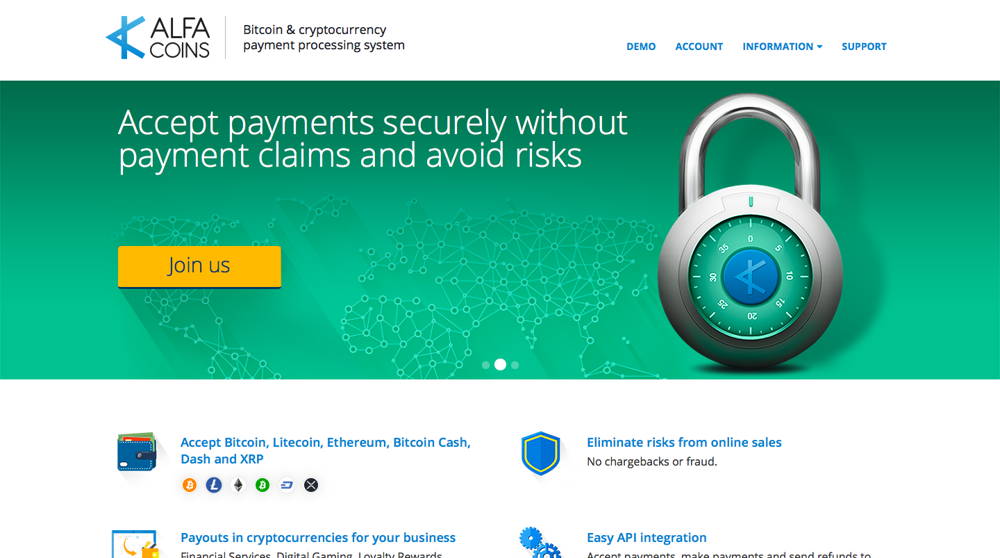 One of the best payment processors for digital gold, where merchants can receive payments in Bitcoins and fiat. AlphaCoins has a low transaction fee of 0.99% and doesn't charge any further fees for installing its Bitcoin payment system and subscription. An additional bonus is that AlfaCoins can be used in any country except for Iran and North Korea.
The main features:
Support of Bitcoin, Litecoin, Ethereum, Bitcoin Cash, Dash and XRP
Possibility to install a payment button on your site, or bill your clients using the API
No hidden commissions
The service is available in most countries
Coinsbank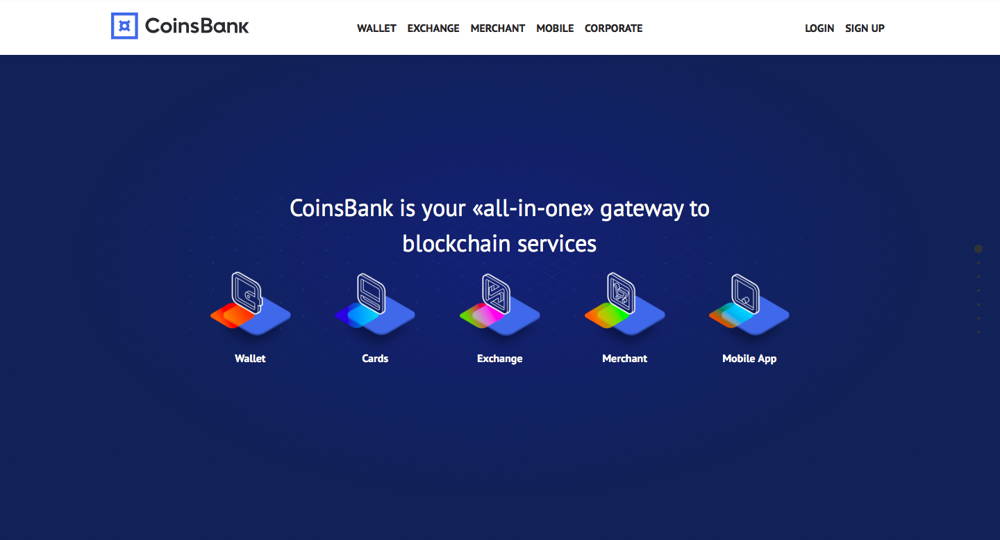 Coinsbank is an easy-to-use BTC payment gateway with a decent reputation in the industry. It is available for mobile deceives on Android and iOS platforms. Coinsbank supports major fiat currencies, including USD, EUR, and GBP. The application also includes a one-click instant deposit and withdrawal feature. All transactions are performed according to real-time market rates. Additionally, they have a two-factor authentication system that will secure your account and their 24/7 customer support will help you resolve any problem.
The main features:
USD, EUR, and GBP are accepted
Mobile applications for Android and iOS
24-hour customer support
Easy setup for conversion, payouts based on time or the accumulated amount in cryptocurrency or relevant currencies.
Instant deposit and withdrawals
Two-factor authentication to protect your account
A global exchange trade platform for customers with minimum risks and maximum profit opportunities
Blockchain.com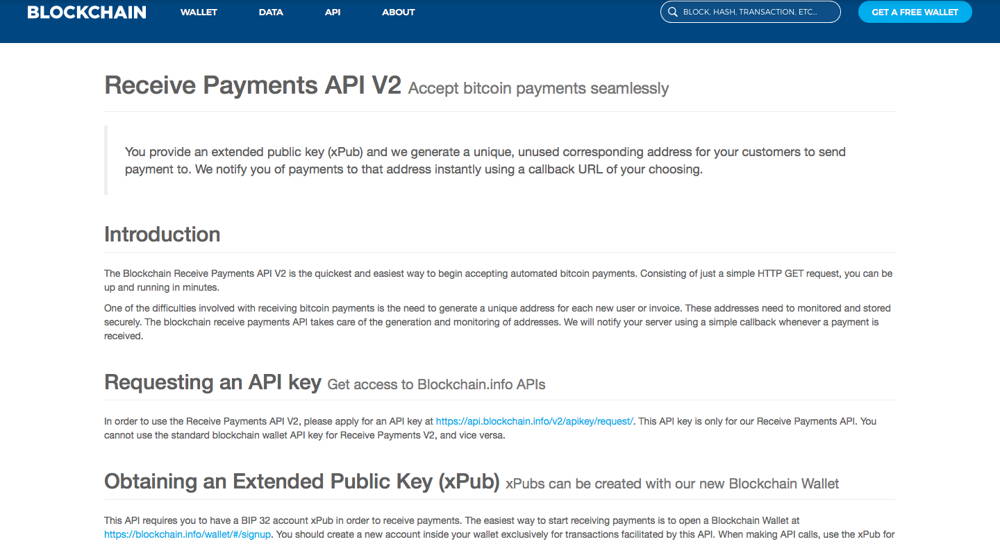 One of the oldest Bitcoin payment processors for stores and services. It supports BTC, BCH, and ETH for transactions and has a cryptocurrency wallet, blockchain explorer, and other services.
Blockchain.info provides Bitcoin payment APIs which can be integrated into your store. Blockchain.info doesn't have easy-to-use plugins, so you'll need to apply to the services of skilled programmers to integrate it.
The main features:
Supports Bitcoin, Bitcoin Cash, and Ethereum
Has a free and secure wallet
API allows you to receive and send Bitcoins to other wallets
B2BinPay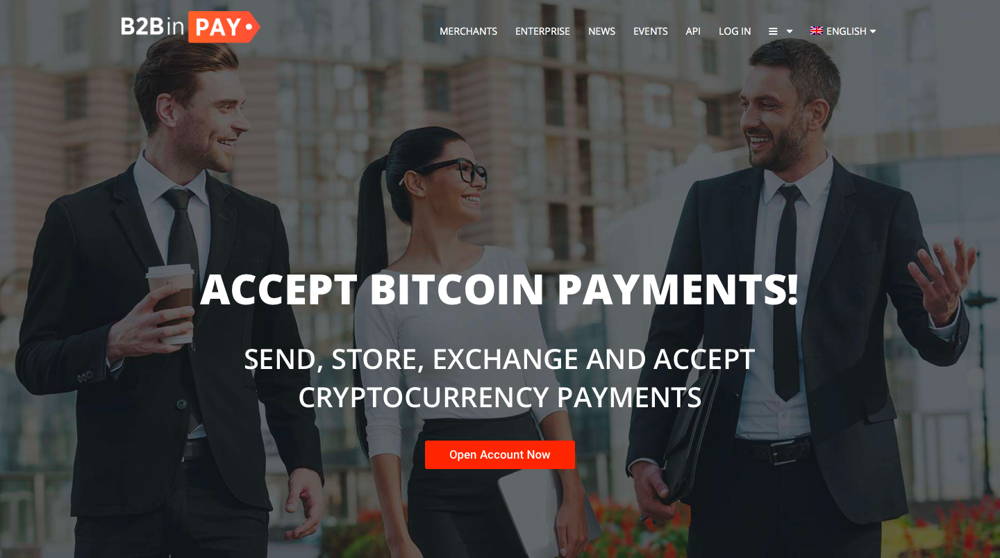 B2BinPay is one of the best cryptocurrency payment gateways. The company has offices worldwide in Estonia, Hong Kong, the UK, Cyprus, and Russia. It was developed to service a wide range of clients from Forex brokers to cryptocurrency exchanges and online stores.
B2BinPay supports dozens of cryptocurrencies and stablecoins, including Bitcoin, Ethereum, Monero, XRP, Dash, USDT, Paxos Standard, and more. The service is available in several languages, including Chinese, Spanish, Russian, Hindi, Arabian, etc.
The main features:
You can accept cryptocurrencies and get paid in crypto or fiat based on your choice
Low processing commission of 0.5%
No recurring fees or hidden charges
Balance and transaction history is updated in real-time
Over 800 coins, tokens and stablecoins are supported
Automatic withdrawals
Merchant Tools provide the quickest and safest integration for your business.
Conclusion
Cryptocurrency gateways are a great mode of payment today, which can sometimes be cheaper and more convenient than traditional methods. Payments cannot be reversed, saving you from chargeback risks. Additionally, Bitcoin is a global currency which can open significant new avenues of income for merchants. Choose the most convenient payment processing platform for you and start accepting cryptocurrencies.
---
---
Related
May 8, 2020
May 21, 2019
Stay tuned
By signing up for this email, you agree to our Terms of use and Privacy policy. We will send you promotional emails occasionally, but not often. We hate that, too.
Subscribe for weekly updates from our blog. Promise you will not get emails any more often.
Most Popular
Feb 17, 2021
---
Jan 13, 2021
---
Dec 9, 2020
---
Nov 18, 2020
---
Feb 4, 2020
---
Stay tuned
By signing up for this email, you agree to our Terms of use and Privacy policy. We will send you promotional emails occasionally, but not often. We hate that, too.
Subscribe for weekly updates from our blog. Promise you will not get emails any more often.