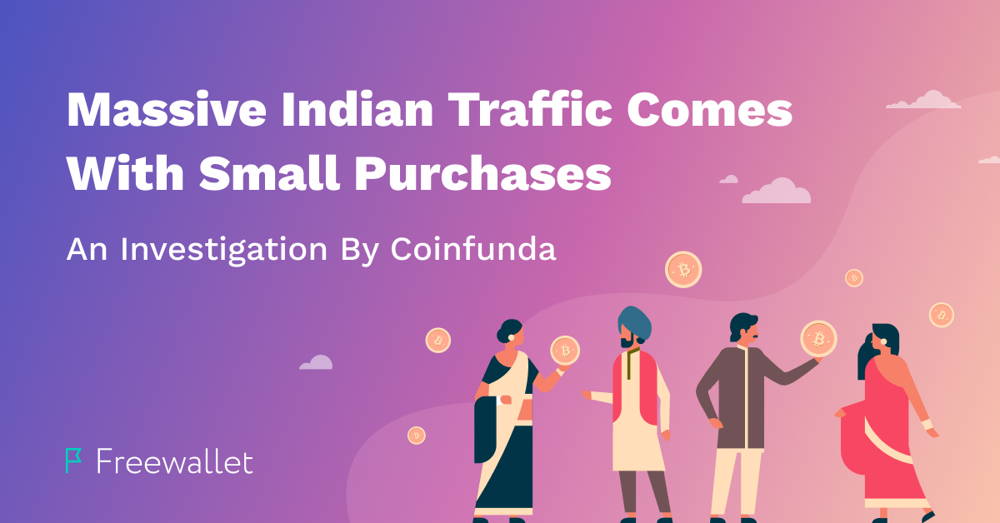 We are pleased to share an insightful investigation by Coinfunda about the behavior of Indian Freewallet customers. CoinFunda is a cryptocurrency information board that publishes news and updates about major digital coins, ICO campaigns, mining, and crypto service providers.
It's no surprise that residents of the second most populated country comprise up to one-third of Freewallet users. This has made Hindi the fourth most popular language in the Freewallet apps. However, the impressive traffic of visitors from India is not reflected by the low figures of the customers' performance. These numbers are most likely affected by national economic conditions.
According to Solomon Brown, Head of PR at Freewallet, India maintains 140% of users as compared to the UK. But with 17.50% of the world population, it only makes up 26.9% of the traffic coming from the USA, where 4.24% of the world's population resides.
The share of purchases made by Indian customers makes up only 1.8% of purchase deals from the USA, taking first place in the Freewallet traffic flow. Explaining this fact, we can turn to the GDP per capita rating with the USA being in 10th place and India in 121st. Leaving the UK behind in GDP per capita, as well as population and traffic to the crypto wallet, the USA comes in close proximity to the UK as the most active buyer of crypto.
If you want to find out more about Indian Freewallet users, click here for the full article.