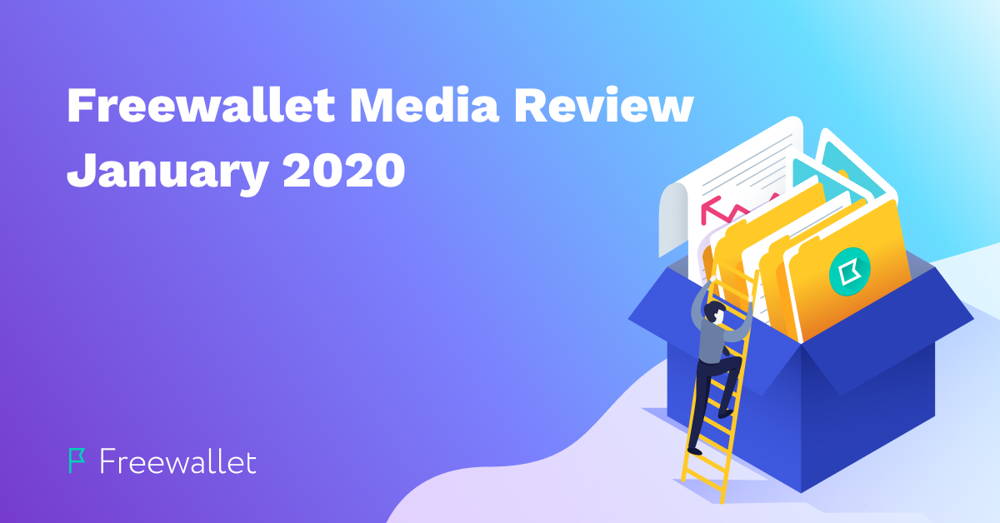 We at Freewallet continue to gather media publications and mentions monthly. We made every effort in January 2020 because if you start the year on a good foot, it sets the tone for the rest of the year. We're joking a bit, but really, the media coverage was great last month.
We're concentrated on spreading news about our platform as well as delivering exclusive content. Freewallet operates in more than 100 countries. Our apps are available in 13 languages, including simplified Chinese. Cryptocurrency is still rapidly developing in Asian countries, therefore we've been increasing PR activities in this region.
Being included in rankings and reviews of top relevant products is still very important to us at Freewallet, and we had a very good showing in this regard last month. Let's take a look at the most important publications of January 2020!
Update 2.0 for 16 standalone wallets
The Freewallet Family launched 2.0 versions of 16 standalone wallets last month. We updated 11 single-currency applications on Android and 5 apps on iOS for a total of 11 coins and tokens. 2.0 versions are available for Ardor, Bitcoin Gold, Dash, IGNIS, Lisk, NEO, NXT, Tether, Monero, ZCash, Bytecoin on Android. Concerning iOS, Bitcoin Gold, Dash, Lisk, Monero, Bytecoin are all up and ready to download.
Our press release about the 2.0 update was widely disseminated. This is just a minor part of all publications that carried it:
Freewallet in Rankings and Reviews
Freewallet: Crypto Wallet supports 43 coins and 104 tokens, distinctly from the standalone applications that we talked about earlier. Such a wide range of crypto in combination with excellent service allows the Freewallet Family to feature in rankings and reviews that cover the best multi currency wallets.
"Freewallet offers a custodial service, which means that, should issues arise with a transaction, there is always the possibility of making it right with the help of their customer support team. This kind of service also allows users to recover access to their accounts in some cases." - said Coinrevolution.
"So you can use Freewallet for securely storing popular coins and tokens such as BTC, ETH, EOS, XMR, BCHm XLM, NEO, XRP and many more on their respective blockchains." - concluded Gocryptowise.
Coinrevolution | FreeWallet meets beginner and advanced users' expectations
Coinswitch | NXT Wallet
Coinswitch | Zcash Wallet
Coinswitch | Best EOS Wallet
Changelly | Top 10 Best Monero (XMR) Wallets in 2020
Gocryptowise | Guide to Best Bitcoin Wallets – Best Crypto Wallets
Freewallet in Asian media
We're appreciative of our colleagues from the Middle Kingdom and empathize with them during this difficult time. Take care, guys!
Zhuanlan.zhihu | FreeWallet Guide in Chinese 
420jp | Monero Wallet by Freewallet Guide in Japanese
New Crypto-Geography series
Head of PR at Freewallet and crypto expert Solomon Brown wrote a new article in his Crypto-Geography series. This time he dove into what's going on with cryptocurrency in China.
"Due to regulations introduced in the last year, Bitcoin is teetering on the edge of getting banned and the Celestial Empire is no longer the king of the crypto jungle. In 2019, President Xi Jinping declared Beijing's support for blockchain technology which it values separately from digital currency. In the aftermath of Xi's remarks China cracked down on crypto, trying to regulate - if not ban - cryptocurrency exchanges, BTC transactions and all things crypto in the country. Within a month, China has gone so bearish on crypto that the situation is starting to resemble the country's 2017 trading ban." - from his article available on Cryptoglobe.