What is Lambda coin
Lambda is a blockchain data storage startup which is developing a scalable decentralized storage network. They aim to create a data storage ecosystem with security data verification and market-oriented storage transactions to offer high capacity storage for dApps. Also, they will provide services with multi-chain data cooperative storage, cross-chain data management, data privacy protection and provable data possession.
Lambda coin or LAMB is a digital currency within the Lambda storage network. It is used for storage mining, storage space trading and other things on the special marketplace.
The project got huge financial support from big tech companies and industry titans. Among its supporters are the mining giant Bitmain, Asia's crypto hedge fund FBG Capital, China's massive Zhen Fund, UK's Metropolis Capital, FunCity Capital, Sparkling Capital, Bluehill, etc.

Currently, Lambda is in the pre-mainnet phase. The mainnet release is scheduled for Q4 of 2019.
How Lambda blockchain works
The Lambda network has four important components in its system:
Storage miners – they provide storage services for money. They can potentially become validators in the future.
Retrieval Miners – they provide download bandwidth for users by pledging a small number of LAMBs. Their income mainly comes from charges based on the amount of data retrieved.
Validators – these guys are responsible for packaging transactions, generating consensus-based blocks, verifying PoS, and executing contracts to match storage and retrieval orders, and clear fees.
Marketplace – an exchange where users can buy a data storage space. It is built on consensus network which is composed of thousands of nodes and based on VRF and BFT protocols. Thanks to this users can trade storage space for LAMB tokens safely.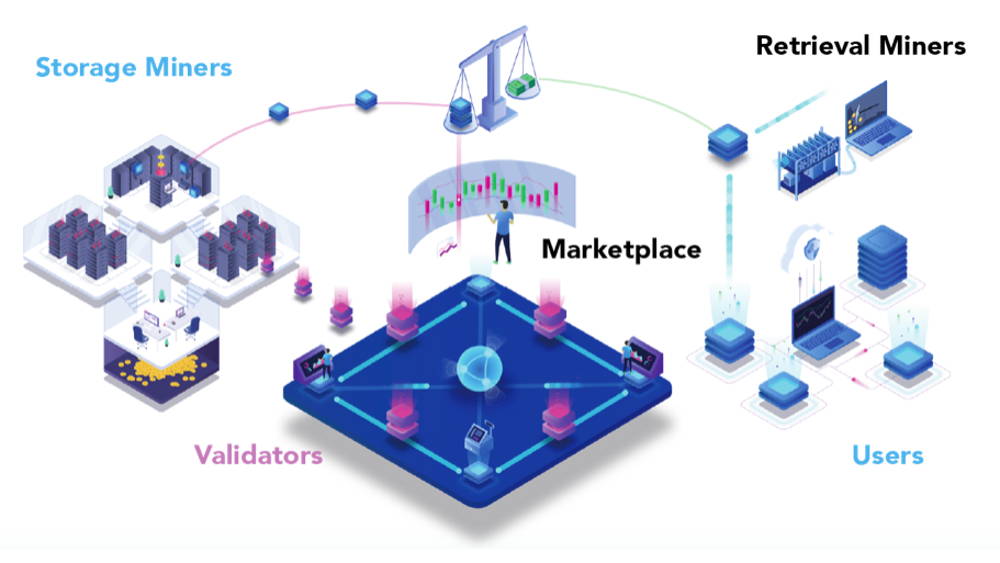 In the core of the Lambda network stands the LambdaChain consensus network. The LambdaChain consensus network, as a trusted mechanism, guarantees the integrity and security of data to replace the brand endorsement of centralized storage and completes the relevant technical process of data security and integrity verification through the blockchain.
The LambdaChain runs off of the work of officially operated validators, friendly third-party validators and miners that have been promoted to validators – 1024 validators all together. This amount of validators can theoretically support 10,000 of transactions per second. Currently, Lambda runs 5,000 TPS in testing mode and can generate a block in 15 seconds.
The nodes that will participate in the consensus algorithm are chosen through the Verifiable Random Function algorithm and consensus is achieved with the improved Byzantine Fault Tolerance algorithm.
The value of LAMB cryptocurrency
LAMB is a mineable cryptocurrency of the Lambda project. It can be used for storage mining, storage space trading and other transactions within the Lambda ecosystem. In particular:
Users pay LAMB tokens for services in the Lambda network
Storage miners and Validators should pledge a certain amount of LAMBs
Validators earn the tokens as a reward for their services
Storage nodes get a certain number of tokens based on their storage capacity and their service level agreements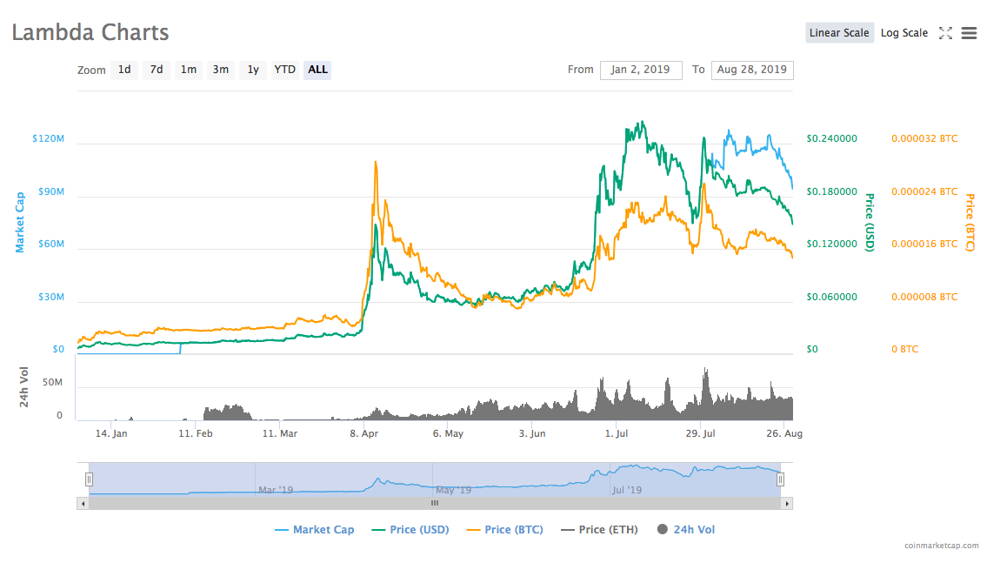 LAMB Price– $0.162
LAMB Market Cap– $103,642,126
Circulating Supply– 652,991,183 LAMB
Total Supply– 6,000,000,000 LAMB
All Time High– $0.274357 on July 09, 2019
All Time Low– $0.006601 on Jan 02, 2019
Lambda coin roadmap
Lambda presented its list of achievements of 2018 and plans for 2019 and next 5 years on their blog. In a nutshell, they will:
Complete 128 verification nodes of the consensus network, in next 3-5 years they are planning to transition to 1024 nodes.
Complete 120 petabytes of storage, they want to reach thousands of petabytes in the next five years. 1 petabyte = 1000 terabytes.
Sign contracts with new business users and develop their product for the B2B and B2C market.
Where to buy or exchange LAMB
The LAMB cryptocurrency is popular on several exchanges: Huobi Global, OKEx, Bittrex, BitHumb Global, etc. BTC, ETH and the USDT stable coin are the main currencies LAMBs are traded with. Some of the platforms trade the token for their internal digital currency like Huobi Token or USDK by OKEx. Bithumb additionally supports fiat trading for LAMB with the South Korean Won (KRW). More information can be found in the table below.

Store Lambda coin on Freewallet
Looking for a wallet to store LAMB coin? You have already found it – Freewallet: Crypto Wallet supports LAMB cryptocurrency on the web and Android versions of the app. There you can:
Store LAMB in a secure cryptocurrency wallet along with other +150 coins and tokens.
Send LAMB without transaction fees to other Freewallet users
Monitor the latest exchange rates of Lambda cryptocurrency thanks to our real-time price charts.
Protect your coins with top-grade security features including 2FA, multi-sig and transaction limits. The majority of assets are kept in cold storage. This guarantees that your coins won't be lost or stolen.
Feel free to sign-up with your Facebook, Gmail, email or mobile number and try Frewallet.
If you have any questions regarding Lambda cryptocurrency – address them to our support team, they will help you.
Disclaimer: This article should not be considered financial advice and serves only as informative material. The cryptocurrency market is subject to high volatility and regulatory uncertainty.
---
---
Related
Stay tuned
By signing up for this email, you agree to our Terms of use and Privacy policy. We will send you promotional emails occasionally, but not often. We hate that, too.
Subscribe for weekly updates from our blog. Promise you will not get emails any more often.
Most Popular
Feb 17, 2021
---
Jan 13, 2021
---
Dec 9, 2020
---
Nov 18, 2020
---
Feb 4, 2020
---
New Posts
Sep 22, 2023
---
Aug 14, 2023
---
Aug 10, 2023
---
Jul 17, 2023
---
Jul 17, 2023
---
Stay tuned
By signing up for this email, you agree to our Terms of use and Privacy policy. We will send you promotional emails occasionally, but not often. We hate that, too.
Subscribe for weekly updates from our blog. Promise you will not get emails any more often.
Most Popular
Feb 17, 2021
---
Jan 13, 2021
---
Dec 9, 2020
---
Nov 18, 2020
---
Feb 4, 2020
---
New Posts
Sep 22, 2023
---
Aug 14, 2023
---
Aug 10, 2023
---
Jul 17, 2023
---
Jul 17, 2023
---