Litecoin and Ethereum are among the most popular cryptocurrencies today and still ranked among the 10 biggest coins by market cap. These projects are completely different from each other and have different purposes. In this article, we will cover the main characteristics of LTC and ETH, from their basic ideas to price movements and market behaviour.
The history of LTC and ETH
Litecoin is older than Ethereum. This cryptocurrency is the second largest fork off of Bitcoin, appearing in 2011. Developer Charles Lee took the open-source code of Bitcoin as his basis and created a currency unit improving some of the shortcomings present in the Satoshi Nakamoto system. Due to having some similarities with Bitcoin, Litecoin is sometimes called digital silver.
As for Ethereum the project was submitted back in 2013, but the launch took place on July 30, 2015. The developer is Russian-speaking Vitalik Buterin who now lives in Canada. Buterin is much younger than Charles Lee, although it has not prevented him from setting a new precedent in the areas of alternative finance and decentralized payments.
The ideas behind Ethereum and Litecoin
Litecoin is mostly viewed as a currency. It was positioned as a universal currency designed for fast, safe and cheap transactions and payments. Charlie Lee – the founder of LTC – has created Litecoin as a currency for payment and a project which will improve some of Bitcoin's problems.
Ethereum is a platform for decentralized applications. Vitalik Buterin believes that the blockchain and cryptocurrencies have more potential use cases than just being a payment system. He wants to create a global decentralized computer running on the blockchain. So, Ethereum introduced Smart-Contracts special programs which help applications to execute certain operations for a fee in ETH.
Ethereum and Litecoin main features comparison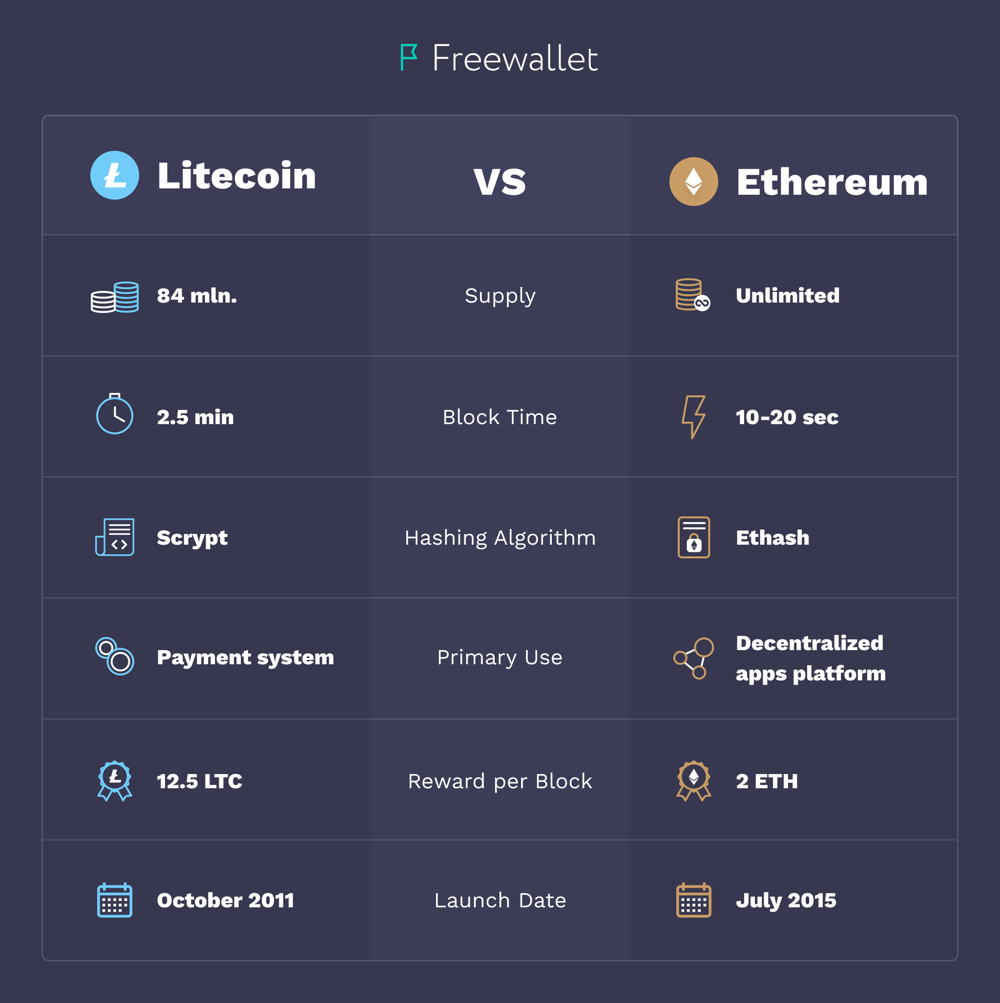 Coin issuance
Both cryptocurrencies can be mined but only one has a limited supply. The total emission of Litecoin is 84 mln coins and there are about 22 mln. units left to mine. Ethereum is going a different way and there's no limit on the maximum amount of Ethereum. ETH has a limitless supply and the only factor that can affect its issuance is the inflation rate and changes in the code of the project.
Transaction speed
Another important factor in choosing cryptocurrency is transaction speed. In this category, Litecoin is overtaking Ethereum. LTC has an average speed of 2.5 minutes and a maximum of 56 transactions per second. Ethereum is behind digital silver with an average transaction speed of 6 minutes and a maximum of 15 transactions per second.
Transaction fees and commissions
The cost of a transaction can also be an important factor in determining which cryptocurrency is a better fit for you. Litecoin was originally designed as a payment system so it was important to achieve commissions as low as possible. As a result, the LTC transaction fee is fixed at $0.04 which leaves Ethereum far behind. ETH takes a different approach using so-called "GAS" to calculate transactions each time depending on the network load.
Mining on Ethereum and Litecoin
The main mining features of Ethereum:
High scalability, resulting in a standard transaction rate of only 15 seconds. But due to an increase in the volume and number of intra-system transfers, a drop in capacity and an increase of fees for miners. The developers intend to solve this problem in the near future by switching to the PoS standard instead of the PoW algorithm, which is widely used in most cryptocurrency systems.
Unlimited amount of coins to mine. Ethereum has only an annual limit of 18 mln. coins.
Another feature is the MetaMask application, whose purpose is to optimize the work with the blockchain through popular browsers.
The default block reward is 3 coins.
Litecoin mining has the following features: 
The total number of LTC is limited to 84 million virtual coins.
The time interval between creating blocks is 2.5 minutes.
The mining difficulty adjustment occurs 2 times a week.
Every 4 years the mining reward halves. Now the system gives out 12.5 coins to owners.
LTC vs BTC Market Performance
Prices of Litecoin and Ethereum are driven by numerous powers and one of them is the price of Bitcoin. It influences the entire crypto market and is echoed by nearly every cryptocurrency. Some coins are less sensitive to the Bitcoin price's spikes while others have almost identical curves on the graph. It is fair to say that Ethereum is much more independent from the BTC gravity than Litecoin. The reason is clear: Litecoin is a large and successful Bitcoin hard fork while Ethereum is a completely different platform — created on a new blockchain, hosting dozens of other cryptocurrencies, serving as a basis of decentralized apps and decentralized finance platforms, and working as a virtual machine. Ethereum has come through a series of pivotal events not associated with Bitcoin. The events are the conference for the Devcon1 developers in 2015 where Ethereum was introduced to a large professional audience, a security breach of the network in 2016, ICO hype and listing on Avatrade in 2017, etc. At the same time, the Litecoin price movements are prominently following Bitcoin's trajectory and not showing notable signs of independent patterns.
By 2022, Ethereum is the second cryptocurrency after Bitcoin in terms of market cap. The price of the ETH coin exceeds $3,800 while the market cap is over $455 billion. Litecoin is far from being next to Bitcoin. At the end of 2021, Litecoin was close to the bottom of the top 20 list of cryptocurrencies by market cap which is valued at over $10 billion. The LTC price is nearly $150. The gap between trading volumes of both currencies is quite big, too, with $1 billion worth for Litecoin 24h volume against around $18 billion for Ethereum.
Litecoin vs Ethereum in the Long Term
Both currencies have good reasons to stay on top thanks to their strong sides. Bitcoin is not going to lose its position any time soon and this success cements the future success of Litecoin. Whatever happens to more original projects than LTC, Litecoin will stay among the popular crypto assets only because it is just another kind of Bitcoin.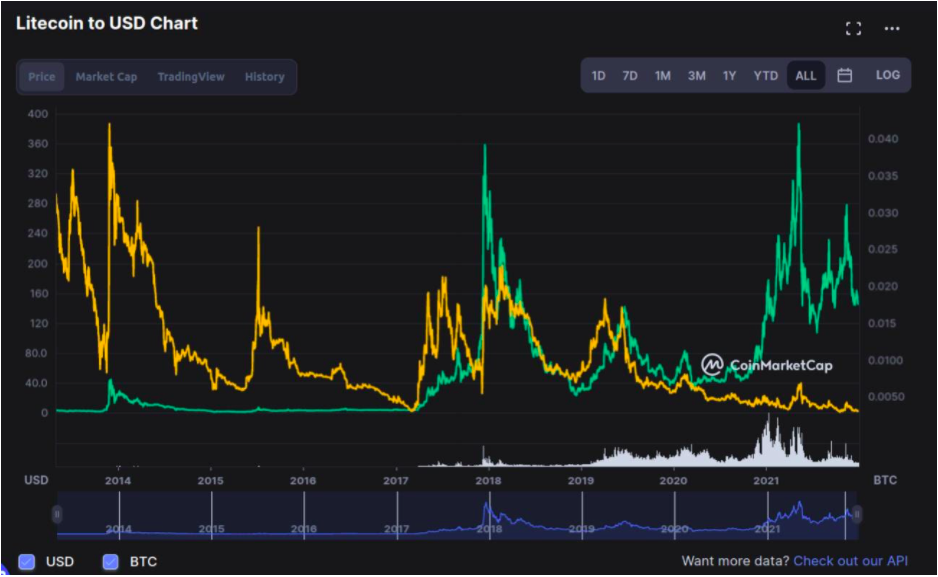 This coin will be in demand because of the strong reputation of its elder brother and the slight differences that make it special in some way. It's hard to tell for how long Litecoin will follow Bitcoin but it doesn't seem that LTC can lose its prominence on the market in the next few years.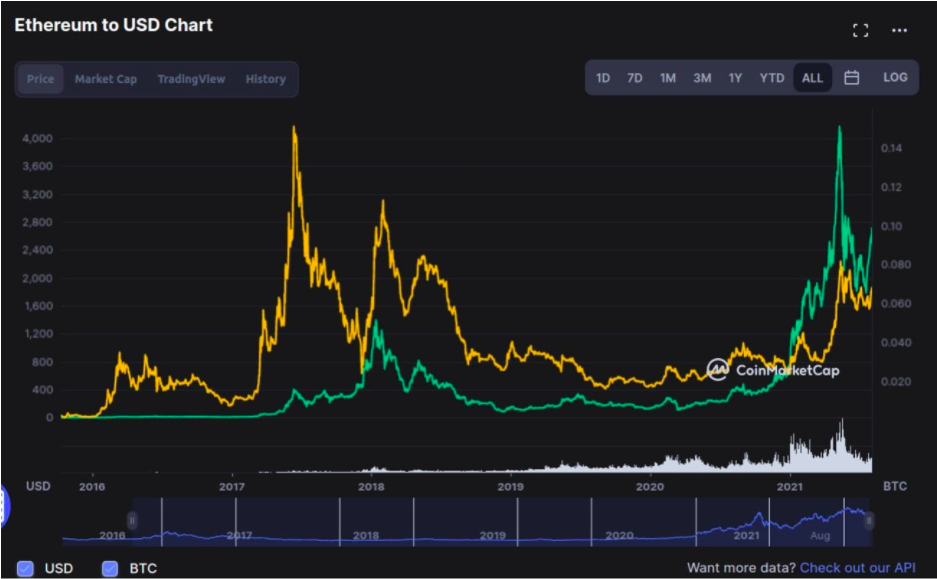 Ethereum is not just a shadow of Bitcoin. It is one of the most influential blockchain-based products in the world. Ethereum coin price reflects the big trends on the market, however, ether can have its ups and downs. The prominence of Ethereum is ludicrously promoted by the ads of its younger rivals — all the new dApps platforms are self-proclaimed "Ethereum killers". Ethereum is still alive and well while none of these new platforms managed to surpass it. More than that, Ethereum continues to develop and challenge the industry. We cannot anticipate Ethereum's decline any time soon. The future of Ethereum seems more volatile than the future of Litecoin, however, Ethereum definitely aims for more than LTC.
Is it Better to Buy Litecoin or Ethereum?
If there was an absolutely correct answer to this question then one of these currencies wouldn't probably exist. As you could already understand from the previous chapter, Litecoin and Ethereum are good for different kinds of investors. Litecoin is more predictable for traders. If you know well where Bitcoin is heading right now, you will manage to spot the future price of Litecoin correctly. Will Litecoin beat Ethereum in terms of price or trading volume at some point? Probably if only Ethereum, at last, will be killed by one of its numerous rivals that promise to do so again and again (for no success though). As of now, there are no natural reasons to believe that Ethereum's market presence can drop below Litecoin's position.
However, if you invest in Ethereum, you can find yourself in a situation where Bitcoin (and Litecoin, as well) gains a better percentage in a bull run or the low market loses less than Ethereum as the latter can have its own trends which do not always benefit Ethereum's investors. It's better to have both coins in your portfolio to secure yourself from huge risks. Choosing one of them above the other is a hard task as they serve investors differently.
You can easily buy Litecoin and Ethereum on Freewallet even if you don't have any crypto coins yet. Thanks to a partnership with Simplex, you can purchase cryptocurrency (including LTC and ETH) with Mastercard or VISA card.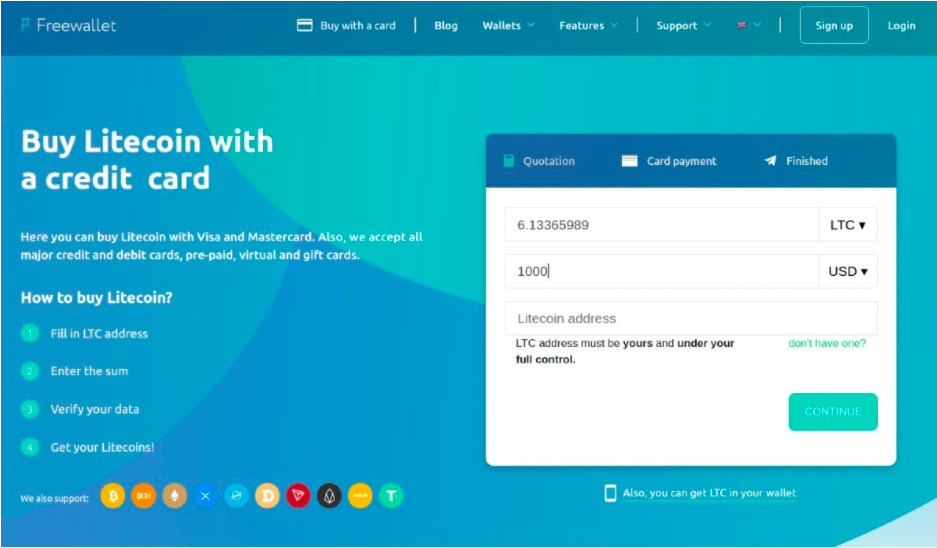 You just should specify which coin you are going to buy, choose the amount, fill in the credit card data, and pass the verification. The latter includes the name, surname, location, date of birth, email, and phone number. Shortly after filling this out, you'll get your coins.
Can Litecoin Overtake Bitcoin?
There's nothing wrong with this question. However, the answer is clear and short: no. Why Litecoin cannot top Bitcoin? As a fork off of Bitcoin, Litecoin is very limited compared to the original project. It has several touches that make it handier in certain situations but Bitcoin keeps on developing, too. Its reputation in the world of cryptocurrencies is fantastic. Most people who have ever heard about cryptocurrencies don't know other coins than Bitcoin. Litecoin cannot boast anything like that. It doesn't have chances to come out from its niche. Thankfully, this niche isn't that small at all!
Conclusion
Litecoin and Ethereum are the top cryptocurrencies created by reputable and skillful developers. These coins belong to the top of the market. There is no reason indicating a soon decline of any of these assets. More than that, Litecoin and Ethereum can hardly be called rivals. Yes, they both have some common parameters and we can compare them by market cap, trading volume, and stuff. What's more important is that these projects play different roles in the ecosystem of cryptocurrencies. They both matter, they both bring profit to investors who manage these coins wisely. They co-exist. Now that you have learned some of the facts about these coins you can decide on which of these assets can be a perfect match for your portfolio. If any!
---
---
Related
Stay tuned
By signing up for this email, you agree to our Terms of use and Privacy policy. We will send you promotional emails occasionally, but not often. We hate that, too.
Subscribe for weekly updates from our blog. Promise you will not get emails any more often.
Most Popular
Feb 17, 2021
---
Jan 13, 2021
---
Dec 9, 2020
---
Nov 18, 2020
---
Feb 4, 2020
---
New Posts
Sep 22, 2023
---
Aug 14, 2023
---
Aug 10, 2023
---
Jul 17, 2023
---
Jul 17, 2023
---
Stay tuned
By signing up for this email, you agree to our Terms of use and Privacy policy. We will send you promotional emails occasionally, but not often. We hate that, too.
Subscribe for weekly updates from our blog. Promise you will not get emails any more often.
Most Popular
Feb 17, 2021
---
Jan 13, 2021
---
Dec 9, 2020
---
Nov 18, 2020
---
Feb 4, 2020
---
New Posts
Sep 22, 2023
---
Aug 14, 2023
---
Aug 10, 2023
---
Jul 17, 2023
---
Jul 17, 2023
---