Monero has been working on the CryptoNight algorithm for a long time. At the end of 2019, Monero developers changed the coin to the RandomX algorithm. This change has significantly altered the mining features of Monero coins. In this article Freewallet explains how to mine XMR today with the RandomX algorithm.
What is Monero
Monero is a cryptocurrency with an emphasis on private transactions. The idea is to use cryptography to hide the addresses of the sender and receiver. The amount of the transfer is also hidden. These actions are performed by default, so privacy is permanent here, not selective.
Monero mining is based on a proof-of-work algorithm. The total supply of cryptocurrency is not limited — after the initial production of 18.4 million XMR coins, miners will receive 0.6 XMR for each two-minute block. Mining production is necessary to continue the functioning of the system following the initial issuance.
Why XMR moved to RandomX
RandomX is a proof-of-work algorithm designed for GPUs and CPUs. The main feature of algorithm is its execution of different parts of its code in random order and the way it loads memory on devices. Moving to RandomX helps to solve several issues:
FPGA and ASIC miners have been made obsolete. Previously Monero was working on the CryptoNight algorithm specialised for CPU mining. And of course, it was affected by ASIC miners.
Ordinary users with home equipment and average CPUs and GPUs could not compete with ASIC mining farms. The new environment sets a higher entry level for new miners and does not attract new participants.
Besides, it is believed that ASICs lead to centralization, which contradicts the main idea of blockchain. ASIC farms are produced by a very specific group of enterprises, which leads to a situation where one or two companies can monopolize the blockchain hash rate.
Monero Mining Hardware
Monero mining is not much different from Ethereum, Bitcoin or Bitcoin Gold. The mining algorithm here is RandomX. Miners receive 2.12 XMR for finding a block, which takes about 2 minutes.
Mining for Monero is done with CPU and carried out on video cards. It is recommended to mine with Nvidia chips, since the efficiency of AMD cards is noticeably lower on RandomX.
Choosing CPU for RandomX
Most CPU models from Intel and AMD from 2011 should be quite efficient on RandomX – as well as video cards with at least 2 GB of memory. Here are the detailed requirements for productive mining on a CPU:
64-bit architecture;
IEEE 754 compliant floating point unit (FPU);
hardware support for AES;
at least 2.14 GB of RAM for the NUMA.

Choosing GPUs for RandomX
The code for mining on RandomX was created by a developer going by the nickname SChernykh. Here are the performance results for Nvidia.
Here are the results for AMD video cards.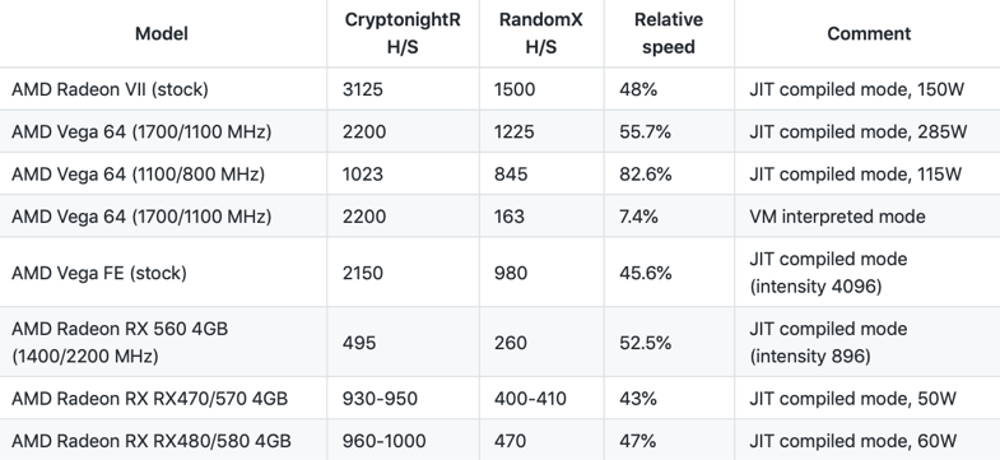 As you can see, Nvidia cards performed better after Monero moved to RandomX, while the efficiency of AMD was crucially cut in half.
Monero Mining Software
There are several miners that support the RandomX algorithm for CPUs and GPUs which you can use today:
XMR-STAK: a popular pool mining software for CPU, AMD and Nvidia. It can be used for Monero and cryptocurrencies on the CryptoNight algorithm. The miner is available for Mac, Windows and Linux OS.
The effective hashrate for Monero is 990 H/s, its default miner fee is 0% and its pool fee is 1%.
XMRig is an open source miner for XMR only for Windows. Back in the day, it was the first popular software for Monero. XMRig is available for CPU and GPU mining.
Where to mine XMR
MineXMR
MineXMR charges a commission of 1% and has a minimum payout of 0.004 XMR, which allows you to make daily withdrawals. Block generation takes 6 minutes, and servers are available all over the world. At present, the hashrate of the network is maintained at a level of more than 460 MH/s. This is a big number, making the service the largest XMR pool.
SupportXMR
This is another popular solution for XMR miners. It has a low commission of only 0.6% and a minimum payout of 0.1 XMR. You can track your mining performance using the hashrate graph for each miner. As you can notice, this pool is popular, because its hashrate is 350 MH/s.
Nanopool
Nanopool is a multi-currency pool where you can mine XMR. Here, there is a standard 1% commission for mining. The minimum payout is 0.3 XMR. Hashrate at the moment is about 140 MH/s. Default payout amount is 1 XMR, but you can change it without increasing the commission.
F2Pool
F2pool is a Chinese pool created in 2013 that has taken a leading positions in the mining of certain coins, including Monero. The total XMR hashrate is about 100 MH/s. The minimum payout is 0.3 XMR. The pool takes a commission of 3%, which is quite a lot, taking into account the level of competition there. Withdrawal is available daily from 0:00 a.m. to 8:00 a.m. UTC.
---
---
Related
Nov 25, 2020
Stay tuned
By signing up for this email, you agree to our Terms of use and Privacy policy. We will send you promotional emails occasionally, but not often. We hate that, too.
Subscribe for weekly updates from our blog. Promise you will not get emails any more often.
Most Popular
Feb 17, 2021
---
Jan 13, 2021
---
Dec 9, 2020
---
Nov 18, 2020
---
Feb 4, 2020
---
Stay tuned
By signing up for this email, you agree to our Terms of use and Privacy policy. We will send you promotional emails occasionally, but not often. We hate that, too.
Subscribe for weekly updates from our blog. Promise you will not get emails any more often.