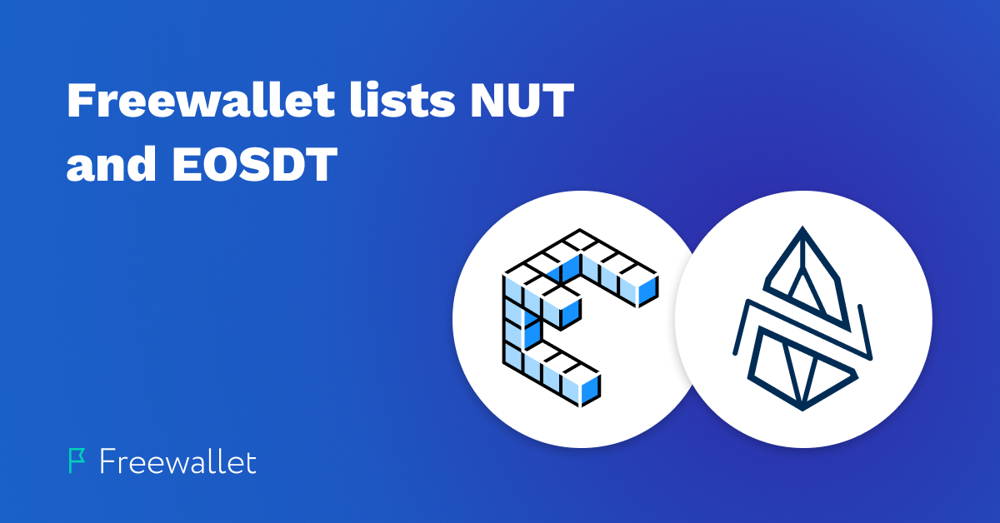 Freewallet continues to add more cryptocurrencies to our expansive portfolio. Now we have added support for two EOS based tokens: Equilibrium's Native Utility Token and the EOSDT stablecoin. The tokens will be available on Freewallet Crypto Wallet for the web and Android.
What is EOSDT
EOSDT is a stablecoin based on the EOS coin within the Equilibrium framework. EOSDT token is pegged to the US dollar and backed by cryptocurrencies. It offers all the benefits of classic digital currencies in addition to a stable and reliable price. The main idea behind the coin is to collateralize users' assets and offer them cryptocurrency equal to USD and protected from volatility. You can find more info about the system on their official website.
What is NUT

NUT is a Native Utility Token which operates on the Equilibrium ecosystem. It is connected to the Governance Smart Contract and allows its holders to propose changes to the rules of the system. If a majority of the community agrees with the proposed rules, they will come into force. Also users can vote for the EOS block producers they want to support.
NUT and EOSDT on Freewallet
Freewallet is pleased to support the Equilibrium project and list NUT and EOSDT. They have been added to our list of other stablecoins and are available on Freewallet: Crypto Wallet. Now our community can store, manage, exchange NUT and EOSDT right in their wallets. This wallet application is available on iOS and Android as well as for the web application.