The first half of 2019 is over and the crypto winter has passed. The market is flourishing with 'green candles' and it's time to take a look at the top performing cryptocurrencies of the past six months of 2019.
ChainLink – 1002% growth ($0.3 – $3.60)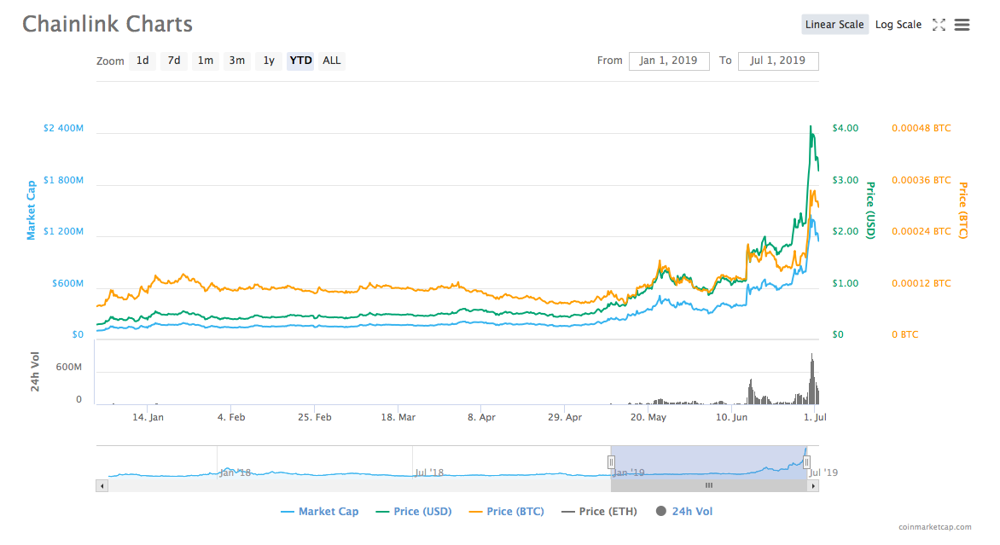 One of the top cryptocurrencies of 2019 is ChainLink. It is a blockchain platform which is going to connect smart contracts to external data sources. The cryptocurrency was traded at around $0.3 for almost the whole year. From May-June though, it gathered strength and surged up to $2 per coin.
As soon as it was added on Coinbase Pro and Coinbase, LINK skyrocketed to $4.41. It is a common situation when the price of a coin increases sharply after it gets listed on that exchange. It is known as the Coinbase effect.
By the end of the month LINK cost $3.60 which means that in 6 months it gained an enormous 1002%.
Litecoin – 291% growth ($31 – $124)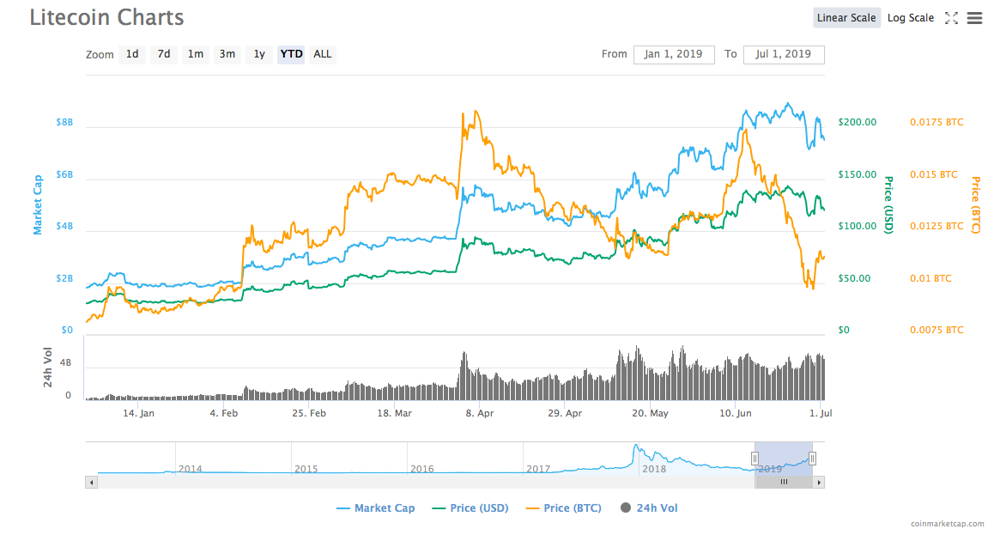 The Litecoin Foundation is one of the best teams in terms of collabs and enacting the adoption of their product. This helped the coin gain 291% in 6 months and increase from $31 to $124.
At the beginning of the year, they announced a collaboration with CU Entertainment Global to promote Litecoin through a K-Pop concert. Everyone could buy Ultra VIP tickets for the event with Litcoin.
Additionally, they've partnered with TravelbyBit – a blockchain travel booking service. LTC became one of the payment options to book flights and hotels in the site. This made Litecoin one of the top cryptocurrencies of 2019.
Bitcoin – 189% growth ($3843 – $11125)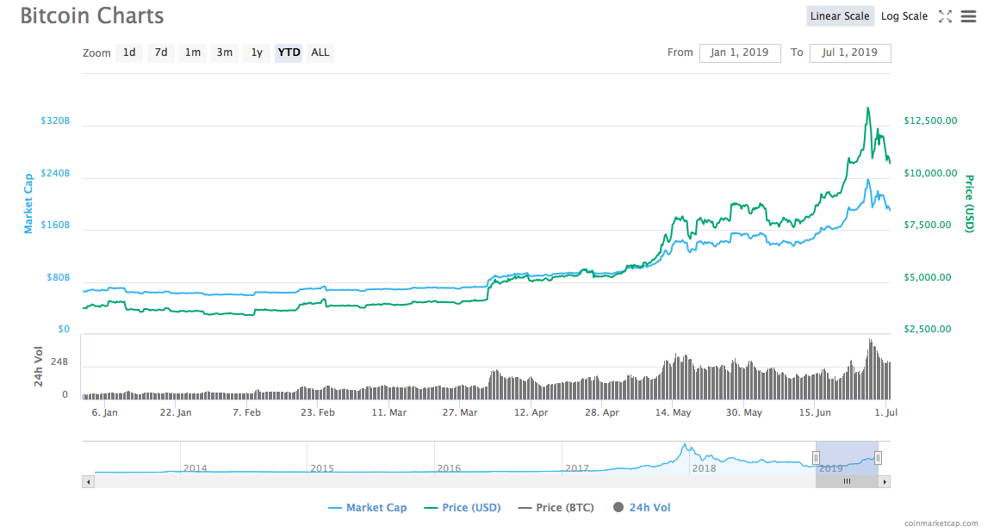 The growth of Bitcoin has been a ubiquitous theme in the media since March 2019. At that point, the market started recovering after a devastating bearish period. We have already talked about the main reasons for Bitcoin growth. They included technical reasons, a huge $100000 BTC order which got things moving in March and the upcoming halving. If you want to know more, we recommend you check out our April and May articles.
Bitcoin Cash – 151% growth ($164 – $413)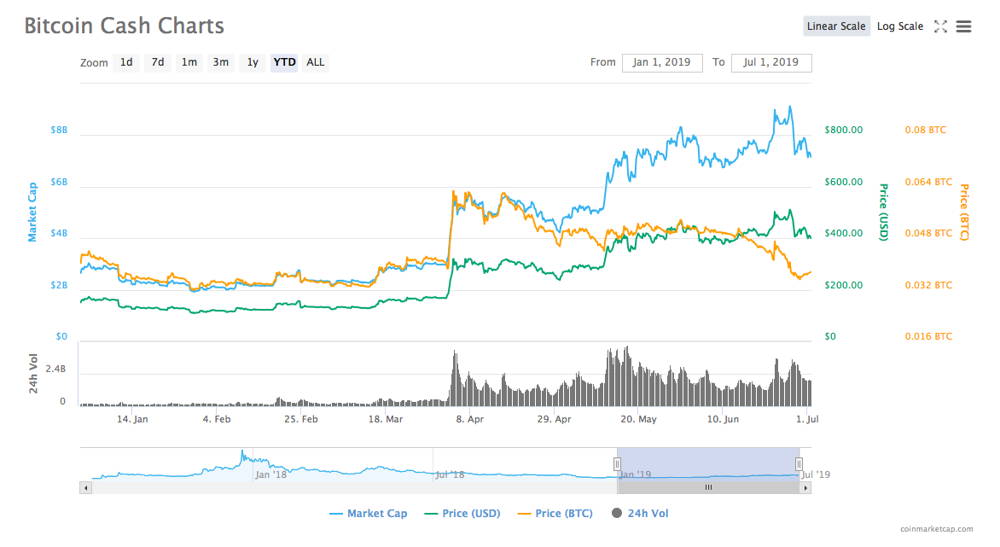 Along with Bitcoin, its 'younger brother' Bitcoin Cash has also shown moderate growth. The first quarter was calm and the coin progressed incrementally by 3.7%. In April 2019, BCH jumped from $166 to $266 and its next heave was from $266 to $435 in May 2019. The BCH breakout is technically motivated. As a result, the coin has increased its price by 151%.
EOS – 123% growth ($2.66 – $5.93)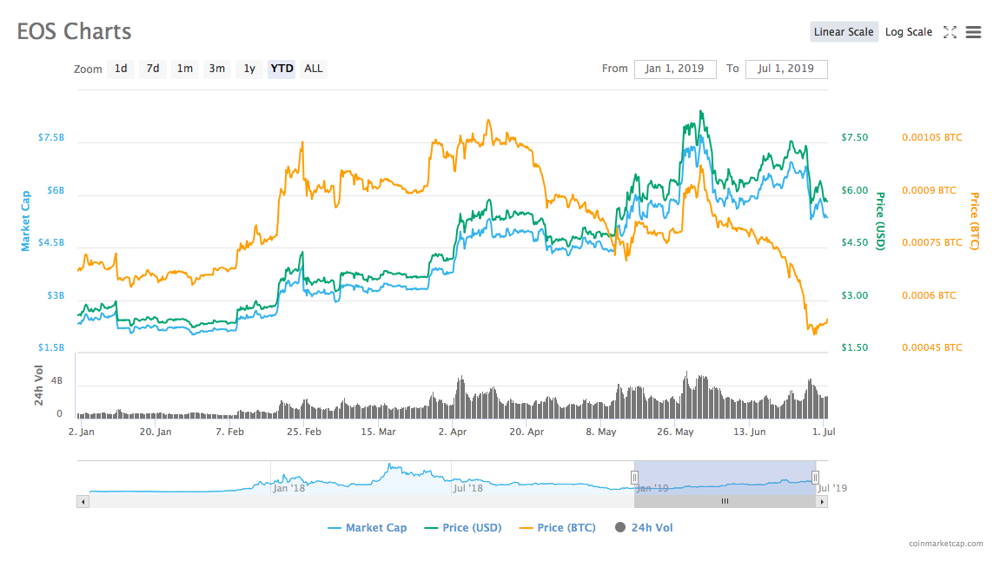 EOS was also hit by the Coinbase effect at the end of May, when the cryptocurrency was added to the exchange. Additionally, EOS has announced plans to launch social network Voice off of the EOS blockchain. These events have positively affected the price of the coin.
As a result, the coin finished June with a price of $5.93, a 120% increase.
BSV – 119% growth ($92 – $201)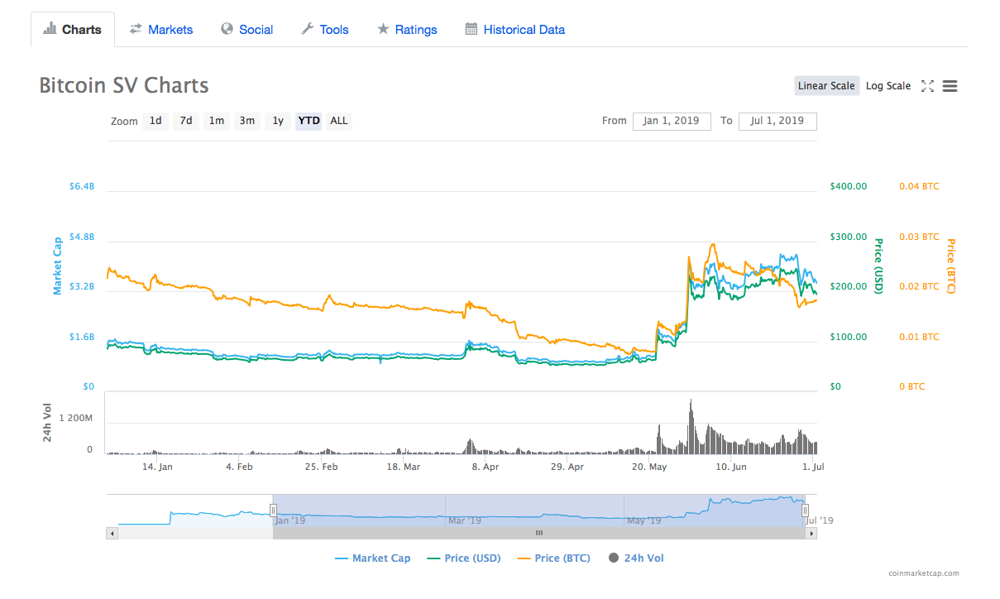 Despite the negativity around it, BSV is still performing well on the market. It has survived delistings on major exchanges and backlash from Craig Wright's claims of being the real Satoshi Nakomoto. The BSV price rise began on Wednesday May 29, when in just a few hours the coin rose by 50%, breaking the $180 mark. A few days later, the weighted average price of the coin increased by 94% and was traded for $227.
The possible reason behind the jump was fake news spread in the Chinese media. It said that Craig Wright allegedly transferred 50,000 BTC from one of Satoshi Nakamoto's wallets to the Binance exchange to prove that he is the true creator of Bitcoin.
Despite the news being fraudulent, the price of the coin maintained its position and by the end of June it was trading at $201. That's why we've included BSV in the top performing cryptocurrencies of 2019.
Store them on Freewallet
If you're interested in these top cryptocurencies of 2019, you can store them all on Freewallet.
We support BTC, LINK, EOS plus over 100 other cryptocurrencies.
You can access them on iOS, Android or the web application.
If you don't have any of them you can exchange your crypto with any other crypto including BTC, LINK, LTC etc. right in the app.
Don't have crypto at all? You can buy coins with your credit card without leaving the wallet.
We'll keep you updated on all the market changes, and provide you with up-to-date price charts for your crypto portfolio.
Feel free to sign-up with your Facebook, Gmail, email or mobile number and try our service.
---
---
Related
Stay tuned
By signing up for this email, you agree to our Terms of use and Privacy policy. We will send you promotional emails occasionally, but not often. We hate that, too.
Subscribe for weekly updates from our blog. Promise you will not get emails any more often.
Most Popular
Feb 17, 2021
---
Jan 13, 2021
---
Dec 9, 2020
---
Nov 18, 2020
---
Feb 4, 2020
---
New Posts
Dec 6, 2023
---
Nov 30, 2023
---
Nov 29, 2023
---
Nov 13, 2023
---
Nov 9, 2023
---
Stay tuned
By signing up for this email, you agree to our Terms of use and Privacy policy. We will send you promotional emails occasionally, but not often. We hate that, too.
Subscribe for weekly updates from our blog. Promise you will not get emails any more often.
Most Popular
Feb 17, 2021
---
Jan 13, 2021
---
Dec 9, 2020
---
Nov 18, 2020
---
Feb 4, 2020
---
New Posts
Dec 6, 2023
---
Nov 30, 2023
---
Nov 29, 2023
---
Nov 13, 2023
---
Nov 9, 2023
---