The attention of the crypto community has been recently captivated by Bakkt company. A launch date has been finally announced and everything seems to be ready to go. But what is Bakkt and what's all the fuss about this crypto exchange? Let's find out in this article.
What is Bakkt
Bakkt is a regulated custody platform and tool for the purchase, sale and storage of crypto assets aimed at institutional traders, merchants and companies like Starbucks. In the beginning, they plan to provide daily and monthly physical BTC futures and provide more derivatives in the future.
The platform was founded by the Intercontinental Exchange (ICE). These guys are also responsible for one of the biggest stock exchanges – New York Stock Exchange (NYSE). That means that they will use the same futures market infrastructure for Bakkt too.
Bakkt crypto exchange will operate according to the United States Commodity Futures Trading Commission (CFTC) regulations. Also, they will comply with AML and KYC rules and federal reporting standards. So we are talking about big things here.
What is Bakkt Bitcoin futures
As mentioned before, Bakkt crypto exchange will provide two types of Bitcoin futures – monthly and daily. The main difference of the futures by Bakkt from similar derivatives on other platforms is that Bitcoins will be physically delivered to the wallet of the trader. Unlike CME, Bakkt clients will receive BTC itself upon expiration of the contract, not the fiat equivalent of the price of Bitcoin.
If you don't know what delivered and cash-settled futures are – check out our thorough guide on BTC futures, where we explain the difference between them and how they work.
Bakkt launch date
Originally, ICE wanted to launch Bakkt back in 2018, however, the launch of the platform was postponed over and over again. The reason for the delays was regulatory issues; they simply couldn't get an approval by the Commodity Futures Trading Commission (CFTC), and the New York State Department of Financial Services.

In July 2019, Bakkt started testing its platform, it was a clear sign that the launch was imminent. That's right, in August they finally got an approval from regulators and Bakkt coin exchange will be launched on September 23.
Why Bakkt is important for the industry
From a layman perspective, cryptocurrencies represent a volatile bubble full of fraudsters and scam. Not really a nice place to put your money in. And even some companies who see it from the bigger picture don't want to risk their money by entering the financial wild-west. So here comes Bakkt. 
Bakkt will be the first fully regulated coin exchange playing by the rules of law. This opens a door to digital currencies for institutional traders and companies looking to operate within a regulatory framework. 
Additionally, the appearance of a regulated player on the cryptocurrency market only increases the legitimacy of Bitcoin in the eyes of the world.
This idea was expressed by the Intercontinental Exchange founder and CEO Jeffrey Sprecher:
In bringing regulated, connected infrastructure together with institutional and consumer applications for digital assets, we aim to build confidence in the asset class on a global scale, consistent with our track record of bringing transparency and trust to previously unregulated markets.
The idea is simple – when the market is regulated it looks more stable, and a stable market = a trustworthy market. As a result, it will attract more traders and corporations who want to enter the world of crypto. Following that logic, experts are expecting an influx of institutional money into BTC as Bakkt rolls out.
The effect of Bakkt on Bitcoin's price
The launch of Bakkt is one of the most anticipated events in the cryptocurrency industry today. The community feels bullish and has been calling Bakkt a new big step for crypto acceptance worldwide.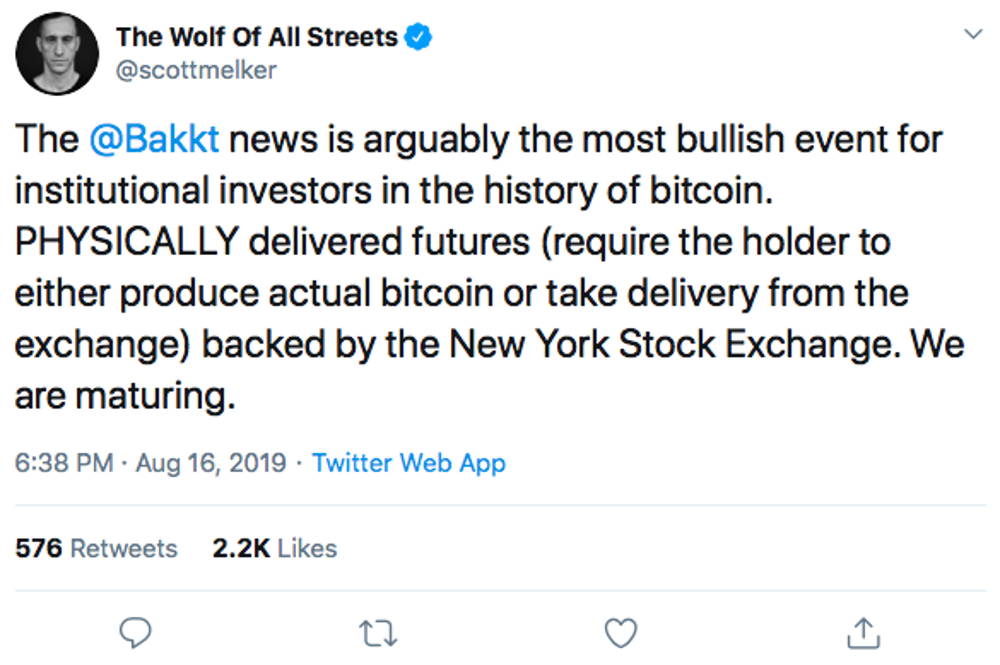 You would think everyone would be rejoicing over the latest news, but not everyone in the community sees it so positively. Some people believe that it can cause a crash and even lead to more market manipulation in the future by Wall Street.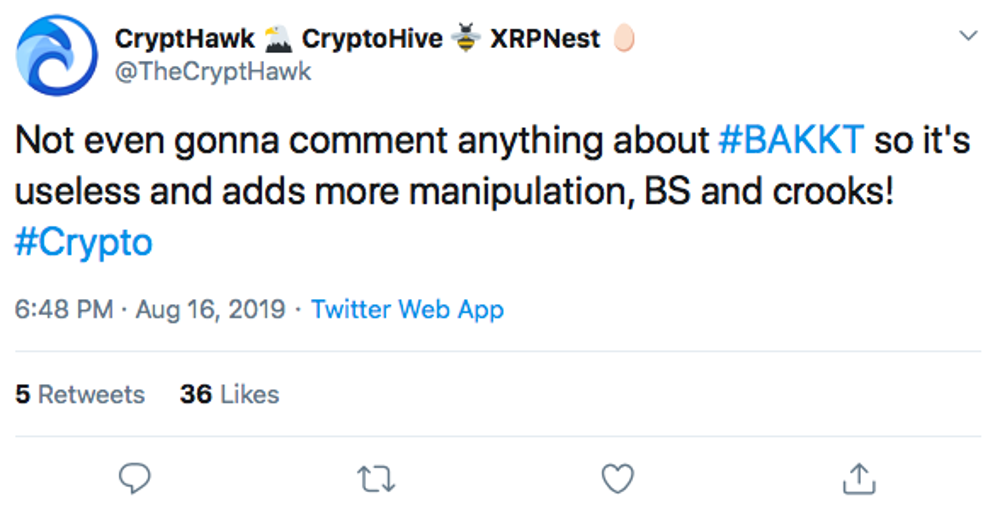 As for manipulations, Bakkt company claims that they won't rely on cryptocurrency spot exchanges to form the price of Bitcoin, because of "significant manipulative spot market activity, and other concerns such as inconsistent anti-money-laundering policies and weak compliance controls". They will use their own mechanism of price forming instead. However, how exactly it will work is still unknown.
So what's next?
The event has been so hyped and highly discussed that it can't help being a major industry happening. BTC futures for institutional traders is an exciting new avenue in the cryptocurrency business and Bakkt is not the only establishment seeking to explore it.
US exchanges have been racing to be the first to launch a regulated platform of physically delivered Bitcoin futures. The first one who got a license was Erisx. However they are not rushing to launch their platform and the exact launch date is still unknown. That isn't the case with LedgerX.
On July 31, LedgerX announced the launch of BTC futures for retail. However, then it turned out that CFTC did not actually give the exchange permission to launch these derivatives. The company only obtained a license for options and swaps and still don't have the rights for Bitcoin futures.
There's no doubt that it is only the beginning and this niche will only develop further. The platform will lead to the birth of more cryptocurrency businesses and stimulate quality growth in the industry. The only question is – what effect will institutional establishments have on the price of Bitcoin? Soon enough we'll see it for ourselves.
If you liked this article, follow us on social media – Twitter or Facebook — for our latest analytical articles and company updates.
---
---
Related
Stay tuned
By signing up for this email, you agree to our Terms of use and Privacy policy. We will send you promotional emails occasionally, but not often. We hate that, too.
Subscribe for weekly updates from our blog. Promise you will not get emails any more often.
Most Popular
Feb 17, 2021
---
Jan 13, 2021
---
Dec 9, 2020
---
Nov 18, 2020
---
Feb 4, 2020
---
New Posts
Jul 29, 2022
---
Jul 25, 2022
---
Jul 21, 2022
---
Jul 19, 2022
---
Jul 14, 2022
---
Stay tuned
By signing up for this email, you agree to our Terms of use and Privacy policy. We will send you promotional emails occasionally, but not often. We hate that, too.
Subscribe for weekly updates from our blog. Promise you will not get emails any more often.
Most Popular
Feb 17, 2021
---
Jan 13, 2021
---
Dec 9, 2020
---
Nov 18, 2020
---
Feb 4, 2020
---
New Posts
Jul 29, 2022
---
Jul 25, 2022
---
Jul 21, 2022
---
Jul 19, 2022
---
Jul 14, 2022
---