Freewallet is glad to announce that we are listing Binance coin on Freewallet: Crypto Wallet. The cryptocurrency for the popular Binance exchange is available on iOS, Android and the web.
Binance coin history
Binance coin was launched back in 2017 as part of a fundraising campaign for the Binance exchange. Currently, it is one of the leading cryptocurrencies on the market. At the time of writing, it ranks in the top 10 of the leading cryptos based on market capitalization.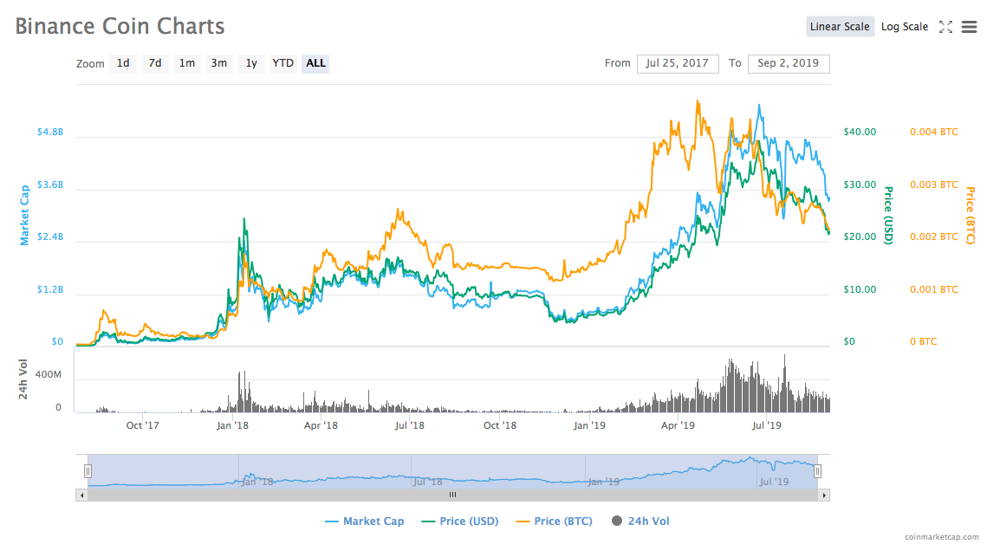 Binance has big plans for their currency having implemented it into their various products and on their mainnet. We've gathered the best ways to use their coin including a few ones which you've probably never heard of.
Top 5 ways to use the Binance coin
Receive a trading fee discount
Originally, the coin was used solely to pay fees on the Binance exchange for trading with 50+ cryptocurrencies including BTC, ETH, LTC etc. Why do you need to use their coin? Because BNB holders receive a discount when paying with the native coin on the platform. Today it is 25% but each year it decreases by half, meaning that it will drop to 12.5% later in 2019. In 2021, discounts won't be available.
Make use of your crypto dust
The second use of the coin is to convert the dust from cryptocurrencies on the platform to BNB. Dust is the amount of crypto so small that people are unable to trade or withdraw them, as they are smaller than fees on the platform. With BNB users can gather all their dust and exchange it for a usable amount of coins and then later trade it to another altcoin or withdraw it on their wallet.
Pay for services
Cryptocurrency as a payment method is probably the most celebrated use-case for all crypto enthusiasts. Being quite a popular coin, it is accepted by merchants using XPOS terminals and services such as the Trip.io hotel booking service and Uplive, a streaming video platform.
Participate in token sales
The last but not least reason to use BNB is for the Binance Launchpad – a fundraising platform for blockchain projects. The launch of the platform was quite successful with the BTT tokensale, despite the website crashing due to the huge demand. The Binance coin can be used to purchase tokens, thereby supporting cryptocurrency projects. Valuing its reputation, Binance is unlikely to allow any ambiguous projects on their Launchpad.
Trade on Binance DEX
Binance launched its decentralized exchange in April. There are no fees on this exchange and its main trading vehicle is the Binance coin. The entry barrier to list a new coin will be about $100,000, which should serve to insulate the exchange from scammy cryptocurrencies.
Binance coin on Freewallet
If you are into BNB coin, you'd better store your coin on your own convenient Binance coin wallet instead of the exchange. With Freewallet you can:
Manage Binance coin alongside with other hundreds of cryptocurrencies in one app.
Buy BNB with your credit, debit, virtual or prepaid card for USD or EUR right in the Binance coin wallet.
Make instant and 100% free BNB transactions within the Freewallet eco-system.
Purchase BNB with almost any cryptocurrency, thanks to a built-in converter.
Track the price of Binance coin in USD, EUR, GBP, JPY and other fiat currencies.
Exchange the coin for any crypto you need without leaving the application.
Protect your cryptocurrency with multilayer security features including 2FA, multisig transaction verification, cold storage, etc.
Don't wait and download our Crypto Wallet today to enjoy Binance coin Wallet in a mobile cryptocurrency app wherever and whenever you want.
If you have any questions regarding the use of Binance coin on Freewallet, don't hesitate to ask our support team.
---
---
Related
Stay tuned
By signing up for this email, you agree to our Terms of use and Privacy policy. We will send you promotional emails occasionally, but not often. We hate that, too.
Subscribe for weekly updates from our blog. Promise you will not get emails any more often.
Most Popular
Feb 17, 2021
---
Jan 13, 2021
---
Dec 9, 2020
---
Nov 18, 2020
---
Feb 4, 2020
---
New Posts
Dec 6, 2023
---
Nov 30, 2023
---
Nov 29, 2023
---
Nov 13, 2023
---
Nov 9, 2023
---
Stay tuned
By signing up for this email, you agree to our Terms of use and Privacy policy. We will send you promotional emails occasionally, but not often. We hate that, too.
Subscribe for weekly updates from our blog. Promise you will not get emails any more often.
Most Popular
Feb 17, 2021
---
Jan 13, 2021
---
Dec 9, 2020
---
Nov 18, 2020
---
Feb 4, 2020
---
New Posts
Dec 6, 2023
---
Nov 30, 2023
---
Nov 29, 2023
---
Nov 13, 2023
---
Nov 9, 2023
---