This past Christmas, Bitcoin announced six new hard forks, with Lightning, Platinum, GOD, B2X, Uranium, and Cash Plus now joining Cash, Gold, Diamond, United, HOT, and Super. These forks show that Bitcoin never ceases to evolve and multiply, in turn generating both excitement and chaos among the crypto community.
For coin holders, the greatest issue with forks is getting multiple chains mixed up, as it is easy to lose money by making the fatal mistake of making a transaction to a forked coin address, as they have the same format. ETC sent to an ETH address, BTC delivered to a BCH destination, even USDT transferred to a BTC wallet, and vice versa; these are only a few examples of the potential challenges involved in Cross Chain Transactions.
Where's my money?
So, if you send BTC to a BCH address*, the transaction will go through. However, you will only be able to see that transaction in the Bitcoin blockchain, not the Bitcoin Cash one. Imagine: your transaction is shown as complete. You open your destination wallet, and there's no sign of it there! "Where's my money?" you ask, "Is it lost?" In a panic, you write to the tech support in a desperate attempt to recover your transaction. However, there was no need to worry in the first place — the money was simply stuck in the BTC network.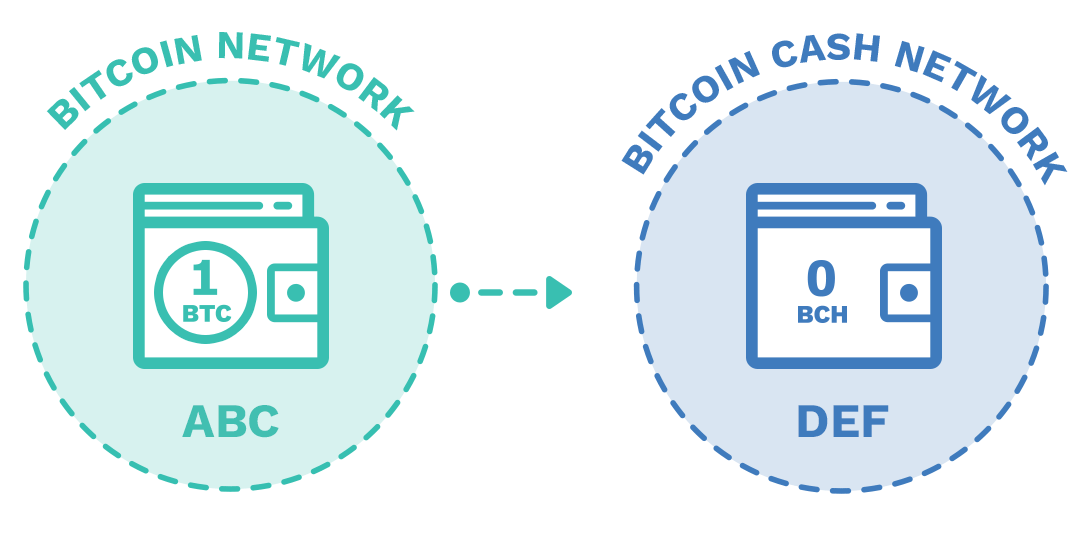 What happens if you accidentally transfer coins to an address belonging to a different network? Well, despite the problems involved, the good news is that they can be retrieved!
Let's get this money back!
Here's what you can do:
1. To begin with, make sure that your transaction has been completed. Web wallet, as well as many other wallets, display the status of your transaction in the app, along with the transaction hash. Just to make sure, google the name of your original sending blockchain explorer and look up your transaction.
For example, if you sent BTC to a BCH address, you should check the status of your transaction in the BTC explorer, not in a BСH one. Paste your transaction hash there blockchain.com, push Enter, and see what happened to it.
2. Second, check if your destination address is with a service that has an option to export your private key. If yes, take it and create a wallet in the network where your transaction was stuck. In our case, use the private key from your BCH wallet to generate the BTC version of your wallet. Once it's done, you should be able to access the coins on that address, as now you're on the right network.
3. If you don't have access to your private key, please contact the support of the destination wallet or service; they should be able to do it for you, and you won't have to bother yourself with technicalities.
However, it is important to remember, coins and chains are different, and each case is individual. The process of recovering coins sent cross chain is complex and requires time (from a couple of weeks to several months) and resources. Also, not all cross chain transactions can be recovered, and the time frame for the recovery depends on a range of factors, such as currency, network specifications, etc. Some companies may demand fees of up to 0.007 BTC for recovery services, so make sure you've studied their Terms and Conditions first. By the way, Freewallet doesn't charge its users for cross chain recovery services.
Make sure you double check all the details and always try to read an instruction manual or tutorial before exchanging your crypto assets!
This article was written before Bitcoin Cash developers switched to the new address format that will help avoid making the mistakes of sending BTC to BCH addresses and vice versa. However, there are still plenty of 'old' Bitcoin-like BCH addresses, which is why the info we provided above can still come in handy.
---
---
Related
Stay tuned
By signing up for this email, you agree to our Terms of use and Privacy policy. We will send you promotional emails occasionally, but not often. We hate that, too.
Subscribe for weekly updates from our blog. Promise you will not get emails any more often.
Most Popular
Feb 17, 2021
---
Jan 13, 2021
---
Dec 9, 2020
---
Nov 18, 2020
---
Feb 4, 2020
---
New Posts
Dec 6, 2023
---
Nov 30, 2023
---
Nov 29, 2023
---
Nov 13, 2023
---
Nov 9, 2023
---
Stay tuned
By signing up for this email, you agree to our Terms of use and Privacy policy. We will send you promotional emails occasionally, but not often. We hate that, too.
Subscribe for weekly updates from our blog. Promise you will not get emails any more often.
Most Popular
Feb 17, 2021
---
Jan 13, 2021
---
Dec 9, 2020
---
Nov 18, 2020
---
Feb 4, 2020
---
New Posts
Dec 6, 2023
---
Nov 30, 2023
---
Nov 29, 2023
---
Nov 13, 2023
---
Nov 9, 2023
---