Freewallet has joined forces with Changelly to combat the crisis by opening fee-free exchanges for a list of 54 coins and ERC20 tokens, including BTC, ETH, EOS, and LTC. Fee-free exchanges are executed in 2-3 minutes and characterized by better rates and enhanced anonymity.
Fee-free exchanges are transactions in which digital assets are moved outside of the blockchain itself. By moving, assets outside of the blockchain, users are able to enjoy three distinct advantages over on-chain transactions.
First of all, Freewallet customers opting to go fee-free will only have to pay for the exchange of their assets, without having to pay any transaction fees because fee-free exchanges don't touch upon the blockchain itself. There is no reason to move assets to another cryptocurrency exchange and operate there because the exchange rates provided by Freewallet are as profitable as those at Changelly.
Secondly, fee-free exchanges are executed in 2-3 minutes because they do not depend upon the network load and the number of transactions waiting in the queue to be confirmed, so there is no lag time. This advantage can play a significant role in a highly volatile market environment.
Third, fee-free exchanges provide users with enhanced anonymity, because transfer details are not broadcast publicly. Concerning on-chain transfers, it is possible to partially determine a participant's identity by studying trading and purchasing patterns. However, even though fee-free exchanges are more anonymous, Freewallet, as a custodial wallet service, is capable of retroactively identifying fee-free exchanges by Request ID should anything go wrong.
 

"Freewallet remains one of my favourite wallet apps out there and our partnership continues to go from strength to strength. With the ability to perform fee-free transactions, Freewallet now performs at a much higher speed and the overall cost for the customer has in turn become lower. We will provide more assets in the future for fee-free settlement once interest in the feature has gained more traction" – said Eric Benz, CEO at Changelly.
The whole list of cryptocurrencies for fee-free exchanges includes 54 coins and ERC20 tokens, and probably will increase. The accessibility of each cryptocurrency should be clarified before the operation.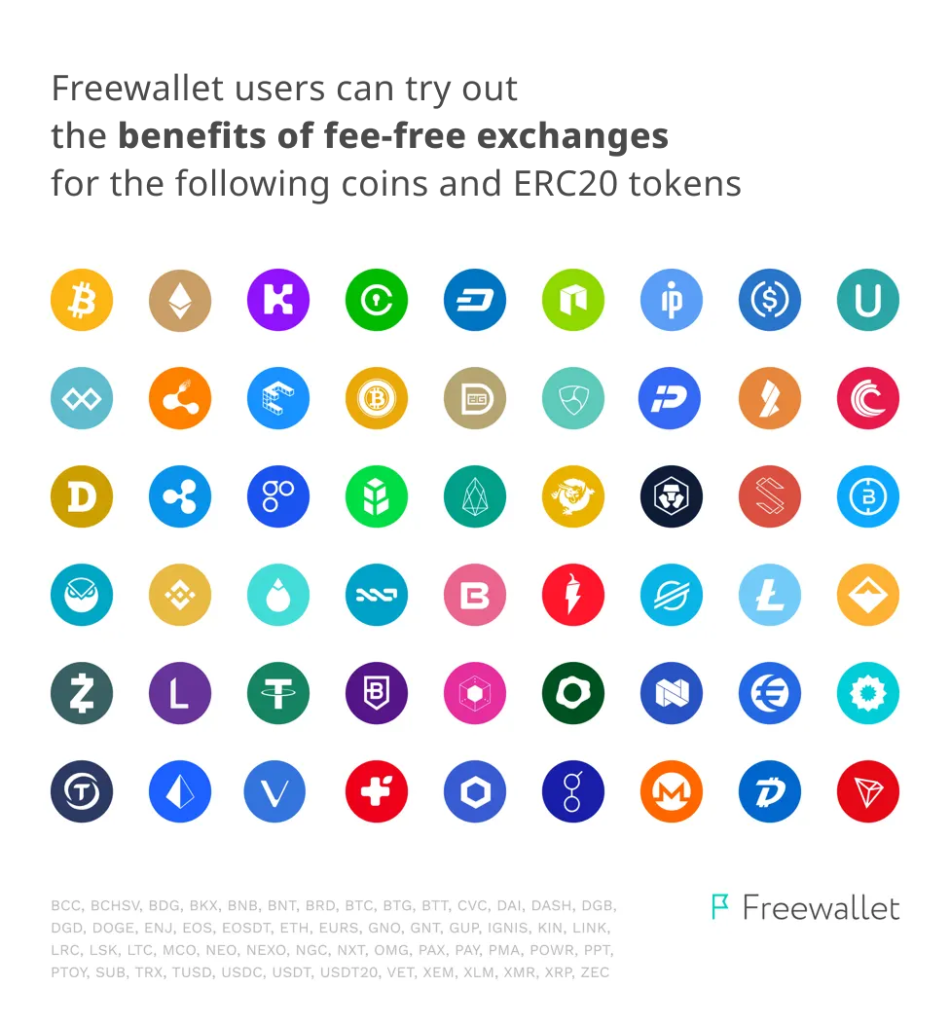 "We've been working with Changelly for a long time. Our successful experience together and mutual trust have allowed us to integrate fee-free exchanges into Freewallet and thereby further advance in our goal of providing the best service possible to our over 3 million users" – said Solomon Brown, Head of PR at Freewallet.

It's worth mentioning that previously fee-free technology was integrated for fee-free transactions between Freewallet users. Additionally, concerning currencies that are not included in the fee-free program at the moment, Freewallet's built-in exchange remains available for transfers.
Enjoy fee-free exchanges on Freewallet: Crypto Wallet on iOS or Android devices.

About Changelly

Changelly is a non-custodial instant cryptocurrency exchange, which means that no user funds are held on to by the service. Changelly acts as an intermediary between crypto exchanges and users, offering access to 150+ cryptocurrencies. The company's mission is to make the exchange process effortless for each and everyone who wants to invest in cryptocurrency.

For more information, visit the Changelly website: Changelly.com
The Changelly mobile app: https://app.adjust.com/f3n0omi
Changelly's Twitter: https://twitter.com/Changelly_team
Changelly's Telegram: t.me/join_changelly
---
---
Related
Stay tuned
By signing up for this email, you agree to our Terms of use and Privacy policy. We will send you promotional emails occasionally, but not often. We hate that, too.
Subscribe for weekly updates from our blog. Promise you will not get emails any more often.
Most Popular
Feb 17, 2021
---
Jan 13, 2021
---
Dec 9, 2020
---
Nov 18, 2020
---
Feb 4, 2020
---
New Posts
Dec 6, 2023
---
Nov 30, 2023
---
Nov 29, 2023
---
Nov 13, 2023
---
Nov 9, 2023
---
Stay tuned
By signing up for this email, you agree to our Terms of use and Privacy policy. We will send you promotional emails occasionally, but not often. We hate that, too.
Subscribe for weekly updates from our blog. Promise you will not get emails any more often.
Most Popular
Feb 17, 2021
---
Jan 13, 2021
---
Dec 9, 2020
---
Nov 18, 2020
---
Feb 4, 2020
---
New Posts
Dec 6, 2023
---
Nov 30, 2023
---
Nov 29, 2023
---
Nov 13, 2023
---
Nov 9, 2023
---