The article is for educational purposes and doesn't contain investment advice.
Next year Ethereum is going to release a massive update which will initiate improvements in network speed and scalability. But there's still a long way to the Ethereum 2.0 blockchain and it will probably take several years to get there. What does the future hold for Ethereum and what will the ETH price be in five years? Learn in our Ethereum price prediction for the next five years from 2020 to 2025.
What is Ethereum
Ethereum is a platform for launching decentralized open source applications (Decentralized applications, or DApps) using blockchain and smart contracts. DApps are used where it is necessary to transfer stores of digital value – money, documents, registry entries, data, etc. with minimal costs and without the participation of third parties.
The platform has a utility currency: Ethereum or Ether, for short – ETH. It is the "fuel" for creating and deploying DAaps on the Ethereum framework. In addition, ETH can be sometimes used as a means of payment. In this role, the token performs the same function as other cryptocurrencies.
Ethereum value for the industry
Previously, cryptocurrencies were designed to be payment systems that could replace fiat money. Ethereum changed this paradigm and offered something completely new. Ethereum opened up more opportunities for the development of blockchain technology and cryptocurrencies.
The idea behind Ethereum was to create a decentralized global computer with no leader or boss controlling the applications, your data, etc. According to Vitalik Buterin, Ethereum is the new Internet, with all its capabilities and unlimited prospects.
Ethereum introduced:
Smart contracts – support transactions and guarantee compliance with all the contract terms and agreements in place in a digital environment. The first ideas of the technology were proposed by Nick Szabo back in 1997 and some of the principles were created in the first BTC protocol. But Buterin popularised smart contracts and made them widespread.
DApps – smart contracts let developers create and publish applications in the Ethereum network without censorship or third-party participation. Additionally, DApps are more stable as they are incapable of shutting down unless all nodes are offline (which is highly unlikely)
ICOs – Ethereum started a big boom in initial coin offerings in which everyone could create their own cryptocurrency and use it to fund their projects. Of course, this has attracted a lot of scams but at the same time, it has laid out the path for considerable cryptocurrency projects like EOS and TRON to come to life.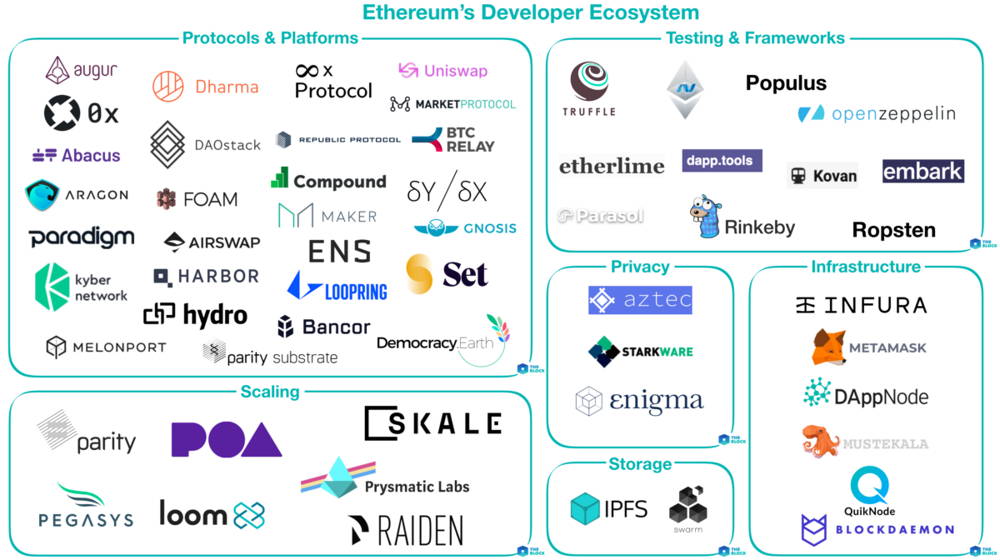 Ethereum became really popular with large companies like Microsoft and Amazon. They implement Ethereum's protocol allowing users to create and manage blockchains through their cloud computing blockchain-as-a-service platforms — i.e., Microsoft Azure and Amazon Managed Blockchain.
Ethereum price history analysis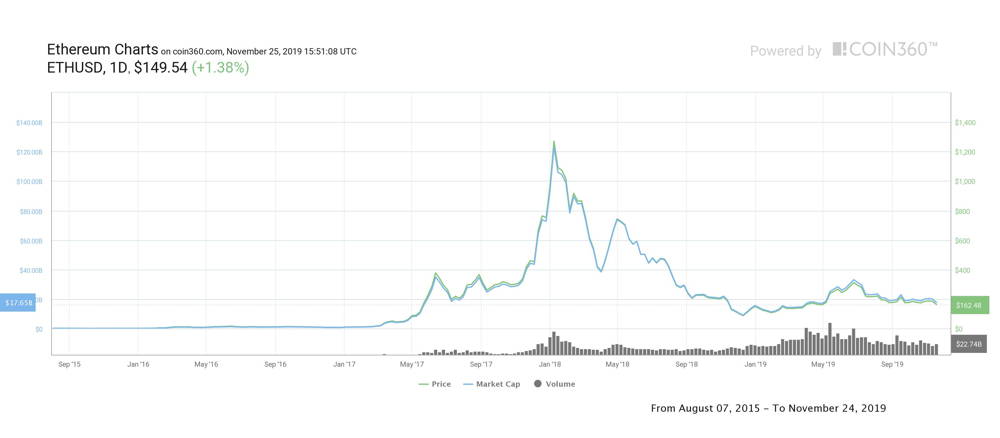 According to Etherscan.io, the first preserved data about the Ethereum price is dated back to 7 August 2015. That day Kraken supported Ethereum and listed on the exchange priced $2.77 per coin. That year the new digital asset experienced sharp price fluctuations and dropped to $0.5 because early contributors were actively selling it.
More and more crypto enthusiasts started learning about Ethereum. A particularly significant contribution to its popularization was made by the Devcon-1 developer conference, which was held from November 9 to 13. It actively discussed the development path of Ethereum in the presence of representatives of IBM, Microsoft and UBS. As a result, the coin settled around $1 price point.
In January 2016, ETH started growing exponentially and hit a price peak in March at $15. The growth was supported by the release of a new protocol version of Homestead. But the next day, the price went down two times lower because of the Ethereum hardfork. For several months Ethereum's price fluctuated from $8 to $14. In September, the Ledger Nano S hardware wallet added Ethereum to its list of supported assets – thus helping the coin to reach the $15 price.
On September 22, Ethereum suffered from a DDoS attack and the network slowed down. This led to a long descending trend which lasted till December. By the end of 2016, the exchange price of ETH settled around $7-9.
2017 was a bullish year for Ethereum – the coin made a solid run on $23 in the first two months. In March Ethereum price pumped to $53 and then in the next month it rose to $95. Another price push was in June and the coin reached $400. This lasted until mid-November, when the Ethereum price settled in the $270-350 price range.
Meanwhile, during the same time period Bitcoin was gaining momentum and reached its ATH of $20,000. Ethereum followed in Bitcoin's footsteps and rose to its own high of $1,400 in January 2018. On January 8, the Ethereum price made another leap upward to touch the $1250 mark before falling into a rapid correction. The subsequent developments regarding the price of ETH were mainly reactionary mirroring of that of Bitcoin, which saw it spinning its tires in a bearish trend all year long. As a result, Ethereum ended the year just above $130 price mark.
At the beginning of 2019, Ethereum was traded between $100-140. The first uptrend appeared in April. Ethereum, following the price of Bitcoin, started gradually growing and in June reached $300. However, ETH couldn't hold these positions and started going back to its previous price marks.
In December 2019 Ethereum started ascending again and reached $280 in the and of February. The growth can be connected with the news regarding the development of Ethereum 2.0. In March it has significantly fell to $113. Currently, the coin is trying to get back to previous positions and costs about $200. You could visit CryptoRunner for the current price of Ethereum.
What will drive the future price of ETH
The main issues that people bring up when talking about Ethereum are its low transaction speed and scalability. You probably remember that when Crypto Kitties caused a high overload on the Ethereum network nobody could make a transaction. To solve these problems Buterin plans to create Ethereum 2.0.
The launch of Ethereum 2.0 will be in January 2020 and will follow a roadmap divided into 7 stages. Some of them are still in research status without clear technical specifications. So the full deployment will take several years.
Phase 0: PoS beacon chain without shards
Phase 1: Basic sharding without EVM
Phase 2: EVM state transition function
Phase 3: Light client state protocol
Phase 4: Cross-shard transactions
Phase 5: Tight coupling with main chain security
Phase 6: Super-quadratic or exponential sharding
"Ethereum 1.0 is a couple of people's scrappy attempt to build the world computer; Ethereum 2.0 will actually be the world computer." — Vitalik Buterin
The main features will be implemented in the nearest future and include two important things:
Transfering the Ethereum blockchain to a Proof-of-Stake algorithm, which does not require large expenditures of computing power and electricity to work.
The introduction of sharding. Its essence is to create a huge number of parallel blockchains that independently process transactions, but at the same time are connected by a common network and history of operations.
The future Ethereum price will depend on the success of this initiative. The ambitions are big and the risk of failure is high. It is unclear how the market and community will respond to the update and whether the dev team will manage to fulfill their work plan.
Ethereum (ETH) price prediction
Ethereum price prediction for 2020 – 2025 by WalletInvestor
WalletInvestor has a bearish long term forecast for ETH. In 2020 Ethereum will be traded between $110 and $212 – by the end of the year Ethereum price will be about $196. In 2021 ETH will continue falling and will end up costing about $177. For the next two years, the coin will gradually fall. In 2025, the rate of the cryptocurrency will be about $117.
Ethereum price forecast for 2020, 2021, 2022, 2023 by TradingBeasts
TradingBeasts forecasts a positive future for Ethereum. In 2020 they have the coin will drop from $200 to $150 until December. In 2021 the coin will restore and may reach $236 by the end of the year. For the next two years, Ethereum will experience steady growth and will reach $380 in 2023.
Ethereum price prediction for 2020 – 2025 by DigitalCoinPrice
According to DigitalCoinPrice, Ethereum price will reach $391 in 2020 and then gradually grow to $746 over the next five:
In 2021 – $450
In 2022 – $459
In 2023 – $615
In 2024 – $579
In 2025 – $746
ETH price prediction for 2020, 2021, 2022, 2023 by LongForecast
LongForecast gives a quite negative price outlook for Ethereum. In 2020, the coin will fluctuate from $190 to $220. In 2021, Ethereum is expected to cost from $139 to $184. In 2022, ETH may descend to $100 by the end of the year. The year 2023 will be more fruitful as they have Ethereum price about $153 by the end of the year.
Ethereum future price sum-up
Future price projections for Ethereum are generally pretty positive. They may vary in the specific numbers but most everyone agrees that ETH is a good long-term asset. This is understandable as Ethereum is the second-largest cryptocurrency in the world and has grabbed the attention of Microsoft, IBM, Amazon, etc. Despite some of its competitors being faster and more scalable, Ethereum still manages to hold first place in the amount of Dapps it hosts. The community is waiting for the next update which should improve the network and solve speed and capacity problems.
Ethereum on Freewallet
Ethereum is available on Freewallet: Crypto Wallet for your Android and IOS devices and desktop via the web app.
Manage ETH and 150+ other cryptocurrencies in one place.
Buy Ethereum right in the wallet with your credit card.
Seamlessly exchange coins with other cryptocurrencies right in the wallet.
Make free transactions with other Freewallet users.
Check the exchange rate of digital currencies in the wallet.
Protect your money with advanced security protection including 2FA, multisig, and transaction limits. The majority of assets are kept in cold storage, ensuring that your coins won't be lost or stolen.
Feel free to sign-up with your Facebook, Gmail, email, or mobile number and try Freewallet.
Ethereum FAQ
How to buy Ethereum
There's plenty of ways to buy Ethereum cryptocurrency. You can purchase ETH:
On Exchange for fiat or other crypto
On P2P platforms
On Freewallet with USD, EUR or other cryptocurrency right in the application
Who accepts Ethereum as a payment
There are several merchants where you can pay for goods with ETH such as Overstock, eGifter and Digitec Galaxus. Also, there are some shops with Ether payment gateways: Coinpayments, Coingate, Pay with Ether, etc. accepting this cryptocurrency.
Why is Ethereum better than Bitcoin
Ethereum and Bitcoin are the top biggest cryptocurrencies which have been holding their leading positions on the market since they appeared. Ethereum is more developed in terms of transaction speed – it takes only a few seconds to make a money transfer. Besides, Ethereum is a whole platform for decentralized applications which help to raise a lot of cryptocurrency projects. The growth of Ethereum strongly depends on these Applications and the ecosystem it forms. To
ay more and more businesses choose Ethereum to run their blockchain application or launch their own cryptocurrency.
Will Ethereum go up?
The cryptocurrency market is unpredictable and its behaviour is changing significantly each time. The Ethereum success mostly depends on its product and whether it will manage to solve scalability and transaction speed problems.
When will Ethereum switch to PoS?
At first, the launch of ETH 2.0 was planned in January, later it was postponed to the second quarter 2020. Now the devs expect to move the network to PoS on July 30.
Disclaimer: This article should not be considered financial advice and serves only as informative material. The cryptocurrency market is subject to high volatility and regulatory uncertainty. You should do a substantial amount of research before engaging in financial activities with cryptocurrencies.
---
---
Related
Stay tuned
By signing up for this email, you agree to our Terms of use and Privacy policy. We will send you promotional emails occasionally, but not often. We hate that, too.
Subscribe for weekly updates from our blog. Promise you will not get emails any more often.
Most Popular
Feb 17, 2021
---
Jan 13, 2021
---
Dec 9, 2020
---
Nov 18, 2020
---
Feb 4, 2020
---
New Posts
Dec 6, 2023
---
Nov 30, 2023
---
Nov 29, 2023
---
Nov 13, 2023
---
Nov 9, 2023
---
Stay tuned
By signing up for this email, you agree to our Terms of use and Privacy policy. We will send you promotional emails occasionally, but not often. We hate that, too.
Subscribe for weekly updates from our blog. Promise you will not get emails any more often.
Most Popular
Feb 17, 2021
---
Jan 13, 2021
---
Dec 9, 2020
---
Nov 18, 2020
---
Feb 4, 2020
---
New Posts
Dec 6, 2023
---
Nov 30, 2023
---
Nov 29, 2023
---
Nov 13, 2023
---
Nov 9, 2023
---