There are times to brag, and times to keep a low profile. But when it comes to talking about our Customer Support team, we can't mention enough how proud we are of the job these guys are doing. Not only do they constantly monitor social media, forums and app store reviews, they always provide high quality assistance and resolve the most technologically complicated cases.
Why our support team can do more than the others
As I mentioned above, our support team monitors multiple communication channels. Those are:
Facebook.
Twitter.
Medium.
Reddit.
BitcoinTalk and other forums.
AppStore reviews.
Google Play reviews.
And many more.
But the main system where we process support requests is FreshDesk. Once our support agent spots a support request on social media (whether details of a user's experience with the Freewallet account or even another accusation of a scam), they inquire about the support ticket number or suggest that the user creates one.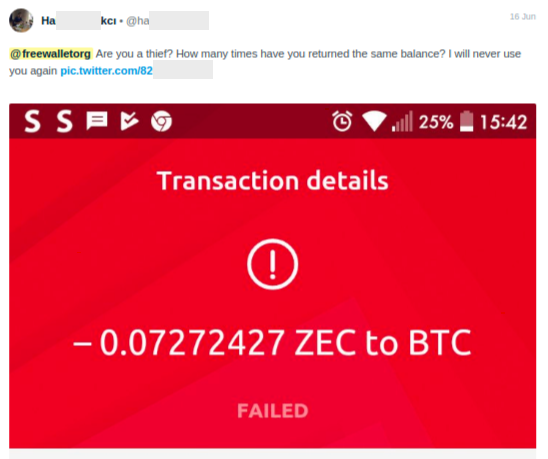 Lesson #1. While you might be very upset with your transaction falling through, we are eager to resolve your case, and we'll do whatever it takes to do so.
But that's not all. Compared to non-custodial wallets, we have more technological capability for assistance with your account and transactions. A lot of support tickets that we receive and successfully resolve would be dismissed by a non-custodial wallet as they simply don't have access to your private keys.
How does Freewallet support work
With more than 3 million users worldwide, we receive hundreds of support requests daily. Around 70% are related to high load on the blockchain and maintenance of our Wallets, which require no investigation. The rest go to the second line of support, where the cases are reviewed by our engineers.
The average response time to a new support ticket is 2.5 hours. This is the minimum that we can guarantee considering the number of support requests we receive daily. The requests on social media might take even longer to be responded to.
Lesson #2. Before posting a 1-star review, submit a support ticket in our support centre. This way, it will be easier for our support team to stay in touch and provide you with a timely solution.
Each support engineer processes up to 20 cases simultaneously, but that number can change depending on the severity of the cases to be resolved. For example, some requests need investigation, additional communication details and proof of ownership, so several agents can be working on one case at the same time.
Lesson #3. Give it some time. We totally understand how frustrating it might be when you can't make a crypto transaction as instantly as you would with a regular credit card. But the blockchain has its peculiarities, and sometimes it requires time and technical support to make it all work.
Usually, to resolve a case, the user is asked to provide the transaction details, such as the sending and the receiving addresses and the transaction hash. Here's a quick guide on how to find the transaction hash in your app or in the web version of your wallet.
When our support agent resolves the case, they immediately notify the user through the channel they used to first contact us.
How can you speed up the resolution of your support ticket?
If you keep in mind the following tips, your case may be resolved more quickly.
Even though you want to speed things up, please don't post several tickets with the same issue. We process every support ticket, so every additional ticket only takes up time that we could spend on resolving yours.
Before creating a ticket, check our recommended informational resources.
Lesson #4. Check the recommended information resources — the answer might be there.
First of all, check the notifications in your app. All announcements about maintenance and downtimes are posted right to your app in the form of a notification plate.
Check your email. When a technical issue might cause severe damage or disruption, we always personally inform our users by email.
Check the Status page. It contains information about all blockchain downtime as well as the stability of Freewallet's components.
All news about maintenance and downtimes can also be found on our social media accounts — Facebook and Twitter. There, you can also request assistance in the comments, but there's a high chance you'll be asked for a support ticket, so it's better to start by posting a ticket.
Provide as much information about your case as possible. We understand how annoying it is when you need to prove that you are actually you. But without identity verification, our support agents can't help you. Security should always come first (and you won't believe how many times people try to "restore passwords" for somebody else's account).
Stay positive. It won't speed up the process, but it will make the time pass faster.
Lesson #5. Stay positive ☀️
When your support ticket is successfully resolved, don't hesitate to update your comment or review. Not only would we really appreciate the gesture, but it will also reassure your fellow users that they will get the assistance they are looking for.
Over to you
We constantly work on providing our users with the best customer support service. If you have any suggestions on how to make our support service better, drop us a line on Facebook or Twitter or write to [email protected].
---
---
Related
Stay tuned
By signing up for this email, you agree to our Terms of use and Privacy policy. We will send you promotional emails occasionally, but not often. We hate that, too.
Subscribe for weekly updates from our blog. Promise you will not get emails any more often.
Most Popular
Feb 17, 2021
---
Jan 13, 2021
---
Dec 9, 2020
---
Nov 18, 2020
---
Feb 4, 2020
---
New Posts
Sep 22, 2023
---
Aug 14, 2023
---
Aug 10, 2023
---
Jul 17, 2023
---
Jul 17, 2023
---
Stay tuned
By signing up for this email, you agree to our Terms of use and Privacy policy. We will send you promotional emails occasionally, but not often. We hate that, too.
Subscribe for weekly updates from our blog. Promise you will not get emails any more often.
Most Popular
Feb 17, 2021
---
Jan 13, 2021
---
Dec 9, 2020
---
Nov 18, 2020
---
Feb 4, 2020
---
New Posts
Sep 22, 2023
---
Aug 14, 2023
---
Aug 10, 2023
---
Jul 17, 2023
---
Jul 17, 2023
---