BTC is trading around $8000 and it doesn't seem to be headed downwards any time soon. BTC has grown by ⅓ and gained $2000 in just one week. Despite the negative news stemming from the hack of the Binance exchange, BTC has managed to hold its position and even rise further upwards. Besides the technical indicators underlying the bullish trend, there are 3 reasons why Bitcoin is growing today.
Infrastructure development
The cryptocurrency industry is constantly building up with new adoption cases, payment processors, etc. which over time have created a solid infrastructure. The news about Bakkt, Fidelity and Wholefoods are just the most recent developments on this front.
These announcements came one by one and had a huge impact on the price of BTC. It started with the news about Fidelity which is about to launch its own Bitcoin over-the-counter trading platform for institutional clients. Then, Bakkt announced that they are going to start testing their long-awaited trading platform in July. And it was topped off with an announcement by Amazon owned retailer Wholefoods that it will accept Bitcoin as a form of payment.
The Consensus effect
May 13-15 are the days of the Consensus cryptocurrency conference. Last year, during Consensus, BTC also showed growth even during a bearish stretch in the market. This is a big event in the industry, where new partnerships are established, new products are announced, etc.
According to a Senior Market Analyst at eToro, cryptocurrencies have a networking nature which can be seen in the example of Dogecoin whose price is supported by a robust online community. During Consensus week there is usually a networking bump with Bitcoin.
Bitcoin Dominance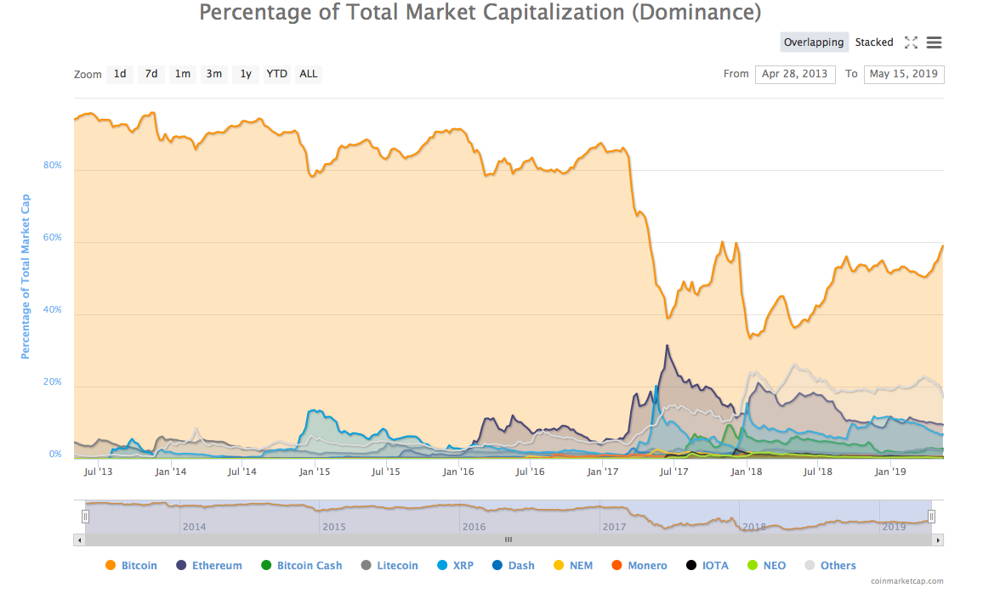 BTC price growth was accompanied by its growth in terms of dominance rate. The rate corresponds to the percentage of the crypto market that is held in BTC. Usually, the increase of this index means that people are moving their funds from altcoins to Bitcoin. The higher the rate – the more people now holding Bitcoin. On May 12, Bitcoin dominance ratcheted up to 59.4%, its highest figure since December 2017. And the climb was very sharp.
This doesn't mean that ETH, LTC and other alts are getting kicked to the curb. As we can see based on market performance, BTC growth positively affects the whole cryptocurrency market. Altcoin trades are showing green candles too.
What to expect next?
This week was fruitful for Bitcoin, but most analysts are expecting the price to fall back a bit before continuing to rise. The only question is how strong the drop will be.
Well-known crypto tech analyst CryptoHamster is confident that the correction can result in a drop to the alarming $4300 level if the course strictly follows the Fibonacci pattern. A similar situation occurred during the previous bear market in 2014-2015, when, after a similar surge, the price returned to its lows and only after that did global growth truly began.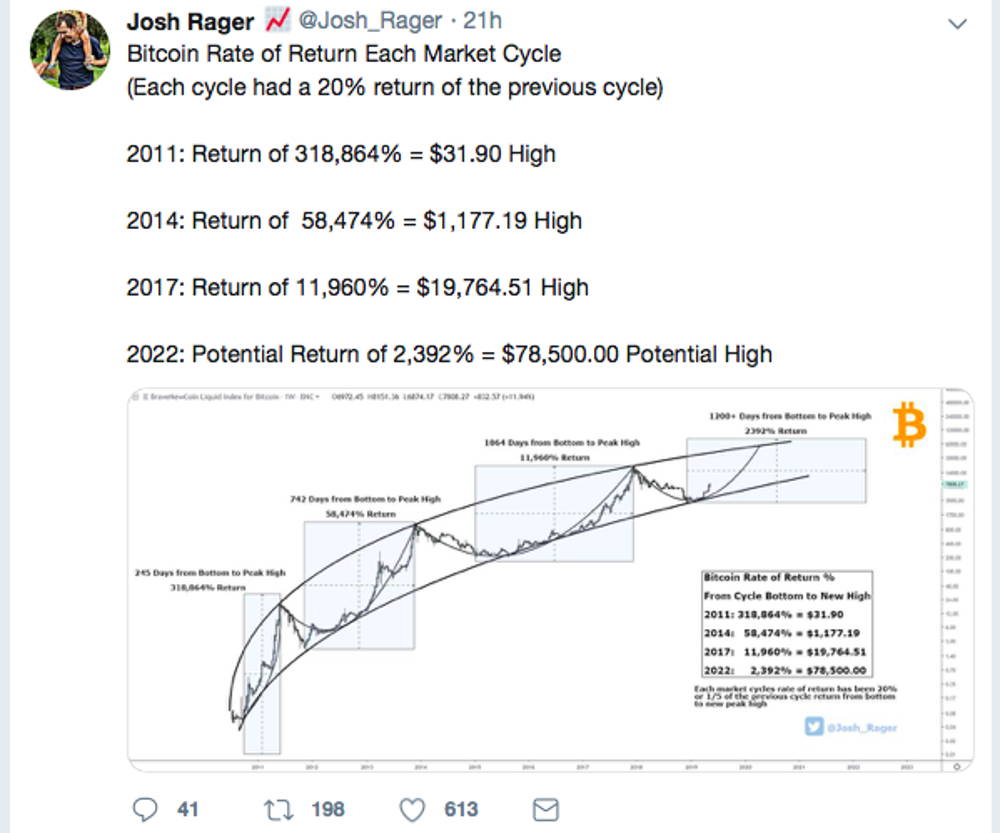 Josh Rager has noticed that in Bitcoin's three completed cycles, the price increase has declined by about 80% each time. The bullish rally after the global fall in 2011 showed a recovery of 320000%; in 2014 – 58500%; and in 2017 – 12000%. Thus, if the story repeats itself, this time Bitcoin should grow by 2400% of its bottom – up to $80000.
---
---
Related
Stay tuned
By signing up for this email, you agree to our Terms of use and Privacy policy. We will send you promotional emails occasionally, but not often. We hate that, too.
Subscribe for weekly updates from our blog. Promise you will not get emails any more often.
Most Popular
Feb 17, 2021
---
Jan 13, 2021
---
Dec 9, 2020
---
Nov 18, 2020
---
Feb 4, 2020
---
New Posts
Dec 6, 2023
---
Nov 30, 2023
---
Nov 29, 2023
---
Nov 13, 2023
---
Nov 9, 2023
---
Stay tuned
By signing up for this email, you agree to our Terms of use and Privacy policy. We will send you promotional emails occasionally, but not often. We hate that, too.
Subscribe for weekly updates from our blog. Promise you will not get emails any more often.
Most Popular
Feb 17, 2021
---
Jan 13, 2021
---
Dec 9, 2020
---
Nov 18, 2020
---
Feb 4, 2020
---
New Posts
Dec 6, 2023
---
Nov 30, 2023
---
Nov 29, 2023
---
Nov 13, 2023
---
Nov 9, 2023
---