March was a very interesting and eventful month for cryptocurrencies. After a long period of stagnation, Bitcoin showed some positive trends and started to grow. On the other hand, BitWise Asset Management, claimed that 95% of BTC trading volume is fake. Let's take a closer look at everything you missed in March.
Tether will launch a new stablecoin on the Tron blockchain
Tether and Tron have announced a collaboration. Their stablecoin USDT will be launched on the Tron blockchain alongside the Bitcoin and Ethereum blockchains. USDT TRC-20 token will be compatible with all protocols and Dapps based on the Tron network. Tether claims that Tron was initially designed to operate independent of any specific blockchain network.
According to Justin Sun – head of the Tron Foundation, the new stablecoin will positively affect the whole Tron ecosystem and make it easier for institutions to access their blockchain.
Bitcoin price has passed $4000
On March 16, the original cryptocurrency once again surpassed the $4000 price mark. The market reacted to the BTC growth positively and caused a ripple effect of price increases. Previously, there was fairly widespread sentiment that the price of BTC price would drop back to $3600-3800. Continuing its bullish trend, BTC would later pass the $4200 price mark. Now the ever-important psychological mark of $5000 is in Bitcoin's sights. The price of BTC has been growing for a whole month and recently has jumped to $4600.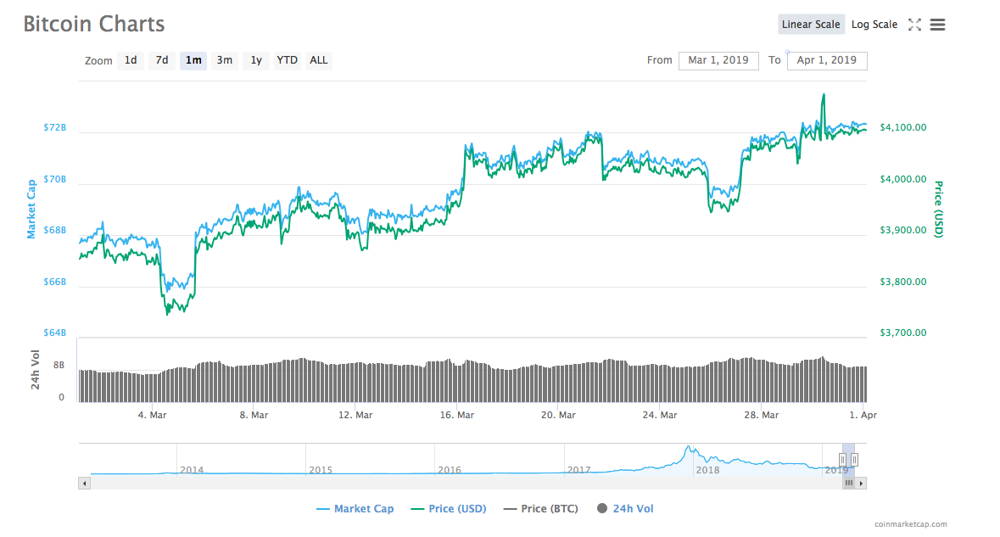 VISA and Facebook get into the crypto game
The payment giant VISA is launching its own cryptocurrency department called the Crypto Team and has posted a vacancy for a technical product manager in the new department. The new employee will manage the strategy and roadmap of VISA's cryptocurrency products. Back in 2018, the CEO of VISA spoke about the company's tentative plans to work with Bitcoin and other cryptocurrencies if they determine that cryptocurrency is a viable payment option. 
Besides VISA, Facebook has listed 20 job openings in design, marketing, engineering, community, etc. Facebook hasn't revealed any details of the project so far. But it is expected to release its own stablecoin, which will be used on Facebook, WhatsApp and Instagram.
Bitcoin payments in Starbucks
Good news for all the coffee maniacs. The worldwide coffee chain Starbucks will accept BTC payments. They plan to introduce this way of payment by the end of 2019. It will be processed by the Bakkt platform which will convert cryptocurrency into fiat instantly. 
The coffee giant is dedicated to developing the Bakkt application, which will allow it to serve as Bakkt's first merchant on the platform. It is expected that initially Bitcoin payments will be available only to customers in the United States.
95% of trading volume on exchanges might be fake
BitWise Asset Management has claimed that most of the trading volume on cryptocurrency exchanges is fake. Most of the trades that occur are wash trades without any economic value. They note that the spot BTC market is much smaller and more organized and regulated than people think. Currently, the reported BTC market volume is $6 bln. however, according to BitWise, the real spot volume is $273 mln.
According to company representatives, the popular analytical service CoinMarketCap transmits dubious data, thereby creating a fundamentally false impression of the true scale of the market.
In turn, CoinMarketCap plans to introduce new metrics to combat fake volumes. CMC will track internet traffic, cold and hot wallet balances, and liquidity measures. It will help crypto enthusiasts better understand the real situation on cryptocurrency exchanges and accurately evaluate the proportion of trading volumes and real liquidity.
The full report of BitWise Asset Management can be found here.
The price of the Enjin coin has jumped 75%
Recently, the news regarding Enjin and Samsung cooperation caused the price of ENJ to jump over 75%. In a short period of time on Friday, March 8, the coin rose in price to over $0.19. At the time of writing, the price has settled at $0.14.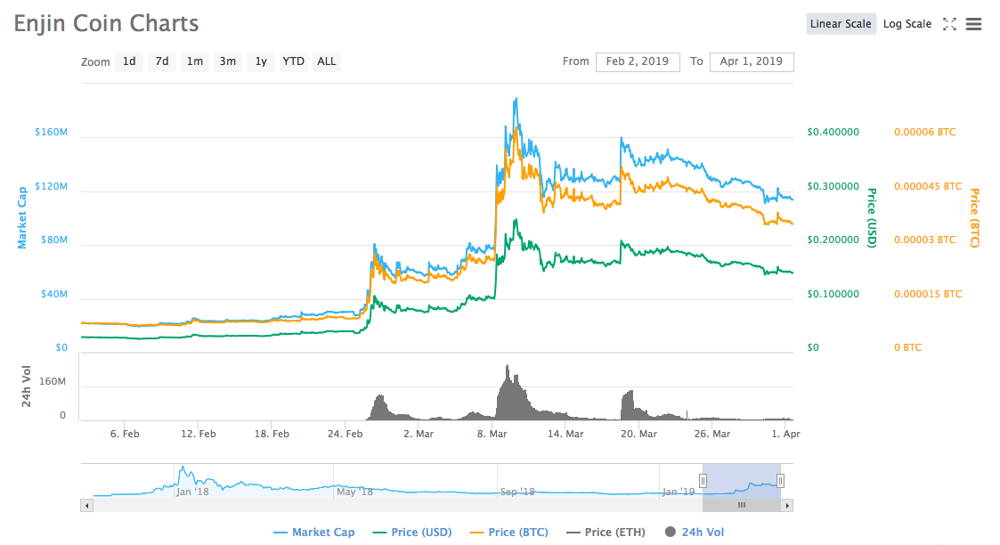 Enjin is a gaming cryptocurrency project which is aimed at building a decentralized gaming ecosystem for over 20 mln. gamers around the world. Enjin will join ETH and several other coins in the Galaxy S10 cryptocurrency wallet. Check out our article to learn more about ENJ and why Samsung has chosen them for their crypto-wallet.
Stellar Foundation hires ex Mozilla COO as new Executive Director
Ex-COO of the web browser Mozilla Denelle Dixon has joined the non-profit Stellar Development Foundation. She will work as an Executive Director and replaces the founder Jed McCaleb, who will take charge of protocol development and mass adoption strategy.
While working for Mozilla, Dixon led the company's ongoing vision of Net Neutrality and its global effort to ensure that people retain control over their personal data. In her opinion, the unique characteristics of Stellar will allow it to change existing payment infrastructure. In the blog, Denelle Dixon noted that she helped to find commercial partners for Mozilla without sacrificing their core mission and vision.
---
---
Related
Stay tuned
By signing up for this email, you agree to our Terms of use and Privacy policy. We will send you promotional emails occasionally, but not often. We hate that, too.
Subscribe for weekly updates from our blog. Promise you will not get emails any more often.
Most Popular
Feb 17, 2021
---
Jan 13, 2021
---
Dec 9, 2020
---
Nov 18, 2020
---
Feb 4, 2020
---
New Posts
Sep 22, 2023
---
Aug 14, 2023
---
Aug 10, 2023
---
Jul 17, 2023
---
Jul 17, 2023
---
Stay tuned
By signing up for this email, you agree to our Terms of use and Privacy policy. We will send you promotional emails occasionally, but not often. We hate that, too.
Subscribe for weekly updates from our blog. Promise you will not get emails any more often.
Most Popular
Feb 17, 2021
---
Jan 13, 2021
---
Dec 9, 2020
---
Nov 18, 2020
---
Feb 4, 2020
---
New Posts
Sep 22, 2023
---
Aug 14, 2023
---
Aug 10, 2023
---
Jul 17, 2023
---
Jul 17, 2023
---