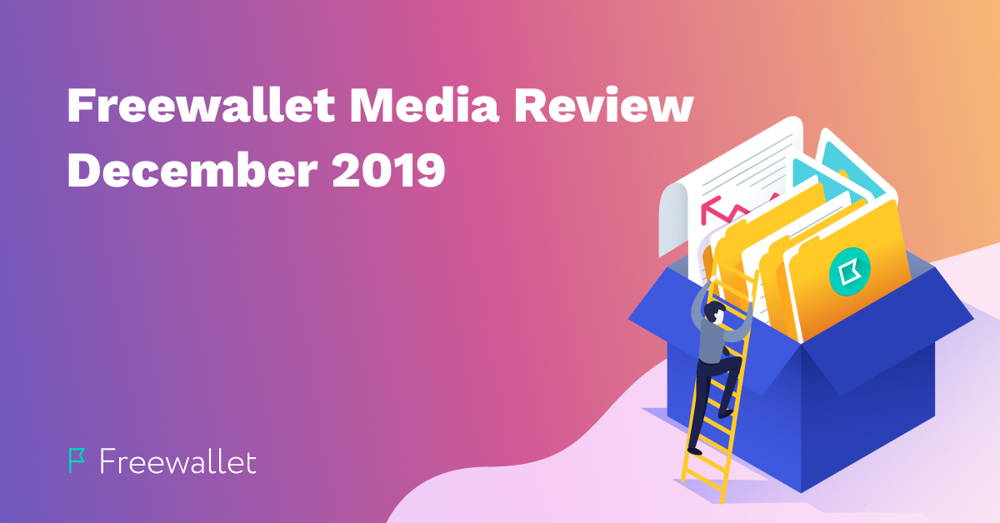 As you know, we at Freewallet gather media publications and mentions monthly. Let's look at December 2019 as the finish line of this past year and jump right into the ideas spread in the media this past month.
December 2019 was filled with happy anticipation of the miracle Christmas time and winter holidays. We're inspired by forthcoming fests and just wanted to make Freewallet customers feel good. Besides the Christmas lottery with a whole bag of gifts on Twitter, we told about the advantageous offer for buying cryptocurrency with Freewallet.
As always, the end of the year was the right time for outlets to prepare cryptocurrency wallets rankings. We at Freewallet believe if the company provides a usable system, valuable offers and a trustworthy level of the security the market players note and appreciate it. Investing our time to client-oriented 24/7 service we're glad to find Freewallet not only in tops of cryptocurrency wallets but in special long reads. 
Freewallet Christmas offer
We held the Christmas action for Freewallet users in partnership with Simplex, an online fraud-free payment processing solutions provider. Fees for buying cryptocurrency with a card was reduced by 64% for one week, from the 23rd to the 29th of December. This meant commissions on purchasing crypto became 4.5% against the regular 7%.
Freewallet in Rankings
The cryptocurrency market is fast-growing and saturated with different types of wallets that solved various users' tasks. This time media highlighted such key features at Freewallet as bank card purchase option for 8 coins, built-in exchange service for multiple assets, intuitive user experience, top-up crypto for mobile phone. Coinswitch has included Freewallet in two ranking 2020 as one of the best multi-cryptocurrency wallets and EOS Wallets.

"Great solution to send, store and manage your cryptocurrency is offered by Freewallet.org. As the name suggests the service is completely free of charge to download. They only charge a small transfer fee when sending your funds to other wallets. The fee solely depends on the network load and on the level of difficulty to perform that transaction. The beauty is that off-chain transaction between Freewallet customers is free of charge" according to Cryptimi.
Freewallet in Reviews
Choosing an optimal crypto wallet isn't an easy task. Reading reviews is a suitable way to research the cryptocurrency market and form your own independent opinion. The best December review prepared by Thecoinrepublic and Coinfunda covers all the main features at Freewallet. 
"Customers at Freewallet are treated with the utmost care. Whether you reach out to the company on Reddit or through its own ticket system, you'll always get a prompt and to the point response. Freewallet's meticulous customer care is highlighted in many reviews across the web" according to Thecoinrepublic. 
Thecoinrepublic | Freewallet Use Cases and Features
Coinfunda | FreeWallet | A Step-by-Step Comprehensive Guide | Tutorial