Asia is the mecca of cryptocurrency talent. Some of the biggest exchanges and start-ups in the space were created by Chinese developers and NEO certainly ranks among them. The project was launched by Da Hongfei back in 2014 and originally named AntShares before getting rebranded in 2017 as NEO. Today, it is one of the top cryptocurrencies out there with a large community behind it. What we can expect from NEO in the future? Learn in NEO price prediction for 2019, 2020 and 2025.
What is NEO
Unlike many other cryptocurrencies created on the model of Bitcoin (where their main task is to act as a means of payment) the Chinese cryptocurrency NEO followed the path of Ethereum – the developers created not just a coin to pay for goods and services, but an entire ecosystem. The NEO's system includes three components:
A platform for creating and launching smart contracts;
A peer-to-peer environment for the exchange of cryptocurrencies and digital assets directly without the participation of a third party;
A platform for digital identification (physical assets and personalities);
In fact, NEO is poised to become a kind of "bridge" between the real and virtual economies, structured on the basis of smart contracts.
NEO blockchain value
Sometimes people include NEO in the list of Ethereum Killers. Both systems provide similar features for the market, but NEO has more advanced technology and surpasses ETH in various aspects. The main features that distinguish NEO from other projects are:
Excellent technical capabilities. The platform uses its own virtual machine NeoVM, which allows you to quickly run even the most complex contracts. The theoretical network capacity is 10,000 transactions per second. At the moment, the speed does not exceed 1000 tps.
High reliability. NEO implements an advanced dBFT protocol that effectively protects the system from most known cyber attack methods.
Easy to write smart contracts. Unlike Ethereum, which uses the extremely sophisticated programming language, Solidity, NEO supports Java, C#, Kotlin, GO and Python.
No commissions. More precisely, there is a fee for performing operations, but it is charged in GAS – an inner currency that is automatically awarded to NEO holders.

Despite common features, the currencies have different business goals. While the Ethereum team wants to build a world decentralized computer, The NEO network is tailored to the realities of the PRC economy. The team wants to cooperate with state and business companies. Its main goal is transforming the blockchain industry into a real production sector.
History of the NEO price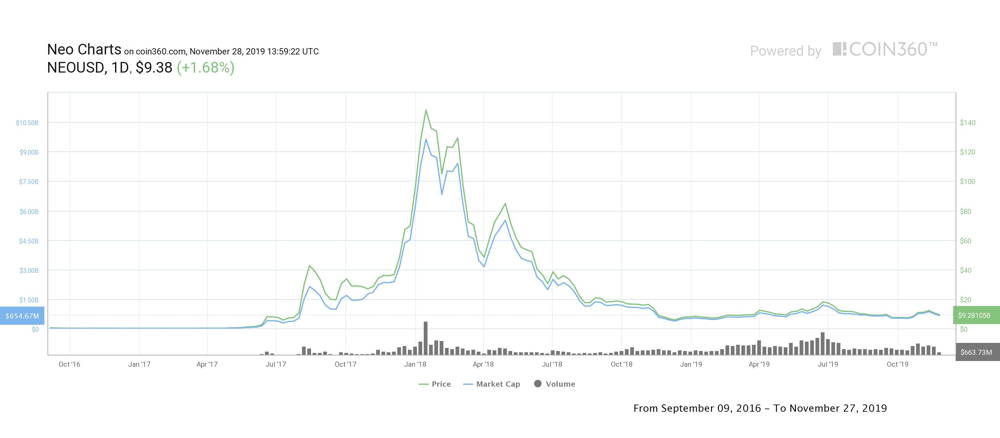 NEO was previously called Antshares so we will start our price analysis from the rebranding in 2017. When the company finished rebranding and became NEO the price of the coin increased from $1 to $7. The crypto community started actively buying NEO when it learned about the coin. In August the coin reached $40 and the market capitalisation of NEO was $2 bln.
For several months NEO was traded between $20 and $40; then in December 2017, it started growing rapidly, along with nearly all the other digital assets on the market. Beyond benefitting from the overall influx of buyers into the market at that time, the growth of NEO was boosted by it getting listed on Bithumb, the largest active crypto exchange at the time. As a result in mid-January, the coin reached its ATH – $196.
When the market turned bearish NEO started going down. In March 2018, the digital coin cost about $52 but it managed to return to $76 before falling back again to $40. April was the last month when NEO showed solid growth and reached $83. After that, the coin started gradually falling and by the end of 2018, NEO's rate was $7.
In April 2019 when Bitcoin started growing again, NEO jumped from $9 to $12. Besides, NEO upgraded their algorithm to improve transaction speed and stability of the network. However, the update didn't cause a significant effect on the market price of the coin. By the end of June the coin reached $20 and then dropped to its price of $8.
In September 2019, NEO presented three new products: NEO ONE Developer Framework, NeoFS Distributed File System and NEO Blockchain Toolkit. All these tools will be used in the new NEO 3.0. After the announce the price of the coin gradually grew to $10 and in November fell back to $8. For the next 7 months the price of coin has been fluctuating from $6 to $14.
NEO price prediction
NEO price prediction for 2020, 2022 and 2025 by WalletInvestor
WalletInvestor expects big results from NEO. In the next 5 years, NEO will go down to $0.8. Extremely bearish point of view, isn't it? Let's take a closer look. By the end of 2020, the coin will reach $1 but it will grow to about $20 in January to 2020. For several months, the coin will be fluctuating between $12 and $20 and in March NEO will return to its previous rate of about $1. For the next several years the coin will repeat such behavior and end up costing only $0.8 in the beginning of 2025.
NEO price prediction for 2020, 2022, 2023 by TradingBeasts
TradingBeasts has a positive outlook on the future of NEO. In August 2020, the expect NEO to grow up to $13 per coin and then fall to $10 in December. In January 2021, the rate will gradually grow from $11 to $16. In 2022, NEO may achieve $21 and by the end of 2023 – $25.
NEO price projection for 2020, 2021 and 2023 by LongForecast
According to LongForecast, 2020 will be an ok year for the coin and the rate will fluctuate between $7 and $8. Next year the price of NEO will go down to $5. In 2022 the cryptocurrency will go even lower, moving from $5 to $3 by the end of year. 2023 will be a year when NEO will gain its strength again and will grow back to $8 per coin.
NEO price prediction for 2020, 2022 and 2025 by DigitalCoinPrice
According to DigitalCoinPrice, the rate of NEO will hardly fluctuate over the years. Though the coin will reach $23 in 2025, there will be several strong dips.
In 2020 – $19
In 2021 – $24
In 2022 – $9
In 2023 – $7
In 2024 – $15
In 2025 – $32
Criticism of NEO
Despite NEO being a blockchain project, it lacks decentralization. The devs have direct access to transaction history and can quickly track any transaction. Developers control over 60% of all NEO blockchain nodes. Since the team plans to cooperate with government agencies in general and the Chinese government in particular, we can not talk about true decentralization here. The platform's lack of anonymity is another concern of the crypto community. According to the developers, the exchange of digital assets cannot be anonymous – all transactions must be open and transparent. So it was a conscious decision of the developers to design their platform in a centralized and transparent fashion.
What can affect the future price of NEO
Recently, NEO has announced plans to rebuild and launch a new version of their blockchain – NEO 3.0. The date of the final release is unknown and development will take 2-3 years. NEO 3.0 will have the following features:
dBFT 2.0: A consensus recovery mechanism that significantly increases the performance and stability of Delegated Byzantine Fault Tolerance (dBFT).
Internet resource Access: This feature will allow users to access Internet resources through smart contracts.
P2P protocol: the protocol has been redesigned to add UDP support.
Native contracts: a new type of smart contract that will run code directly instead of using the NEO virtual machine.
NeoFS: a new decentralized platform for data storage integrated with NEO
NeoID: a decentralized authentication protocol developed on the NEO blockchain. It allows users and organizations to directly control their data.
These updates can potentially attract more users and facilitate a price increase in the future. However, the project is aimed strongly at the Chinese market, which can deter some potential traders.
NEO on Freewallet
NEO is one of the currencies supported on our multi-currency platform – Freewallet: Crypto Wallet:
Manage NEO and 150+ other coins and tokens in a single wallet on iOS, Android or the web.
Seamlessly exchange cryptocurrencies right in the app.
Purchase BTC, LTC, ETH, XRP, BCH, BNB and XLM in your wallet.
Transfer your coins for free within the Freewallet eco-system.
Monitor the exchange rate with real-time price charts.
Protect your money with multi-level security with 2FA, multisig and transaction limits. The majority of coins are kept in cold storage. It guarantees that your funds won't be lost or stolen.
Feel free to sign-up with your Facebook, Gmail, email, or mobile number and try Freewallet.
Disclaimer: This article should not be considered financial advice and serves only as informative material. The cryptocurrency market is subject to high volatility and regulatory uncertainty. You should do a substantial amount of research before engaging in financial activities with cryptocurrencies.
---
---
Related
Stay tuned
By signing up for this email, you agree to our Terms of use and Privacy policy. We will send you promotional emails occasionally, but not often. We hate that, too.
Subscribe for weekly updates from our blog. Promise you will not get emails any more often.
Most Popular
Feb 17, 2021
---
Jan 13, 2021
---
Dec 9, 2020
---
Nov 18, 2020
---
Feb 4, 2020
---
New Posts
Sep 22, 2023
---
Aug 14, 2023
---
Aug 10, 2023
---
Jul 17, 2023
---
Jul 17, 2023
---
Stay tuned
By signing up for this email, you agree to our Terms of use and Privacy policy. We will send you promotional emails occasionally, but not often. We hate that, too.
Subscribe for weekly updates from our blog. Promise you will not get emails any more often.
Most Popular
Feb 17, 2021
---
Jan 13, 2021
---
Dec 9, 2020
---
Nov 18, 2020
---
Feb 4, 2020
---
New Posts
Sep 22, 2023
---
Aug 14, 2023
---
Aug 10, 2023
---
Jul 17, 2023
---
Jul 17, 2023
---