Please note that this article shouldn't be perceived as investment advice. Rather, it is information to be considered when you make your decisions.
EOS is often dubbed the Ethereum Killer, the "better, faster, stronger" version of Ethereum, and many analysts have foreseen it taking a leading position among DApp platforms. To some extent this is true but it is not so cut and dry. What can we expect from EOS in the future and what problems does the platform face today – read all about it in our EOS price prediction for 2020 – 2025.
What is EOS
The EOS platform was created in the summer of 2017 by Block.one and lead developer Daniel Larimer, who previously worked on Bit Shares and Steemit.
The main idea of the developers is to create a decentralized platform with high bandwidth, smart contract functionality and miniscule commissions. In fact, Block.one decided to make a new version of Ethereum, only faster and cheaper. It is not surprising that some people call it Ethereum On Steroids.
EOS value for the industry
EOS started as an ERC20 token on Ethereum, but it was a temporary solution and soon in 2018 the token moved to the mainnet EOSIO. EOSIO is designed as a platform for the real-world application of blockchain technologies and cryptocurrencies. It incorporates blockchain architecture that is designed to enable the vertical and horizontal scaling of dApps. EOS coin is a native coin that, in turn, powers the blockchain protocol.
The main features that distinguish EOS from other projects are:
Fast Transactions – thanks to parallel processing technology, EOS can perform transfers in a few seconds. Currently, EOS tps is over 3000, while the Ethereum network can perform only 15 tps. The creation of Dan Larimer competes with classic payment processors like VISA and MasterCard.
Fee-free Transactions – the killer feature of EOS is that it has absolutely no fees for transactions. How is that possible? To conduct operations in the EOS blockchain you should buy resources called RAM, CPU and NET or deposit $2-$20 for account registration. By the way, Freewallet lets you get account absolutely free of charge.
Unique DPoS Algorithm – it is an evolved version of PoS; cheaper and faster and it does not require a lot of computing power. The algorithm engages only a limited number of users in block generation and the validation of transactions. From 121 candidates only 21 become validators. They are chosen by the EOS community which stake their coins for candidates. The higher the stake – the more votes a candidate receives.
Self-sufficient Reward – EOS is designed to be self-sufficient and evolutionary. The current inflation rate every year is 5%, which will, in turn, be used in paying miners for validating transactions and for the further development of the network.
EOS price history analysis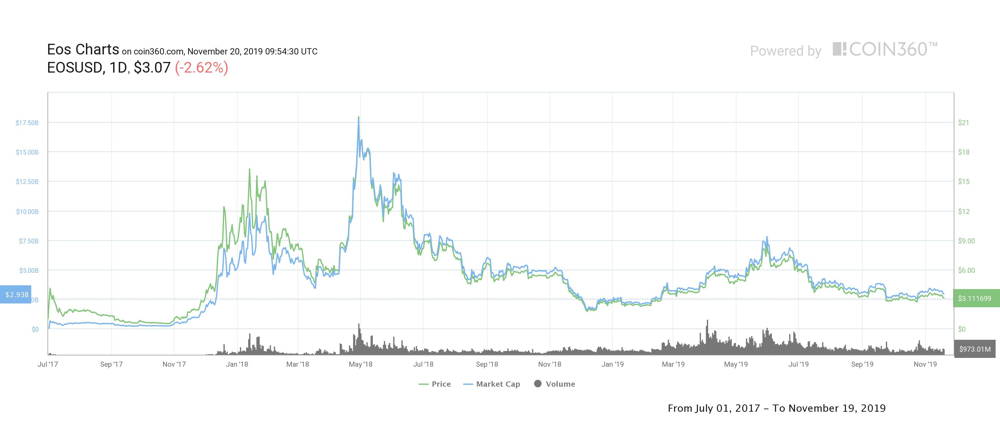 EOS entered the market in July 2017 and cost about $1. The coin was very popular because it raised a lot of money during its ICO stage. This success attracted a lot of attention from traders who started buying the coin at the beginning of the month. Thus, EOS price escalated to $5 and dropped back to $1 within a few days.
September-October was a negative time for EOS; in these months the coin dropped to $0.5 but in November it started growing, which started a bullish trend. The trend was also supported by Bitcoin growth and the budding overall interest in cryptocurrencies. As a result, EOS rate reached $15-$16 in January 2018. But the coin couldn't resist the bear trend and followed the market, dropping to $4 in March.
Another uptrend materialized in April 2018, when the market followed Bitcoin price and EOS surged to $21 by the end of the month. However, the market turned bearish and the price of the coin started gradually going down. At the beginning of July, EOS released their mainnet and left the Ethereum blockchain. It has pumped the coin back to $14 but the positive sentiment didn't last and EOS dropped to $4-$5 in August.
The rate of EOS treaded water for about 3 months and then dropped to $2 before it started growing in February 2019. In May EOS reached $7. Today the coin costs about $3 and seems to be entering another ascending period.
As you can probably see, the main force that moves the EOS price is more often than not the general state of the market. When all altcoins fall EOS starts falling too. The releases and product updates sometimes can push the price higher, attracting more attention from the crypto community, but it cannot break the trend of the whole market.
EOS price prediction
EOS price prediction for 2020 – 2025 by WalletInvestor
Here's a negative 5 year price forecast: by the end of 2020 EOS will cost about $0.1. In 2021 the coin will start at $0.1 and fall from there till December to $0.7. In January 2022 it will jump back to $0.1. According to WI, the price movement of EOS will be the same for the next 2 years. Only in 2024, the cryptocurrency will reach $0.5 and continue growing in 2025. As a result, EOS will return back to $1 in 2025.
EOS price prediction for 2020, 2021, 2022, 2023 by TradingBeasts
TradingBeasts has a positive price forecast. In July 2020, the price of EOS will be about $3.3. In December 2020, the cryptocurrency will gradually fall from to $2.2. The following year the growth will continue and it will be more than $3. 2022 will be a good year for EOS as well and it will reach $4.4. In 2023, EOS is expected to grow to $5.
EOS price forecast for 2020 – 2025 by DigitalCoinPrice
The following price prediction is way too positive and probably idealistic, as the rate of EOS will grow exponentially here. Already this year, EOS will cost $6 and in 2025 will be 2.5 times higher and cost 15$:
In 2020 – $4.37
In 2021 – $5.91
In 2022 – $6.97
In 2023 – $8.48
In 2024 – $9.62
In 2025 – $10.51
What affects the future price of EOS
Analysts have offered completely contradictory thoughts on the future price of EOS. Some strongly believe that you should HODL as Daniel Larmier's creation will go up in price, while others think that it has no future and you'd better sell these assets.
On the one hand, EOSIO is a great platform for DApp development with impressive network features. It offers one of the fastest blockchains on the market and the mainnet is almost free of charge. Besides, Block.One is planning to launch a new project based on the EOS platform – a social network called Voice.
On the other hand, the platform is often accused of being too centralized. Daniel Larimer even proposed a new way of verifying block producers via staking. Larimer wants the right to vote to only apply to tokens blocked in long-term stake contracts. The income from it should compensate for the loss of liquidity and be proportional to the duration of token blocking. To this end, Larimer considers it appropriate to introduce a system of market interest rates similar to US Treasury securities.
Additionally, there have been some recent developments that have begged questions of EOS's security. A hacker managed to steal 30000 EOS (worth $110000) in the EOSPlay DApp thanks to a bug in 2019. The previous year hackers stole 400000 EOS by attacking DApps like FFgame and EOSDice.
The future price of EOS is not clear – despite a solid technological basis it has its fair share of concerns moving forward. These concerns are reflected in the price forecasts which are all over the spectrum from doom and gloom to decidedly optimistic.
Store EOS on Freewallet
You can store and manage EOS on Freewallet: Crypto Wallet using a mobile phone on iOS or Android or via the web application.
Store EOS with 150+ other coins in one wallet.
Exchange coins right in the application.
Make fee-free transactions with other Freewallet users.
Track the crypto market in your wallet so you don't miss it when EOS has its best price action.
Protect your money with advanced security protection including 2FA, multisig, and transaction limits. The majority of assets are kept in cold storage. It guarantees that your coins won't be lost or stolen.
Feel free to sign-up with your Facebook, Gmail, email, or mobile number and try Freewallet.
Disclaimer: This article should not be considered financial advice and serves only as informative material. The cryptocurrency market is subject to high volatility and regulatory uncertainty. You should do a substantial amount of research before engaging in financial activities with cryptocurrencies.
---
---
Related
Stay tuned
By signing up for this email, you agree to our Terms of use and Privacy policy. We will send you promotional emails occasionally, but not often. We hate that, too.
Subscribe for weekly updates from our blog. Promise you will not get emails any more often.
Most Popular
Feb 17, 2021
---
Jan 13, 2021
---
Dec 9, 2020
---
Nov 18, 2020
---
Feb 4, 2020
---
New Posts
Dec 6, 2023
---
Nov 30, 2023
---
Nov 29, 2023
---
Nov 13, 2023
---
Nov 9, 2023
---
Stay tuned
By signing up for this email, you agree to our Terms of use and Privacy policy. We will send you promotional emails occasionally, but not often. We hate that, too.
Subscribe for weekly updates from our blog. Promise you will not get emails any more often.
Most Popular
Feb 17, 2021
---
Jan 13, 2021
---
Dec 9, 2020
---
Nov 18, 2020
---
Feb 4, 2020
---
New Posts
Dec 6, 2023
---
Nov 30, 2023
---
Nov 29, 2023
---
Nov 13, 2023
---
Nov 9, 2023
---