The second-largest cryptocurrency, Ethereum, is almost as popular among crypto fans as the main digital currency, Bitcoin. It's no surprise because Ethereum is not only a payment method but also a software platform. It works as the universal foundation for building dApps. In this review, we'll describe the history and major aspects concerning the Ethereum platform and focus on how to store its native currency, Ether, safely.
Introduction
Ethereum broke out the market and went live as the network in the early crypto era, between 2013 and 2015 years. By all accounts, Ethereumis the most actively used blockchain in the world. The Ethereum code was written by a young programmer Vitalik Buterin along with other developers, including but not limited to Joseph Lubin, Gavin Wood, Anthony Di Iorio, Charles Hoskinson.
This open-source and decentralized blockchain functions as a native token of the Ethereum platform. Ethereum is more than digital money, it's a friendly service for developers. Thanks to this development, cryptocurrency and smart contracts can be handled without any third party. Universal facilities and the popularity of the blockchain platform make it one of the gateways to De-Fi. The Ethereum platform offers a diverse range of use cases facilitating the work of many merchants and developers across industries, making it highly popular among app and Ethereum token creators. The decentralized applications built on the basis of Ethereum serve as finance, gaming, digital art platforms and so on.
What is Ethereum
Ethereum was initiated by Vitalik Buterin with the idea that this blockchain network is able to do far more than just serve as a store of value. Of course, one can trade and invest in an associated cryptocurrency of this platform, Ether. But generally, the entire platform can be thought of as a universal constructor. This became possible due to the functionality of smart contracts. The contracts run on their own algorithm and perform the function of the third part, implementing the stipulated conditions. For example, one can borrow money from someone without having to contact any agency, including a bank.
The universal code underlying the Ethereum platform allows for the creation of new cryptocurrencies on top of it from scratch. This is how XRP or Chainlink currencies were built. The other crypto project also originated from this source: Uniswap, Tether, USD Coin. The new phenomenon of the crypto market — NFTs — followed the same path and was created on the basis of Ethereum.
In 2021, the network started the process of transition to a Proof of stake system which is implemented in several stages. We've covered the challenges and milestones of this transition on our blog before.

How to store Ethereum safely?
Freewallet offers online and mobile options to store, buy and trade with Ethereum. You are welcome to download and install a mono-currency Ethereum application to explore its functionality on Android and iOS. For the most comprehensive user experience, you can try Ethereum as part of the multi-coin app or Web Wallet.
Can I transfer ERC-20 tokens in the Freewallet Ethereum app?
Although an Ethereum address is technically compatible with the ERC-20 token addresses, our single-currency ETH app does not serve transactions with tokens. To operate with ERC-20 tokens, you are encouraged to work with our Multi-coin app or web wallet. Mind that Freewallet supports a selected range of tokens and if a token is not on the list, your payment won't be reflected.
Therefore, Freewallet Ethereum apps are best for dealing with the native cryptocurrency of the Ethereum project, Ether. You are not charged a subscription or installation fee. Our app is light and does not require you to download the blockchain or handle nodes in order to operate it. You just sign in to it and go with your actions in an intuitive smooth manner.
Can I buy Ethereum with fiat currency?

Sure, you can! Buy Ethereeum with MasterCard/Visa and switch between the two providers available in our system: MoonPay and Simplex. The purchase is instantaneous. The final amount that you see already includes the purchase fee.
Buy Ethereum with USD, EUR, RUB, MYR, KRW, NZD, CNY, TRY, HKD, GBP, IDR, TWD, and many other fiat currencies! To learn if the purchase is allowed in the country of your residence, please check the information page.
For the best user experience, please be advised to use our universal multi-coin Crypto App or Web Wallet.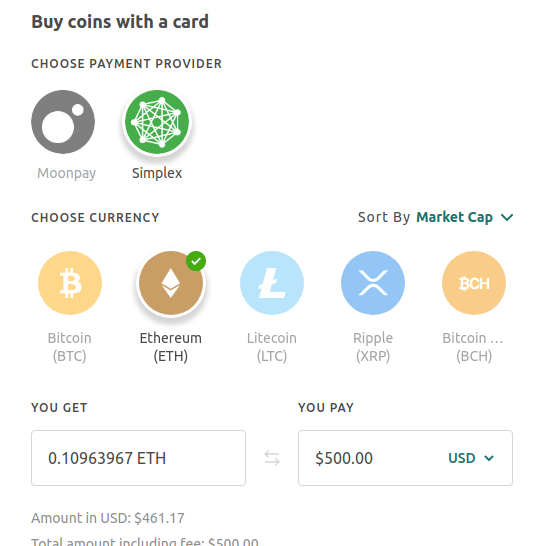 Can I exchange Ethereum, using Freewallet?

You can convert Ethereum coins to altcoins, Bitcoins, and ERC-20 tokens. The reverse transaction also can be done: buy Ethereum with cryptocurrency, using our in-built exchange. The range of currencies available for exchange is vast. You can exchange Ethereum for the following coins and ERC-20 tokens:

AAVE, BAT, BCH, BNB, BUSD, BTC, CHZ, DOGE, ENJ, GLM, LINK, LTC, MATIC, NEO, OMG, SHIB, TRX, UNI, XEM, XLM, XYO.
Of course, these are just examples and the entire list of available counterparts is vast.

Exchange Ethereum in the Multi-coin app:

Enter the app or its desktop version, hit "Exchange and choose the incoming and final currencies. Confirm all details of the transaction and make sure to double-check the estimated output of your planned transaction. Click to proceed. You'll see the result of a transaction almost momentarily!

Exchange Ethereum in a single-currency Ethereum app
To receive Ethereum in exchange for another currency in our app, just choose Ethereum as a top-up currency and proceed with filling in the details of your transaction. If you'd like to convert the existing Ethereum balance for another currency, just hit "Send" and insert the deposit address for your exchange.


Can I exchange Ethereum for ERC-20 tokens and vice-versa?
This transaction can be done with our Crypto App or web wallet! Make sure to use an "Exchange" option for that.
Is there a minimum amount to exchange Ethereum in Freewallet?
This amount depends on the current gas fee charged for Ethereum transactions. This fee varies depending on the current market and network conditions. Feel free to check the estimated cost of your exchange in the "Exchange" section of your app. This works if you keep some balance in your app. You can see the total amount without an actual sending of your transaction.
Can I send my tokens to the Ethereum address?
It's always recommended to send tokens to the address that was particularly generated for the relevant token. Therefore, it's not advisable to send tokens to your regular Ethereum address. Please have your token address generated via the buttons "Receive" – "Add currencies".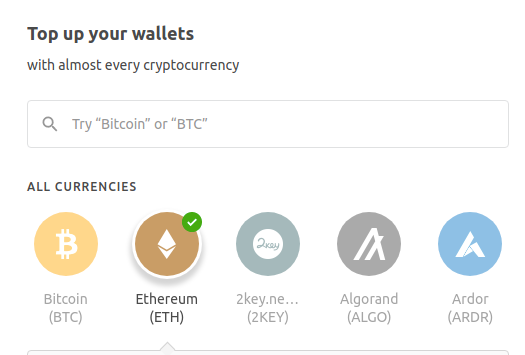 Buy gifts with Ethereum

In the heat of Christmas and New Year, you may have a hard time with gift ideas and planning. Freewallet has an excellent solution for crypto holders: gift cards. These are gifts from 1500+ global brands, including online and offline stores. Enjoy a diverse choice of products and goods in multiple categories, such as software, online games, mobile stores, home design, furniture, clothes and fashion, electronics, and many other things!
When choosing a gift card, be sure to check its Use Terms so that you could spend it in the country of your residence.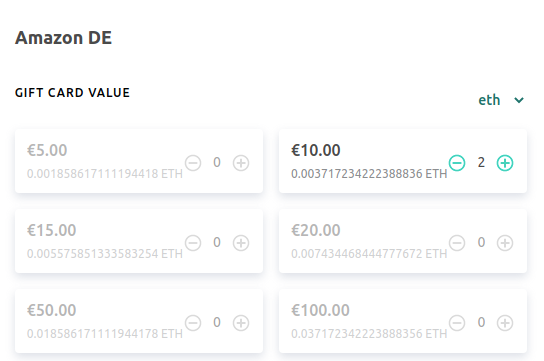 Ready to make a purchase? Click the "Buy Gift card" banner in our app. Next to it, you will be suggested to make a country choice. Browse categories and goods available. Notice a cute price range: your gift option can start with a few dollars for symbolic presents and continue with solid options further along the line.
The amount of each card is represented in fiat currency. At the same time, this amount is going to be redeemed with your Ethereum balance. Attention! The transaction does not take an extra validation by email and, therefore, the payment will be done instantly. The card's details will be automatically forwarded to your email after the purchase.

Can I stake or mine Ethereum in Freewallet?
These options are not represented in our app at this moment. You can use your Ethereum deposit address in Freewallet to accrue the profit mined with another service.
Read more about Ethereum:

Ethereum is on the way to the new consensus mechanism
Ethereum Classic in Freewallet
---
---
Related
Stay tuned
By signing up for this email, you agree to our Terms of use and Privacy policy. We will send you promotional emails occasionally, but not often. We hate that, too.
Subscribe for weekly updates from our blog. Promise you will not get emails any more often.
Most Popular
Feb 17, 2021
---
Jan 13, 2021
---
Dec 9, 2020
---
Nov 18, 2020
---
Feb 4, 2020
---
New Posts
Sep 22, 2023
---
Aug 14, 2023
---
Aug 10, 2023
---
Jul 17, 2023
---
Jul 17, 2023
---
Stay tuned
By signing up for this email, you agree to our Terms of use and Privacy policy. We will send you promotional emails occasionally, but not often. We hate that, too.
Subscribe for weekly updates from our blog. Promise you will not get emails any more often.
Most Popular
Feb 17, 2021
---
Jan 13, 2021
---
Dec 9, 2020
---
Nov 18, 2020
---
Feb 4, 2020
---
New Posts
Sep 22, 2023
---
Aug 14, 2023
---
Aug 10, 2023
---
Jul 17, 2023
---
Jul 17, 2023
---