The article doesn't present investment advice. Please be sure to do your own research before you invest real money.
The Stellar Lumens project was developed in 2014 at a time when many in the industry were criticizing Ripple. Critics blamed Ripple developers for the platform's centralized approach to development. As a result, the idea to fork off of the project with a new platform, sharing the same principles but with an emphasis on decentralization appeared.
Developer Jed McCaleb created a fork of Ripple and called it Stellar, and in 2015 rebuilt the platform and changed the blockchain. How is the main ideological rival of XRP performing today? Learn in our XLM price prediction for 2020 – 2025.
What is Stellar and Lumens
The main idea of the Stellar platform is the free conversion and exchange of national and digital money. It aims to offer fast, cheap and secure cross-border transactions around the world. Today more than 2 bln people don't have access to banking services, money transfers, etc. The network is built upon a native cryptocurrency called XLM, or Lumens, which facilitates all cross-currency transactions.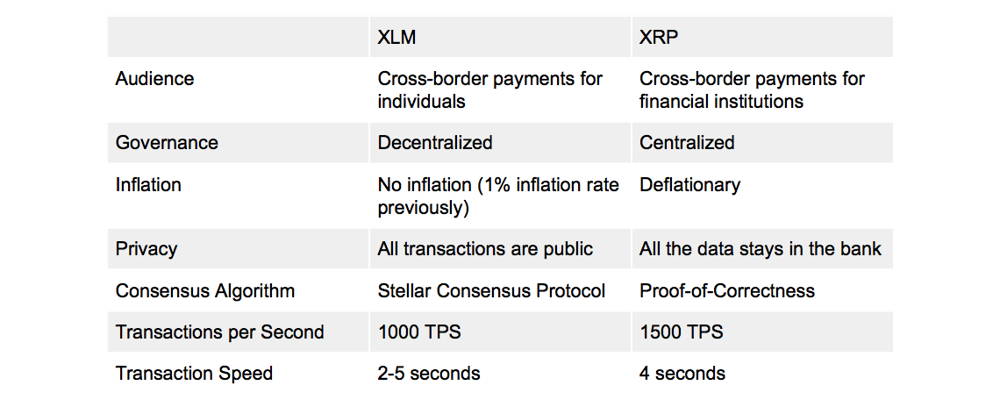 The main features and selling points of Lumens:
high capacity (up to 1000 transactions per second) and good network scalability;
almost instant confirmation for operations – the average time is less than 5 seconds;
minimal fees for transactions – 0.0001 XLM;
both cryptocurrency and fiat transactions can be performed on the same platform;
To combat commercial interests the team has created the Stellar Development Foundation, from which the owners don't get any profit. It was founded to support the growth and development of the open-source Stellar Network.
Stellar blockchain value for the industry
The Stellar blockchain is based on open source code with information about money exchange operations. The nodes which execute the protocol form a single decentralized network which shares the information publicly.
Each individual node maintains its own identical copy of the blockchain and its opened accounts. Any network node can declare the need to make changes to the accounts database in order to change the properties of certain accounts.
To make changes, all nodes of the network must come to some agreement, a so-called "consensus," which makes the changes valid. The consensus algorithm is triggered at intervals of three to five seconds. The modified copy of the blockchain is stored on the server of each node in an identical form. Disabling one or more nodes does not affect the performance of the entire ecosystem.
Lumens (XLM) price history
Despite the fact that XLM was created back in 2014, it only appeared on cryptocurrency exchanges 3 years later. The first platform that listed Lumens was the Poloniex exchange.
In the winter of 2017, the price of the token was about 0.002 dollars, but in spring it underwent significant growth, rising to $0.05 in April-May. XLM managed to achieve this price despite Poloniex going offline for several hours due to a hacking attack.
By the end of the summer, Lumens dropped in price to $0.01-0.02 per coin and remained within that price range for several months. But in the fall news broke that the world-famous IT company IBM was planning to use Stellar technology to create a global transaction system. In addition, Stellar was added to three more top cryptocurrency exchanges (Binance, Bittrex and Kraken). This immediately brought about an influx of capital into the currency and the price went up. In October-November 1 XLM cost about $ 0.04.
December 2017 was a time in which the whole cryptocurrency market experienced a big boost in price. In accordance with the trend, XLM reached $0.27 in mid-December and then skyrocketed to $0.93 within a few days.
In January 2018, the entire cryptocurrency market nearly collapsed and many experienced drastic dives in value. But Stellar did its best to resist the market trend and successfully pumped its price several times. However, by year end Stellar succumbed to the bearish market conditions, notching a December 2018 price of $0.1.
Thus far in 2019, Stellar Lumens has continued a downward trajectory, showing price jumps here and there in plays off of Bitcoin price movement. In what is perhaps a good omen for the currency, today the daily trading volume of XLM is almost the same as it was during its ATH.
Stellar's XLM Price Prediction
XLM price prediction for 2020 & 2025 by WalletInvestor
WalletInvestor is giving a bearish forecast for Stellar Lumens. In December 2020, the coin will be about $0.05. The next year XLM will start at $0.05 and will gradually decrease to $0.002 by the end of 2021. During 2022, the price of Lumens will remain on the same price point and in 2023 it will drop to $0.01. For the next two years, XLM will be traded in a price range of $0.007-0.01.
Stellar price prediction for 2020, 2021, 2022, 2023 by TradingBeasts
According to TradingBeasts, Stellar will cost $0.05 this year and will grow to $0.08 this price until 2021. In the beginning of 2022, XLM will climb at $0.09 and reach $0.10 by the end of 2023.
Stellar Lumens price prediction for 2020 & 2025 by DigitalCoinPrice
DigitalCoinPrice has a very positive outlook on the future price of XLM:
In 2020 – $0.07
In 2021 – $0.09
In 2022 – $0.12
In 2023 – $0.14
In 2024 – $0.17
In 2025 – $0.18
XLM price forecast for 2020, 2021, 2022, 2023 by LongForecast
The LongForecast has a measured outlook and doesn't expect XLM to significantly rise in price. At the end of 2020, the coin will be about $0.06. The next year the price will start at a slightly lower point – $0.05. In March, it will start descending and will reach $0.028 in December. 2022 will be a bit of an unstable year for XLM and it will be traded between $0.016 and $0.026. In 2023 they expect Stellar Lumens to start growing. It will start at $0.022 and will finish at $0.054 in December 2023. In 2024 the price will continue rising and will achieve $0.078 in June.
What can influence the future price of Lumens
The main purpose of Lumens is to be an intermediate exchange currency within the Stellar platform. So, to understand its potential, we have to consider the potential of the platform itself. The possible price growth of XLM can be determined by several factors:
Partnerships – The project collaborates with many non-profit funds related to cryptocurrency platforms and blockchain projects. In different countries all over the world companies use the Stellar platform to provide access to users from developing countries.
IBM collaboration – IBM has launched a World-Wire on the Stellar network – a global payment system for 47 currencies and 72 countries. It has already locked in 6 banks that will issue stablecoins and use the Stellar blockchain. Such a successful case with a tech giant can attract more potential partnerships and collaborations in the future.
A limited number of coins – In October 2019, Stellar has updated their protocol and eliminated the inflation mechanism, which didn't satisfy their expectations. A limited number of coins in circulation will stimulate the demand for the digital currency, which may lead to price growth.
Bitcoin movements – like many other altcoins, Stellar Lumens is dependent on the Bitcoin price and the general trends of the cryptocurrency market. So, we recommend you follow the price of the original cryptocurrency to stay keyed into the bigger picture.
Store Stellar Lumens on Freewallet
If you are looking for a place to store your XLM, try Freewallet Crypto Wallet:
Store XLM and 150+ other cryptocurrencies in one place. Available on iOS, Android and the web.
Buy BTC, ETH, LTC, XRP, BCH, TRX and BNB with your credit card.
Seamlessly exchange Lumens with other cryptocurrencies right in the wallet.
Make free transactions with other Freewallet users.
Monitor the price of a coin in the wallet and see your balance in fiat currencies. You will be kept in the loop regarding all exchange rate movements.
Protect your cryptocurrency with high-grade security features, including 2FA, multisig and transaction limits. The majority of assets are kept in cold storage. It guarantees that your coins won't get lost or stolen.
Feel free to sign-up with your Facebook, Gmail, email, or mobile number and try Freewallet.
Disclaimer: This article should not be considered financial advice and serves only as informative material. The cryptocurrency market is subject to high volatility and regulatory uncertainty. You should do a substantial amount of research before engaging in financial activities with cryptocurrencies.
---
---
Related
Stay tuned
By signing up for this email, you agree to our Terms of use and Privacy policy. We will send you promotional emails occasionally, but not often. We hate that, too.
Subscribe for weekly updates from our blog. Promise you will not get emails any more often.
Most Popular
Feb 17, 2021
---
Jan 13, 2021
---
Dec 9, 2020
---
Nov 18, 2020
---
Feb 4, 2020
---
New Posts
Dec 6, 2023
---
Nov 30, 2023
---
Nov 29, 2023
---
Nov 13, 2023
---
Nov 9, 2023
---
Stay tuned
By signing up for this email, you agree to our Terms of use and Privacy policy. We will send you promotional emails occasionally, but not often. We hate that, too.
Subscribe for weekly updates from our blog. Promise you will not get emails any more often.
Most Popular
Feb 17, 2021
---
Jan 13, 2021
---
Dec 9, 2020
---
Nov 18, 2020
---
Feb 4, 2020
---
New Posts
Dec 6, 2023
---
Nov 30, 2023
---
Nov 29, 2023
---
Nov 13, 2023
---
Nov 9, 2023
---