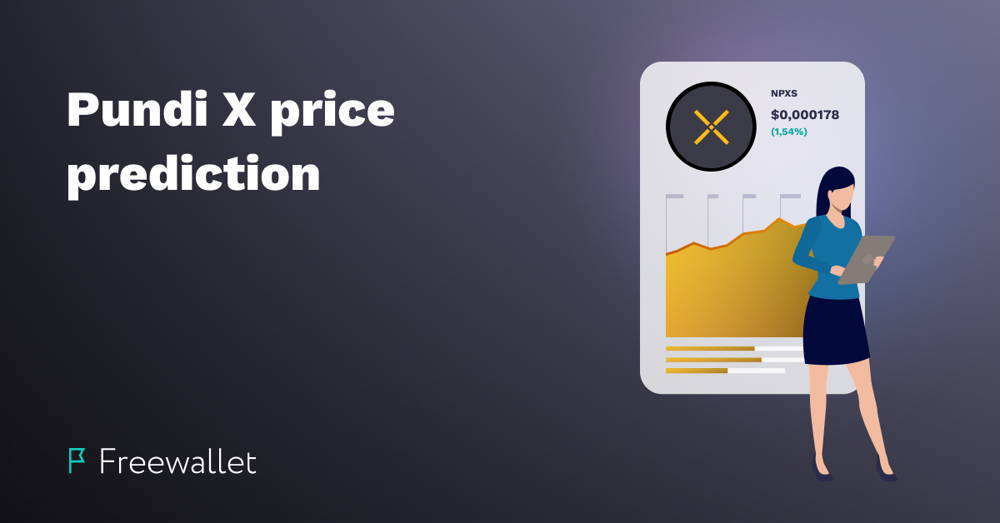 Imagine you can pay for goods in your local store with cryptocurrency. You just need to make a few clicks on your phone. Sounds awesome. This is exactly what you can do with Pundi X. Read about the prospects of the project and its possible future price in our Pundi X price prediction.
What is Pundi X
Today, Pundi X is the biggest platform with decentralized management principles designed for the offline-sale of digital currency. The project offers several solutions for selling cryptocurrency in offline and online modes. For this, they created a whole infrastructure which consists of several elements: 
A public blockchain (currently it is working on Ethereum and NEM, but later it will move to its mainnet Function X)
XWallet mobile app - for money storage and transfers
XPASS card for fast online and offline payments
XPOS payment terminal for receiving payments at retail;
NPXS utility token to cover fees.
The team wants to enable every cryptocurrency hodler to go shopping and buy everything they want with their digital money. The Pundi X team plans to begin distributing its POS devices in Southeast Asia, particularly Indonesia. The company is focused on this region where over 73% of people do not have a bank account.
What will determine the future price of Pundi X 
Today, already 5000 terminals have been installed in retail stores which accept payments with QR code. A minimum of 100,000 units will be installed by February 2021. One of the most prominent partnerships for the company is its collaboration with the largest retail-chain in Venezuela – Traki.

Also, they are planning to enter the United Emirates market. Recently, the UE has given Pundi a registration certificate for communication systems, essential for the full implementation of POS by Pundi X.

The first city to implement XPOS will be Dubai. It will cover several spheres including retail, consumer services, banking and finance. This, in turn, will let people pay for public services, school education and other daily needs with modern equipment. Thus, this will help to integrate XPOS in the UE, the Middle East and North Africa.

Additionally, the token is widespread on cryptocurrency exchanges including top platforms like Binance, Huobi, Bithumb, etc. They provide valuable liquidity for the token.

However, the coin is stagnating because it is a utility token which has inherent value only on its own platform. Also, it has suffered from its developers' focus on the markets of Indonesia, the UE, and Singapore rather than operating on a global scale. 
Pundi X price analysis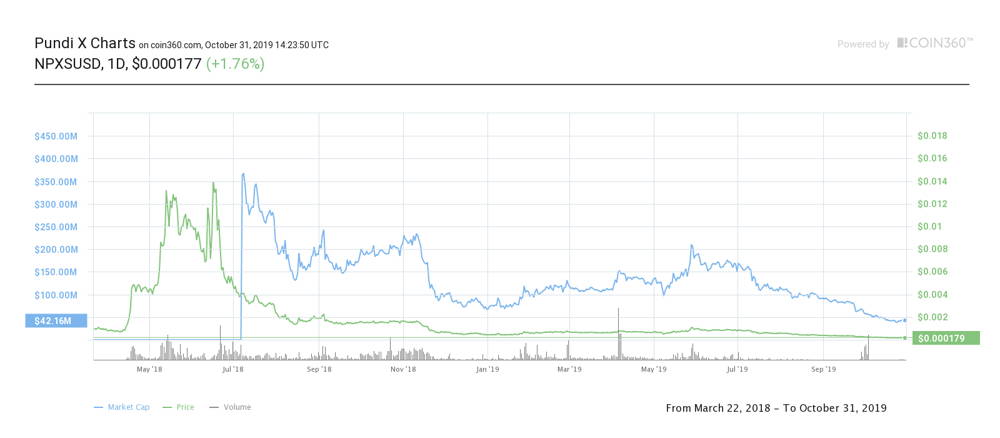 In March 2018, when Pundi first entered the market, it only cost $0.001. But in May, just a few days after a listing on Binance, the price surged to 0.012 USD. The market capitalisation was $360 mln. At that time. The coin appeared on the exchange thanks to the active support of its community, which voted for the listing, resulting in Binance supporting the coin for free.

This all-time-high didn't last long and in summer the Pundi X started falling. The downtrend still remains relevant today. In Autumn 2018, the price of the coin was $0.001 and capitalisation down to $140 mln. In December, the exchange rate dropped to $0.005 with an $83 mln market capitalisation. A small growth occured only in February 2019. The coin grew to $0.007 and the capitalisation surpassed $100 mln. for the first time in a while.

At the end of May, Pundi X had another price pump and jumped to $0.0011 per coin and a market cap of $200 mln. Today the coin is experiencing a strong downtrend. The price has dropped significantly and Pundi X is currently traded for $0.00018 which is lower than where it started. And capitalisation is just $50 mln.
Pundi X price predictions
Pundi X price predictions for 2019, 2020, 2021, 2022 by TradingBeasts
According to TradingBeasts, Pundi X will gradually grow over time and by the end of 2019, the coin will reach $0.00044. In August 2020, we can expect the coin to be about $0.00063 and $0.00070 in December 2020. In 2021, the coin will continue to grow and will be traded for $0.00071- 0.0008516. The predicted price for 2022 is $0.0009.
Pundi X price prediction for 2019, 2020, 2025 by DigitalCoinPrice
DigitalCoinPrice has a really positive price forecast. By the end of 2019 they predict the price will reach $0.000258. Later in 2020, Pundi X will achieve $0.000372. The coin will grow during the next 3 years and in 2023 it will cost $0.000649. In 2025 the rate of the cryptocurrency will drop to $0.000417.
Pundi X price prediction for 2019, 2020, 2024 by WalletInvestor
WalletInvestor gives Pundi X a bearish price prediction. At the end of 2019, the coin will be traded for $0.000019, but it claims the project is a bad long term asset and within a year it will drop to $0.000016. In 2021 and 2022, the crypto coin will be traded between $0.000015-0.000010, but by the end of 2022, it will jump to $0.000020. The next year it will grow to $0.00004 but end up costing $0.000028. In 2024, we can expect the exchange rate on the coin to fluctuate between $0.000027 and $0.000020.
Final thoughts
Today the coin is traded at a price even lower than it was when it launched. The results are very poor however its ambitions and achievements in business development are giving hope that the coin can revive itself.

The team is already working with Stellar, Qtum and NEM. They also have pots on the burner with BitCapital and have arranged joint XPOS shipments to South America. The team is already active in several markets. 5500 XPOS are up and running in 25 counties and 7,000 more terminals are coming soon. Currently, their user-base is over 300,000 people. So if things do tend positive, some of these price predictions may come true.
Store NPXS on Freewallet
You can store NPXS on Freewallet: Crypto Wallet on your Android device or desktop via the web app.
Manage NPXS and 150+ other cryptocurrencies in one place.
Seamlessly exchange coins with other cryptocurrencies right in the wallet.
Make free transfers with other Freewallet users.
Monitor the exchange rate of digital currencies in the wallet
Protect your money with advanced security protection including 2FA, multisig, and transaction limits. The majority of assets are kept in cold storage, ensuring that your coins won't be lost or stolen.
Feel free to sign-up with your Facebook, Gmail, email, or mobile number and try Freewallet.

Disclaimer: This article should not be considered financial advice and serves only as informative material. The cryptocurrency market is subject to high volatility and regulatory uncertainty. You should do a substantial amount of research before engaging in financial activities with cryptocurrencies.