Dear Freewallet users and readers of our blog,
Let us wish you a very happy New Year and joyful holidays all of you!
This year was remarkable for crypto and blockchain trends. Bitcoin price saw record achievements and general interest in crypto was heated by the enthusiasm of tech luminaries such as Elon Musk. Cryptocurrency talk became one of the central themes on Reddit. Meme-based cryptocurrencies made headlines. The De-Fi solutions are in high demand. We hope that the positive crypto momentum will extend for 2022.
Our roundup below summarizes the 2021 year for crypto & blockchain and Freewallet in particular. Let's walk through the memories of 2021 and remember the biggest stories of each month together!
January
In January 2021, Freewallet partnered with MoonPay, one of the leading crypto payment providers. Now there are several dozens of cryptocurrencies and ERC-20 tokens offered for purchase with a bank card via MoonPay in Freewallet. More than 30 local fiat currencies are available for purchase. More of them are coming!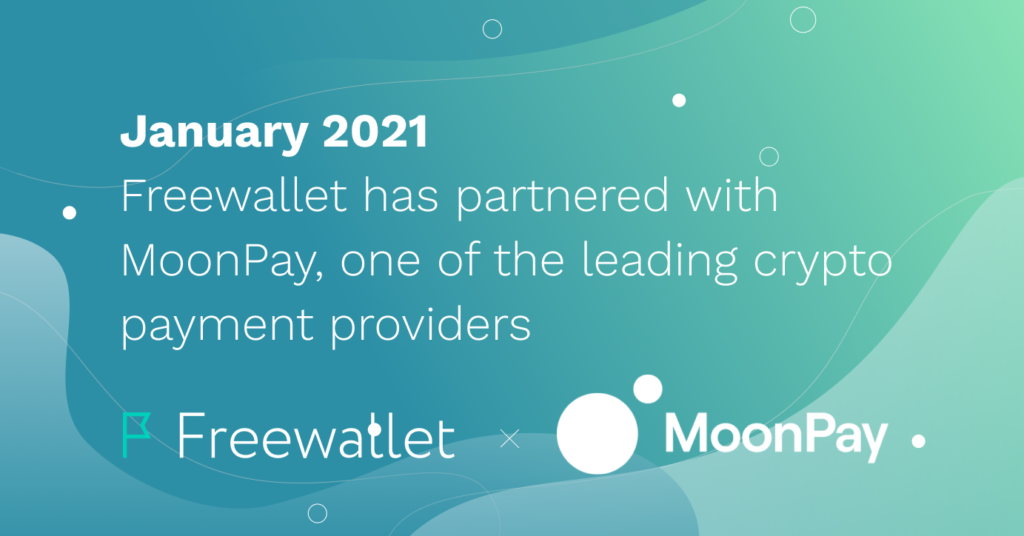 February 
The end of January was celebrated by the huge success of Dogecoin! This incredible performance drove the price up by 800% in just a few days. Since that, Doge slumped but never returned to its hundredths. Massive support of DOGE in social media was the main factor in its success story.

March

Although March 2021 was not specifically the time when NFT gained prominence, we've included Non-Fungible Tokens in our review. This is a growing market where digital art and blockchain technologies cross their paths. NFT sales reached millions of dollars. Growth is recorded for all NFT-related deals, be fine art, sports, fashion, or games.
April
Freewallet did a giveaway campaign with real prizes in April. This April event is just to let you know about regular giveaways and pleasant campaigns for users. For example, right now we are giving away $500, $300, and $200 + 6 other prizes for … your usual daily transactions!
May
In that month and a little later on, Freewallet integrated two new blockchains: XDC and TON.
June
It was the month when Bitcoin became legal tender in El Salvador. The article on our blog is telling more about all aspects of this decision. Thanks to this status, BTC is now accepted as payment for goods, services, and taxes in this country. El Salvador's President Nayib Bukele continues his efforts on the way to making the country under his rule one of the most bitcoin-friendly places in the world. His other initiatives include a volcano-powered crypto city, a bonus for the sign-up in a state registration app, massive purchase of bitcoins and we are sure this is not the end.

July 2021
This month was chosen by us to show how responsive markets are towards the public statements of influential people like Elon Musk. When in July 2021 he made it clear that Bitcoin holdings are his largest outside SpaceX and Tesla, the Bitcoin price jumped to $32.000. It was a 7% growth reached within one July day amid a protracted pullback of the Bitcoin price.


August 2021

Time to talk about the second largest cryptocurrency! Freewallet has supported the Ethereum London fork
Of course, August was not the only remarkable month for the Ethereum project throughout this year. Each particular month was about Ethereum because its developers are preparing a long-awaited overhaul in a step-by-step manner. Under a new consensus mechanism, Ethereum is expected to work as a faster, cheaper, and more energy-saving blockchain. Meanwhile, Ethereum's native currency, Ether, had walked its way from just a little above $1000 to more than $4000 in less than 12 months. Though it at times retreats from the mark of $4000, an overall Ethereum's success in 2021 is very impressive.

September 2021
The world sees different approaches to crypto regulation. We know that India and Turkey have commissioned their parliaments to discuss tough policies regarding crypto as payment methods. But these steps cannot be compared to China's ban action.
October 2021

Of course, our tour through the 2021 year would not be full without the Shiba Inu coin. SHIB put itself among the top cryptocurrencies by market cap and totally won the hearts of many traders. The project's Twitter account is followed by more than 2 mln people and the expectation of further success is very strong. The SHIBA INU token has a great record of wave popularity and the next wave is hard to predict. Its chances are very much connected with Twitter and Reddit blasts inspired by statements made by top influencers.

November 2021 
Many would remember 2021 as the Bitcoin year and it is for reason. In November, Bitcoin hits an all-time high at $68.000. It was hard to imagine just a few months back when the major currency experienced a heavy decline even without reaching half of this height. But it was not a sudden pump out of nowhere. The entire year is a story of a complex journey with ups and downs accompanied by extremes of both positive and negative sentiment. There is no doubt that Bitcoin determines the mood for altcoins and the crypto industry. But not only that: Bitcoin's success is the foundation for blockchain optimism or pessimism in general.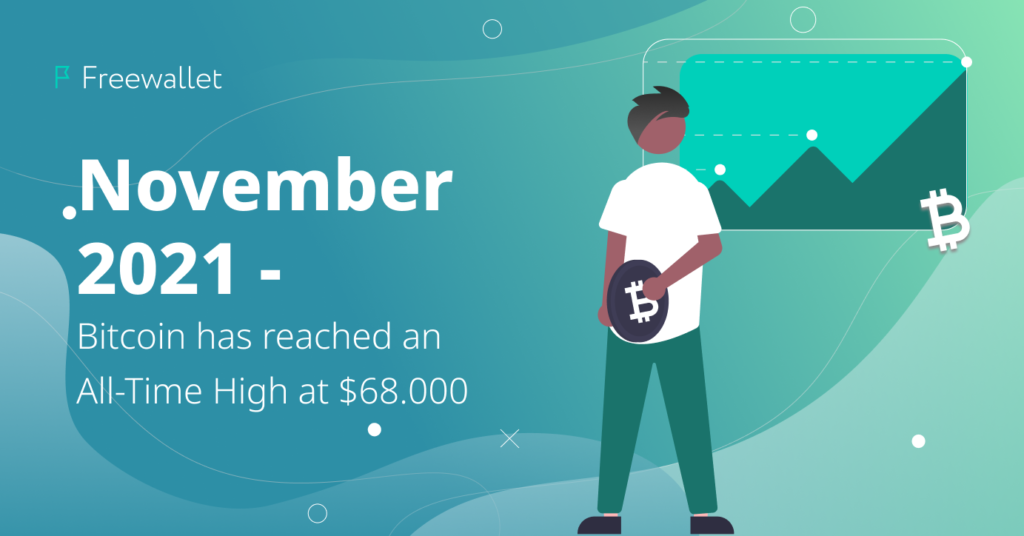 Just a year ago, in late 2020, Bitcoin's value was less than half of the current price. These months have been very volatile bringing Bitcoin to more than $64 000 at the beginning of the year only to make it slump below $30.000. Having gained the growth pace and hit an all-time high, it has reached a year's average by the year's end.
December 2021

December inspires us to talk about the bright present and future of Metaverse. We can see that every single project is investing efforts into the design of its own Metaverse, or its own virtual version. It is highly relevant for museums, sports companies, and, of course, tech giants. Cities and companies are exploring the possibilities of Metaverse. Seoul is going to enter Metaverse in early 2023. Chinese Internet search engine company Baidu will be launching the XiRang universe. Nike has recently announced the acquisition of virtual sneakers and collectibles brands. These were just more common examples helping to illustrate the power and potential of this new blockchain and crypto phenomenon.
We hope you enjoyed our summary of big stories of the 2021 year!
---
---
Related
Stay tuned
By signing up for this email, you agree to our Terms of use and Privacy policy. We will send you promotional emails occasionally, but not often. We hate that, too.
Subscribe for weekly updates from our blog. Promise you will not get emails any more often.
Most Popular
Feb 17, 2021
---
Jan 13, 2021
---
Dec 9, 2020
---
Nov 18, 2020
---
Feb 4, 2020
---
New Posts
Dec 6, 2023
---
Nov 30, 2023
---
Nov 29, 2023
---
Nov 13, 2023
---
Nov 9, 2023
---
Stay tuned
By signing up for this email, you agree to our Terms of use and Privacy policy. We will send you promotional emails occasionally, but not often. We hate that, too.
Subscribe for weekly updates from our blog. Promise you will not get emails any more often.
Most Popular
Feb 17, 2021
---
Jan 13, 2021
---
Dec 9, 2020
---
Nov 18, 2020
---
Feb 4, 2020
---
New Posts
Dec 6, 2023
---
Nov 30, 2023
---
Nov 29, 2023
---
Nov 13, 2023
---
Nov 9, 2023
---